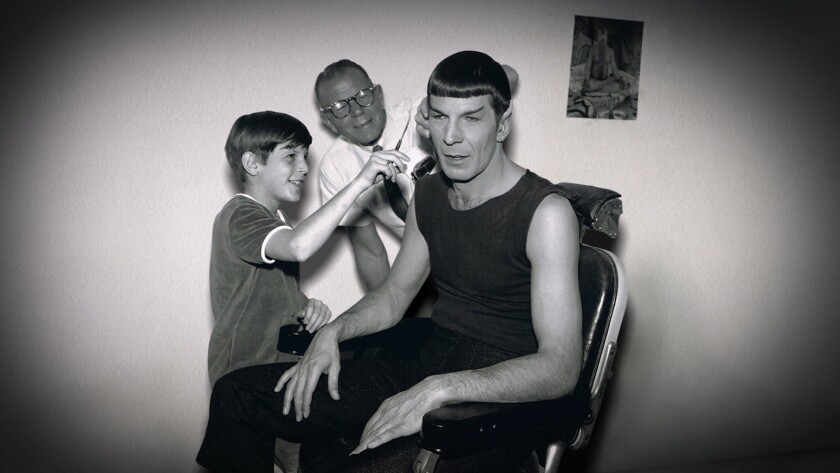 Just as Leonard Nimoy had an uneasy relationship with his famous alter ego, his standing with his son wasn't always on terra firma, as explored in Adam Nimoy's honest but warmly affectionate screen memoir, "For the Love of Spock."
Originally envisioned as a companion piece to the 50th anniversary of the original "Star Trek" series, the documentary took on a more personal air in the wake of the elder Nimoy's death in 2015.
But while Adam, a 60-year-old TV director, now describes the film as a journey of self-discovery about his relationship with his not-always-present dad, Trekkies need not fear about being left out in the cold.
See the most-read stories in Entertainment this hour »
Although there's plenty of home movie material, there's also a treasure trove of Enterprise-related riches, including extensive clips from the show and rare behind-the-scenes and archival interview footage, including a segment where Nimoy bemusedly reads a Variety pan of the series 1966 debut, which also spells his name incorrectly.
Freshening things up are more recent, insightful interviews with fellow founding crew mates, as well as those in the current big-screen incarnation, not to mention affirmed Trekkies like Neil deGrasse Tyson, Jason Alexander and Mayim Bialik.
FULL COVERAGE: 50th anniversary of 'Star Trek' »
As for the man of honor, Leonard Nimoy maintained that while his iconic character may have been seen as cold and unemotional, he always played him as "a guy trying to keep his emotions in check."
Adam Nimoy, on the other hand, has freely allowed his love and admiration to permeate every frame of this richly rewarding tribute.
-------------
'For the Love of Spock'
Not rated
Running time: 1 hour, 52 minutes
Playing: Ahrya Fine Arts, Beverly Hills and selected Laemmle Theatres (see www.laemmle.com/films/41025), also on VOD
---