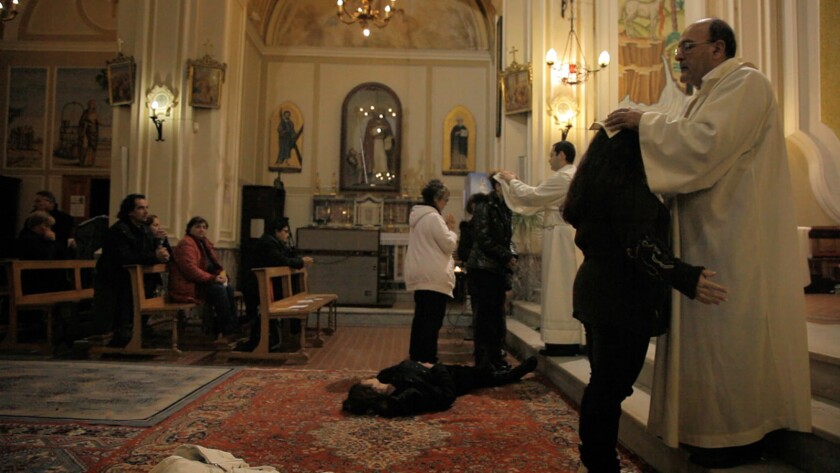 Although Federica Di Giacomo's documentary "Deliver Us" is being released during the Halloween season, this film about real-life Catholic exorcisms doesn't count as a horror movie — except maybe to viewers who get weirded out by human despair or irrational religious fervor.
The primary subject of "Deliver Us" is Father Cataldo Migliazzo, a Sicilian priest who has developed an international reputation for taking claims of demonic possession seriously. But as fascinating as Father Cataldo is, viewers are just as apt to be moved and even shocked by his clients, who include a skittish agoraphobe to a man who confesses to dark sexual compulsions.
The subject matter of "Deliver Us" is sensational, but Di Giacomo's approach is more in the spirit of documentarian Frederick Wiseman, where very little is explained. Audiences are immersed in the day-to-day business of a man who confidently advises some obviously mentally ill individuals to submit to his expertise — while they writhe and hiss and growl like beasts.
The film's final minutes expand beyond Father Cataldo, observing that the rite of exorcism is growing in popularity around the world. "Deliver Us" offers no theories as to why. Instead, Di Giacomo listens patiently to people who earnestly believe that they're plagued by a supernatural evil. In a way, their calm certitude is as scary as any actual demon.
-------------
'Deliver Us'
In Italian with English subtitles
Not rated
Running time: 1 hour, 30 minutes.
Playing: Ahrya Fine Arts, Beverly Hills
See the most-read stories in Entertainment this hour »
---