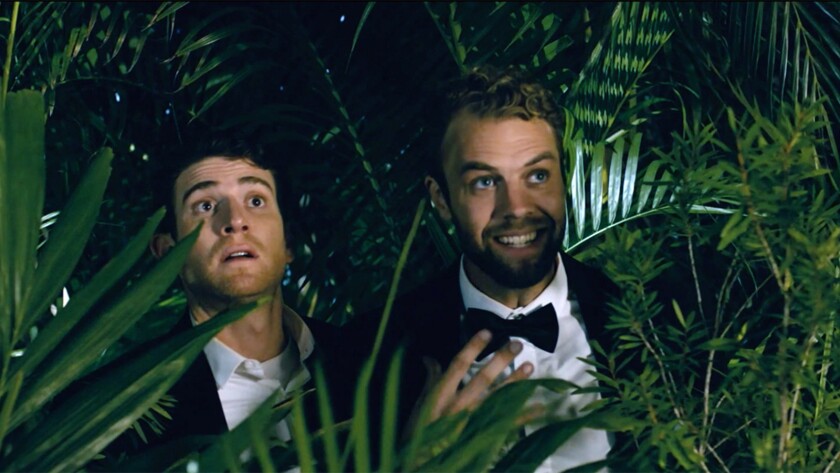 "Random Tropical Paradise" features a scene where best friends Harry (Bryan Greenberg) and Bowie (Brooks Wheelan) are trying to flush large blocks of drugs down a toilet while using a sex toy as a plunger. It's a moment of ineptitude equaled only by the film itself. This mess never knows whether it's a mob movie or a raunchy comedy, as this idiotic scene exemplifies. "Random Tropical Paradise" would be a waste of film if it were made in the medium. Luckily, the advent of digital limits the misuse of materials.
How the best friends got to shoving drugs down a toilet begins with a called-off wedding. After finding his fiancée cheating, Harry goes on what would have been his island honeymoon with his pal Bowie instead. While on vacation, they meet a group of women that includes Colette (Spencer Grammer), a possible match for Harry, and Angela (Brittany Furlan), the wife of a mobster (Joe Pantoliano), who exist only to extend the film to feature length.
Written and directed by Sanjeev Sirpal, "Random Tropical Paradise" has an abrasive tone and a nonsensical plot. If it were actually funny, these sins could be forgiven, but its only laughs come from Wheelan's performance. With great comic timing and delivery, he is at his best in scenes that feel improvised. Based on everything surrounding these moments, it doesn't seem like they could have been scripted.
-------------
'Random Tropical Paradise'
Not rated
Running time: 1 hour, 37 minutes
Playing: Laemmle Monica Film Center, Santa Monica
See the most-read stories in Entertainment this hour »
---