Review: Lloyd Kaufman and Troma are back with 'Return to Return to Nuke 'Em High a.k.a. Vol. 2'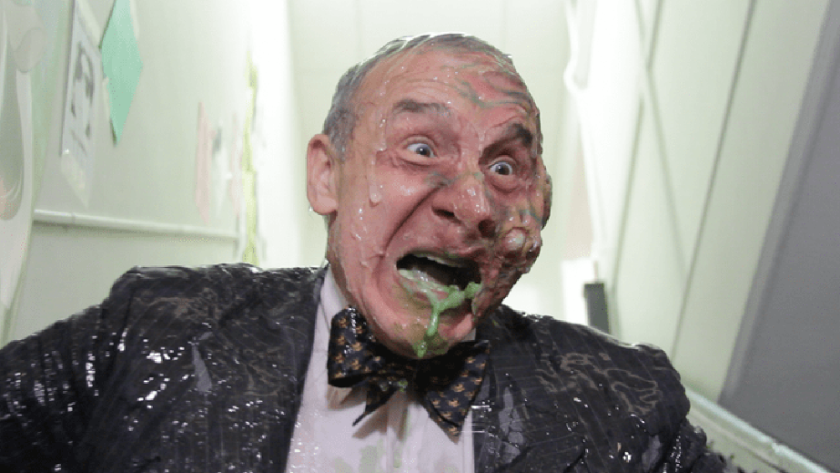 The fluorescent fluids fly fast and furiously in the Troma Entertainment production "Return to Return to Nuke 'Em High a.k.a. Vol. 2," directed by exploitation impresario Lloyd Kaufman. Along with 2013's "Return to Nuke 'Em High Vol. 1," the film forms a two-part reboot of 1986's "Class of Nuke 'Em High."
The unnecessarily convoluted plot concerns the effects of tainted tacos at Tromaville High School, provided by the corrupt Tromorganic Foodstuffs conglomerate. The members of the glee club have turned into Cretins, evil Chief Executive Herzkauf (Kaufman) has found a fountain of youth in the flatulence of teens who have been exposed to nuclear tacos, and the only ones who can save the high school — and the world — from the evil effects of Tromorganics are Lauren (Catherine Corcoran) and her blogger girlfriend Chrissy (Asta Paredes).
Oh, but first, Lauren gives birth in the girls' locker room to a duck-human hybrid monster baby. It gets only wilder from there.
You have to hand it to Kaufman for staying so committed to sensational, offensive exploitation filmmaking, even if he does focus on himself far too much, and demonstrates a troubling obsession with bodily byproducts. When the picture isn't going for gross, it almost has a "Scary Movie" approach, outright aping scenes from popular films and referring back to Troma's own canon.
You're either on board with this brand of outré exploitation or you're very much not on board. "Return to Nuke 'Em High a.k.a. Vol. 2" is strictly for die-hard fans.
-------------
'Return to Return to Nuke 'Em High a.k.a. Vol. 2'
Not rated
Running time: 1 hour, 25 minutes
Not rated
Playing: Laemmle NoHo 7, North Hollywood
See the most-read stories in Entertainment this hour »
---
The complete guide to home viewing
Get Screen Gab for weekly recommendations, analysis, interviews and irreverent discussion of the TV and streaming movies everyone's talking about.
You may occasionally receive promotional content from the Los Angeles Times.