'Killers Anonymous'
Fans of venerable English actor Gary Oldman can look forward to seeing him later this year in a new Steven Soderbergh film, and another by Joe Wright, who directed Oldman's Academy Award-winning "Darkest Hour" performance. In the meantime, they'll have to settle for Oldman in "Killers Anonymous," the kind of funky low-budget genre picture that rarely attracts Oscar winners.
Directed by Martin Owen (who also co-wrote the script), "Killers Anonymous" features Oldman as "The Man," a grizzled hit man who acts as a 12-step-program "sponsor" for younger assassins. After an opening sequence in which "The Man" counsels a killer played by Jessica Alba, Oldman disappears from the story for a while, as Owen confines the action to a different Killers Anonymous meeting.
MyAnna Buring plays the leader of that KA group, in which members share personal testimonies (dramatized in flashbacks) while trying to figure out who among them may have broken the rules by shooting a U.S. senator.
The mix of drawing-room mystery, "John Wick"-style demimonde mythology and "how I became a hired gun" crime anthology keeps "Killers Anonymous" lively. So do uniformly strong performances — including turns by "Sons of Anarchy" character actor Tommy Flanagan and "Lincoln Heights" star Rhyon Nicole Brown.
But by the time Oldman's character returns, a pileup of premises has made the movie unwieldy. In a way, Oldman's presence is symptomatic of a larger failing: the decision to cram together a bunch of cool but incomplete ideas rather than spending the time and money to make proper use of just one.
-------------
'Killers Anonymous'
Rated: R, for bloody violence, and pervasive language including some sexual references
Running time: 1 hour, 36 minutes
Playing: Starts Friday, Laemmle Music Hall, Beverly Hills; also on VOD
-------------
'The 16th Episode'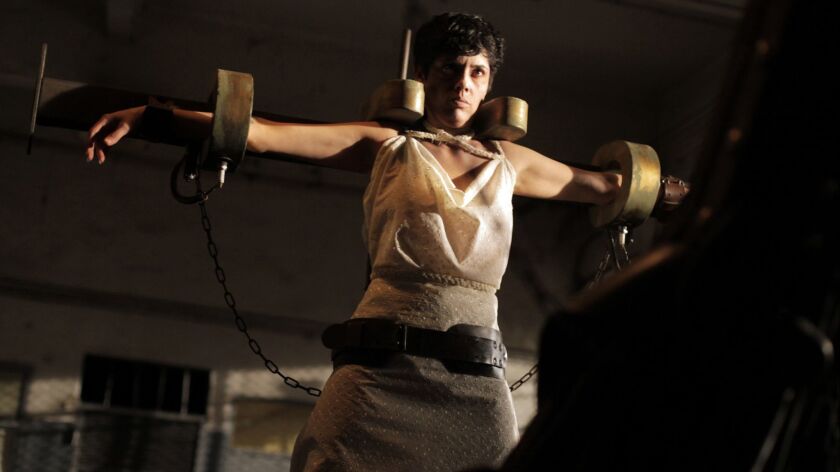 Partly a wry parody of found-footage horror films, and partly a straightforward supernatural thriller rooted in North African folklore, writer-director Jérôme Cohen-Olivar's "The 16th Episode" shows flashes of wild inspiration between stretches of tedium. It doesn't help that the movie gets off to a rough start as it follows three off-putting, click-obsessed YouTube celebs, looking for some freaky local color to put into their popular travel show.
When Helen (Rebecca Ramon), the host, finds what she thinks is an elaborate Moroccan wedding — but is actually a pagan ritual — she gets possessed by a spirit, and "The 16th Episode" livens up. Helen's cohorts Mark (Cody Heuer) and Einar (Einar Kuusk) film her gradual slide into madness, while commenting on the conventions of "Blair Witch"-style docu-terror. Their banter is genuinely funny, and Helen's eccentric behavior, properly unnerving.
But then the movie returns to more conventional shocks in the homestretch, and the shoddy "caught on the fly" visual style becomes too much of a detriment. In the end, the most disturbing thing about "The 16th Episode" is how good it might've been if Cohen-Olivar had figured out how to fill the whole picture with the personality at its center.
------------
'The 16th Episode'
Not rated
Running time: 1 hour, 33 minutes
Playing: Starts Friday, Arena Cinelounge, Hollywood; also on VOD
-------------
'Amplify Her'
The documentary "Amplify Her" is ostensibly about the experiences of a handful of women who perform as DJs and visual artists on the electronic dance music scene. But directors Ian MacKenzie and Nicole Sorochan take an offbeat approach to the film, mixing animated interludes and nuanced conversations about feminism in between the live performance footage and biographical detail.
The movie comes off as a too much of a grab-bag, as though the filmmakers shot a bunch of footage with no clear purpose in mind, then retroactively tried to figure out how to fit as much of it as possible into something like a thesis. But their three main subjects — the unapologetic sensualist Blondtron, the intensely body-conscious Lux Moderna and the soulful single mom AppleCat — are all good company. They're helpful guides to a subculture where women's contributions are often ignored or undervalued.
------------
'Amplify Her'
Not rated
Running time: 1 hour, 28 minutes
Playing: Starts Friday, Arena Cinelounge, Hollywood
------------
'Euphoria'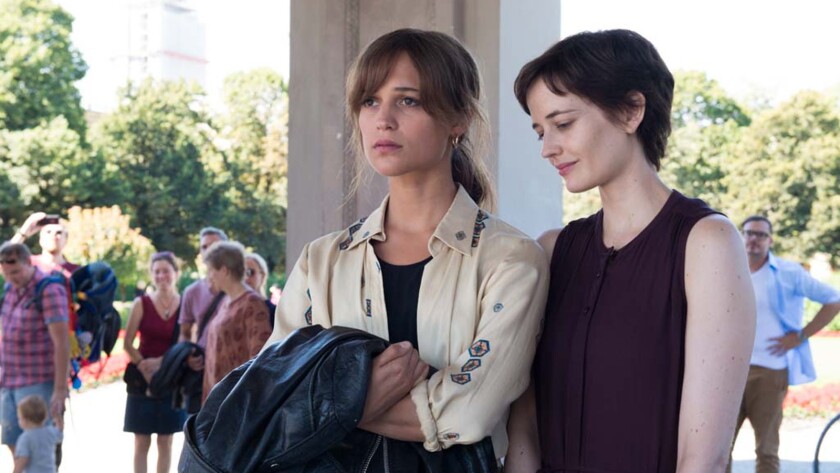 The concept outstrips the execution in "Euphoria," a story about sisterhood and end-of-life choices that is hampered by a draggy pace and flat, blunt dialogue. Alicia Vikander, Eva Green and Charlotte Rampling pump some energy into writer-director Lisa Langseth's overly static, chatty drama, but are let down by a movie that keeps promising — and failing — to blossom into something more.
Vikander plays Ines, an emotionally reserved artist reluctantly reconnecting with her older sister Emilie (Green) on a trip to an off-the-grid wilderness retreat. When they arrive, they meet a preternaturally calm spiritual advisor (Rampling), and Emilie explains what's really going on: She's dying of cancer, and she's planning to seize control of her own death at this ritzy euthanasia spa.
Before the sisters reach their destination, "Euphoria" suggests something strange and possibly supernatural may be awaiting them. Once the truth is out, Langseth shifts the mystery, pointing to something in Ines and Emilie's shared past that they need to deal with before the end.
But nothing all that surprising ever happens. Instead the characters talk plainly about regrets and personal pain, and fumble toward some closure — in part with the help of a charismatic billionaire (played by Charles Dance) who befriends Ines.
The high-end resort backdrop is lovely to look at, and Vikander and Green invest their characters' respective epiphanies with some feeling. But their emotion never really spills outside of the frame. This movie is like its location: a tastefully decorated, painless way to face death.
-------------
'Euphoria'
Rated: R, for language and some sexual content
Running time: 1 hour, 44 minutes
Playing: Starts Friday, Laemmle Glendale
-------------
'The Refuge'
Aspiring auteur Keith Sutliff's name is almost comically over-represented in the credits for his second feature film "The Refuge," which he wrote, directed, produced, edited and stars in (as well as working in the art, location and transportation departments). And what does Sutliff do with this total control? He makes a bone dry L.A. noir, reminiscent of Michael Mann and Nicolas Winding Refn — but without their spark of originality.
Sutliff plays Markus Hunter, a mobbed-up driver-for-hire, whose latest job puts him on the wrong side of some dangerous thugs. The actual plot takes up about half an hour, dispersed throughout the film via tense phone calls and murmured conversations, in sparsely furnished apartments. Much of the rest of "The Refuge" consists of Markus driving around the city, following other cars, while a minimalist synth score pulses behind him.
A few minutes of this kind of moody existentialism here and there can add flavor to a stylish genre picture. But it's much less satisfying when the seasoning becomes the main dish.
------------
'The Refuge'
Rated: R, for language throughout.
Running time: 1 hour, 36 minutes
Playing: Starts Friday, Monica Film Center, Santa Monica
---