Gary Oldman: 'One should never take for granted the sound of applause'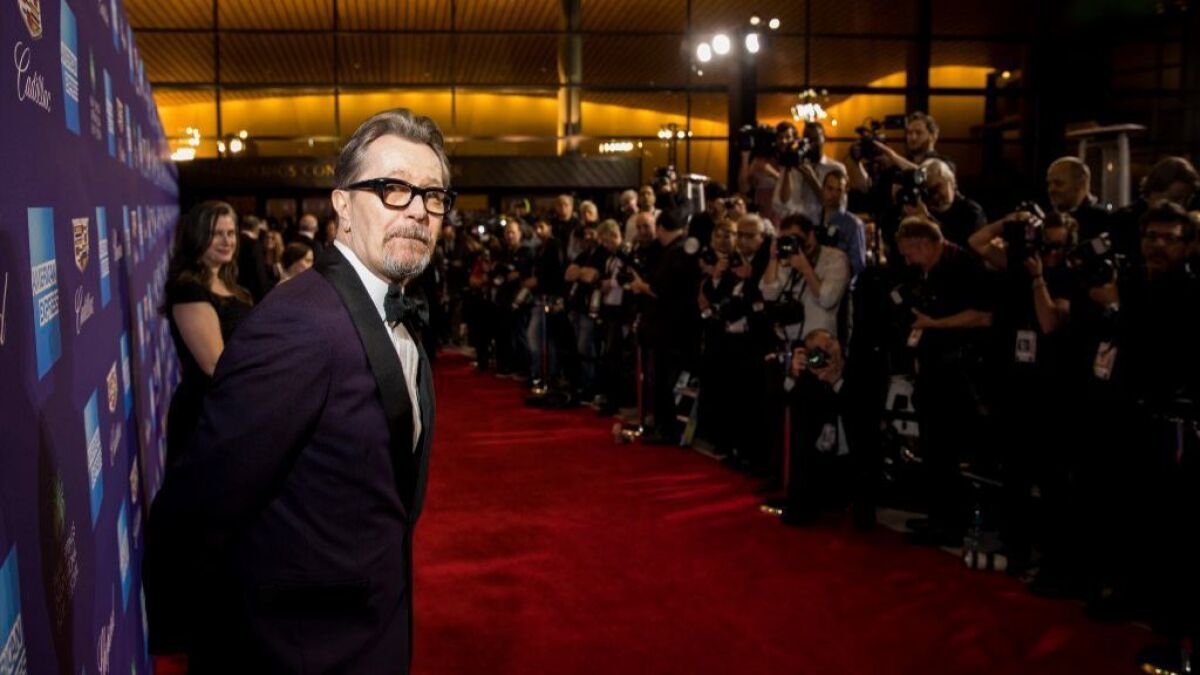 For someone who has been winning as much as Gary Oldman has these past few months — a Golden Globe, a SAG Awards honor, tributes at the Santa Barbara and Palm Springs film festivals and countless other prizes for his turn as Winston Churchill in "Darkest Hour" — the idea of loss never seems far from the 59-year-old actor's mind.
Primarily, this wistfulness arrives when thoughts turn to the two sons — Gulliver, 20, and Charlie, 18 — whom he raised as a single parent and who still live with him in Los Feliz but won't for much longer because as he knows, as all parents know, "you have to let them go."
Shown a family photo that Charlie posted on his Instagram account from a party shortly after the Golden Globes, Oldman looks at the image for a couple of minutes, bathing in the memory. Even after he finishes talking about it, he only reluctantly breaks his gaze.
"I'd left my phone in the car so I hadn't had any kind of notification from them," he says. "I was sitting at the Focus after-party and felt somebody tap me on the shoulder and I turned around and it was Charlie and Gulliver dressed in their finest, just with big smiles on their faces. It meant more to me than the prize. Do you know what I mean?" Oldman pauses, dabbing his eyes with a linen napkin.
This kind of pensiveness seems to surround Oldman. A conversation about music turns to his old friend David Bowie, whom he'd talk to on Skype each Sunday morning. Oldman misses those conversations and often finds himself staring at a photograph, wondering what Bowie would make of it. What would Bowie have to say about Brexit or Donald Trump? What would he make of Oldman's portrayal of Churchill?
"It's funny, the last thing he said to me … 'Blackstar' [Bowie's final album, released on his birthday two days before he died] was done and he was telling me that he had all these ideas. He was already on to the next thing," Oldman says.
"And I had the computer on my lap and I think he had to go off for some therapy and we tried to disconnect, and I kept coming up on the screen, and he pressed disconnect again and so the last thing he said to me was, 'F— off!' He pressed it again. 'Oh, f— off.'" Oldman laughs quietly. "Very David."
When Oldman burst on the scene in the 1980s playing punk rocker Sid Vicious in "Sid & Nancy," gay British playwright Joe Orton in Stephen Frears' "Prick Up Your Ears" and a soccer hooligan in Alan Clarke's BBC television drama "The Firm," critics and audiences were taken aback by performances that were fearless, frightening, funny and completely dissimilar.
"To be young when Gary's work was coming out was heaven," says Ben Mendelsohn, who plays King George in "Darkest Hour." Mendelsohn presented Oldman awards at the Santa Barbara International Film Festival and AARP's Movies for Grownups event. "To watch him then was to wonder: 'How the f— does he do it?"
Oldman moved to America shortly afterward, having feverish fun as the title character in Francis Ford Coppola's "Dracula," playing Lee Harvey Oswald in Oliver Stone's "JFK" and delivering a spectacular, intense performance as Ludwig van Beethoven in "Immortal Beloved."
But there was also alcoholism that led to carelessness with both his life and his career. Offered both "Waterworld" and "The Scarlet Letter," Oldman left the decision to the flip of a coin. ("The Scarlet Letter" won). "I was not well," he says.
Oldman met his third wife, Donya Fiorentino, at an Alcoholics Anonymous meeting in 1996. Five years later, their marriage ended in a painful, protracted divorce. Recently, Fiorentino's accusation that Oldman hit her with a telephone has resurfaced in stories pegged to the attention he has been receiving for "Darkest Hour."
Talking about that time, Oldman emphatically denies her account.
"We had a conclusion," Oldman says. "It's a case of she said and the police and the district attorney and social services and evaluators and witnesses and the judge said something entirely different."
A Times review of court records confirms Oldman was awarded sole custody of their sons, Gulliver and Charlie, with Fiorentino allowed once-a-week visits in a public location supervised by court-ordered monitors.
"Does the judge award children to a wife beater?" Oldman asks. "There's no history of that. I've been married five times. And I am not proud of it. Maybe I'm a romantic or an optimist or just 'never say never,' but there's nothing like that in my history."
Oldman also came under fire for a 2014 Playboy magazine interview in which, while sharing his views on political correctness, he came off as defending anti-Semitic remarks Mel Gibson made during a 2006 drunk driving arrest. "We've all said those things. We're all f—ing hypocrites," Oldman said then.
I believe I'm a good man. I've got a big heart. Sometimes I have a big mouth. But I've tried to make my apologies and, as they say, make my amends.
— Gary Oldman
"I believe I'm a good man," Oldman says now. "I've got a big heart. Sometimes I have a big mouth. But I've tried to make my apologies and, as they say, make my amends. Hell, we're talking about change all the time. We can learn. We can change."
Oldman went on "Jimmy Kimmel Live!" immediately after the 2014 interview to apologize. He told Kimmel: "Words have meaning and they carry weight. And they carry on long after you've said them." Years later, he understands those sentiments more than ever, as he is still being asked about his remarks.
"It was a bad day," Oldman says of the Playboy interview. "I guess I was trying to illustrate the absurd by being absurd. What I was really talking about was the double standard of things and the hypocrisy. And I was indelicate in the way I said it. That I know. But I'm not a malicious person."
Oldman doesn't dwell on his missteps and, judging from the standing ovations he has received at events these past few months, most other people don't either.
"He's gone through a lot in his life and learned from it. It's a lovely story," says filmmaker Rod Lurie, who directed Oldman in the 2000 movie "The Contender." Lurie says he and Oldman still communicate regularly, hoping to collaborate again. "There's not one director who has worked with Gary who doesn't crave to work with him again."
Gary Oldman plays Winston Churchill as he becomes England's prime minister in "Darkest Hour."
That may work out for Oldman who, now that his sons are older, is ready to work more often. Probably. "I turn everything down," he jokes. "That's my process." And, in fact, he initially turned down the chance to play Churchill, considering the offer ridiculous on its face. "When you look at me, do you see Winston Churchill?" he asks, raising his eyebrows.
Oldman's towering, transformative turn in "Darkest Hour" is miles apart from his other Oscar-nominated performance, delicately playing George Smiley, the impassive, inscrutable British secret service agent in 2011's "Tinker Tailor Soldier Spy."
Oldman's most memorable characters are not men characterized by their restraint.
"I suppose [Commissioner] Gordon," Oldman muses, referring to his turn in Christopher Nolan's "Dark Knight" trilogy. "That first one, I made 26 round-trip flights between London and Los Angeles so I could be home with my boys. People called Gordon 'world-weary.' It was really just jet lag."
Finishing breakfast the day after the SAG Awards, Oldman notes he's about to make that exact same trip, making a quick jaunt to London to do a couple interviews and meet his second grandchild. (He has a son, Alfie, with his first wife, Oscar-nominated actress Lesley Manville. He also has a 9-year-old stepson with his fifth wife, art curator Gisele Schmidt.)
"This has all taken some getting used to," Oldman says, reflecting on the conveyor belt he has been on the past few months. "I'm quite a private person. I've never been any good with crowds. It's all very nice. No complaints. But there's an energy of people coming at you that you absorb. It's quite frenetic. The night of the Golden Globes, I must have taken 300 selfies and it felt like I had met 1,000 people. And they're all lovely and gracious and well-meaning."
He turns quiet, staring into the distance. "Well, it's shocking really, when you think about it, that that many people wanted to meet me in the first place. One should never take for granted the sound of applause."
Twitter: @glennwhipp

---
Get our L.A. Goes Out newsletter, with the week's best events, to help you explore and experience our city.
You may occasionally receive promotional content from the Los Angeles Times.