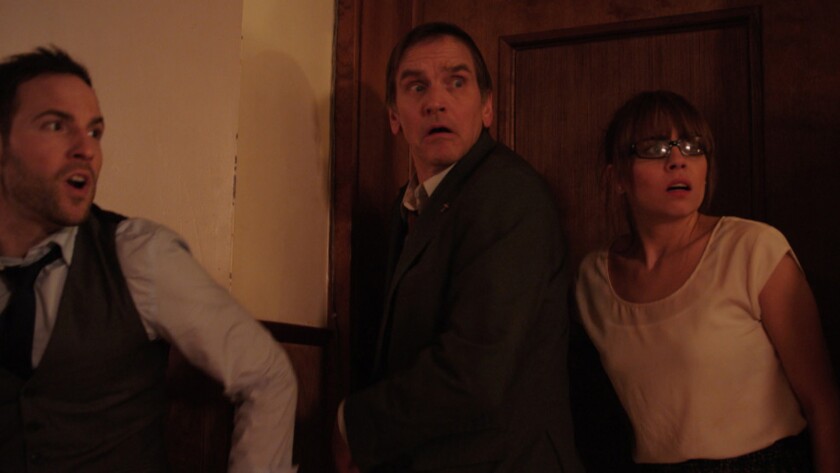 There's an appealing, old-school crumminess to the supernatural thriller "The Church," the kind of micro-budgeted bad movie that may exist only because the filmmaker had access to a location and wrote a story to accommodate it. Give credit to writer-director Dom Frank for trying to say something meaningful about callous gentrification within the context of a quickie horror picture, but good intentions aside, the results are more goofy than scary.
Cult film favorite Bill Moseley stars as Pastor James, the minister at a struggling downtown Philadelphia church that's sitting on valuable land. While debating whether they should take the money from developers to buy and demolish their building, the pastor's congregation and their potential benefactors are attacked by the ghosts of past church members, who remind the current generation of their failings.
Frank doesn't really have the budget — or the cast — to make the horror elements in "The Church" effective. Most of the actors are inexperienced and stiff; whenever they're supposed to be tormented by the paranormal, the special effects meant to illustrate the hauntings are either nonexistent or cheesy.
But at least "The Church" is enjoyable to watch … either because of Frank's baffling choices (why are so many of these devout Christian ladies wearing tight, low-cut blouses?) or because the First Corinthian Baptist Church really is a nice-looking, historic structure.
If nothing else, "The Church" proves something: Better an amusingly terrible, eye-catching horror movie than a slick, nondescript, boring one.
-------------
'The Church'
Rated: PG-13, for some violent content and thematic material
Running time: 1 hour, 20 minutes
Playing: Laemmle Monica Film Center, Santa Monica; Laemmle NoHo 7, North Hollywood; Laemmle Playhouse 7, Pasadena
---