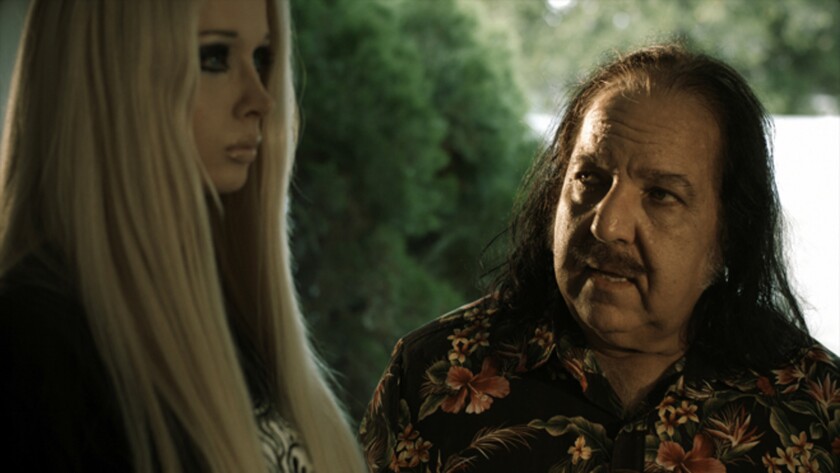 Cheap-looking horror is sometimes scarier than the better-made fright flicks, because shoestring budgets and amateurish acting gives a production a shot of real danger as though anything could happen at any moment. But there are limits to how much of an edge a movie gets from incompetence — as writer/director/producer Susannah O'Brien's "The Doll" proves definitively.
Ostensibly a vehicle for Valeria Lukyanova — a Ukranian model renowned for her uncanny resemblance to a human Barbie doll — "The Doll" has her playing an evil scientist's synthetic creation, Natasha, who's hired out as a high-end prostitute as part of a plan to possess the souls of randy men.
Christopher Lenk and Anthony Del Negro play the luckless so-and-sos who bring Natasha into their lives, initially enjoying her strangely plastic features and inability to communicate, then later realizing they can't get rid of her … even after she starts stabbing their friends.
O'Brien makes good use of Lukyanova's otherworldly qualities. Turning a phony-looking beauty into an inhuman monster is actually a clever premise. The rest of the cast though is completely adrift, left to improvise dialogue in rambling scenes that feel more like rehearsals.
There's a choppy quality to "The Doll" that's at times interesting, due to the inherent unpredictability of clumsiness. But the primary emotion this movie stirs is anxiety over how lost the actors are, not concern for what's going to become of their characters.
-------------
'The Doll'
Not rated
Running time: 1 hour, 20 minutes.
Playing: Available VOD.
See the most-read stories in Entertainment this hour »
---