The three best moments from Chadwick Boseman at the SAG Awards
Chadwick Boseman was full of wisdom Sunday night as he and the cast of "Black Panther" received the ensemble cast in a motion picture award at the 2019 SAG Awards.
"Well, I'll be," he said onstage. "I didn't think I'd have to speak."
"We all know what it's like to be told there is not a place for you to be featured," he continued. "Yet, you are young, gifted and black. We know what it's like to be told there's not a screen for you to be featured on, a stage for you to be featured on. We know what it's like to be the tail and not the head. We know what it's like to be beneath and not above. And that is what we went to work with every day because we knew ... that we had something special that we wanted to give the world."
In addition to the epic televised acceptance speech, Boseman dropped two more gems backstage in the press room.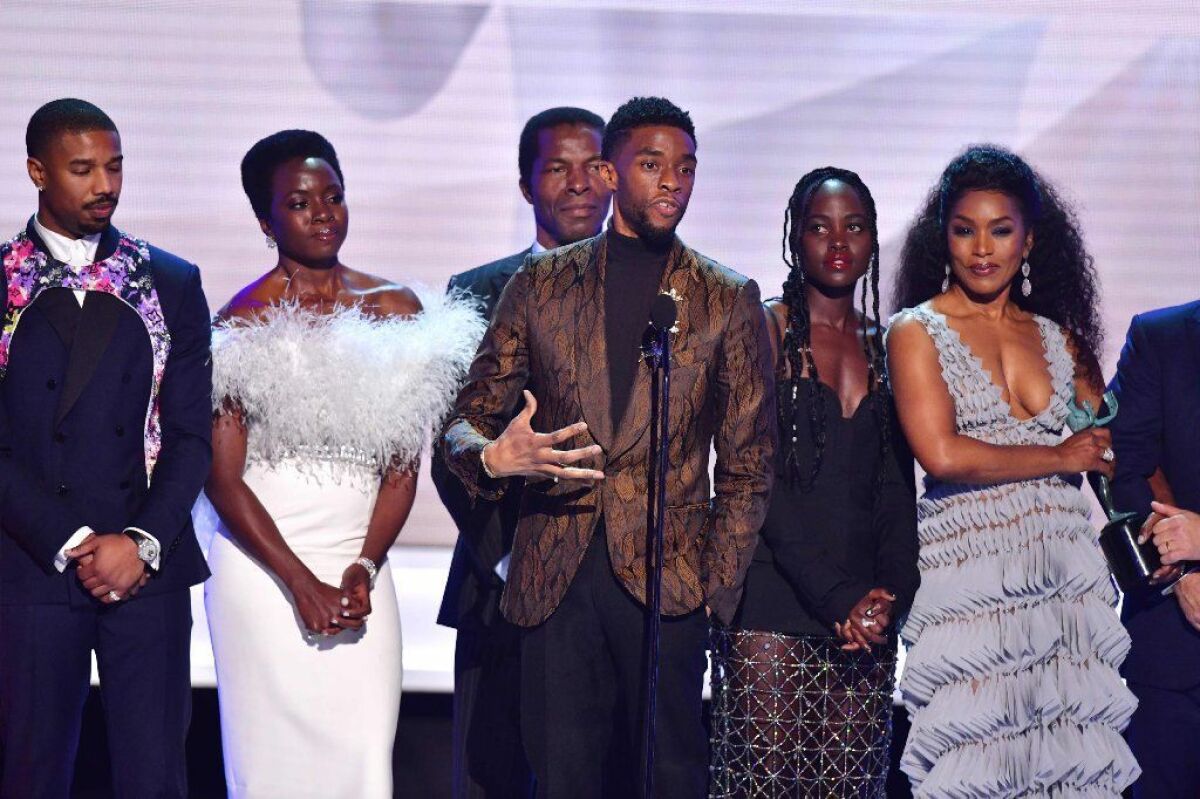 On the sheer magnitude of the production design:
"I don't think people truly understand the amount of detail, the amount of mastery, that went into the hair and makeup, wardrobe, set design. I think there's a disconnect; maybe because it's a superhero movie, maybe because it's a black movie, I don't know exactly what it is, but I don't think people understand it's the equivalent of somebody doing a period piece.
"It's in fact more difficult because the tapestry that's being pulled from is from ... throughout the diaspora, it's all weaved together. To create an entire world from the most beautiful things from the continent and put all that together across all lines of production and have people believe that this is one country... I don't think that people have grasped the difficulty of that and how that informs our performances."
On the meaning of being 'young, gifted and black':
"It's one of my favorite sayings in poetry. It speaks to the fact that you have the same dreams as other people, you have equal if not more talent at times, but you don't have the same opportunities. You don't necessarily have the same doors open to you, the same nepotism, the same money or resources that could be put towards your dreams. And you, a lot of times, don't have family members that have ever achieved the things that you want to do. And so when you aspire to do something that is outside the realm of what the world would see you doing and also what your family has ever achieved … to be young, gifted and black is all of that. It's to have everything but then not be quite able to grasp it and to be the able to persevere through that.
"All of us are actors, we're here as actors to celebrate acting, to celebrate the craft, to celebrate what it means to be a thespian. It is difficult to do that for everyone, it's a difficult task. But our task historically has not been the same, because we've been relegated to playing the sidekick or the side show ... or not there altogether. So that's what that statement meant."
follow me on twitter @sonaiyak
---
Get our L.A. Goes Out newsletter, with the week's best events, to help you explore and experience our city.
You may occasionally receive promotional content from the Los Angeles Times.