All the Hollywood secrets hidden in the handprints at the Chinese Theatre's Forecourt of the Stars
Actress Debbie Reynolds smiles and spreads cement-covered hands after making imprint in forecourt of Grauman's Chinese Theatre on Jan. 14, 1965.
(Bruce H. Cox / Los Angeles Times)
"Harry Potter" costars Rupert Grint, Daniel Radcliffe and Emma Watson offer their handprints during a ceremony in front of the Chinese Theatre in Hollywood on July 9, 2007.
(Valerie Macon / AFP / Getty Images)
Actress Sandra Bullock shows off her hands after pushing them into concrete in front of the TCL Chinese Theatre in Hollywood, 2013.
(Jay L. Clendenin / Los Angeles Times)
Steven Spielberg, left, and George Lucas add their imprints in cement at the Chinese Theatre on May 16, 1984.
(Larry Davis / Los Angeles Times)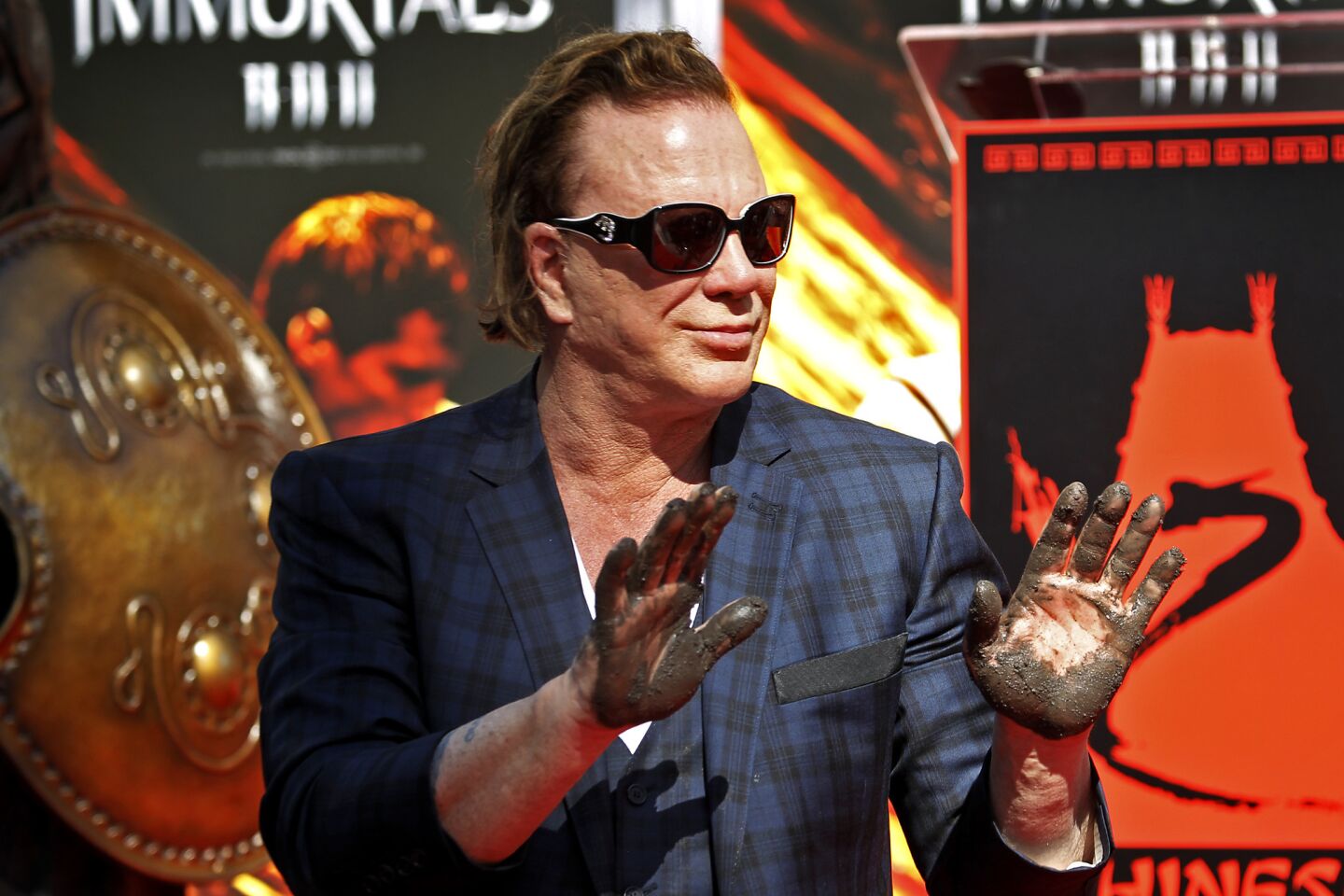 Oscar nominated actor Mickey Rourke shows his wet hands after he left his prints in wet cement in the famed forecourt at Grauman's Chinese Theatre in Hollywood on October 31, 2011
(Al Seib / Los Angeles Times)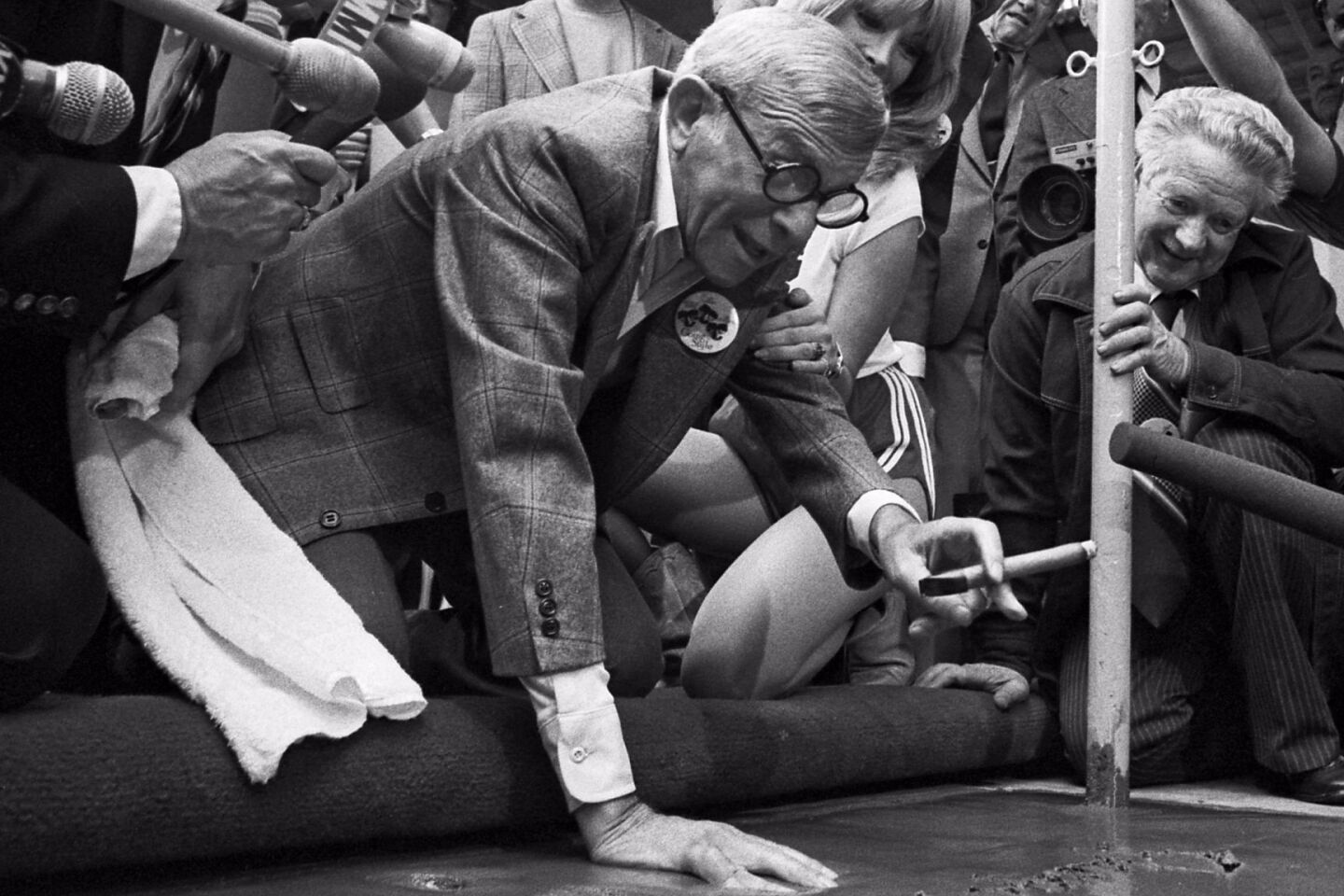 George Burns makes a hand print in cement outside Mann's Chinese Theatre on January 25, 1979.
(Joe Kennedy / Los Angeles Times)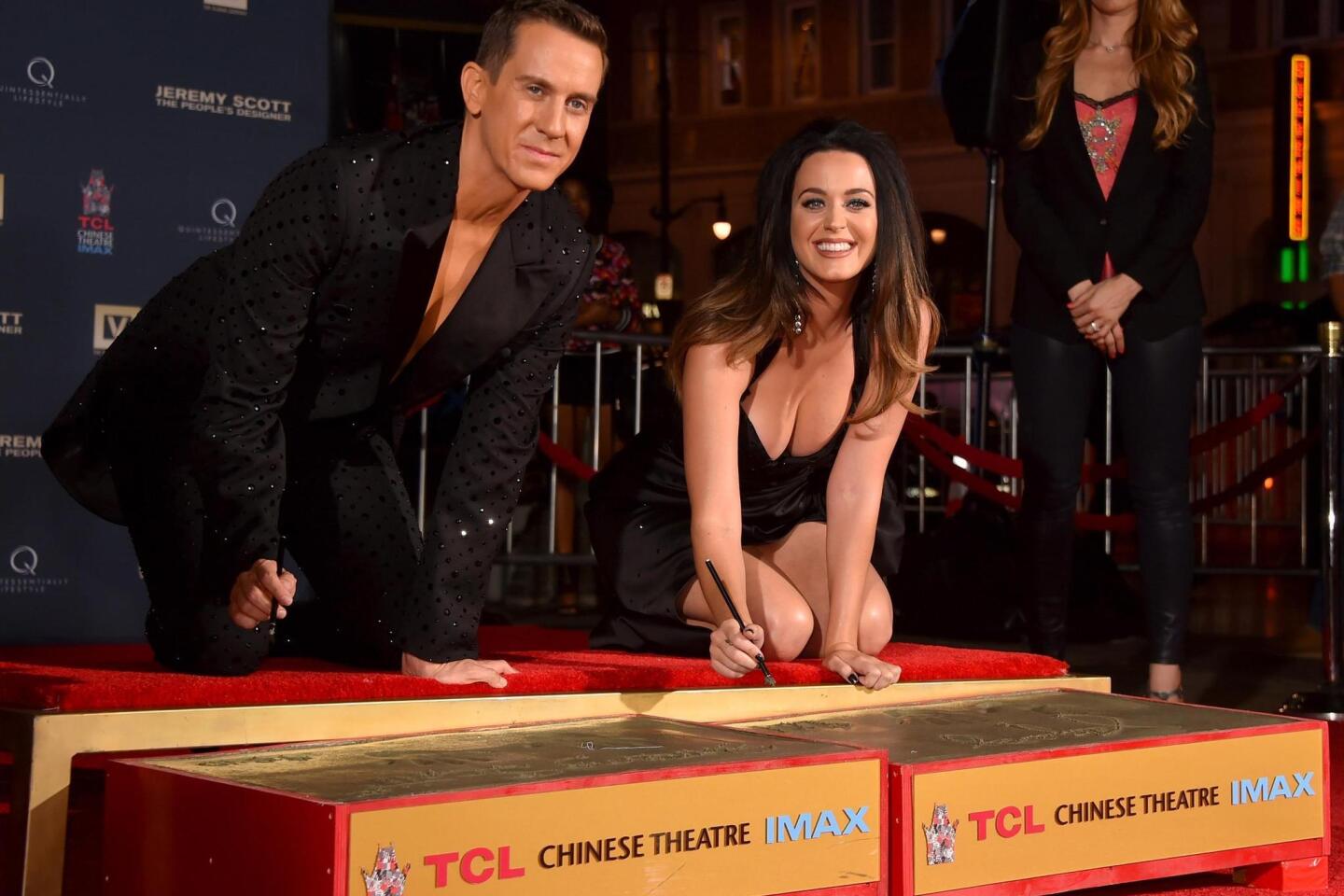 Fashion designer Jeremy Scott, left, and singer Katy Perry sign their names in cement in front of TCL Grauman's Chinese Theatre in Hollywood before adding their handprints on September 8, 2015.
(Alberto E. Rodriguez / Getty Images)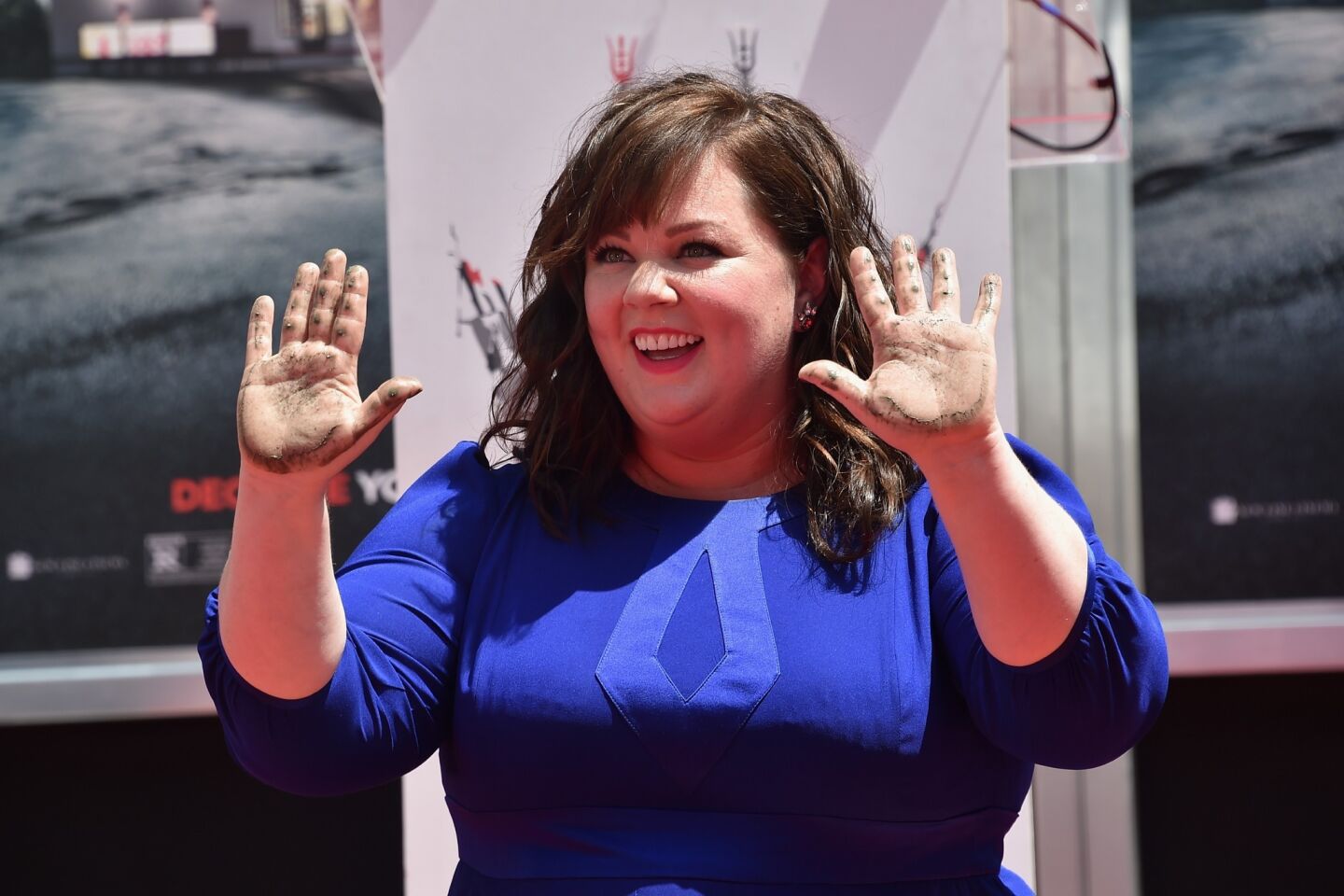 Melissa McCarthy leaves her handprints in front of the TCL Chinese Theatre, earlier this month on July 2, 2014.
(Alberto E. Rodriguez / Getty Images)
Sean Connery shows his hands to photographers after placing his handprints in cement outside the Chinese Theatre on April 13, 1999.
(Victoria Arocho/ AP)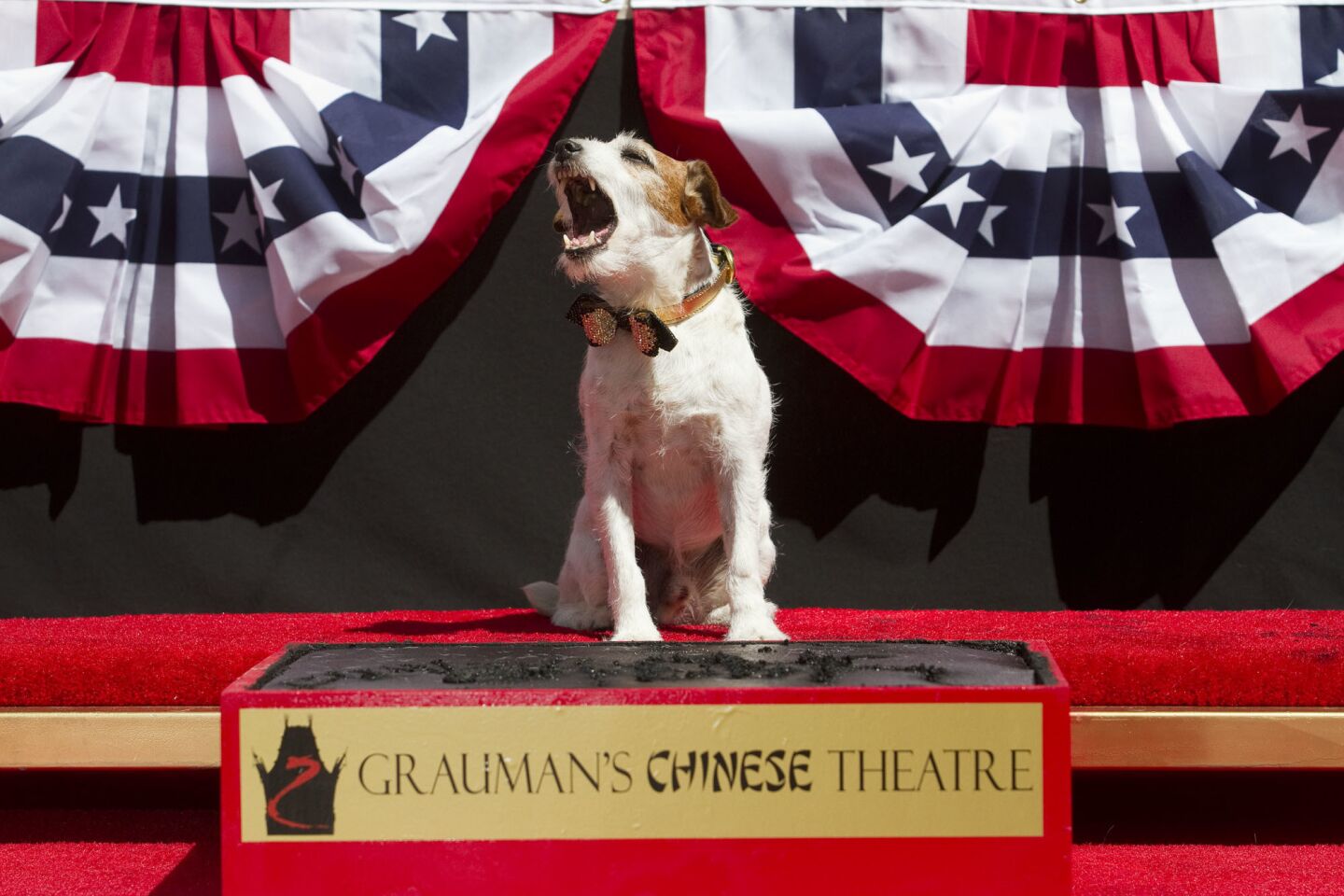 Uggie from "The Artist" lets out a bark after casting his paws in cement at Grauman's in 2012.
(Arkasha Stevenson / Los Angeles Times)
Herbie the Love Bug leaves a tireprint in the wet cement at Mann's Chinese Theatre on July 11, 1977, in Hollywood for the opening of "Herbie Goes to Monte Carlo."
(Robert Lachman / Los Angeles Times)
On Dec. 5, 1991, the eve of the premiere of "Star Trek VI: The Undiscovered Country," the original movie's cast have their signatures embossed in the forecourt of Mann's Chinese Theatre.
(Ken Lubas / Los Angeles Times / Ken Lubas / Los Angeles Times)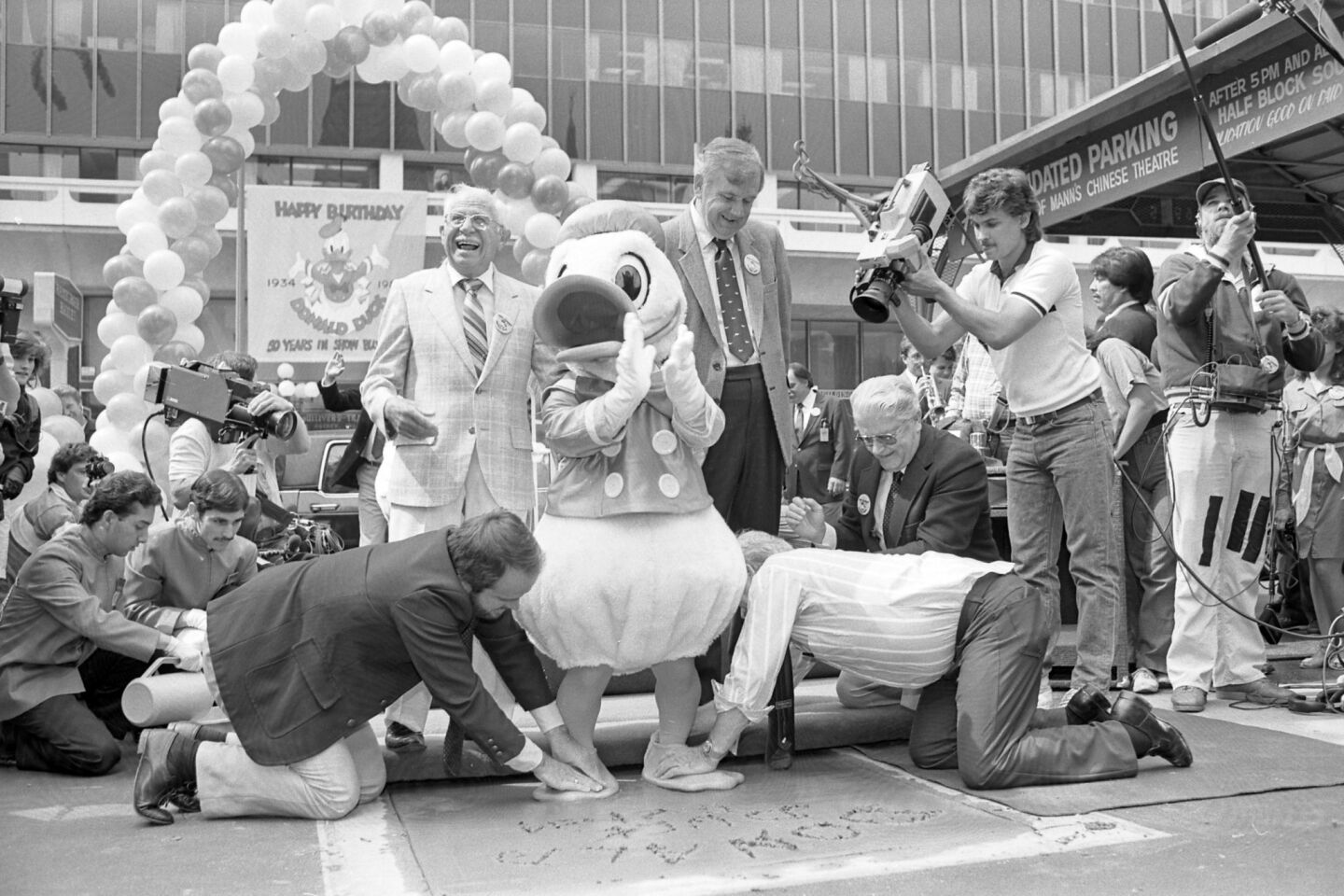 To celebrate the 50th anniversary of Disney's Donald Duck the character was immortalized in cement at the Chinese Theatre on May 21, 1984.
(Con Keyes / Los Angeles Times)
"La La Land" stars Emma Stone and Ryan Gosling show off their hands after placing them in wet cement during a ceremony at TCL Chinese Theatre on Dec. 7, 2016.
(Richard Shotwell / Invision / AP)
From left, producer Norman Lear and comic legends Mel Brooks and Carl Reiner wave to the media after Brooks placed his hands and shoes in cement at the TCL Chinese Theatre IMAX in Hollywood on Sept. 8, 2014.
(Mel Melcon / Los Angeles Times)
Sylvester Stallone and MGM Chairman and CEO Gary Barber watch as Leo the Lion steps onto a cement block for his paw prints at the TCL Chinese Theater celebrating the studio's 90th anniversary in 2014.
(Frederic J. Brown/ AFP/Getty Images)
The stars of "The Twilight Saga" -- Robert Pattinson, left, Kristen Stewart and Taylor Lautner -- get into the handprint act on Nov. 3, 2011.
(Al Seib / Los Angeles Times)
Kobe Bryant becomes the first athlete to have his hands and feet imprinted at Graumans Chinese Theater on Feb. 19, 2011.
(Christina House / For the Times)
Christopher Walken makes his mark at the Chinese Theatre on Oct. 8, 2004.
(Chris Pizzello / Associated Press)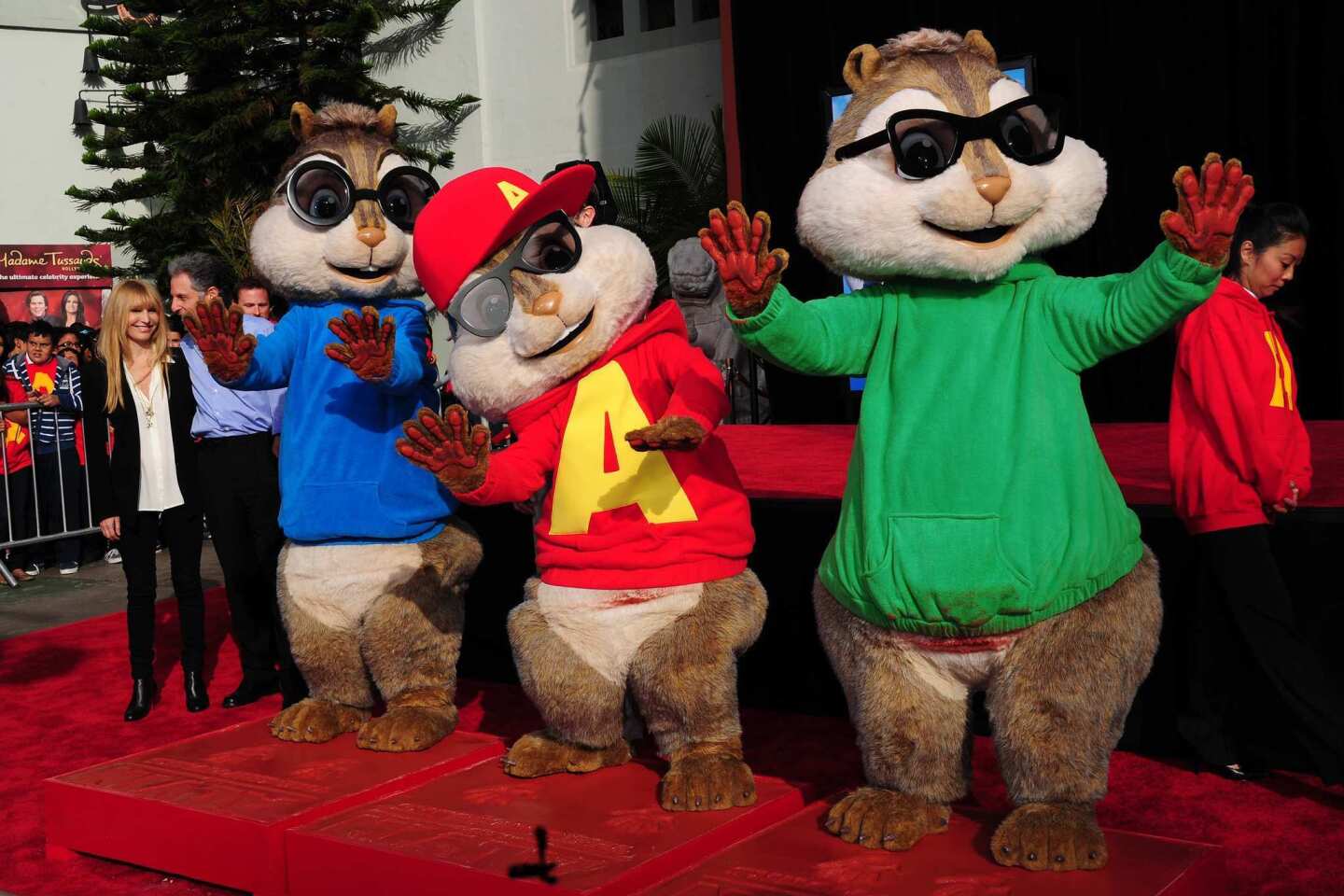 Alvin, Simon and Theodore made prints in front of Grauman's Chinese Theatre on November 1, 2011 in what theater co-owner Donald Kushner says wasn't a "real" ceremony.
(Robyn Beck / AFP/Getty Images)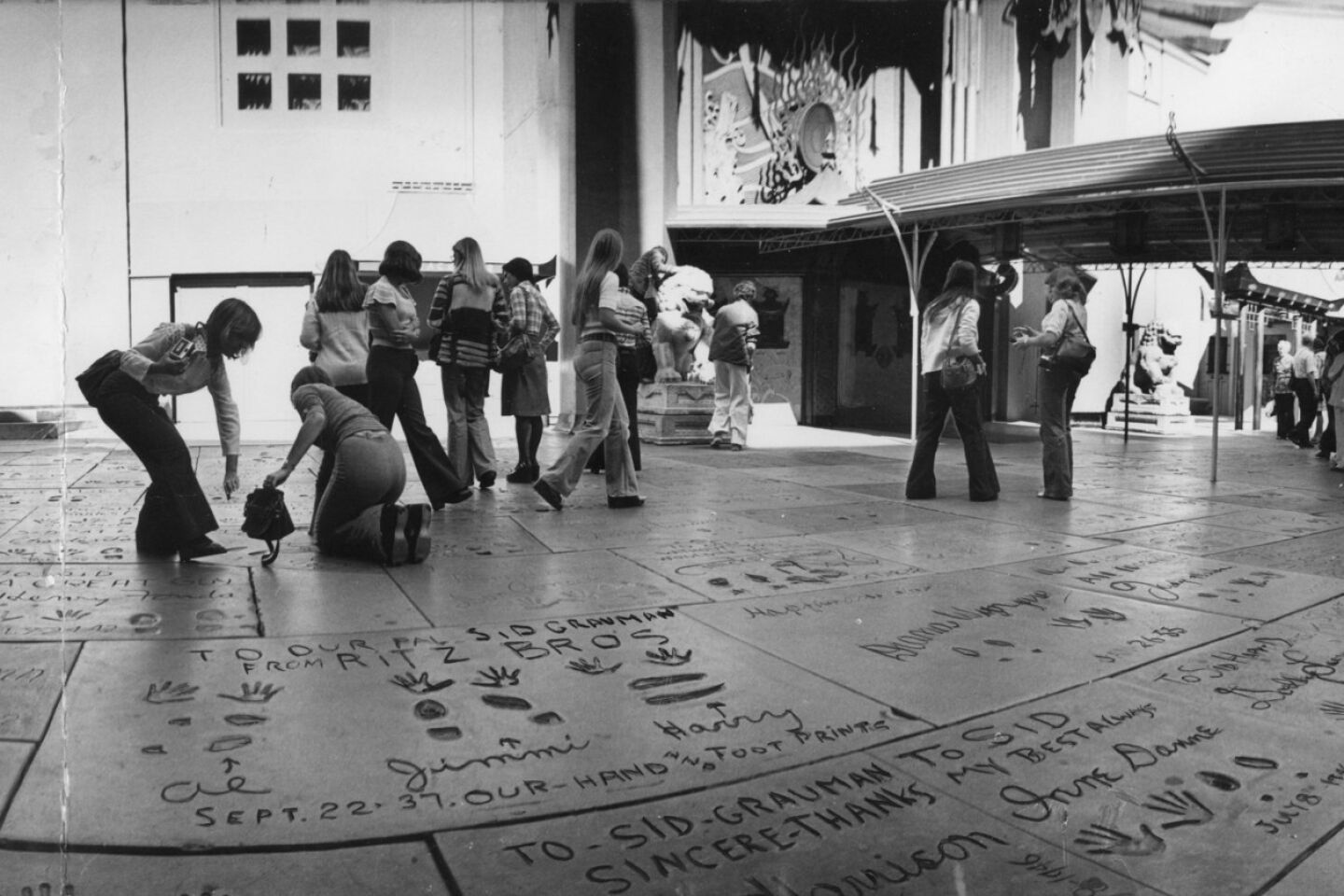 Young people check out the imprints of the stars at the Chinese Theatre on Nov. 21, 1975.
(John Malmin / Los Angeles Times)
Tour groups at the Chinese Theatre on Feb. 22, 1983.
(George Rose / Los Angeles Times )
The celebrity imprints in front of the TCL Chinese Theatre Imax are part of Hollywood lore. But how much do you really know about them? We attempt to answer any questions you may have.
Where are these famous Hollywood cement hand and footprints?
You can find the decades-old landmark at 6925 Hollywood Blvd., right in front of the theater. The official name for the area that holds the cement slabs is "The Forecourt of the Stars." So if you ever find yourself lost on the streets of Hollywood just ask the wandering Batman busker to point you in the direction of the Forecourt. (Warning he may expect you to pay for a picture with him afterward.)
Who's this Sid everyone seems to have loved so much?
While many of the late 20th and early 21st century imprints bear only the owners' signatures, a number of the older slabs feature messages to "Sid."
"Sid Dear — my wish is for your success," Norma Talmadge wrote in her 1927 impression, and in that same year actress Gloria Swanson drew a heart with an arrow running through it and the inscription, "Love Always to Sid." Mickey Rooney dedicated his 1938 print as well, writing, "To Sid without you, I wouldn't be here." As did Gary Cooper in 1943 with the words, "Sid, I got here at last."
And there's the delightfully odd note from Humphrey Bogart's 1946 imprint, "Sid may you never die, till I kill you."
"Sid" is Sidney Patrick Grauman, proprietor of several Hollywood theaters including the Chinese as well as the Egyptian Theatre. Lots more on Sid here.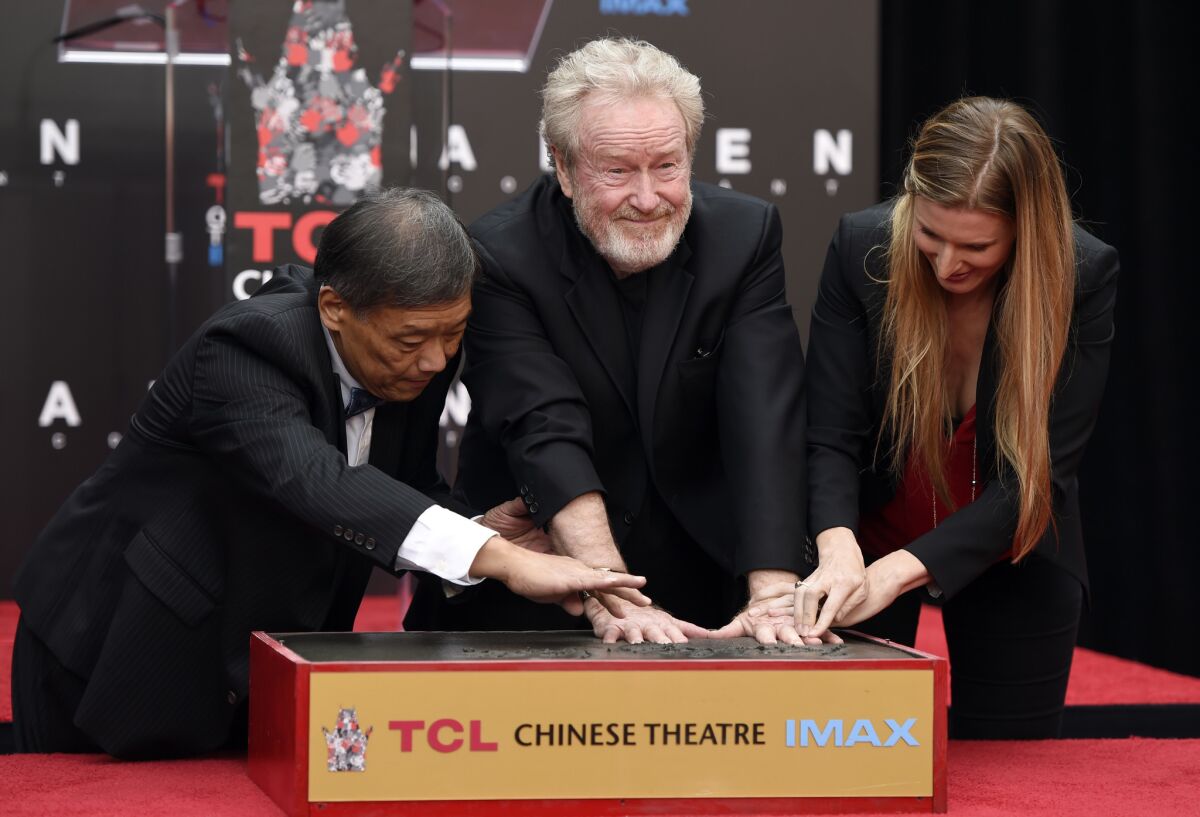 How many handprints are there total?
When "Alien" and "Blade Runner" director Ridley Scott made his imprint on May 17, his impression was the 304th stone added to the theater's legacy (according to a theater representative). Who's next? "Transformers" director Michael Bay.
Are all of them on display?
No, the recent boom in prints created space issues. At any given time, some slabs are in storage or being repaired.
Where are they stored?
According to a representative for TCL, all of the stones are stored in the Chinese Theatre except those that have been sent away for repairs.
How do you get selected to add your handprint to the the forecourt?
There is a committee, however, the theatre representatives would not disclose any other details about who exactly was on their jury. The identities are kept secret in hopes of keeping the nominating process "fair."
The prerequisites for the candidates are fairly broad. The TCL reps insisted that the ceremonies are reserved for honorees, "who have made a lasting impact on cinema." But also opened the door to other members of the entertainment industry. Overall they're looking for someone an icon and an influencer in the industry.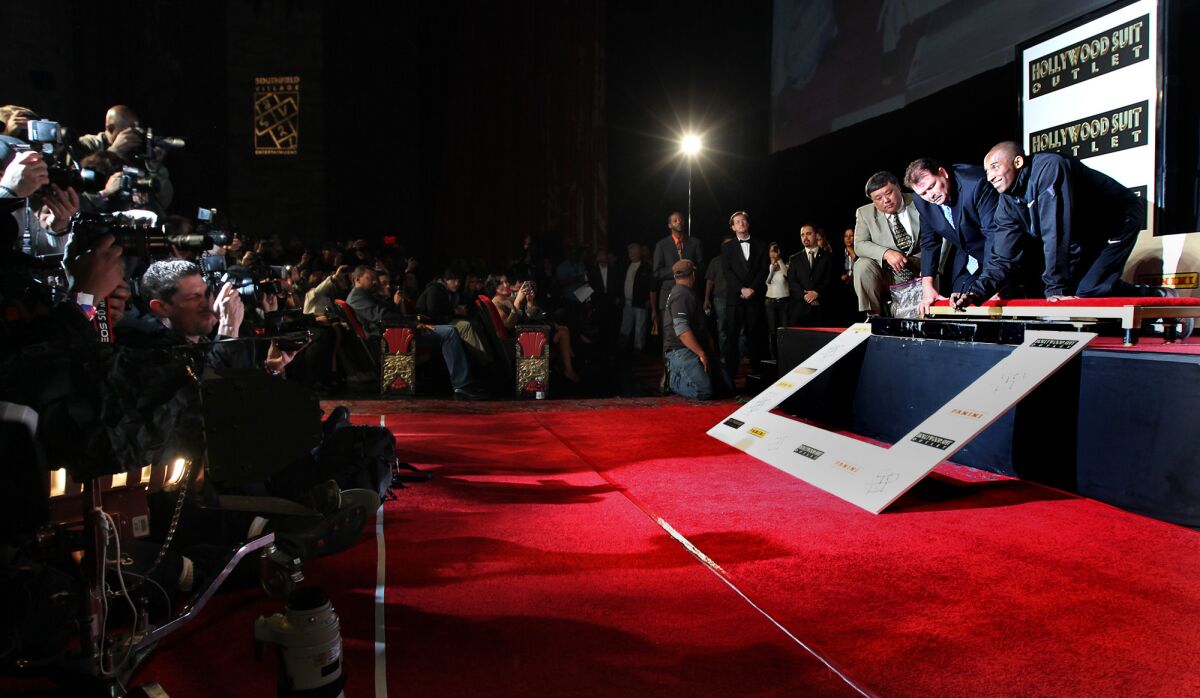 Are the imprints restricted to actors only?
Nope. Singers, athletes, producers, cars, various animals and even protocol droids have pressed their boots into the historic cement.
In 1938 ventriloquist Edgar Bergen pressed the tiny feet and monocle from one of his dummies into the stuff. Silver screen cowboy Roy Rogers brought his horse (Trigger) to his 1949 imprint, as did Western actors Tom Mix and Gene Autry.
Don Knotts and Dean Jones helped the Volkswagen Beetle car from "The Love Bug" roll its tires across the wet cement in 1977, and in 2011 Kobe Bryant became the first athlete inducted into the forecourt.
In fact, one large turnout for an imprint ceremony wasn't for an actor at all. According to the book "Hollywood at Your Feet," more than 8,000 fans showed up in 1977 to see "Star Wars" droids C-3PO and R2-D2 and villain Darth Vader make their marks.
How many mistakes are forever embedded in the cement?
Speaking of "Star Wars," Regis Philbin, who was working as a Hollywood correspondent at the time, accidentally stepped into C-3PO's still-wet square, leaving a shoe print. According to a previous interview with Levi Tinker (TCL Chinese Theatres director of tours) the mistake was later smoothed out by a cement artist. Tinker also revealed that in 1962 Kirk Douglas sank his famous chin into his personal square but the impression was later wiped away thanks to an unaware artist.
Another accident was later corrected when a worker noticed that Sylvester Stallone forgot to cross the "t" in Stallone on his 1983 signature.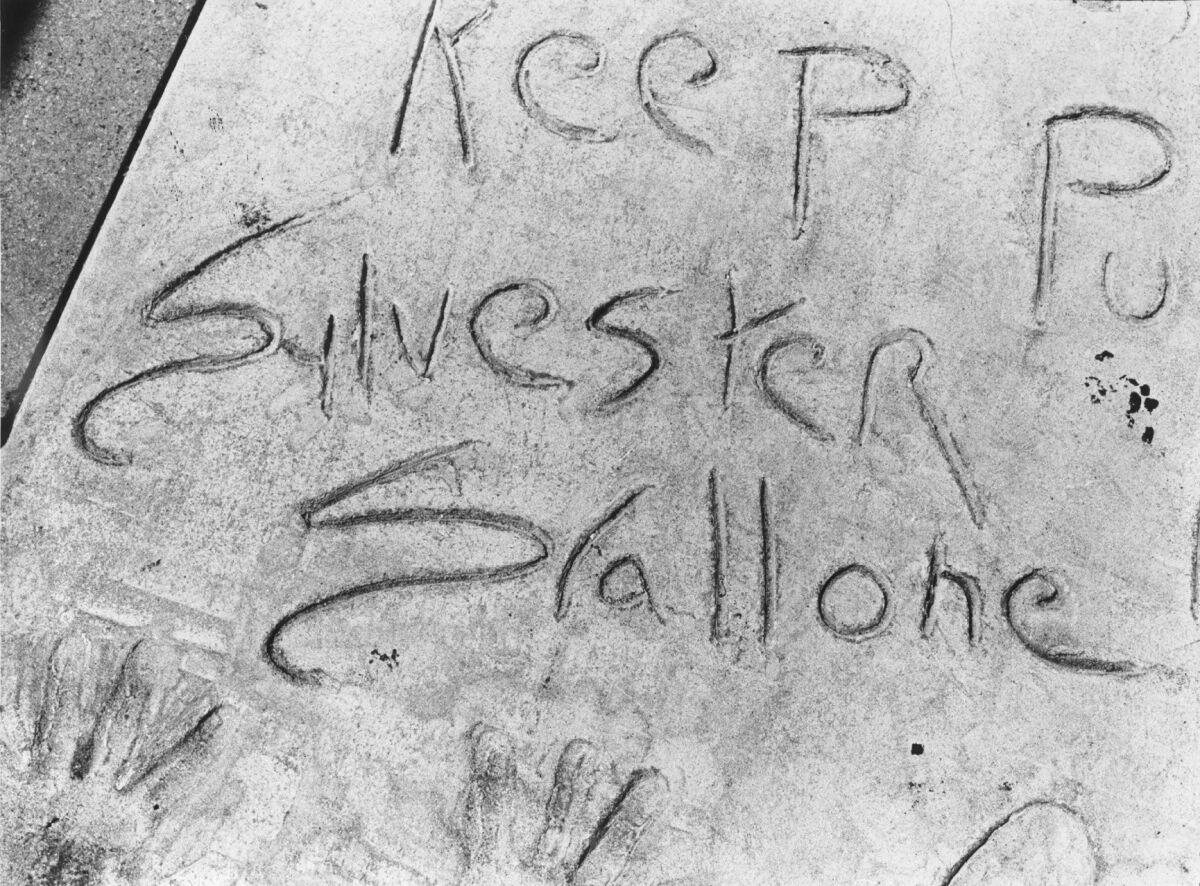 Normally the theater tries to keep the impressions accurate to the day they were made. Helen Mirren's imprint from 2011, for example, bears the mark of a bracelet that slipped off her wrist and planted itself into the wet material.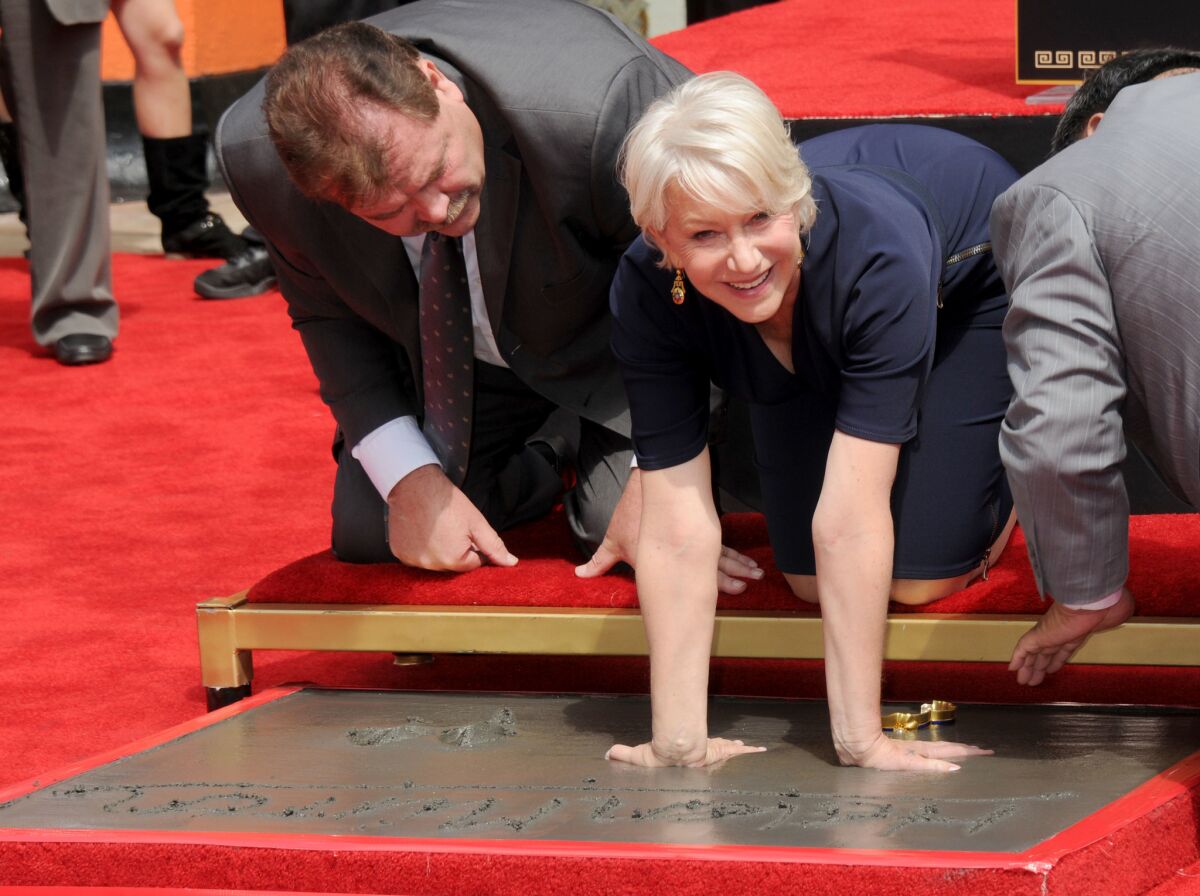 Are all cement ceremonies equal? Some of these "handprints" feel like marketing.
"Promotional" squares such as the "Love Bug" skids are different from the historical ceremonies. Often the cement impressions tied to a movie's marketing campaign are later removed from the forecourt after their promotional time is up.
In 2011 the Chinese Theatre co-owner Donald Kushner explained to The Times that imprints from the Alvin and the Chipmunks or the Smurfs came in "mock ceremonies." And they would be relocated to the Chinese 6 theaters located at Hollywood & Highland.
What other bits of history are hiding in the cement?
The forecourt is a veritable map of Hollywood history, from Marilyn Monroe's earring to the lost stone from actor Edmund Purdom, and there are plenty of additional noteworthy moments still planted in the sidewalk.
Jimmy Stewart's 1948 ceremony landed on Friday the 13th, in hopes of proving that he wasn't superstitious the actor posed under a ladder and with a black cat on a leash. Gary Cooper, however, wasn't as bold. Cooper's date also fell on the unlucky Friday, but the actor etched the 14th in his cement, in hopes of avoiding anything suspicious.
John Barrymore, known as "The Great Profile," had his face shoved by Grauman into the cement, and Betty Grable went all in and pressed her renowned legs across her square.
Twitter: @MdellW
ALSO:
Celebrating 90 years of Hollywood history on the Chinese Theatre's anniversary
Everything you need to know about Sid Grauman, the man behind the theater
Stars share their best memories of the Chinese
Get our L.A. Goes Out newsletter, with the week's best events, to help you explore and experience our city.
You may occasionally receive promotional content from the Los Angeles Times.