Carol Burnett, Jamie Lee Curtis, Malcolm McDowell and other stars share vivid memories of the Chinese Theatre
Actress Debbie Reynolds smiles and spreads cement-covered hands after making imprint in forecourt of Grauman's Chinese Theatre on Jan. 14, 1965.
(Bruce H. Cox / Los Angeles Times)
"Harry Potter" costars Rupert Grint, Daniel Radcliffe and Emma Watson offer their handprints during a ceremony in front of the Chinese Theatre in Hollywood on July 9, 2007.
(Valerie Macon / AFP / Getty Images)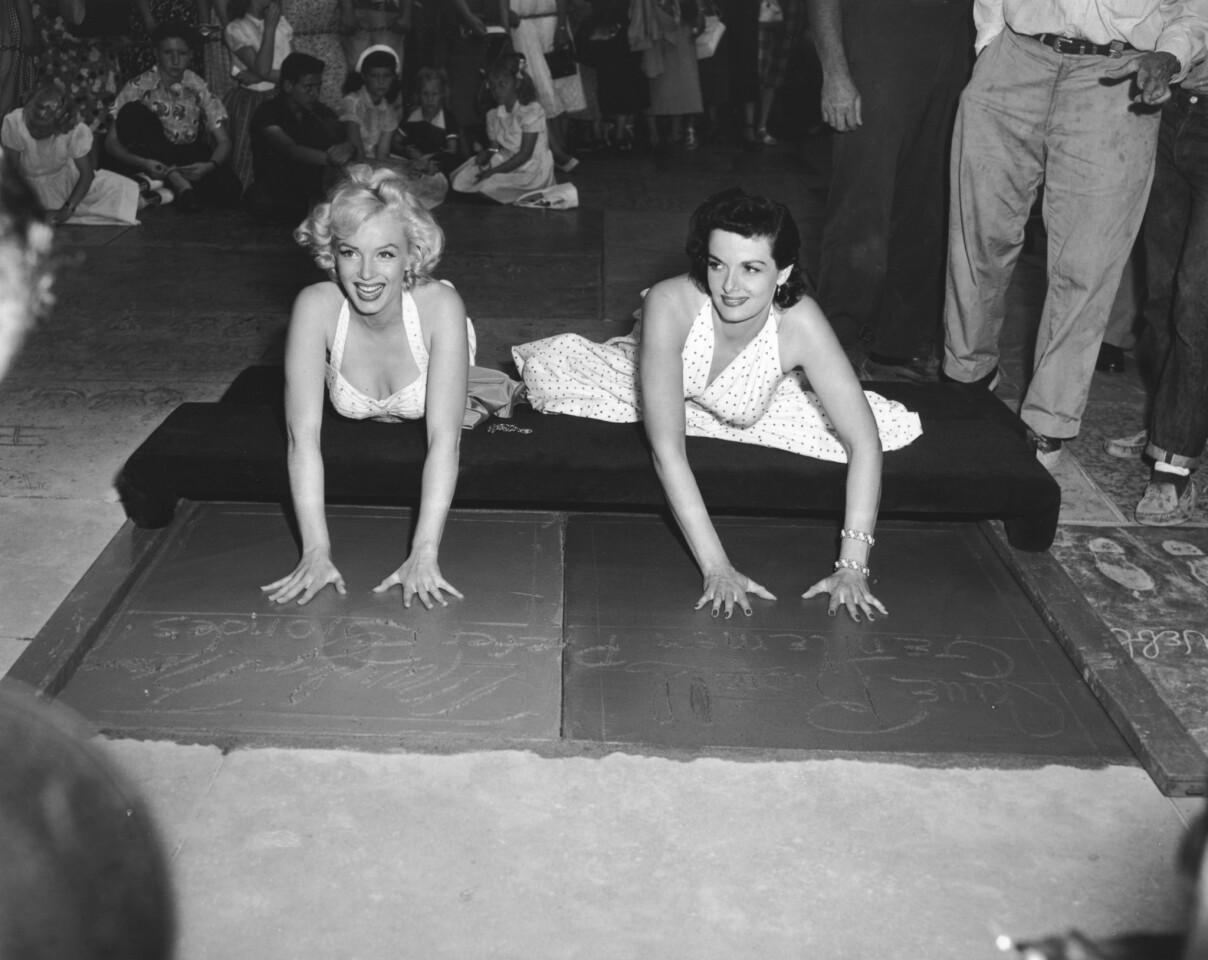 Marilyn Monroe, left, and Jane Russell plant their hands in wet cement on June 27, 1957, to commemorate the opening of their film "Gentlemen Prefer Blondes."
(Los Angeles Times)
Actress Sandra Bullock shows off her hands after pushing them into concrete in front of the TCL Chinese Theatre in Hollywood, 2013.
(Jay L. Clendenin / Los Angeles Times)
Steven Spielberg, left, and George Lucas add their imprints in cement at the Chinese Theatre on May 16, 1984.
(Larry Davis / Los Angeles Times)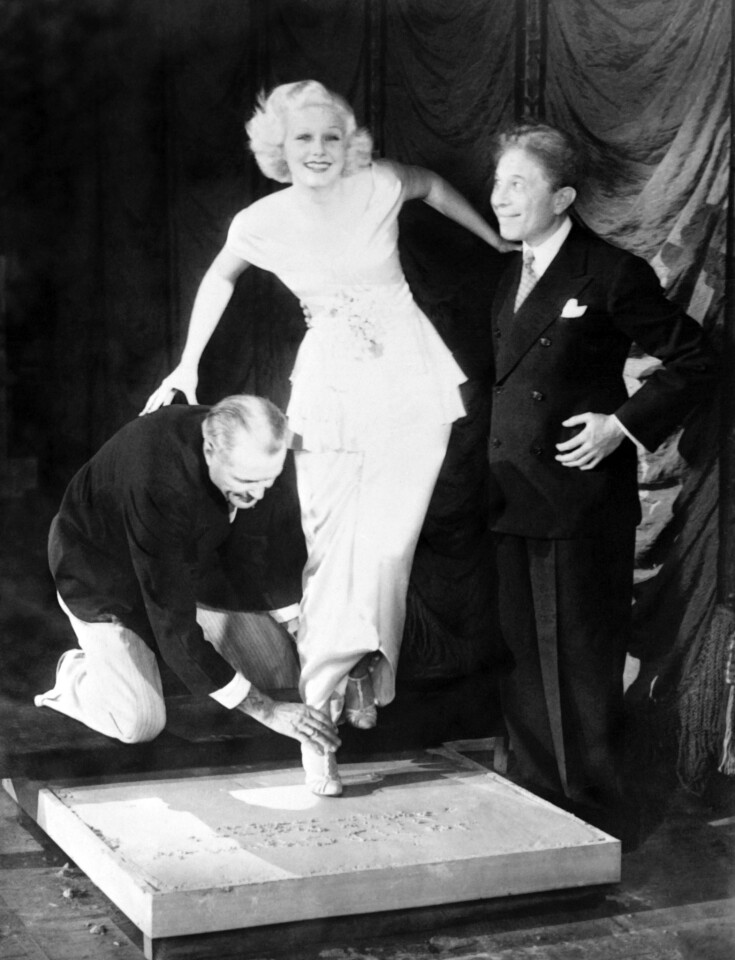 Sid Grauman, at right, takes Jean Harlow's footprint, at the Grauman's Chinese Theatre in Los Angeles, California, in 1933.
(Gamma-Keystone via Getty Images)
Oscar nominated actor Mickey Rourke shows his wet hands after he left his prints in wet cement in the famed forecourt at Grauman's Chinese Theatre in Hollywood on October 31, 2011
(Al Seib / Los Angeles Times)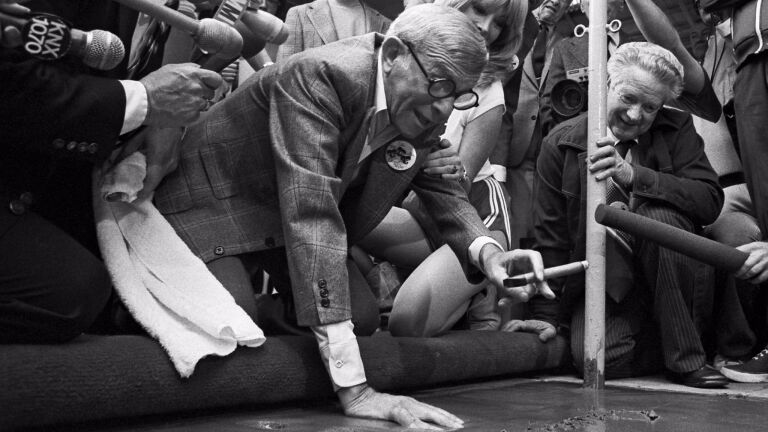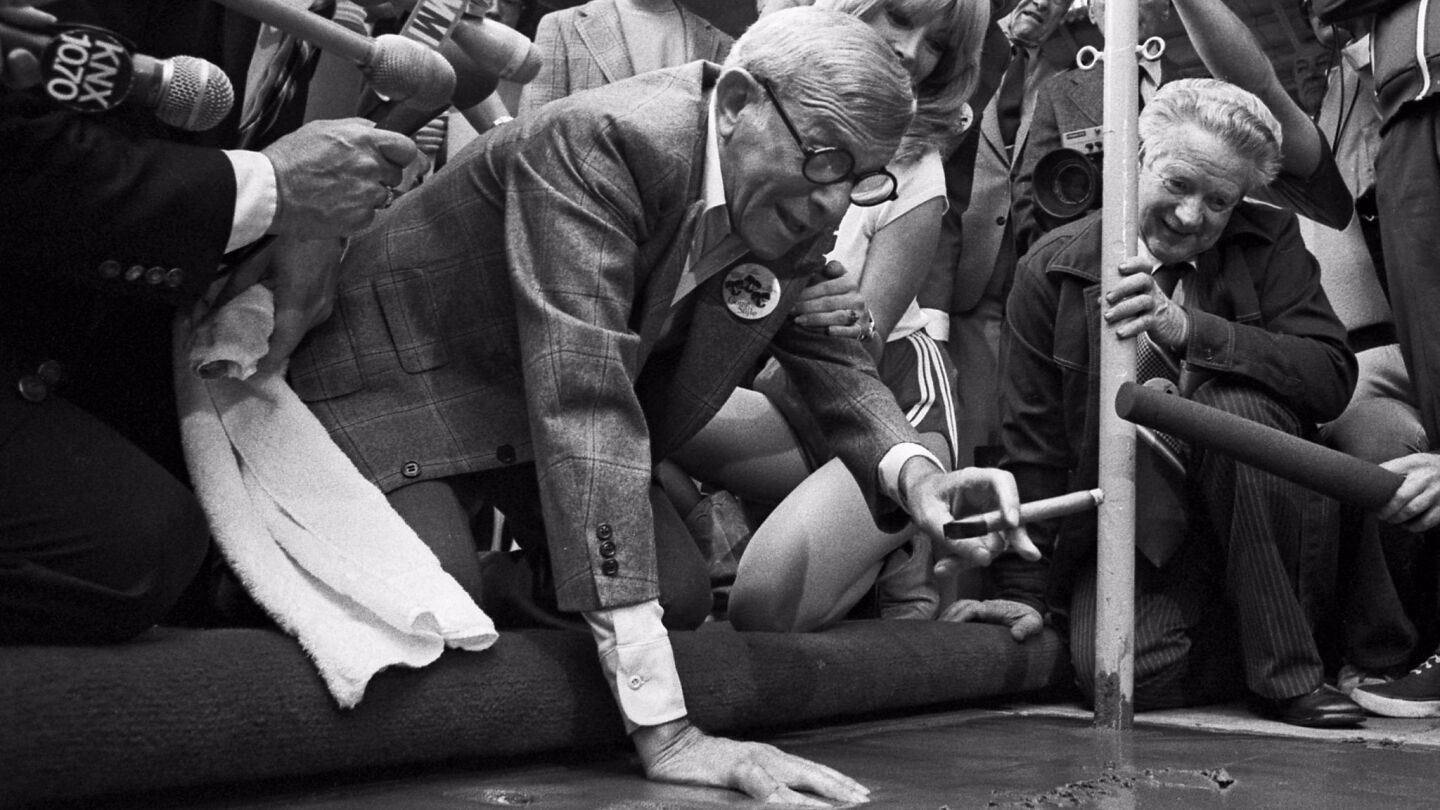 George Burns makes a hand print in cement outside Mann's Chinese Theatre on January 25, 1979.
(Joe Kennedy / Los Angeles Times)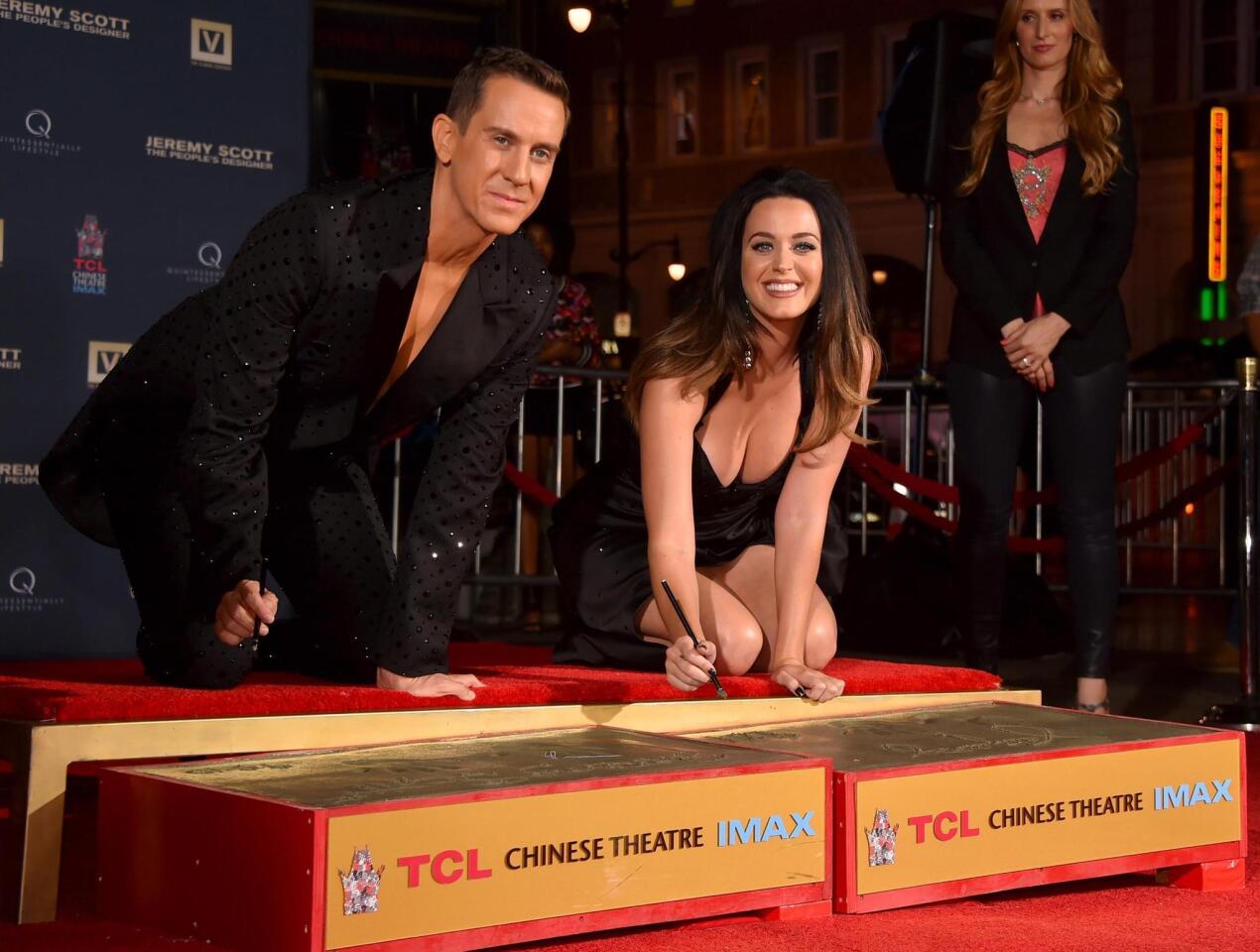 Fashion designer Jeremy Scott, left, and singer Katy Perry sign their names in cement in front of TCL Grauman's Chinese Theatre in Hollywood before adding their handprints on September 8, 2015.
(Alberto E. Rodriguez / Getty Images)
Melissa McCarthy leaves her handprints in front of the TCL Chinese Theatre, earlier this month on July 2, 2014.
(Alberto E. Rodriguez / Getty Images)
Sean Connery shows his hands to photographers after placing his handprints in cement outside the Chinese Theatre on April 13, 1999.
(Victoria Arocho/ AP)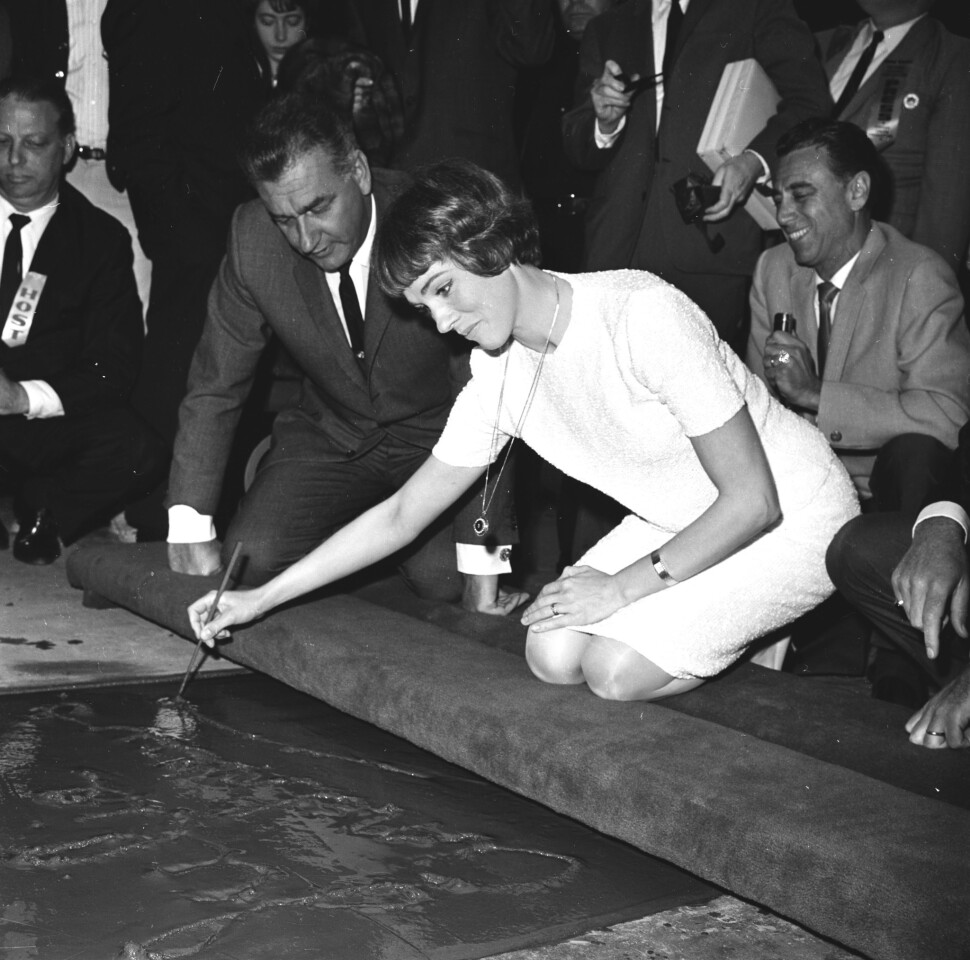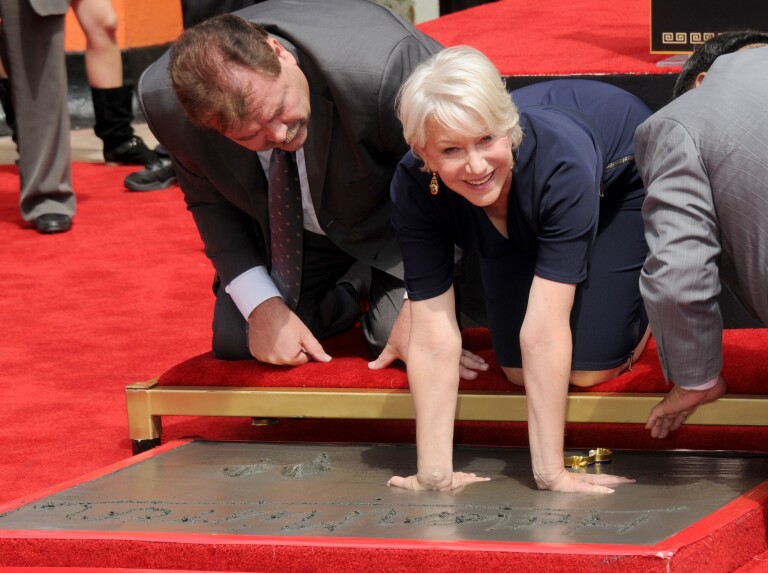 Helen Mirren gets her hand and footprints immortalized in cement at Grauman's Chinese Theatre on March 28, 2011.
(Gregg DeGuire / FilmMagic)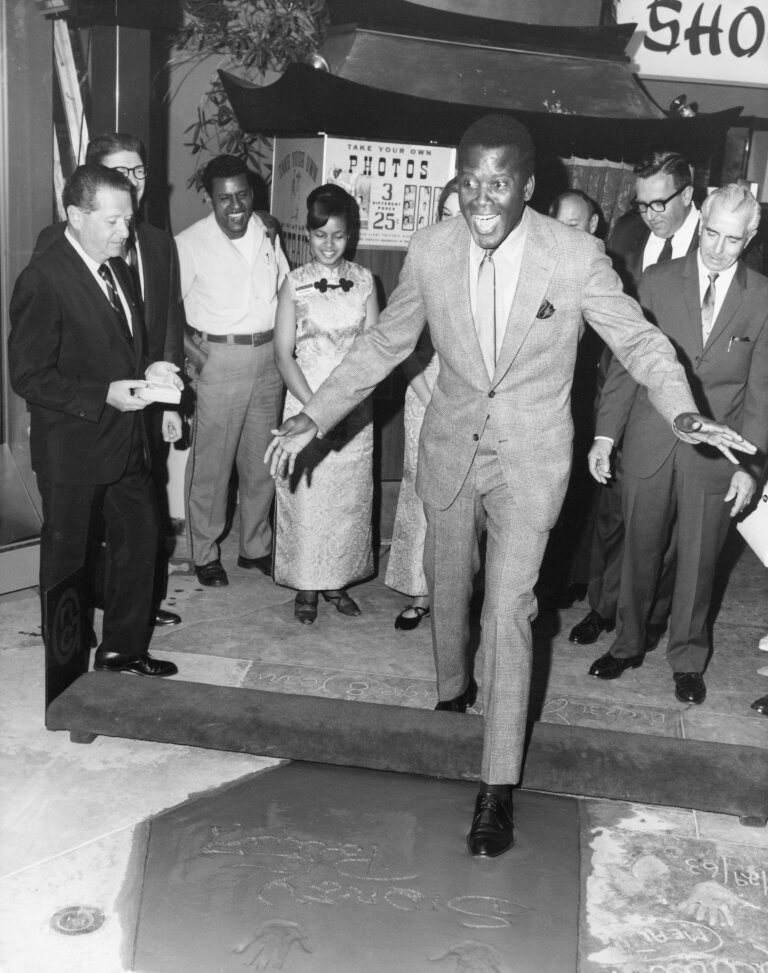 Sidney Poitier making his imprint June 23, 1967.
(hollywoodphotographs.com )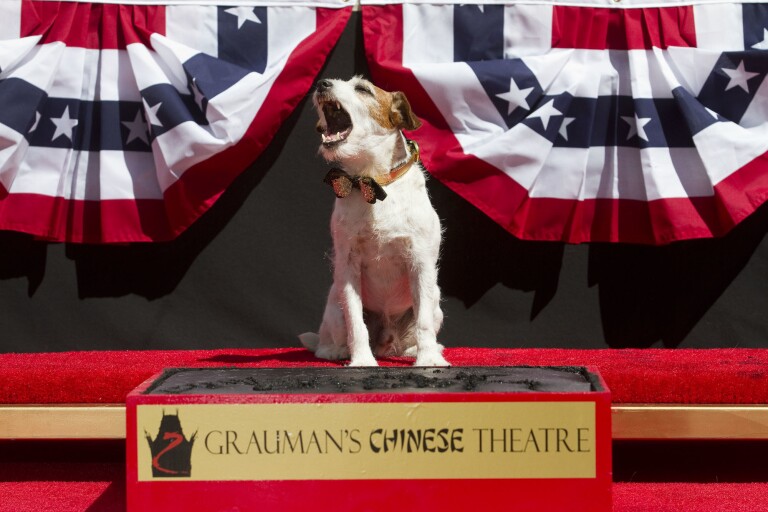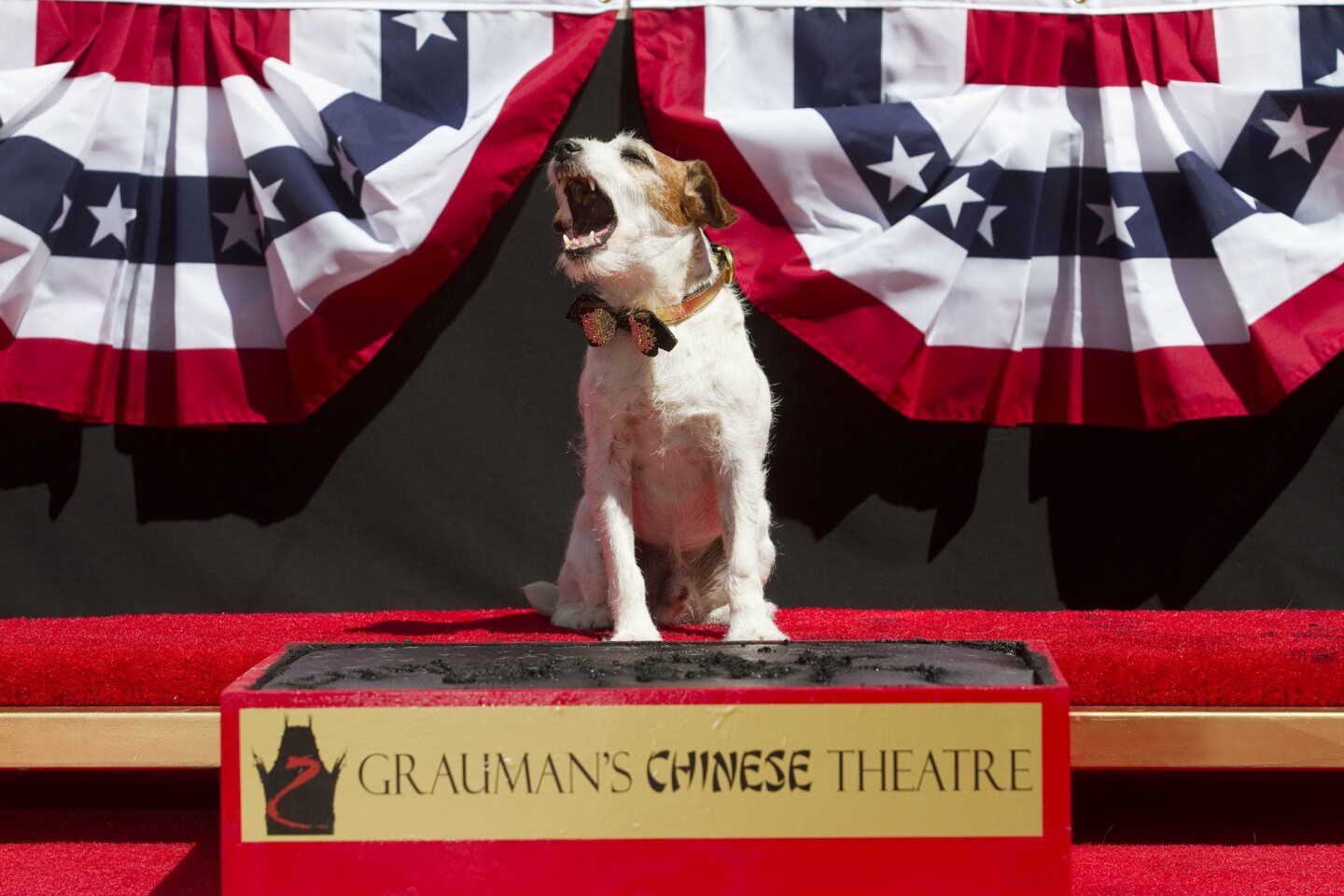 Uggie from "The Artist" lets out a bark after casting his paws in cement at Grauman's in 2012.
(Arkasha Stevenson / Los Angeles Times)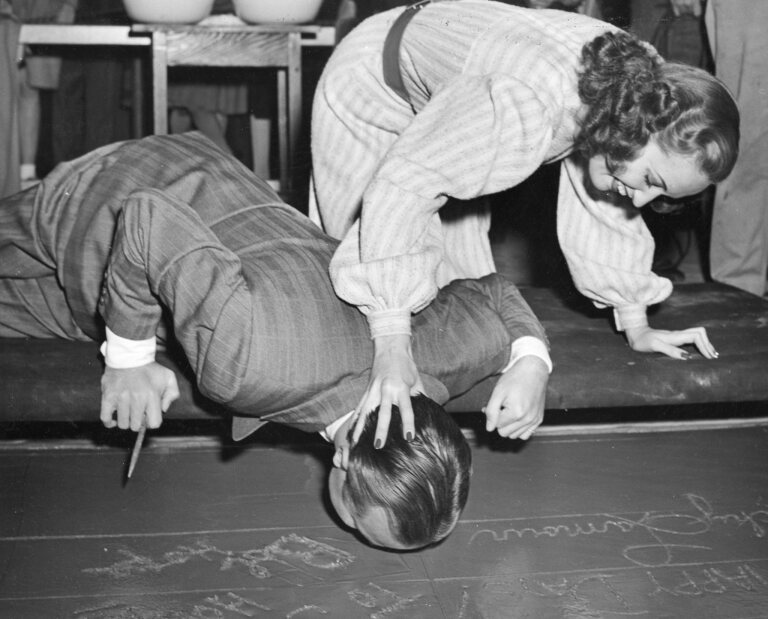 Bob Hope's face is smashed into his imprint on Feb. 5, 1943.
(hollywoodphotographs.com )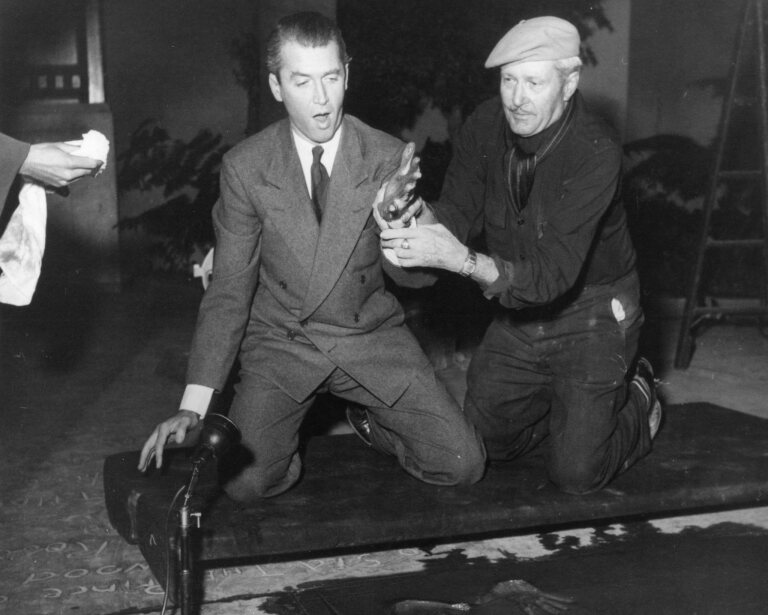 Jimmy Stewart at his handprint ceremony at the Chinese Theatre.
(hollywoodphotographs.com )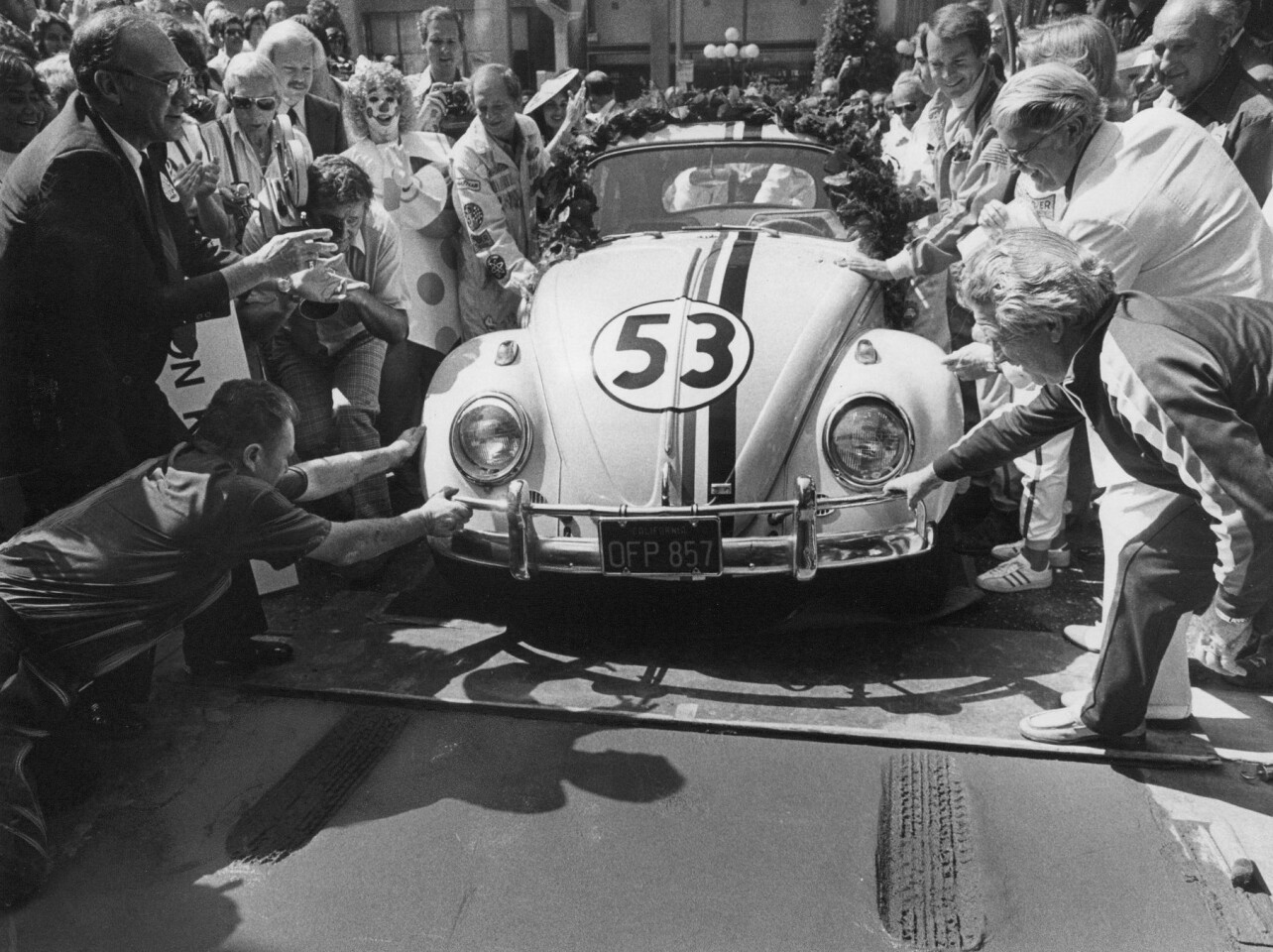 Herbie the Love Bug leaves a tireprint in the wet cement at Mann's Chinese Theatre on July 11, 1977, in Hollywood for the opening of "Herbie Goes to Monte Carlo."
(Robert Lachman / Los Angeles Times)
On Dec. 5, 1991, the eve of the premiere of "Star Trek VI: The Undiscovered Country," the original movie's cast have their signatures embossed in the forecourt of Mann's Chinese Theatre.
(Ken Lubas / Los Angeles Times / Ken Lubas / Los Angeles Times)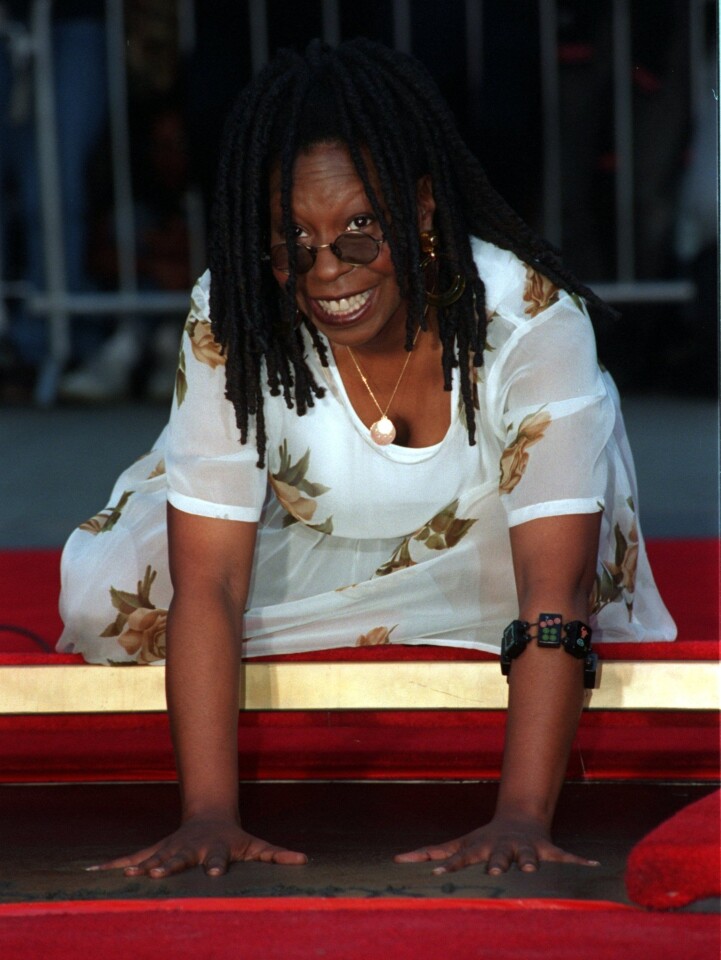 May 21, 1984: For his 50th anniversary in film, Donald Duck is immortalized in cement at what was then known as Mann's Chinese Theatre.
This photo by retired Times staff photographer Con Keyes was not published until June 9, 1984 – Donald Duck Day in Los Angeles. In a Calendar Section article, Times writer Charles Solomon reported:
(Con Keyes )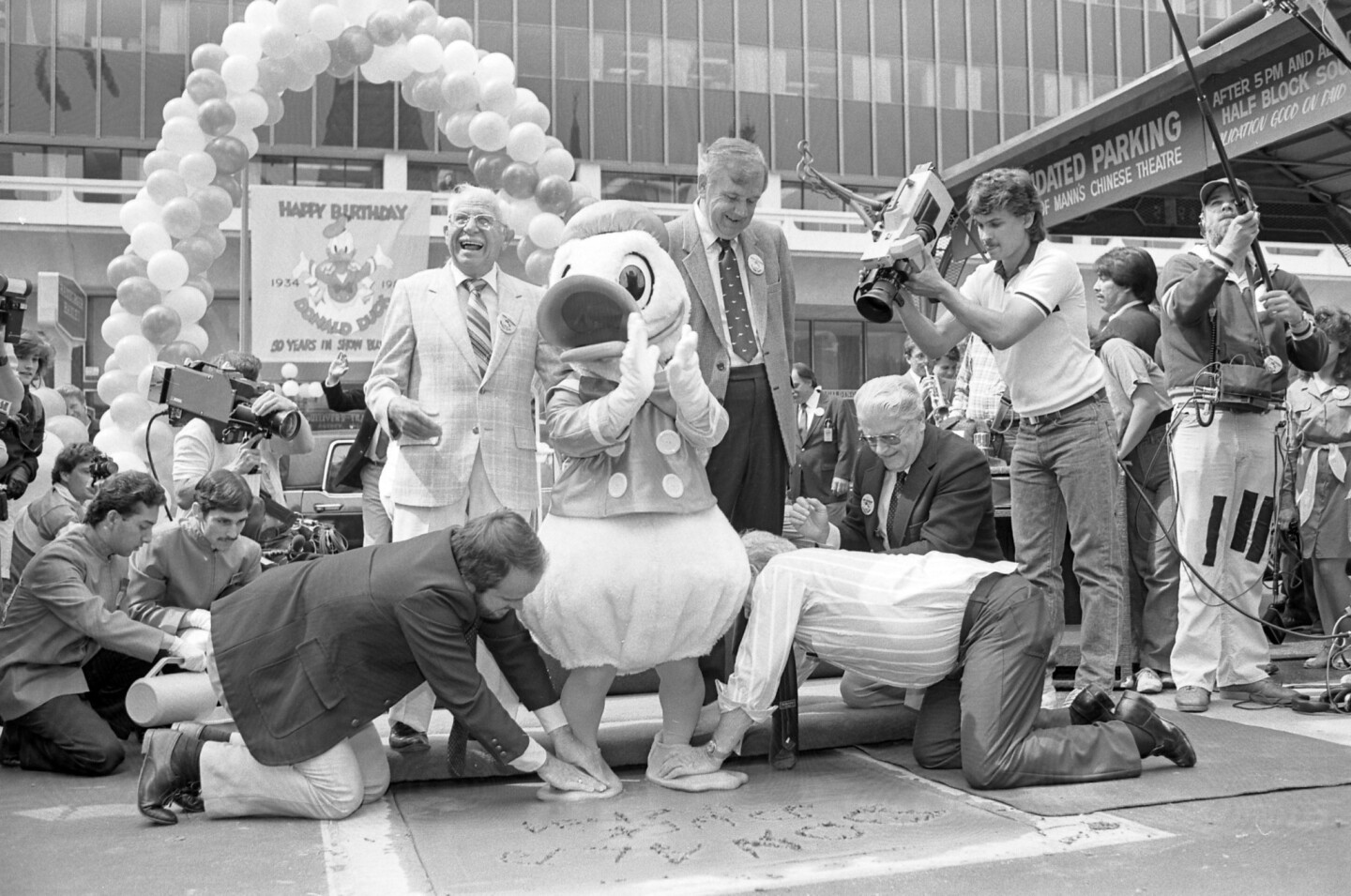 To celebrate the 50th anniversary of Disney's Donald Duck the character was immortalized in cement at the Chinese Theatre on May 21, 1984.
(Con Keyes / Los Angeles Times)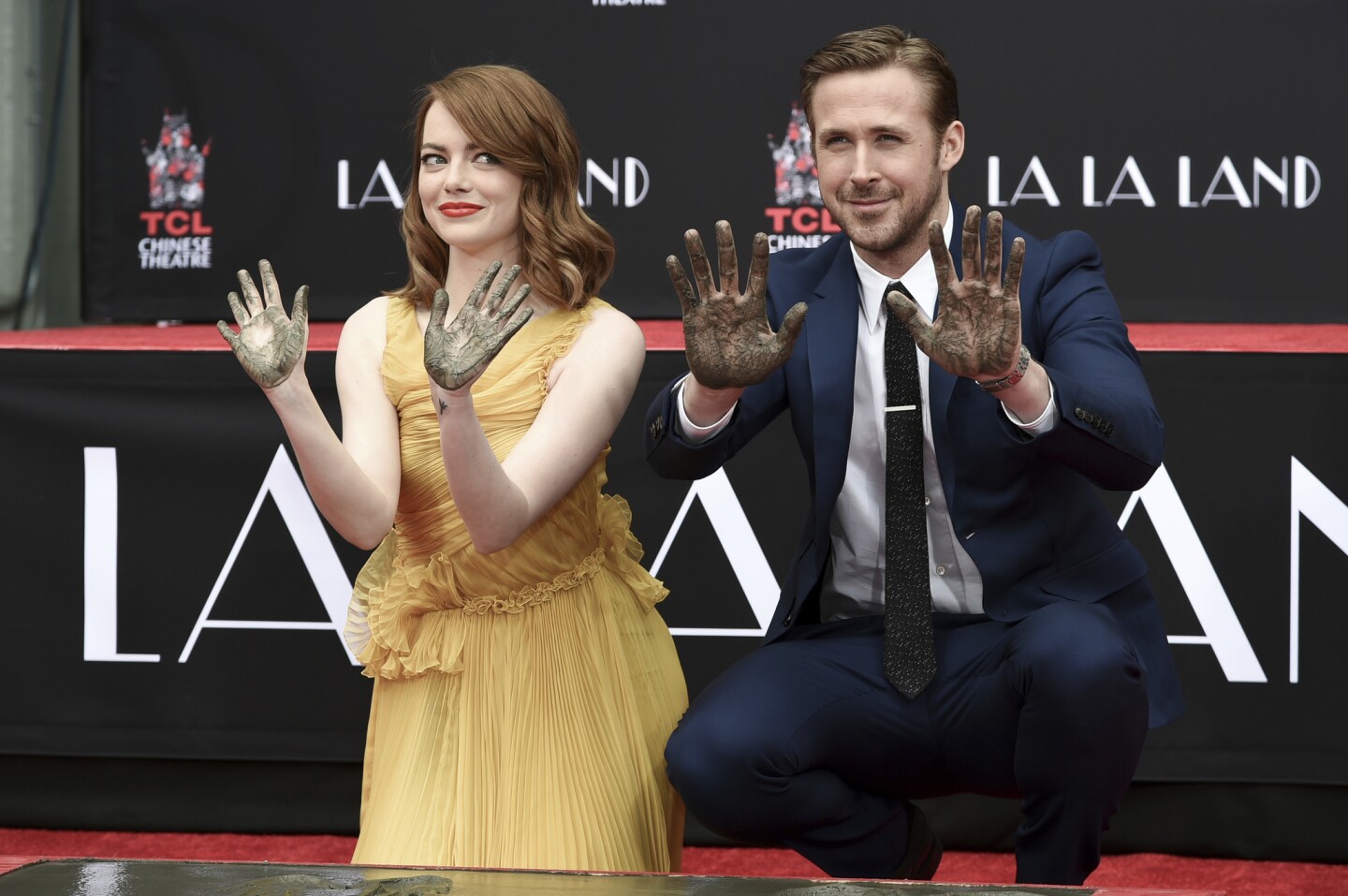 "La La Land" stars Emma Stone and Ryan Gosling show off their hands after placing them in wet cement during a ceremony at TCL Chinese Theatre on Dec. 7, 2016.
(Richard Shotwell / Invision / AP)
Burt Reynolds makes his impressions at the Chinese Theatre on Sept. 24, 1981.
(TCL Chinese Theatre)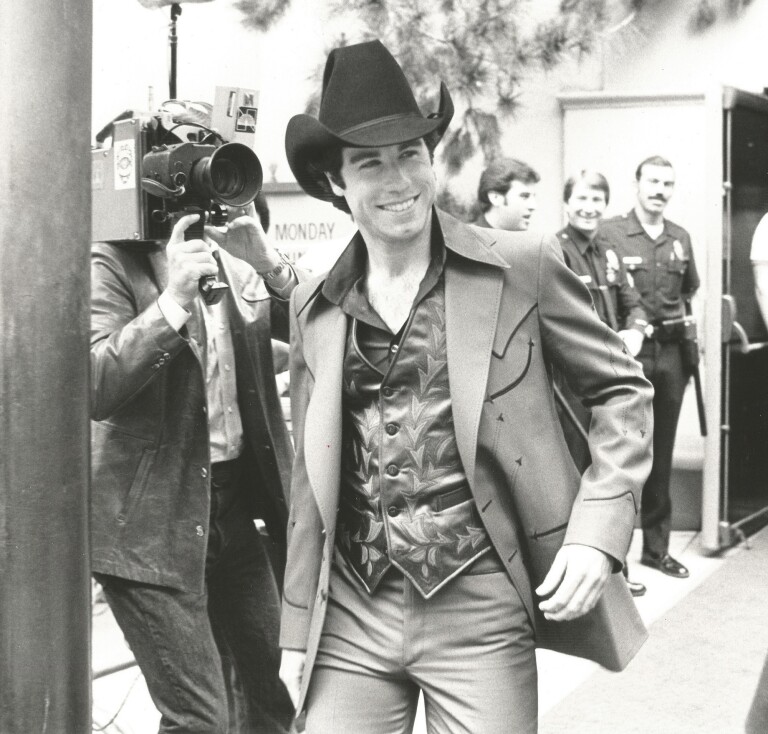 John Travolta at his imprint ceremony on June 2, 1980.
( TCL Chinese Theatre )
From left, producer Norman Lear and comic legends Mel Brooks and Carl Reiner wave to the media after Brooks placed his hands and shoes in cement at the TCL Chinese Theatre IMAX in Hollywood on Sept. 8, 2014.
(Mel Melcon / Los Angeles Times)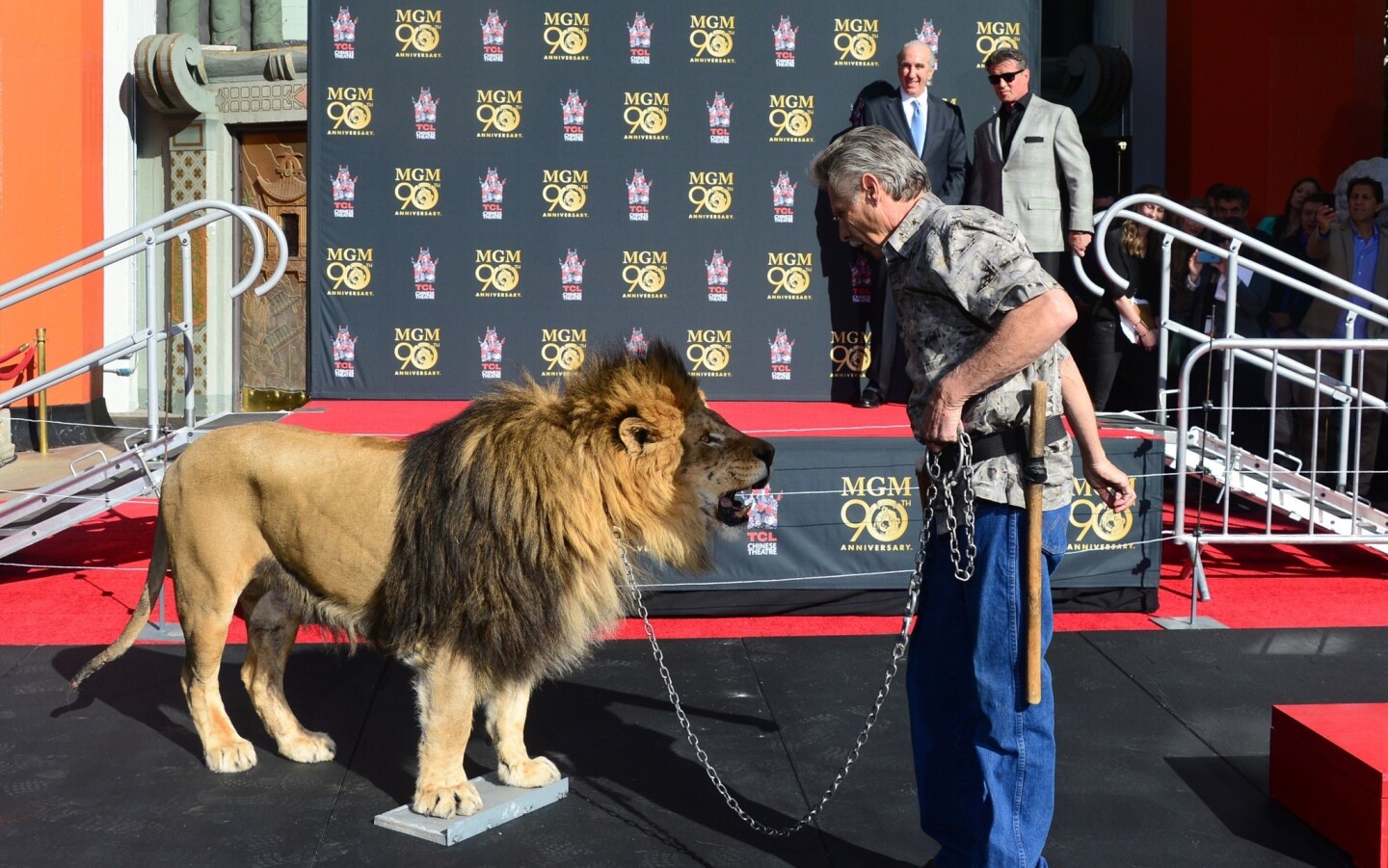 Sylvester Stallone and MGM Chairman and CEO Gary Barber watch as Leo the Lion steps onto a cement block for his paw prints at the TCL Chinese Theater celebrating the studio's 90th anniversary in 2014.
(Frederic J. Brown/ AFP/Getty Images)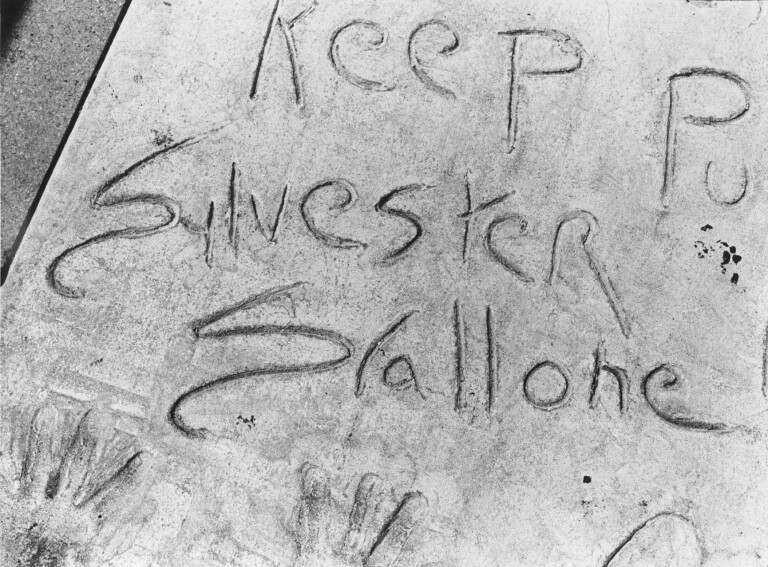 Sylvester Stallone's misspelled named etched in wet cement in front of Mann's Chinese Theater.
(Los Angeles Times file photo)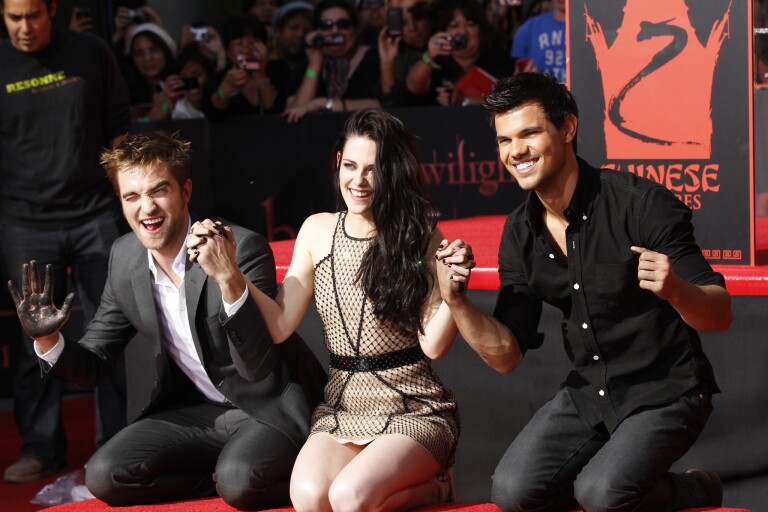 The stars of "The Twilight Saga" -- Robert Pattinson, left, Kristen Stewart and Taylor Lautner -- get into the handprint act on Nov. 3, 2011.
(Al Seib / Los Angeles Times)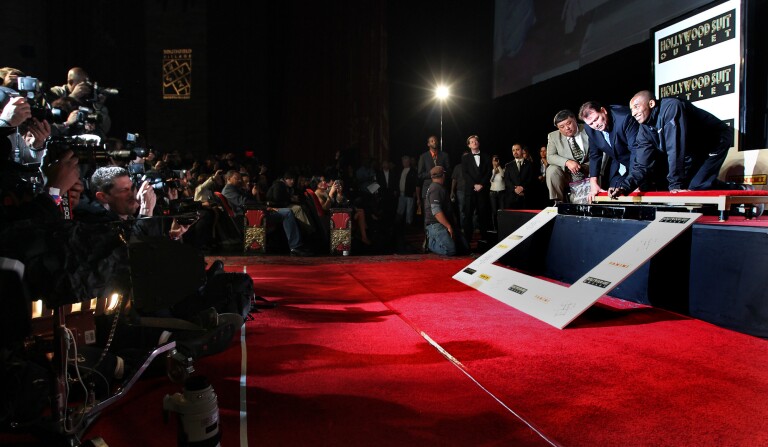 Kobe Bryant becomes the first athlete to have his hands and feet imprinted at Graumans Chinese Theater on Feb. 19, 2011.
(Christina House / For the Times)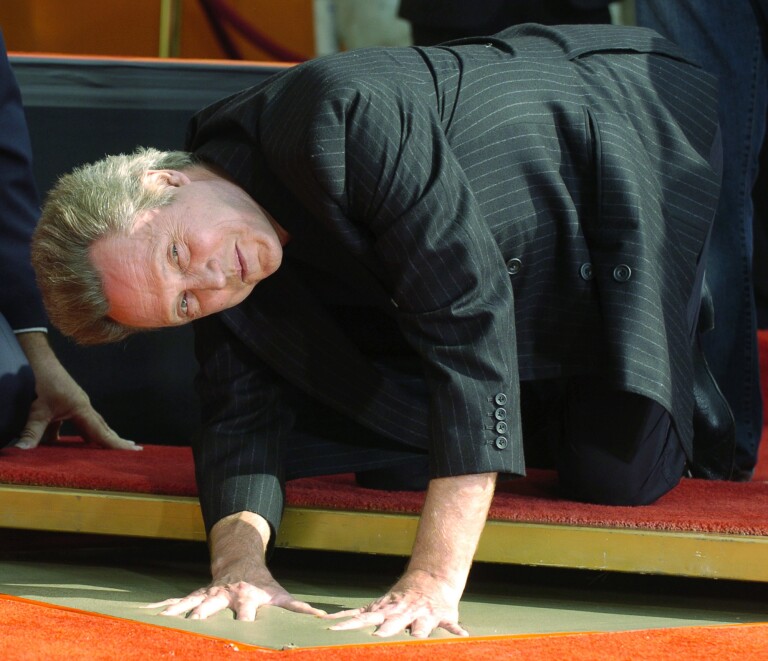 Christopher Walken makes his mark at the Chinese Theatre on Oct. 8, 2004.
(Chris Pizzello / Associated Press)
Robin Willaims makes his hand and footprints at Mann's Chinese Theatre on Dec. 22, 1998.
(Eric Charbonneau / Berliner Studio )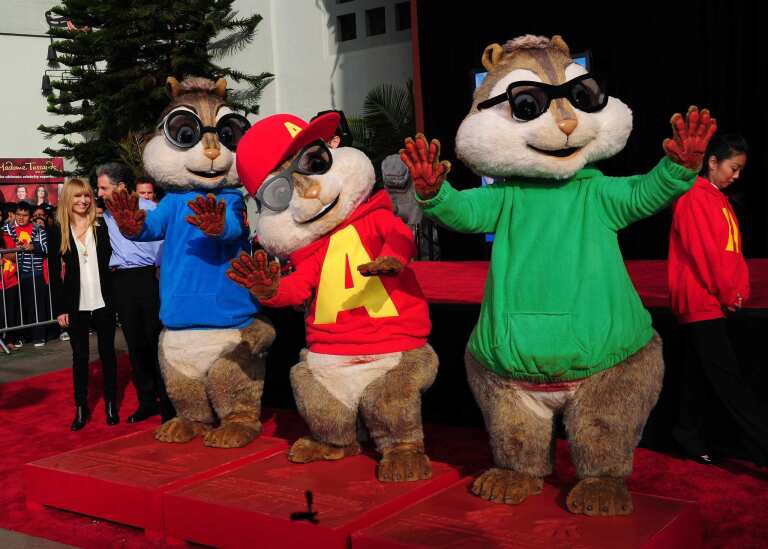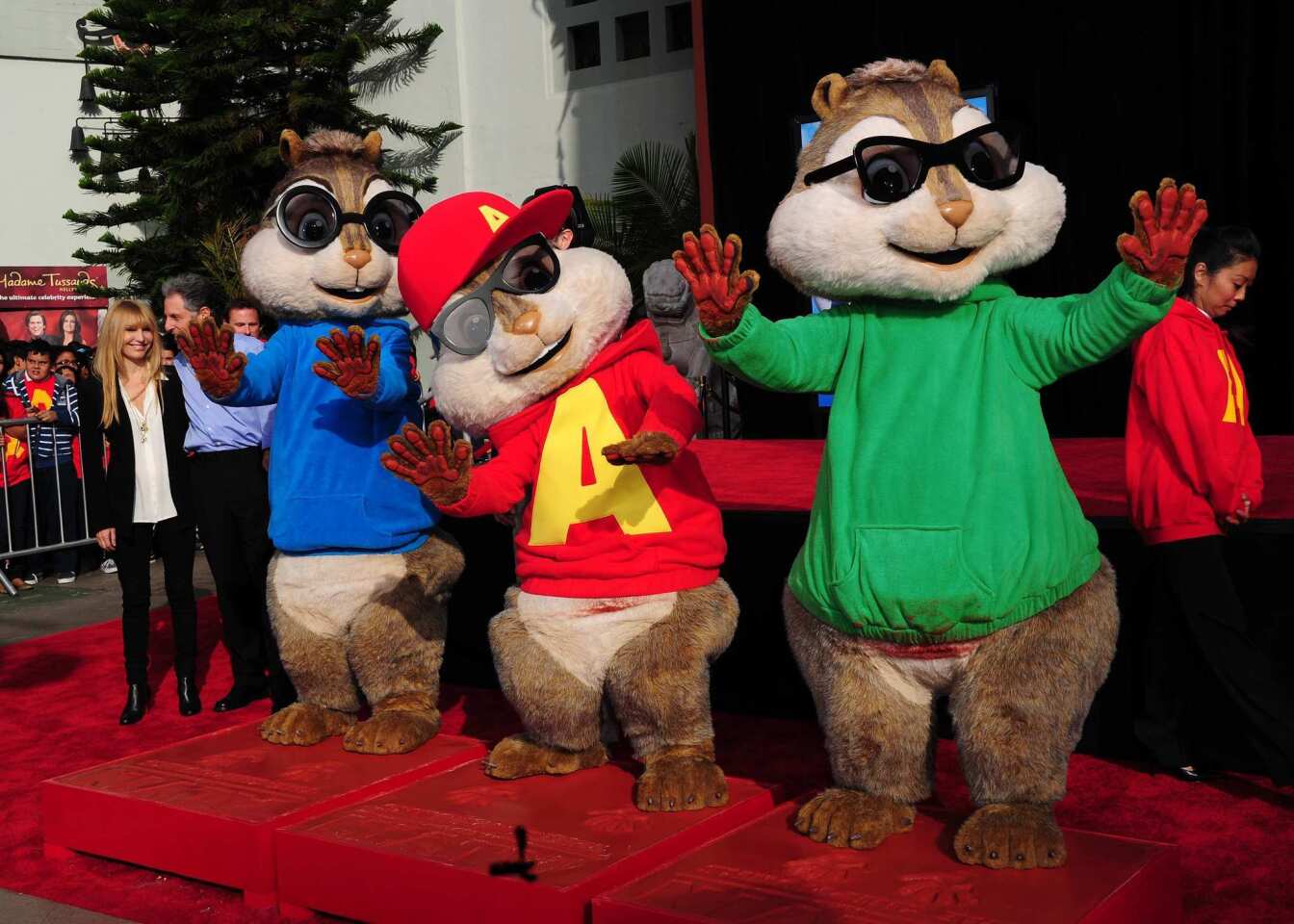 Alvin, Simon and Theodore made prints in front of Grauman's Chinese Theatre on November 1, 2011 in what theater co-owner Donald Kushner says wasn't a "real" ceremony.
(Robyn Beck / AFP/Getty Images)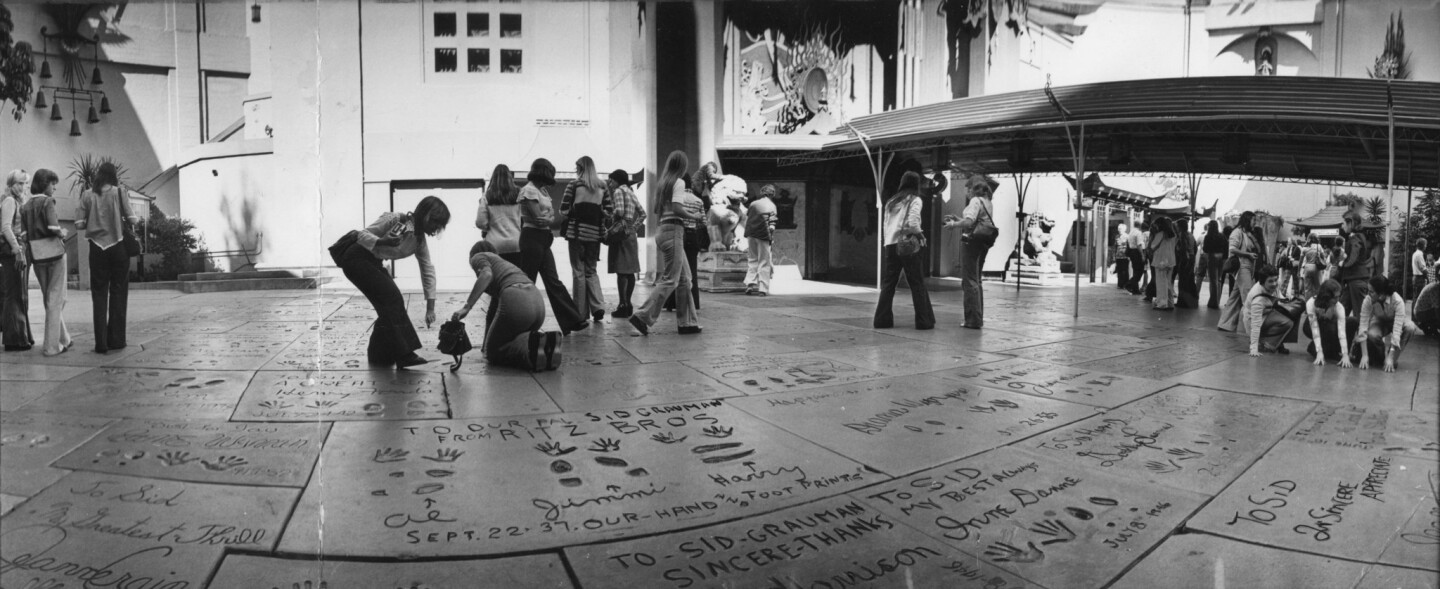 Young people check out the imprints of the stars at the Chinese Theatre on Nov. 21, 1975.
(John Malmin / Los Angeles Times)
Tour groups at the Chinese Theatre on Feb. 22, 1983.
(George Rose / Los Angeles Times )
We asked several actors, writers, producers and directors for their special recollections of the famed movie palace celebrating its 90th birthday on May 18.
Jamie Lee Curtis
Actress
I think the Chinese Theatre humanized, in the hand and footprints, the famous. It wasn't a glossy picture that seemed unattainable, but something human and tangible. That you could put your hands or feet inside theirs and feel somehow that it could too happen to YOU. I think it gave people hope in the dream that Hollywood represented.
From Grauman's to TCL: 90 years of the Chinese Theatre »
Rita Wilson
Actress, singer and producer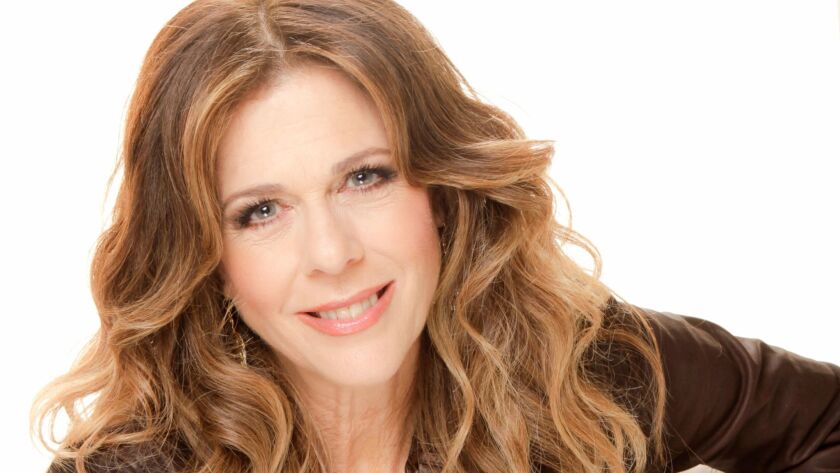 I grew up in Hollywood. Grauman's Chinese Theatre, as it was known then, was my favorite theater. It didn't just have the spectacle of great design that transported you to some realm of a distant land mixed with fantasy, it had the added attraction of being able to place yourself where the greats once stood. Going to a movie there was an event. People came from all around the world to see this place, and it was in my backyard. When Tom was honored with being "immortalized" by having his hand and footprints placed at the Chinese, I remember thinking that one day someone will come and stand where he stood and feel the same magic, knowing what I did when I was a kid.
George Chakiris
Oscar-winning actor ("West Side Story")
I lived in a rooming house [in the 1950s] on Hollywood Boulevard. I took class at the American School of Dance on Hollywood Boulevard, very close to Grauman's Chinese Theatre. I used to clean the studio at night to pay for classes. So I'd pass [the theater] every night. It was really dreamy.
And the premiere of "West Side Story" was there. I'd never been to a premiere… it was just a fantastic time. Everybody was there.
Natalie Wood did her footprints, I think, maybe in 1962 or something. And so when Rita Moreno, Russ Tamblyn and I did ours [in 2011], they put us right next to Natalie, which was really nice, you know?
Larry Karaszewski
Emmy-, Golden Globe-winning writer-producer ("The People v. O.J. Simpson")
My favorite memory is watching Mel Brooks' "Blazing Saddles" there, because the end of the film takes place at the Chinese! The audience went crazy when Harvey Korman rushes up to the box office and tries to buy a student ticket. Then he comes in and sits among us — a totally surreal experience!
Richard Roundtree
Actor ("Shaft," "Being Mary Jane")
Thinking back, the first time I came to town [in the 1960s] was with the Ebony Fashion Fair. We stayed at the Hollywood Roosevelt Hotel. I walked the block down Hollywood Boulevard, then back up to the Chinese. It was a solo trip. That was a pretty magical moment, Hollywood — oh, my goodness!
Leonard Maltin
Film critic, historian and author
I was sent to cover Sean Connery's ceremony, which was a tie-in with his movie "Entrapment" (1999). I asked what it meant to him to participate in this Hollywood tradition and he gestured across the street to the Hollywood Roosevelt Hotel. That's where he stayed on his first trip to L.A. to work here, and naturally, he walked across the street to look at the forecourt of Grauman's. To be honored there, some 40 years later, understandably had great significance for him… and I was touched to hear the sincerity in his voice as he told me that story.
Carol Burnett
Emmy-winning comedy legend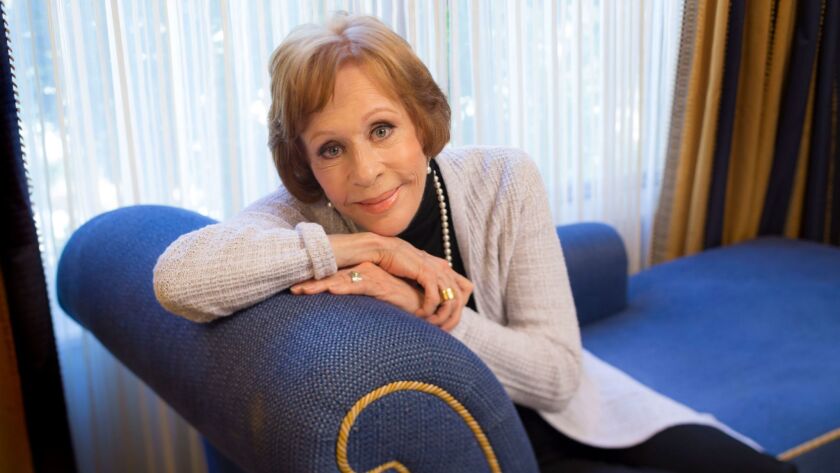 I grew up practically on Hollywood Boulevard. Nanny [her grandmother] and I would go to the premieres at the Chinese. I remember at the Chinese we were hanging over the ropes watching the movie stars walk by.
I was hanging over the ropes with my grandmother and Linda Darnell had gotten out of her limo and decided to walk past all the people. My grandmother, who was, let me put it this way, not exactly shy, grabbed her by the arm and said, "Linda! Linda. Please give this little girl your autograph. She adores you."
So she was very sweet. I had my autograph book and she signed it. But I looked up and I could see — she was tall and, of course, I was little — that her nostrils didn't match. If you put your nose up and look, it's like the right side and left side of your face are different. I can still duplicate her signature!
Joe Dante
Director ("Gremlins," "Innerspace"), whose first film was 1976's "Hollywood Boulevard"
"Hollywood Boulevard" was so cheap, we couldn't afford a ticket to go inside [to shoot], but there's a shot of the Chinese from across the street. The low-rent horror import "Beyond the Door" was on the marquee.
Illeana Douglas
Actress-author and TCM host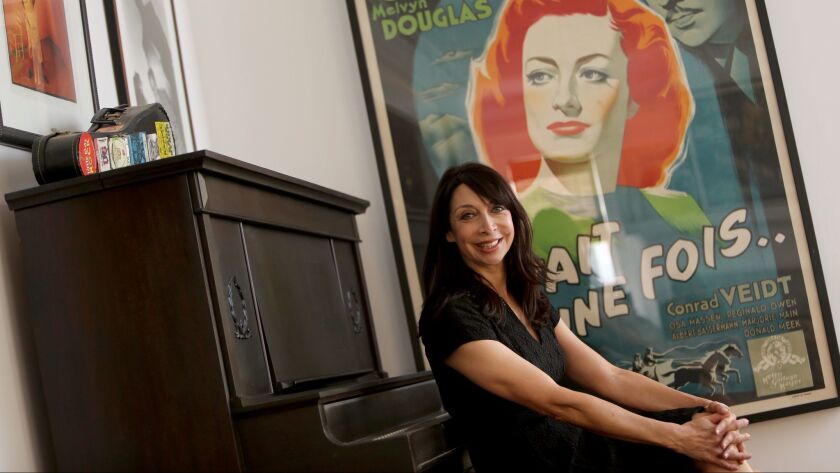 The handprints and footprints of movie stars outside Grauman's is my favorite Hollywood landmark. Luckily for me, I started working with TCM right around when they incorporated this revered tradition into their annual TCM Classic Film Festival.
It seemed unthinkable that Jerry Lewis' hands had NOT been cast in cement at Grauman's. That changed in 2013, when he was honored at the TCM Classic Film Festival. I was proud to have a little hand myself in helping this come about. You can see the smile on my face. It's one of my favorite days ever.
After the ceremony, we all went and had Chinese food at Genghis Cohen. The funny thing is, no one mentions the ceremony again. It's only special while it's happening. Afterward, it's strictly cornball. But I ask you — how can something that hokey choke me up like this?
Ben Mankiewicz
Prime-time host of TCM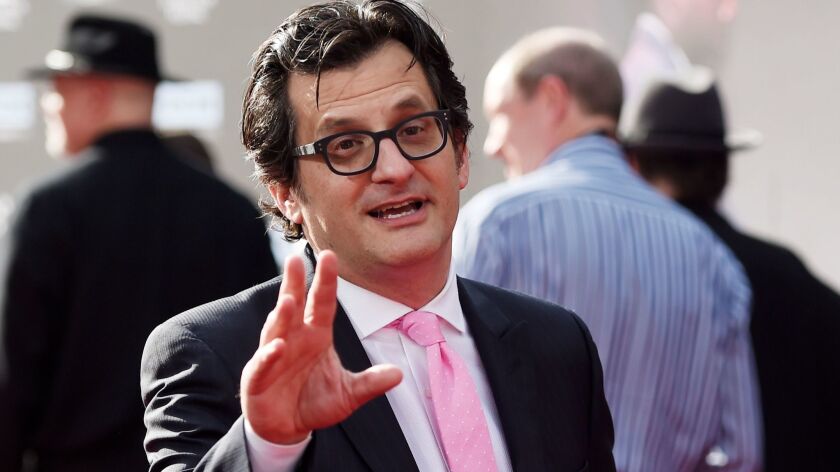 So I'm in the lobby of the Chinese on the Friday morning of our festival. I'm the MC — for lack of a better term — of the hand and footprint ceremony for Carl and Rob Reiner. Big names are coming… Mel Brooks is supposed to come. But for me, none bigger than Billy Crystal, who'll give a little talk about Rob before the Reiners step in it. I'm nervous — the acoustics are bad outside the theater, it's incredibly sunny and the guests of honor are off to the side, not in front of me — that's reserved for 4,368 cameras. I've got to say something smart and funny in front of people who've defined smart and funny for 75 years. I'm terrified that the wind will blow my notes off the lectern as I'm standing there. I'd like not to use notes but I have too many points of business to get through before I try to be funny. I go down the steps to the large men's room and who's standing just outside it? Billy Crystal. And he's got notes and he's reading them, going over his speech. BILLY CRYSTAL IS USING NOTES TOO. If Billy Crystal needs notes, I can use notes. The time comes. I give my welcome remarks… I'm moderately funny, A few minutes later, I welcome Billy Crystal. He walks up, shakes my hand and starts to speak. And that ungrateful bastard has no notes. It's all memorized. Billy Crystal has BETRAYED me. Also, he was transcendentally funny. Which made me even angrier.
Bruce Vilanch
Emmy Award-winning writer-actor
It was the summer of 1956 [when I went to the Chinese for the first time]. I was 9 years old. We came to L.A. [from New York] to visit relatives and see Hollywood. That afternoon, we had gotten a private tour of the Fox lot. That night, we went to Grauman's Chinese. The movie playing was "The King and I." We walked into the theater as if it was a palace of the king. Only inside, it really was an "oriental" palace, exotic, dark and elegant. Unique. The screen was huge. The rake of the theater seats was generous and the wow factor intense. When the music came up, you weren't merely at the movies, you were in a magical space and time far removed from your own. The movie on-screen perfectly mirrored the place where we were sitting. I don't think I have had that experience since. It is one of the reasons I keep going to the movies when I could watch them at home…
Malcolm McDowell
Actor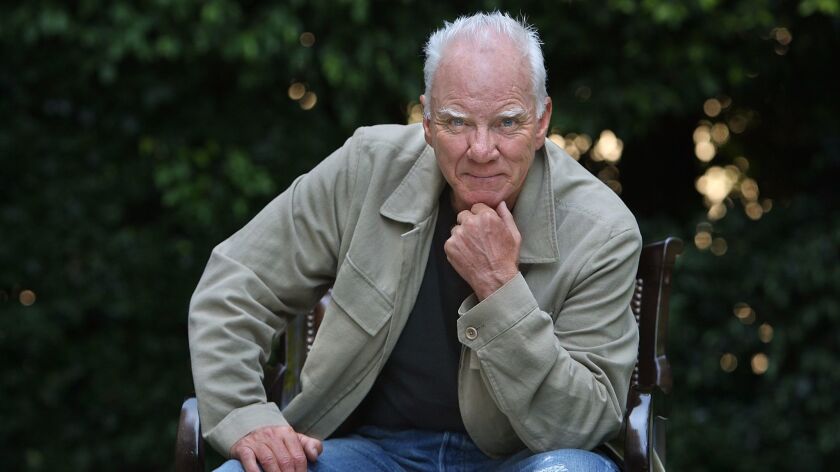 The very first time I went to the Chinese Theatre was in 1971 when they were showing [his film] "A Clockwork Orange." I was very excited, because being an English actor, I had always heard of the folklore of the traditions of the Chinese. I distinctly remember seeing photographs of Marilyn Monroe putting her hands in cement at the theater.
Over the years, I've attended many screenings and premiers there, with the last being for "The Artist," which went on to win the Academy Award for best picture that year. Of course, it is the mecca of theaters for any actor who loves film.
Do you have a memory from the Chinese Theatre that you'd like to share? How has the theater changed with Hollywood? We'd love to hear your classic Hollywood stories feel free to share your own story with the Chinese Theatre in the comments below or on Facebook.
ALSO:
All the celebrity secrets imprinted forever in the Chinese Theatre's Forecourt of the Stars
PHOTOS: Hollywood's Chinese Theatre moments: From Grauman's to TCL
---
The complete guide to home viewing
Get Screen Gab for weekly recommendations, analysis, interviews and irreverent discussion of the TV and streaming movies everyone's talking about.
You may occasionally receive promotional content from the Los Angeles Times.