Two top Cinefamily leaders resign over anonymous allegations of sexual misconduct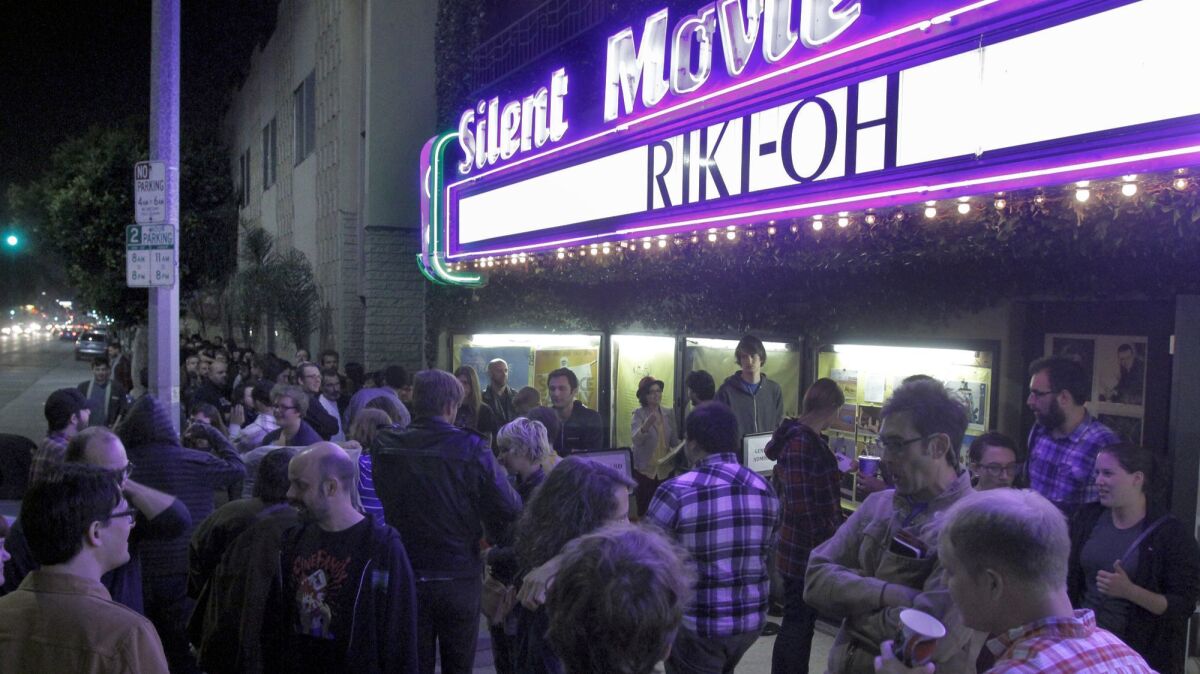 Two leadership figures at Cinefamily, a prominent fixture in the Los Angeles repertory cinema scene, resigned Tuesday evening following a fast-escalating scandal alleging misconduct in and around the popular nonprofit theater on Fairfax Avenue.
In an anonymous email that circulated widely online and via social media beginning Monday morning, Cinefamily's co-founder and executive creative director, Hadrian Belove, and Shadie Elnashai, vice president of its board of directors, were accused of separate incidents of sexual misconduct toward women.
Belove and Elnashai's exits were made official Tuesday evening in an announcement posted to Cinefamily's social media accounts.
"In light of recent events, Shadie Elnashai has resigned from Cinefamily's Board of Directors and Hadrian Belove has resigned as the Executive Creative Director of Cinefamily," read the statement.
Addressing the allegations in a post to his personal Facebook account following his resignation, Belove described the email's contents as "demonstrable lies and half-truths, and allegations without known victims."
Reached by The Times on Tuesday, Belove further denied the claims and said he opted to resign after consulting with the board, rather than subject the organization to continued scrutiny.
"It was my decision. I consulted with the board and was aware of the implications for the organization. It was putting a lot of people through a lot of stress for a long time," Belove said. "I wasn't sure it could survive. I didn't feel comfortable putting my sense of right and wrong before the organization."
Elnashai did not respond to an email request for comment Tuesday.
The email, sent by an anonymous source and subsequently reposted widely on Facebook and Twitter, made claims of sexual harassment and sexual assault in and around the single-screen movie theater known for its quirky programming and social events. Its advisory board members include high-profile performers and filmmakers such as Brie Larson, Joseph Gordon-Levitt and Jay and Mark Duplass.
Included in the anonymous email, which The Times reviewed, were documents from a 2014 lawsuit brought against both the organization and Belove by a female former employee.
As the PR crisis reached a crescendo online Tuesday, organizers of the Acropolis Cinema screening series scheduled to take place at Cinefamily told The Times they moved "Sieranevada" to the Downtown Independent in light of the scandal.
On social media, several Cinefamily patrons weighed in on the situation, with some threatening to boycott the theater and others defending it.
Co-founded in 2007 by Belove, the nonprofit is dedicated to "finding and presenting interesting and unusual programs of exceptional, distinctive, weird and wonderful films," according to the theater's website. Programming varies from repertory screenings to new indie film releases, Q&A events and special events outside on the theater's back patio.
During a highly publicized 2012 fundraising campaign, Robert Downey Jr. pledged to cover the cost of new equipment, and the organization raised $158,541 in a Kickstarter campaign supported by members of the indie film scene. Earlier this month, David Lynch made an appearance to introduce the Ben Barenholtz film "Alina."
Trevor Jones was hired two years ago as executive managing director of Cinefamily, sharing executive director duties equally with Belove before Belove's departure, with both reporting to the board of directors. On Tuesday evening, Jones confirmed a complaint lodged in 2016 against Elnashai. He emphasized that the complaint was of a "nonviolent" nature, contrary to the allegation of assault levied in the anonymous email.
"There was a situation in which one person witnessed an incident that they thought was an unwelcome interaction," Jones told The Times. "We addressed the claim; I did a thorough investigation of the claim including consultation with our partners, and then came to a resolution of the claim that was posed to the claimant, and the claimant said they were satisfied at the action taken in response to the claim."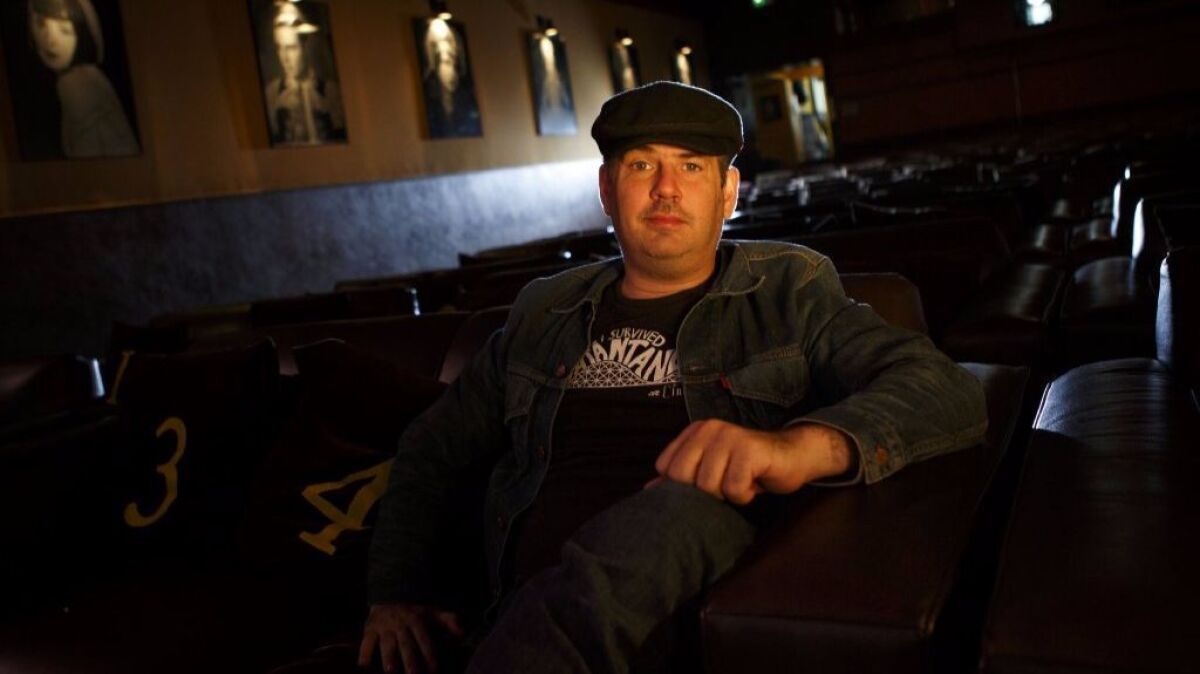 In the wake of the complaint, Jones said, he instituted annual workplace harassment seminars for his employees conducted by consulting firm Ogletree Deakins. Following this week's allegations, Jones told The Times he reached out to the Los Angeles Police Department and took measures to establish safe channels for potential victims to contact law enforcement.
Jones said he never received a complaint alleging violent assault of the nature alleged in the anonymous email. He strongly refuted the idea that under his tenure Cinefamily management would have ignored or covered up such claims.
"If anyone, period, made a claim against anyone else that they had committed a violent sexual attack against anyone else, whether they were a member of the theater or not, we would immediately call the police," Jones said. "The assertion that we would do anything other than that is deeply upsetting and abhorrent, and it is absolutely inaccurate."
Although some associated with the organization declined to comment, Phil Blankenship, who programmed a midnight series at the theater from June 2012 to November 2015, addressed the rising behind-the-scenes tensions and unease at the theater by saying "I left the Cinefamily because of the toxic environment."
But Cinefamily board member Louis Black said he was optimistic and committed. "I believe in what Cinefamily is doing. I think it's going to be some tumultuous times, but I expect it to survive and then thrive."
Times staff writer Mark Olsen contributed to this report.
ALSO:
How Netflix guesses what you want to watch
Hollywood musicians are backing a new bill that seeks to stop runaway film scoring
An American Cinematheque retrospective shines a light on the best and worst of Stephen King film adaptations
---
UPDATES:
2:30 p.m.: This article has been updated with comments from Phil Blankenship and Louis Black.
This story was originally published at 9:20 a.m.
---
Get the Indie Focus newsletter, Mark Olsen's weekly guide to the world of cinema.
You may occasionally receive promotional content from the Los Angeles Times.