'Crazy Rich Asians': Gemma Chan was on a legal track, now she's a movie star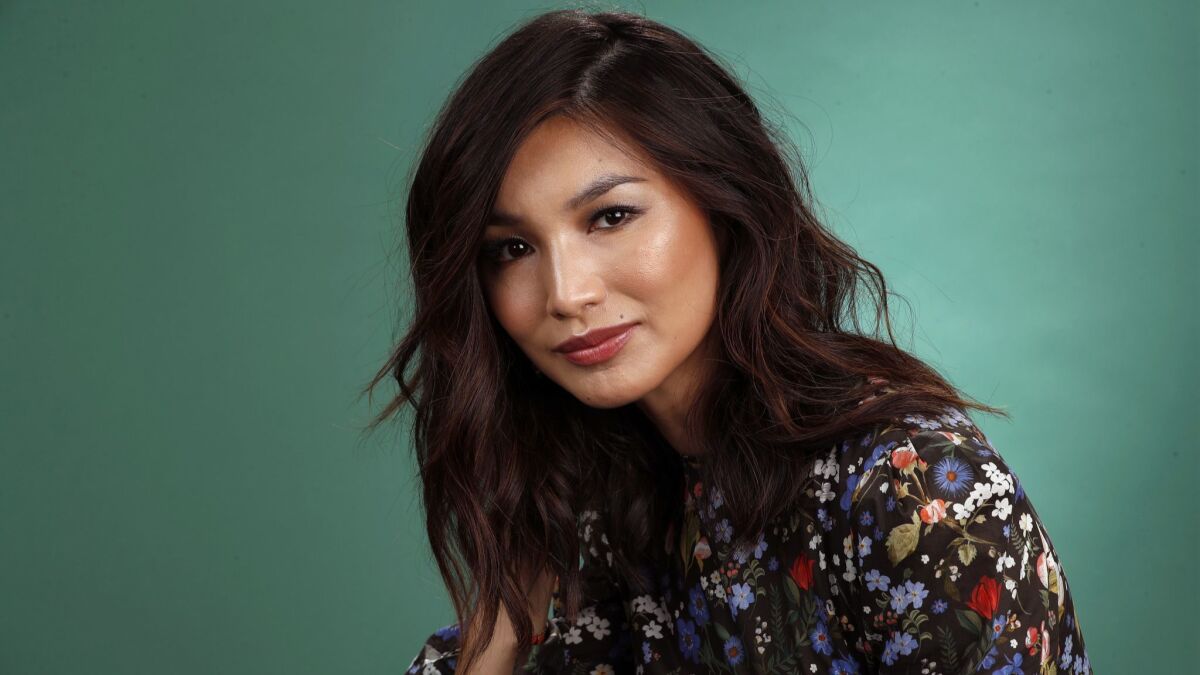 British stage and screen actress Gemma Chan was born in London to Chinese immigrant parents, raised "as a good Asian daughter" and studied law at Oxford. In secret, however, she auditioned for drama school, was accepted and went on to act in U.K. television in shows such as "Doctor Who," "Sherlock" and "Humans."
"[My] dad said to me, 'It doesn't matter how good you are or how talented you are — how many faces do you see on the screen that look like ours? You won't get enough work,' " says Chan. "I said, 'Dad, I just want to be part of a change.' "
As the graceful but secretly suffering Astrid in "Crazy Rich Asians," Chan breathes kindness and humanity into the cracks of the socialite's seemingly perfect life. She will next appear opposite Saoirse Ronan in the historical drama "Mary Queen of Scots" and will star as Marvel Comics character Minn-Erva in 2019's "Captain Marvel" opposite Brie Larson. Chan hopes "Crazy Rich Asians" is just the start of a major shift in Hollywood.
In your own words: What's your Hollywood story?
I was born in London to Chinese parents, immigrant parents, and I suppose I had quite a normal upbringing if there is such a thing as a normal upbringing. I was a good Asian daughter for a long time. At my parents' encouragement I went to university. I ended up studying law at Oxford. It was hard work but I knew that I was probably going to make a pretty miserable lawyer, so I then auditioned for drama school in secret and only told my mom and dad when I got it, and it went down about as well as you would expect.
"Crazy Rich Asians" is the first movie of its kind in 25 years. What does it mean to you to be part of this moment?
I first heard about the books soon after they came out and I got a text from my sister saying, "You're going on holiday soon — you have to read this book. It's called 'Crazy Rich Asians.' " I read it on holiday and I loved it. It was an easy, breezy, funny, satirical read. I fell in love with Astrid, who was my favorite character.
I knew how significant this film would be, not just for Asians but for anyone who has ever felt that their stories haven't been considered worthwhile to be told before by Hollywood. It's been really moving how many people have come up to me after the screenings and said, "I cried during this film because it made me so moved to finally see Asian faces on screen, and not just one token character."
In our film we have a whole cast of diverse characters. And you really see that Asian culture is not homogenous. We come from all over the world, our cast: There are Australian Asians, there are British Asians like myself, there are Asian Americans, native Singaporeans, and everyone brings something different to the mix.
I want to bring back that old Hollywood charm.
— "Crazy Rich Asians" star Henry Golding
When you were young, did you see yourself reflected on-screen?
When I grew up there were very, very few Asian faces on the big or the small screen. So it just didn't really occur to me that you could actually do that as a job. I feel so fortunate and so happy and proud to be where I am now and to be part of this project because I think it's overdue. I feel that Hollywood is finally waking up to the fact that audiences want to see diverse and authentic storytelling.
My mom gave me a strong sense that I would be able to do anything and that I should always believe in myself, and I had some really good teachers as well that believed in me. I think that's what you really need when you're growing up — to have someone who shows that faith in you. I hope that for anyone watching this film it transfers that sense of a belief in yourself and that your worth is the most important thing.
What do you hope to see change in the industry after "Crazy Rich Asians"?
We know that the representation or lack thereof of not just Asians, but other minorities in the media and in popular culture, directly affects how those minorities are treated in everyday life — whether they're normalized and accepted or whether they're other-ized. That's why it means so much to me that this is a Hollywood studio making and promoting this film. I hope it's the beginning of something. I hope it opens the door for more diverse and inclusive storytelling across the board, not just for Asians.


FULL COVERAGE: Why the historic Hollywood rom-com 'Crazy Rich Asians' matters »
Get our L.A. Goes Out newsletter, with the week's best events, to help you explore and experience our city.
You may occasionally receive promotional content from the Los Angeles Times.