'Crazy Rich Asians': Jimmy O. Yang moves beyond 'Silicon Valley'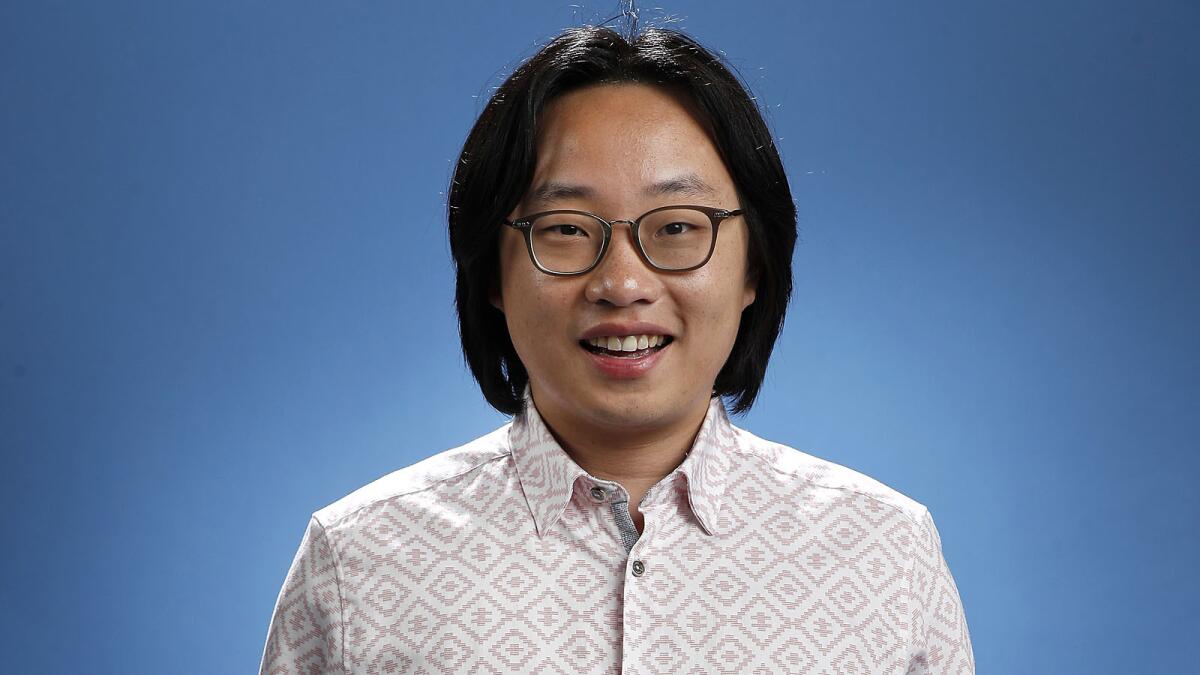 Though it's just one of three films he appears in this month, Yang puts the "crazy" in "Crazy Rich Asians" as billionaire playboy Bernard Tai, an excess-loving hedonist hell bent on throwing the most legendary bachelor party in Singaporean history. For the past five years, he's appeared on "Silicon Valley" as fan favorite Jian Yang, but the Hong Kong-born comedian and actor Jimmy O. Yang had to chart his own unique path to Hollywood.
After moving to Los Angeles at the age of 13, he would eventually ditch traditional career options to pursue stand-up comedy. He landed his first acting job, a two-line role on "2 Broke Girls," on his way to racking up credits in shows including "New Girl" and "American Dad!" as well as an acclaimed dramatic turn in "Patriots Day."
Also on screen this month in "Juliet, Naked" and "The Happytime Murders," Yang recently chronicled his journey in the memoir "How to American: An Immigrant's Guide to Disappointing Your Parents."
In your own words: What's your Hollywood story?
I went to college as an economics major because that was the easiest major that could still please your Asian parents, and then, much to their dismay, I became a stand-up comedian. From there, it just progressed. I started taking acting classes, started going to a lot of auditions. I was horrible at them.
Eventually one thing led to another, auditions got me my first job on "2 Broke Girls" which had two lines, and then it got me on "Silicon Valley," which I've been on for five years now and I'm super blessed about that. And now, of course, "Crazy Rich Asians."
Watching them being so funny and outrageous [was] so freeing, like, 'Oh my God, we can do this also.'
— Comedian and actor Jimmy O. Yang, "Crazy Rich Asians"
"Crazy Rich Asians" is the first movie of its kind in 25 years. What does it mean to you to be part of this moment?
When I first read the script and I knew the movie was out there, the knee jerk reaction was, "I need to be a part of this." When I got to Singapore and actually was shooting with the guys, I felt really emotional about it… Asians from the U.K., Asians from America, Asians from Singapore, Asians from Australia, all of us were in this same room making a big studio Hollywood movie. It just felt really special.
We all love to eat. We all loved the different Asian food in Singapore. We didn't have to convince, like, our white friend — "Hey, let's try some Chinese food… is this something you can handle? It's not too authentic, but it's still good."
We all came from families that probably wish we would have done something else, and we just had the same shared experience and it felt really, really special. We all became very, very close friends. We still have a WhatsApp group with like 120 of us talking on there.
When you were young, did you see yourself reflected onscreen?

I grew up in Hong Kong; I came here when I was 13. Growing up, the movie stars were Arnold Schwarzenegger, [Sylvester] Stallone, Jean-Claude Van Damme, the action superstars. But my comedy hero was Stephen Chow. His deadpan comedy, all the stuff he wrote like "From Beijing with Love," it's incredibly funny. Some are still my favorite movies. And then of course he crossed over in "Shaolin Soccer" and "Kung Fu Hustle," which I also love.
When I came to America, it was Dave Chappelle and a lot of comedians on ComicView. That was my first exposure to stand up comedy, actually.
You'd see Asian faces on TV, but it was so rare, especially in the comedy space — that for me was Ken Jeong doing stand-up... it's amazing that I can call him a friend now and a colleague. Bobby Lee on "Mad TV" was a huge influence for me too. Watching them being so funny and outrageous [was] so freeing, like, "Oh my God, we can do this also."
FULL COVERAGE: Why the historic Hollywood rom-com 'Crazy Rich Asians' matters »
Get our L.A. Goes Out newsletter, with the week's best events, to help you explore and experience our city.
You may occasionally receive promotional content from the Los Angeles Times.