'Crazy Rich Asians': Kevin Kwan turned family ties into a juicy bestseller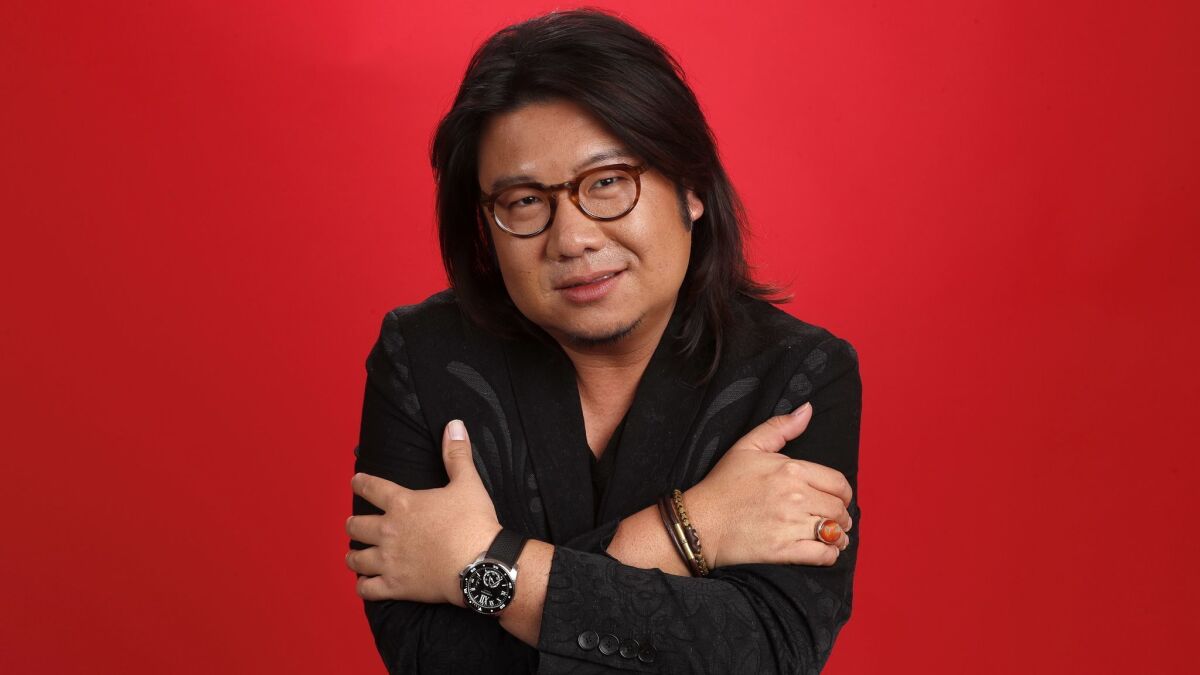 Born in Singapore into a sprawling family tree that would later inspire his 2013 breakout debut novel, "Crazy Rich Asians," Kevin Kwan found his formative world upended when his parents moved the family to Houston when he was 11.
Years later he penned the tale of intermarried branches of an upper-crust Singaporean clan who gather for the lavish, over-the-top wedding of the century — and the Asian American fish-out-of-water heroine who stumbles into the ensuing collision of strict tradition, extreme wealth, modern identity and inter-generational family angst.
Two sequel novels followed, which Kwan hopes may also make it onto the big screen if "Crazy Rich Asians" delivers at the box office. But first he'd like to see a new era of inclusive storytelling in Hollywood — for underserved voices who aren't necessarily crazy, rich, crazy-rich or Asian.
In your own words: What's your Hollywood story?
I was born on the island of Singapore and I grew up there until I was 11 years old, when I was forcibly removed by my dad and planted into suburban Houston. I was in shock for the first year and then began to really love it — but didn't love it quite enough to stay. My golden dream was to move to New York and live in the Village and become that cool, rebel beatnik Jack Kerouac.
I moved to New York and went to art school at Parsons School of Design. Became a photographer. Became a creative consultant. Did many things and was in denial for about 20 years that there was a story I wanted to tell. But one day I began writing and began telling my story, never expecting that anyone would want to read it … and even before it was published producers were calling wanting to know whether they could make it into a movie.
So I think I've sort of accidentally stumbled into Hollywood. And it's been an amazing roller coaster ride ever since.
I want to bring back that old Hollywood charm.
— "Crazy Rich Asians" star Henry Golding
"Crazy Rich Asians" is the first movie of its kind in 25 years. What has it meant to you to realize it will mean so much to so many people?

It's a bit unfathomable to me at this point, because I've been so close to it, living and breathing this whole experience for the last five years. But ultimately the last 30 years of my life have been about struggling toward expressing my creativity. So for me, the most important thing is to be able to creatively inspire new generations. To break out of the box, to really fulfill themselves and express themselves in the way that's true to who they are. And if we can make a movie that represents that, that really is noticed, that's the goal that I think I'm trying to achieve.
What do you hope happens after "Crazy Rich Asians" is released, in Hollywood and in the marketplace?
I hope it presents a whole new chapter in Hollywood where we have much more inclusion, many more stories that showcase the diversity, the full scope and range of who Asians are. Not just Asians, but people that live in this country, that live around the world — that we have new original stories that can be told.
When you were young, did you see yourself reflected onscreen?
When I was little, definitely — because I grew up in Singapore. And [in] Singapore at the time, there was such an amazing flood of Asian movies. We had our own channels. We had our own TV shows. There were Asian soap operas on all the time so we got to see empowered, attractive, sophisticated Asians reflected to us growing up.
But then I moved to America when I was 11 and there were none. And I suddenly felt the absence of that. So for me, it was so important to want to fight for that representation to come back again, full circle, for new generations.
You've been hearing reactions to your "Crazy Rich Asians" books for five years now. What have those reactions shown you about how this story resonates with audiences?
I've been seeing worldwide audiences love my books that aren't Asian. I've been seeing Asians love it, of course, but like I always say, this book would not have been a bestseller if only Asians supported it. Eighty percent of my readers are non-Asian, and they've been demanding the stories. Hopefully the same is true for the movie-going audience.
FULL COVERAGE: Why the historic Hollywood rom-com 'Crazy Rich Asians' matters »
---
Get our L.A. Goes Out newsletter, with the week's best events, to help you explore and experience our city.
You may occasionally receive promotional content from the Los Angeles Times.