'Crazy Rich Asians': Ronny Chieng was born to play this part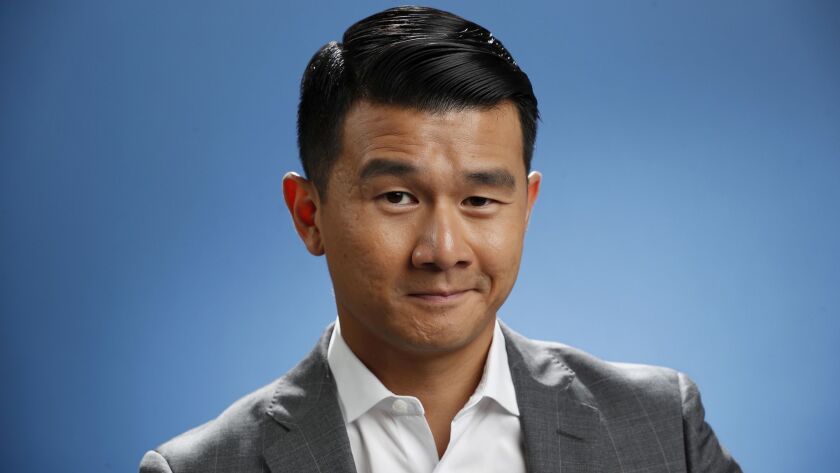 Born in Malaysia, comedian Ronny Chieng grew up in Manchester, N.H., and Singapore before moving to Australia for law school — so when "Crazy Rich Asians" came along it struck familiar cross-cultural chords. After honing his stand-up chops Down Under, he landed a high-profile correspondent gig on "The Daily Show With Trevor Noah." But he was back in Australia filming his autobiographical Comedy Central series, "Ronny Chieng: International Student," when he heard Jon M. Chu was still searching for the right talent for "Crazy Rich Asians."
"The best thing about this project is that it's not really diversity for the sake of diversity. It's a cool story being told here, and there's a lot of heart in it," says Chieng, who plays hilariously uptight, status-obsessed investment banker Eddie Cheng – one of the many colorful cousins who side-eye Asian American heroine Rachel Chu with a skeptical curiosity.
In your own words: What's your Hollywood story?
I feel like I'm still trying to break in. I grew up in Singapore and I went to Australia for law school, and after law school I started doing stand-up comedy. I was doing stand-up comedy in Australia up until two years ago when I joined "The Daily Show With Trevor Noah."
What happened was in my final year of university in Australia there was a campus comedy competition and I felt like it was something I could do. I won that competition and I kept doing it, and I couldn't get a job in law. So I just kept doing comedy. Then next thing you know I'm in a movie.
How did you hear about "Crazy Rich Asians"?
The book popped up on my radar because it was a Singapore story that was blowing up in America at the time, and how often does a Singapore story blow up in America? When I heard it was being made into a movie I started really paying attention to the project, but it was always kind of like a pipe dream to join a film or be part of a movie or be cast in anything like that, because I come from stand-up comedy.
That's really my world. I do [penis] jokes in dirty bars. I was in Australia at the time filming my TV show, "Ronny Chieng: International Student," and there was an article that came out that I'm paraphrasing, but it was basically Jon Chu explaining that he had trouble casting the movie because he was looking for authentic accents. And when I read that headline I was like, "I might have a chance here."
Comedian and actor Ronny Chieng on his quest to get cast in "Crazy Rich Asians."
I said, 'Listen man, I'm never going to pull this card — but if you get me an audition for this, I know I can book it.'
— Ronny Chieng, "Crazy Rich Asians"
So like many actors of Asian descent around the world, you went after your shot.
I did a very Hollywood thing, which I have never done before and I might never be able to do again: I called my agent in Los Angeles and I said, "Listen man, I'm never going to pull this card — but if you get me an audition for this, I know I can book it. I know I can book this one, because I know these people. I know this world. I know the story. I know the accents. I know the dialogue."
Also, this is the only accent I can do, so if you don't get me an audition for this, then what the hell are you doing? This is literally the only thing that's up my alley. They're looking for Singaporeans who are educated overseas and sound weird. This is the only chance if I'm ever going to get cast in anything.
We were on set filming on location in Malaysia, it was about a week in and me and Jon Chu were hanging out after the day had wrapped. Jon Chu asked me, "How come you don't do more movies?" And I'm like, "I didn't know it was up to me."
"Crazy Rich Asians" is the first movie of its kind in 25 years. What does it mean to you to be part of this moment?
One cool thing about the movie is that it shows Singapore as a character in the film, the way New York is a character in a Woody Allen film. They portray Singapore with poise and dignity and respect. Usually when Hollywood goes to Asia, it's because James Bond goes there for, like, a one-night stand and then he leaves the next day. This is like, we see Singapore in all its positive lights.
Obviously it's a huge honor to be a part of this project. It's a cool story being told here and there's a lot of heart in it. There's a lot of authenticity in it. It goes without saying we're very proud of representing minorities and Asian people in Hollywood and media, but even more so, it's a cool movie.
---
Get the Indie Focus newsletter, Mark Olsen's weekly guide to the world of cinema.
You may occasionally receive promotional content from the Los Angeles Times.