Q&A: Deniz Gamze Erguven explores the tremors of the L.A. riots with 'Kings,' starring Halle Berry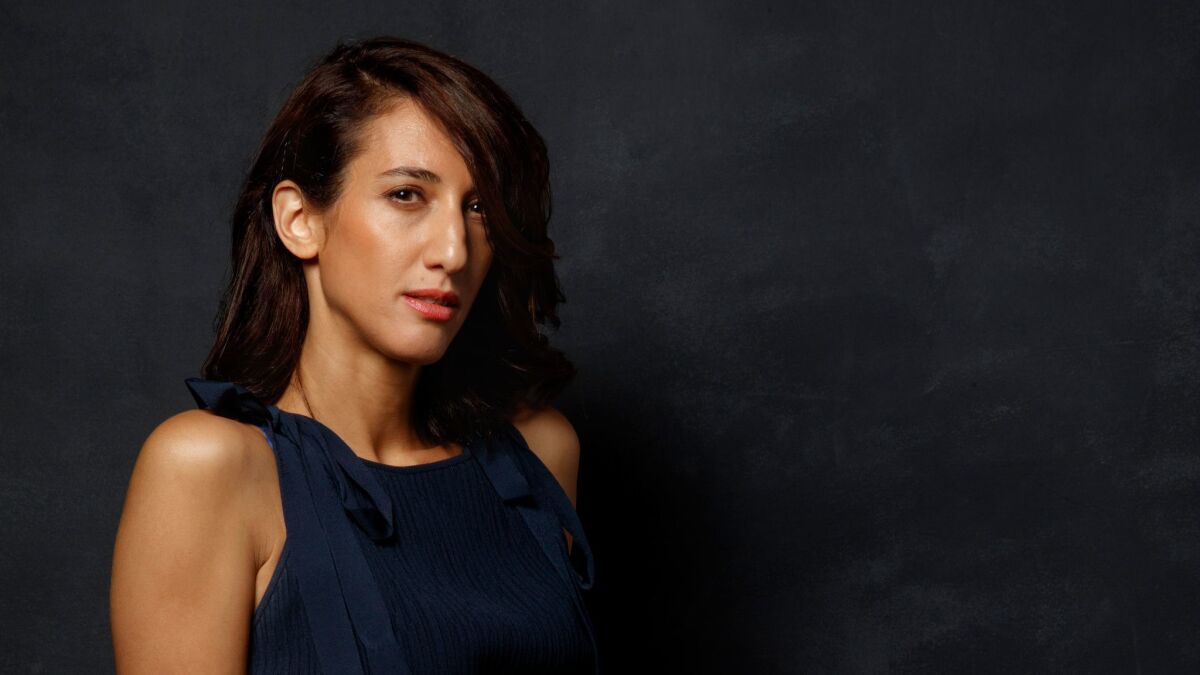 Contrasting images of family and home life against larger social forces is becoming an unlikely signature for filmmaker Deniz Gamze Erguven. Her debut feature, "Mustang," nominated for an Academy Award for foreign language film in 2015, told the story of a group of sisters struggling for personal freedom, opening up to a world that was to remain closed to them.
Erguven's latest film, "Kings," her English-language debut, maps out similar territory: the difficulty of maintaining a healthy, balanced life at home when the outside world seems to be driving everyone apart.
"Kings" takes place against the ambitious backdrop of the 1992 L.A. Riots and opens with a dramatization of the 1991 shooting of Latasha Harlins, the 15-year-old African American girl killed by a Korean convenience store owner that set the city on edge.
In a warm, graceful performance, Halle Berry plays Millie, a single woman raising foster children, tending to them all as if they were her own. There are squabbles over noise and nuisances with her neighbor Obie (Daniel Craig), a British writer who is one of the rare white faces in their South Central neighborhood. As events seem to inevitability hurtle toward violence, the riots erupt in a surreal haze. Millie and Obie go out into the chaos in hopes of bringing the children safely back home.
The film has taken about 11 years to get made. The Turkish-born, Paris-based Erguven spent time in South Central neighborhoods, with the LAPD and emergency services workers and doing extensive research in an attempt to create a broad view of the events, a portrait at once sweeping and specific of the tremors that led up to the seismic hit of the riots. Some of the film's most fantastical elements — the manager of a fast food restaurant bargaining with rioters, police handcuffing people to streetlights — are stories she was told as urban folktales.
The movie has its world premiere as part of the Toronto International Film Festival on Wednesday night, with distributor the Orchard planning to release the film in the spring. In an interview in Toronto in the early evening on Tuesday, Erguven acknowledged a touch of nervousness about how the film would be received. Rooted in reality and her own research, the story also takes some unexpected flights.
As she said, "For me, the film is more of an emotional account of the riots than a historical account of the riots."
---
What was it that first drew you to the story of the L.A. Riots? Why not explore something closer to home for you, such as the 2005 French banlieues riots?
As crazy as it seems, there were two initial stories. A very tiny individual event, which is being refused a French citizenship, but for me it was like a deep, deep shock. In a way, the feeling was being in a country that you love deeply and that country rejects you. For me, a lot of the resonance of the L.A. riots starts on that point. Then the riot happened in France a few months after I was rejected a French nationality, and I could see a materialization of what I felt. So I recognized it very deeply. And for months I was reading and discussing about violence and eventually came to the L.A. riots.
I never had even the slightest drive of making a film about the French riots, but the L.A. riots, there was something about an old woman going to burn a palm tree with a lighter, someone being at that emotional level strikes a very specific note. And as strange as it may seem, I guess I could relate to that more. In France, you felt only anger; in the L.A. riots, you also felt different things. You felt heartbreak, madness, the rules of the world going upside down. That was the perfect embodiment. My feelings were as complex and messy and mixed as all of that.
Then when I arrived in South Central a bit less than a year later, in August 2006, every step confirmed that initial intuition. The way I can best explain it was I was an archaeologist trying to dig out something and you suddenly see a piece of the Sphinx. You know it's there, and you know it's huge, but you only see a little parcel of it. I always felt with "Kings" that it existed before I started working on it, and then I just found it.
For me, the film is more of an emotional account of the riots than a historical account of the riots.

— filmmaker Deniz Gamze Ergüven on 'Kings'
What made you want to open the film with the shooting of Latasha Harlins? That's an event often overlooked even by people in Los Angeles.
In South Central, it was very obvious. People who spoke about the riots, the level of knowledge and impact between Latasha and the Rodney King verdict [was equal]. It was almost more shocking. For me, what makes the world not turn right anymore is Latasha's death. You can't come to terms with what happened to her. And then she becomes like a ghost. Even for me, she's Latasha, she's someone to me. People see through her to see a little sister or daughter, and there is something very haunting about her.
People talk about the time of the riots, and even David Lynch when he talks about the movie he had done approximately the same year, "Wild at Heart," said there was something palpable in Los Angeles; people were having fights on street corners. I remember coming to Los Angeles both before and after the economic crisis of 2008, and I remember that feeling. All of a sudden people are fighting for no reason, and you can feel a specific vibe. I imagine from what people were telling me that before the riots the tension was there, people were more aggressive. So it's volatile. Anything could spark it. Something was really moving underneath Los Angeles for the entire year between Latasha's death and then the Rodney King verdict.
FULL COVERAGE: Toronto International Film Festival 2017 »
There was a lot of conversation around filmmaker Kathryn Bigelow and her film "Detroit" as to whether it was even her story to tell. Are you ready for some of that same response to come at you as a French-Turkish filmmaker looking at the L.A. Riots?
Of course. I'm just hoping that they will see the amount of small details and empathy. I think the look is very loving. … In 11 years I've heard a lot of reasons not to make this film, but none of those counted for me. The drive for me, whatever happened in that first intuition, has driven me for 11 years. … Films have their own thing. Films tell you to do something, and you just do it. It's as if they are stronger than you and have a life of their own.
Did the success of "Mustang" and its visibility from the Academy Award nomination help you to bring "Kings" back to life?
Initially, there was a moment it was obvious "Kings" was not going anywhere. I had been spending more than five years on it. I had tried every possible route. I had done every workshop, banged on the door of every producer I knew, tried the French way, the American way. Nothing worked. And after a while, it really felt I was banging my head against the door and I needed to stop. I remember it was really an awful moment: I put I don't know how many versions of the script in a box, and I accepted that this movie was not going to exist. Then I made a joke of it as "Mustang" was starting up; it was my evil master plan to be able do "Kings" afterwards. And it worked.
Already a subscriber? Thank you for your support. If you are not, please consider subscribing today. Get full access to our signature journalism for just 99 cents for the first four weeks.
ALSO
Brie Larson finds strength in lightness and whimsy with 'Unicorn Store'
Angela Robinson on a superhero's hidden message of love in 'Professor Marston and the Wonder Women'
From 'The Big Sick' to 'Brigsby Bear,' what does box office mean for indie movies these days?
---
Get the Indie Focus newsletter, Mark Olsen's weekly guide to the world of cinema.
You may occasionally receive promotional content from the Los Angeles Times.