How 'Disaster Artist's' James Franco found art and heart in 'The Room,' the 'Citizen Kane' of bad movies
Four years ago, during the making of "The Interview," the North Korea-provoking comedy that would go on to flirt notoriously with history in its own unpredictable, stranger-than-fiction ways, James Franco found the strange and vaguely Eastern European patois of cult movie icon Tommy Wiseau spilling out of his mouth.
It was a distinctive, stilted, impossible-to-place pattern of speech already well known to loyal fans of "The Room," arguably the most celebrated cinematic misfire of all time.
Oh hai, doggie.
You're tearing me apart, Lisa!
Franco hadn't yet seen "The Room," the infamous 2003 indie melodrama written, directed and produced by Wiseau, who also starred in and financed the film so rife with bizarre scenes, stilted performances and baffling technical flaws that it became known as the "Citizen Kane" of bad movies — an honor even the most inept of film oddities haven't come close to achieving.
James Franco, who plays filmmaker Tommy Wiseau in "The Disaster Artist," uses Wiseau's words and mannerisms to explain just what drew him to Wiseau's story. 
But Wiseau's peculiar cadence, his singular mannerisms, his drive to create and his voice — that voice — came alive as Franco read the 2014 book "The Disaster Artist: My Life Inside 'The Room,' the Greatest Bad Film Ever Made," the behind-the-scenes chronicle of the making of "The Room" written by Wiseau's confidante and co-star Greg Sestero with Tom Bissell.
"Everybody had a Tommy accent — you just wanted to do it," a grinning Franco said on a recent afternoon in Beverly Hills, slipping in and out of Tommyspeak while talking fondly and frankly of Wiseau. He perfected it by listening to audiotapes the real Wiseau made decades ago solely for himself, logging his most intimate thoughts. Now when the pair spend time together the actor finds himself talking to Wiseau in his Tommy voice.
"He's still like, 'What this accent, ha ha ha,'" Franco said and laughed. "There's nothing I like doing more than the accent."
Franco and producing collaborator Seth Rogen secured the rights to adapt "The Disaster Artist" with Franco directing and starring in the film that opens Dec. 1. They then set about tackling one of the film's biggest challenges: Navigating the tricky line between having fun at the expense of the legendary shortcomings that earned "The Room" its raucous, cheering (and sometimes jeering) midnight crowds while doing justice to Wiseau, who by most accounts never intended his film to be a comedy.
Rogen had seen the "Room" phenomenon up close more than a decade ago, joining the fervent fandom that cropped up first in Los Angeles and then spread across the world as cult cineastes told their friends about the movie they just had to see. While making "The 40-Year-Old Virgin," Rogen recalled, he caught a showing at the Laemmle Sunset 5 with his girlfriend and Jonah Hill on Paul Rudd's recommendation. "And it just blew our minds."
When he spotted Wiseau in a Whole Foods years later, he went up and asked for a photograph. "Jonah had a picture with him, and I was so jealous," Rogen said. "It is like meeting a fictional character, like Tony the Tiger, or someone who has stepped out of another reality and into our own."
A good bad movie?
But diving into the man behind the myth to make "The Disaster Artist" required probing past the otherworldly persona, the cult-pop phenomenon of fervent fanatics shouting lines and throwing spoons at the screen, breaking down the wall of mystique Wiseau built over the years turning "The Room" into a heavily merchandised way of life, selling such diverse products as DVDs and custom-designed underwear on his website, TommyWiseau.com.
"The more we got into it and the story and the psychology of it, the most interesting challenge and the most interesting idea was, 'What's good about the movie?" said Rogen, who co-stars as Sandy Schklair, the real-life script supervisor who tangles with Franco's tyrannical Wiseau as the "Room" shoot drags on for months. "If it's a bad movie, why have I seen it so many times — and if it's a bad movie, why are we making a movie about it?"
The "bad movie" label is a complicated one to apply to a film like "The Room," whose notoriety is intertwined with the mystique of its eccentric creator as its success is inseparable from its failures. Under long Tommy tresses and transformative prosthetics Franco brings depth, warmth and a sly hint of tragic self-awareness to his portrayal of Wiseau in "The Disaster Artist," a performance that earned the actor an Independent Spirit Award best lead actor nomination and, distributor A24 hopes, might anchor an outsider bid in several Oscar categories.
"The Room" and its enigmatic maker have lingered in the shadows of the Academy Awards for more than a decade. Wiseau and the film became the stuff of local legend when he emblazoned his own face on a billboard advertising the film with a mysterious phone number — then paid for it to stay up for five years, his pale raven-haired mug staring down defiantly upon the Hollywood he'd tried in vain his entire career to be a part of as an actor.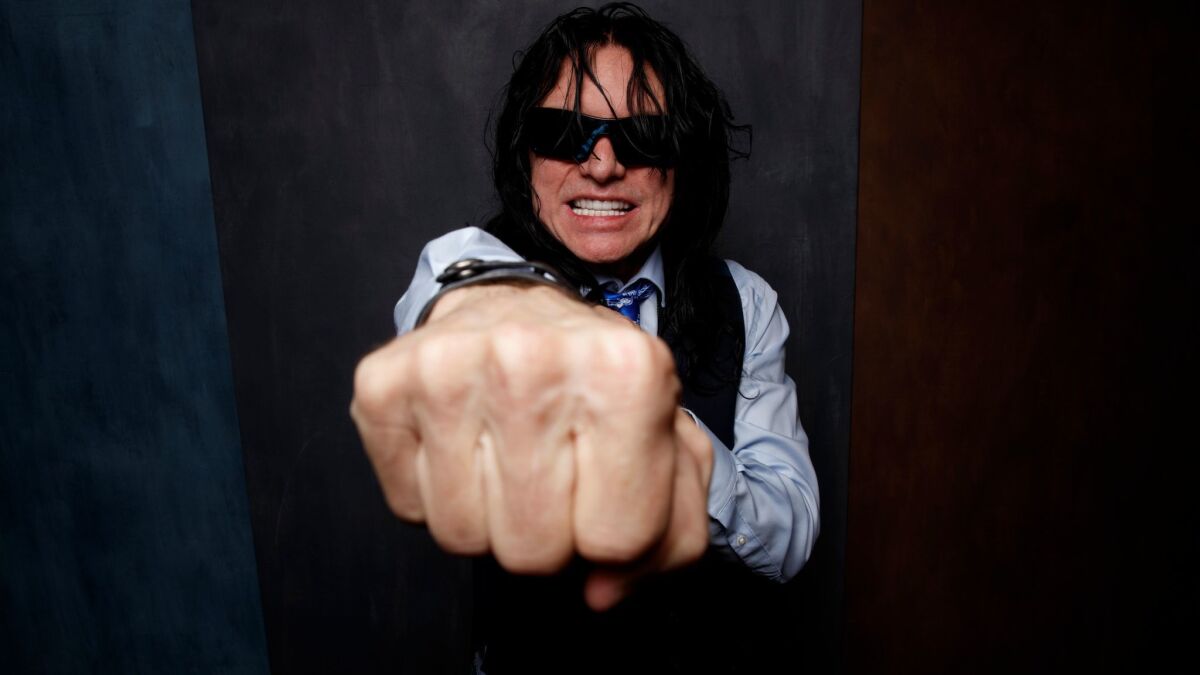 While Billboard Tommy blankly dared curious Highland Avenue motorists to see what "The Room" was all about, legend has it that Wiseau spent his own money to book the film for an Oscar-qualifying theatrical run that never got traction.
Scott Neustadter and Michael H. Weber remember being alternately puzzled and intrigued by Wiseau's billboard during a trip to L.A. several years before the screenwriting team behind "(500) Days of Summer," "The Spectacular Now" and "The Fault in Our Stars" would be tapped by Franco and Rogen to adapt Sestero's memoir.
Weber figured it for the latest immersive theater experience. Or a costume store. Or a party hotline. "I thought it was Gene Simmons," Neustadter said. "If it was a movie, I thought, it wouldn't still be up five months later, let alone five years!"
When "The Disaster Artist" came their way they flipped for the book, relating to Wiseau's cinematic American dream. "We were those guys," Neustadter said. "There was a time when all we wanted to do was make movies, and we didn't know how we were going to do that. Everyone told us how impossible it was. It spoke to us in a way that wasn't at all about it being the best-worst movie. It was really a human story."
"The goal was to make a movie that the superfans will love, but that has to play for people who've never even heard of 'The Room,'" explained Weber, who with Neustadter prepared by revisiting films like "Ed Wood," "Boogie Nights," "Sunset Boulevard" and "The Talented Mr. Ripley." "You don't need to be a baseball fan to love 'Field of Dreams.' Hopefully even if you've never even heard of ["The Room"] you can identify with Tommy and Greg going after their dreams."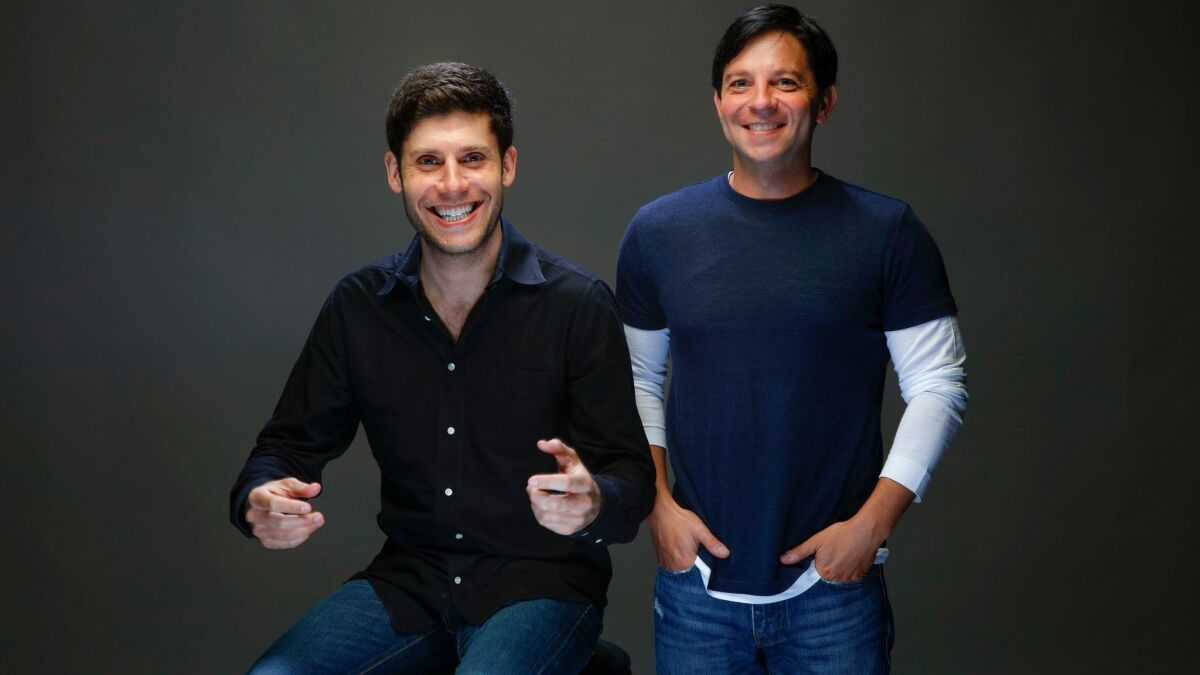 'The Room' cult
A true "Room" devotee's appreciation isn't rooted in mean-spirited mockery of what it gets wrong, but rather in celebration of what it achieves nonetheless — its very existence, for starters.
"I have a theory that the main character of 'The Room' is the movie itself, and all the obstacles it has to overcome are bad directing, bad acting, bad lighting, bad writing," said Michael Rousselet, widely credited as "The Room's" very first fan. The L.A. native first saw it advertised in a Laemmle house ad during Wiseau's initial four-wall run. Weeks later he and two friends drove by a theater where it was playing, bought tickets and realized they were the only patrons. Rousselet immediately phoned friends to join in watching the most inexplicable movie ever made, turning it into a "Rocky Horror Picture Show"-style experience that picked up steam night after night as more new converts joined the cult of "The Room."
Wiseau noticed the spike in ticket sales and leaned into the burgeoning grassroots phenomenon, repositioning the film as a midnight movie and showing up to screenings to toss footballs with fans and sign autographs.
"Any filmmaker would have been embarrassed and heartbroken to have a bunch of jerks like us laughing at it, but [Wiseau] put his money where his mouth is and he saw a business opportunity," said Rousselet, who went on to become a filmmaker himself and cast Sestero in his tongue-in-cheek horror satire "Dude Bro Party Massacre III." "He came out on top. People say they were laughing at his movie, but I think Tommy's been laughing all the way to the bank."
"I think Tommy is a unique filmmaker and 'The Room' is his masterpiece. It is genuinely a sincere film, because it's honest. When we saw it we didn't know anything — it was just an empty room, me and two of my friends, completely baffled," he said and paused. "We were so lucky."
Is it wrong — or even truly possible — to ironically enjoy anything, even a "so bad it's great" treasure like "The Room"? Film critic Luke Y. Thompson logged one of the film's earliest positive reviews after first watching it on a friend's DVD, then attending one of its initial showings at the Laemmle Sunset.
"I gave it a fresh review, because as everyone forgets, 'fresh' means 'recommended' and rotten means 'not recommended,'" Thompson recalled of the film, maligned by most mainstream critics, which boasts a surprisingly robust 29% rating at Rotten Tomatoes. "I couldn't not recommend it. I don't believe in guilty pleasures when it comes to art — I like it, or I don't."
Thompson went on to go beyond a simple recommendation: "It's on my 10 best of the decade list, because I truly believe it not only represents a decade where satire and truth blurred and broke, but also because there's something brilliant about a movie that makes the wrong directorial choice every time there's one to be made."
The raw humanity and hubris behind all of those wrong choices propel "The Disaster Artist," centered on the friendship between Franco's Wiseau and the younger, boyish Sestero, played by Franco's brother Dave. Painstakingly restaged re-creations of "The Room" achieve sublime comedic levels of artistic reincarnation.
But the heart of "The Disaster Artist" is equally emotional: Can Tommy and Greg's friendship survive the making of their film? Even as it lays Wiseau's quirks bare, it asks whether we, the audience, should be laughing at his failures.
"The mantra I preached was that we have to keep in mind that there is something great about the movie," Rogen said. "There is something very worthy about it. We shouldn't be making a movie just to make fun of the guy; we should truly be doing everything in our power to explore why, of all the bad movies there are, this is the one that we are all so drawn to."
"This is a love story," Franco said. "In our movie [Wiseau] says, 'I made the whole movie for you, Greg,' and I really think that was a big part of him making the movie, connecting to Greg and just connecting to others."
Leaning closer, he related a Tommy moment still fresh in his mind. Moments earlier in a break from promotional duties at the Four Seasons hotel, he'd shared a quiet conversation with Wiseau, who gave the film his "99%" positive endorsement at the Toronto International Film Festival.
"He's talked about my movie a bit but he hasn't told me anything specific and for the first time he was like, 'You know, your movie make me emotional,'" Franco began. Referencing a pivotal scene in which Greg comforts a stricken Tommy as the audience at their big Hollywood premiere roars with laughter at the film's unintentional hijinks, Wiseau flashed back to his real-life friendship with Sestero.
"He said, 'Greg really do that for me, and that scene make me emotional,'" Franco said. "It was amazing, and so sweet. And he said, 'I just want you to know: You get my SAG vote.'"
ALSO
'Disaster Artist' stars talk sexual harassment and turning failure into success at AFI premiere
James Franco channels Tommy Wiseau to describe Tommy Wiseau
James Franco's 'The Disaster Artist': A great movie about the greatest bad movie? The SXSW reaction
Tommy Wiseau reviews 'The Disaster Artist': The movie about the making of 'The Room'
---
Get our L.A. Goes Out newsletter, with the week's best events, to help you explore and experience our city.
You may occasionally receive promotional content from the Los Angeles Times.