Review: 'Everybody Knows,' with Javier Bardem and Penélope Cruz, is a dense but mechanical mystery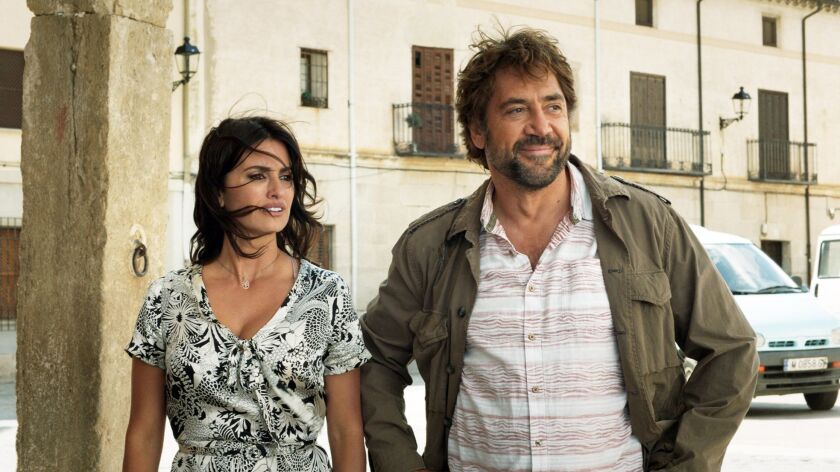 Film Critic
"Everybody Knows" unfolds over a sun-dappled Spanish holiday that suddenly careens into a rain-soaked nightmare. A family gathers for a wedding that is soon followed by an abduction, which in turn forces a lot of not-so-buried hostilities to the surface. Long before that point, the title has already sounded a vague note of alarm. What exactly does everybody know? A shameful piece of gossip that some guilty party thought they'd kept secret? Or could it be that everyone is guilty, implicated in a conspiracy whose roots go far deeper than they appear?
Iranian writer and director Asghar Farhadi stirs these riddles into a thick, meaty soup of intrigue and paranoia, answering some questions while leaving others pointedly unaddressed. His crafty and suspenseful domestic dramas take the form of detective stories: The best of them, including "About Elly" (2009) and the Oscar-winning "A Separation" (2011), are so carefully constructed and emotionally layered that plot twists, character revelations and sociocultural insights effectively become one and the same.
"Everybody Knows," which begins a one-week awards-qualifying run Friday before a full-fledged release next year, hews closely to those earlier models in an entirely different context. This is not the first feature Farhadi has made outside Iran; that would be his fine Paris-set drama, "The Past." Like that 2013 picture, it shows that his sensibility can easily survive a change in scenery and language — and in this case, the addition of two movie stars, Javier Bardem and Penélope Cruz — without getting lost in translation.
This is mostly, if not entirely, a good thing. An authorial signature can be a reliable foundation, but in some cases it can also be a crutch. For those with little prior knowledge of Farhadi's earlier work, "Everybody Knows" will play like an intelligent, engrossing drama about a sudden family tragedy that reopens past wounds. The director's admirers, myself included, might find it harder to get past a dramatic approach that, sturdy though it may be, is starting to harden into formula.
For a while, at least, the filmmaker does an artful job of making you forget this, thanks to his deft way of setting a scene and his instinctive feel for group dynamics. He hurls us immediately into the fray with Laura (Cruz), who has returned to her small home village in Spain to see her younger sister, Ana (Inma Cuesta), get married. Laura, who lives in Argentina, has brought along her teenage daughter, Irene (Carla Campra), and younger son, Diégo (Iván Chavero), but her husband, Alejandro (Ricardo Darín), has stayed behind.
The suddenly crowded family home pulses with warmth, laughter and activity; there are friendly faces like Ana's fiancé (Roger Casamajor) and less happy ones like Laura's ailing, aging father (Ramón Barea). But Farhadi's camera (wielded by cinematographer José Luis Alcaine, a longtime collaborator of Pedro Almodóvar) also draws us outside into the village itself, where a rickety church belltower conceals a poignant scrap of memory, and where dusty roads stretch for miles. We also get to know the warm and irrepressible Paco (Bardem), a longtime family friend who operates a vineyard with his more guarded wife, Bea (a terrific Bárbara Lennie).
Being partners off-screen and regular collaborators on-screen ("Jamón Jamón," "Vicky Cristina Barcelona"), Bardem and Cruz have such a natural, unforced chemistry that it's hardly a surprise to learn that Laura and Paco share an emotional history. That history will come flooding back in unexpected ways shortly after the unthinkable happens: A character goes missing, a ransom is demanded and a mystery must be solved, crucially without the help of police. Under a gathering cloud of suspicion, the family's panic turns bitterly inward, dragging an entire TV season's worth of class resentment, financial anxiety, neighborhood gossip and unresolved passion into the open.
At times it feels as if "Everybody Knows" might have been more fully realized as an actual TV series, one that explored its characters at more patient length and allowed all this back story to take deeper root. It might have also allowed Farhadi to achieve the kind of minute understanding of cultural nuance he did in "A Separation" and his other Iranian-set triumphs.
Without that understanding, everything that befalls Paco, Laura and their kin — rather than feeling like a natural progression of their past mistakes and intricately entwined histories — instead becomes curiously mechanical and unaffecting, more punitive than revelatory. It becomes harder and harder not to shake the feeling that we've seen this all before, and that everybody knows how it's going to end.
------------
'Everybody Knows'
Rated: R, for some language
Running time: 2 hours, 13 minutes
Playing: The Landmark, West Los Angeles
justin.chang@latimes.com | Twitter: @JustinCChang
---
Inside the business of entertainment
The Wide Shot brings you news, analysis and insights on everything from streaming wars to production — and what it all means for the future.
You may occasionally receive promotional content from the Los Angeles Times.