Learning from Hollywood's best at a film scoring workshop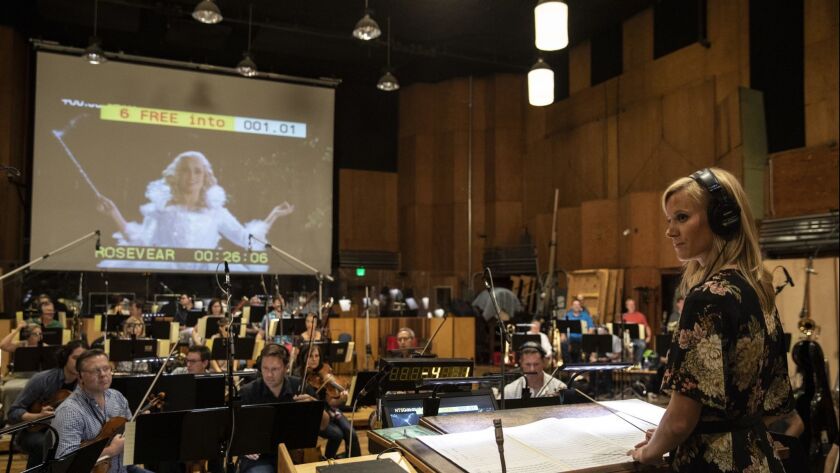 The scene, projected at the back of the Newman Scoring Stage on the Fox lot, was from a major Hollywood motion picture. The 64 musicians were the cream of the crop, who play on all of the big movie scores recorded in L.A. At the mixing boards was Armin Steiner, a veteran who engineers sessions for the likes of John Williams and Thomas Newman.
The composer of the swirling piece they were recording finished conducting a take and politely, but confidently, told the harpist: "Bar 37, I'm hearing major — should be minor."
The only difference between this and an average film scoring session at Fox was that there were 12 composers conducting their music — and these were the film and TV composers of tomorrow.
It was the culmination of the ASCAP Film Scoring Workshop, now in its 30th year of providing a crash course and the same resources as Hollywood's elite composers. The program's alumni include Joseph Bishara (the "Insidious" movies), Sherri Chung ("Riverdale"), Jim Dooley ("Lemony Snicket's A Series of Unfortunate Events"), Rob Duncan ("S.W.A.T.") and Cliff Martinez ("Drive").
Every year, hundreds of applicants are judged solely on pieces of music they submit, which are graded by a crop of alumni composers. This year's winners were from as close as Playa del Rey and as far as Hungary, Norway and Finland.
"We're learning from the best of the best," said Annie Rosevear, 33, who applied to the program twice before she made the cut this year. "I feel so motivated and inspired now to really hustle. Before it was: Yes, I can do this. But now it's like, I need to do this."
Originally from Salt Lake City, Rosevear has been in L.A. for seven years, plugging away as an intern and ghostwriter for working film composers. She was one of two women out of the12 attendees. Michael Todd, assistant vice president of ASCAP's film and TV division, noted that was reflective of the fact that only 10% of the approximately 370 applicants were women.
"My focus has been, for many years, trying to elevate or at least maintain the level of quality and respect for people who compose music for film and television and games," said Richard Bellis, who has led the program for 21 years.
The 12 selected applicants spend a month in L.A. under the guidance of Bellis, Emmy-winning composer of the 1990 miniseries "It," who crams in a year's worth of education. Each attendee is assigned a scene from an existing film and given a week to write a piece of original score. They orchestrate the music, with insight they gain hearing from pro musicians, and work with established music editors on fitting the piece to film. They learn part preparation as their scores are prepared by JoAnn Kane Music Services, the best in the business.
They're coached in the interpersonal skills needed for collaborating with directors, podium procedure and running a big-budget recording session. They also meet with music supervisors, concertmasters, agents, studio executives and A-list composers.
"You're basically putting on the suit of a composer and pretending you've had decades of experience, and you are getting to know these people who you're going to be interacting with for the rest of your career, hopefully," said Joseph Trapanese, composer of "Straight Outta Compton," who attended the workshop in 2009.
This year's workshop dozen spent an afternoon at Tom Holkenborg's Tarzana studio, peppering the "Mad Max: Fury Road" composer with questions. They visited "The Hurt Locker" composer Marco Beltrami's studio in Malibu, and convened at Hans Zimmer's Santa Monica composer compound, Remote Control Studios, where Benjamin Wallfisch ("Blade Runner: 2049") shared his long, winding experience with director Gore Verbinski on the climax for "A Cure for Wellness" — one of the scenes three of the attendees had re-scored.
Wallfisch emphasized both the lofty — film composers are storytellers, first and foremost — and the practical. After playing his final version of that scene, he playfully pressured the three young composers to let him hear their new spin on it.
"You're always going to be put on the spot in this gig," he said, "so we might as well play it."
Blushing, and even crying, the workshop attendees cringed through hearing rough demos of their cues. But Wallfisch bobbed his head to the music's flow, and offered validation — "I was gripped" — and constructive criticism.
The workshop was created in 1988 by Nancy Knutsen, former head of ASCAP's film and TV division, and initially run by composer Fred Karlin (the original "Westworld"). The size of the recording orchestra has grown over the years, and the focus has shifted as technology advances made early emphases mostly irrelevant.
For Bellis, Steiner and all of the busy professionals and in-demand players who contribute every year, it's a matter of paying forward their success — but it's also a matter of survival. Recording work for orchestras has increasingly dried up and gone oversees, and the dwindling number of stages and scoring sessions is cause for concern.
"It is in the best interest of the musicians, the stages, everybody involved to meet and help these emerging composers," said Bellis. "And we get, frankly, the most promising in the world."
The program is free, but attendees travel and stay in L.A. on their own dime. Shaun Crawford, who flew in from Cape Town, South Africa, said the investment was worth it.
"Without a doubt," said Crawford, who finally got accepted in his fourth year of applying. "It's been an absolute gift. I think that the team has produced a program that literally puts you into the mainstream of film scoring. And they care deeply about you, and they want you to succeed."
Jesi Nelson, a Korean-born Wisconsinite, echoed that sentiment.
"They really do treat us like A-list composers," said Nelson, 30, who was already being circled by impressed executives and composers. She was 10 when she saw "Meet Joe Black," scored by Thomas Newman.
"I was sobbing, and I didn't know what was wrong with me, and I kept rewinding the film to this one spot. And it was like: I want to do that. I'm going to do that."
---
The complete guide to home viewing
Get Screen Gab for weekly recommendations, analysis, interviews and irreverent discussion of the TV and streaming movies everyone's talking about.
You may occasionally receive promotional content from the Los Angeles Times.