Review: 'Foster' takes a dramatic look inside L.A.'s complicated foster care system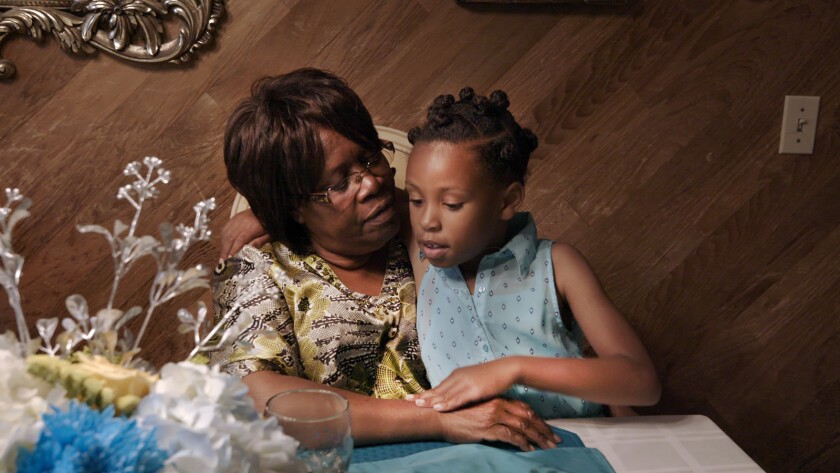 Film Critic
Is there anything so omnipresent but as little understood as the foster care system? Everyone knows it provides places to stay for children who don't have safe homes, but what does that mean, and how exactly does it work?
Writer-director Mark Jonathan Harris and producer Deborah Oppenheimer, veteran documentary collaborators, do more than answer those questions; they've created an intimate, intensely dramatic film that holds us in its grip like a page-turning novel. Except it's all true.
Harris is a veteran documentarian who's won Oscars for features "The Long Way Home" and "Into the Arms of Strangers: Stories of the Kindertransport," but even for him and Oppenheimer this subject was a challenge. "Foster" ended up taking four years to make: two years to research and two to follow the five stories that make up its narrative.
Among the reasons for all this time was the great number of stakeholders, including judges, lawyers, social workers, bureaucrats and the children themselves, who needed to be part of the mix.
Even getting permissions for the minors involved to appear on screen was daunting, with the "Foster" team reporting that approximately 35 people had to sign off for each child filmed.
The lengthy process turned out to add an advantage. It increased intimacy, allowing for the filmmakers to get so close to the subjects that when pivotal moments occurred they could be filmed without any fuss or hesitation.
What really makes "Foster" stand out in the world of social issue documentaries is its welcome tang of evenhanded reality.
While most films of its type either want to emphasize how bad situations are or how awesome the people trying to help are, "Foster" knows it's not that simple, that life is more complicated, and that complications are inherently dramatic.
Set exclusively in Los Angeles, "Foster" focuses on the Los Angeles County Department of Children and Family Services, the largest county child welfare agency in the country, where decisions often have to be made on the fly and the unofficial motto might be, as one sign puts it, "good morning, let the stress begin."
Everyone encountered in this large and bureaucratic support system is trying hard to do the right thing, to stanch a flood of thrown-away children, but that does not guarantee success or a happy ending.
"The tough thing about the system," someone says, "is that it is a system. It treats everybody the same."
As for the children themselves, all they want is to belong, to be loved, something that is simple to say and frustratingly difficult to actualize. Each story in "Foster" has its own trajectory, and all are guaranteed to get to you.
If "Foster" has an unabashed hero, she is the person we meet first: Earcylene Beavers, a foster mother for over 25 years who's had more than 100 children under her care, including the four still with her.
"I like a challenge," this firm, loving and eminently sane woman says, "but I may have asked for too much."
The youngest person whose family situation we follow is an infant named Kris'Lyn, and we meet her pretty much at birth.
Her mother, Raeanne, tests positive for cocaine when the baby is born, creating a complex situation for the mother; Kris'Lyn's father, Chris; and the child protective services.
The oldest foster care child featured is almost old enough to have aged out of the system. That would be 18-year-old Mary, who has been in close to 18 foster homes; she can't remember exactly how many.
Mary is eager to go to college and in fact begins at Cal State Northridge, but she may not be as prepared for the experience as she would like.
Just a bit younger is 16-year-old Dasani, whose background is the most disturbing: When he was a child, he was present when his mother was killed.
Though Dasani is aware and thoughtful, because he is in the foster system, things go tougher on him when he gets into a fight in his group home. "I see it, we all see it," a juvenile judge assigned to his case tells him. "It's intelligence. Don't waste it."
The most unusual person "Foster" follows is Jessica Chandler. A single mother of two herself, Chandler is a product of the foster system and hated it. She never wanted to be a social worker but is a passionate one now.
"There are other Jessicas," she says simply. "My mission is to find me, to save me."
It's in the nature of these stories that they're not going to be completely resolved by the close; real life doesn't work that way, but as each unfolds we are reminded of the Nelson Mandela quote that begins the film:
"There can be no keener reflection of a society's soul than the way in which it treats its children."
Or, if you'd like to end on the positive but realistic note the film prefers, here's what 18-year-old Mary has to say. "You can't always write the beginning of your story," she allows, "but you can write the end."
--
'Foster'
Not rated
Running time: 1 hour, 53 minutes
Playing: Laemmle Royal, West Los Angeles. On HBO starting May 7.
---
The complete guide to home viewing
Get Screen Gab for weekly recommendations, analysis, interviews and irreverent discussion of the TV and streaming movies everyone's talking about.
You may occasionally receive promotional content from the Los Angeles Times.