Review: 'Francofonia' is an elegant rumination on the Louvre through the lens of war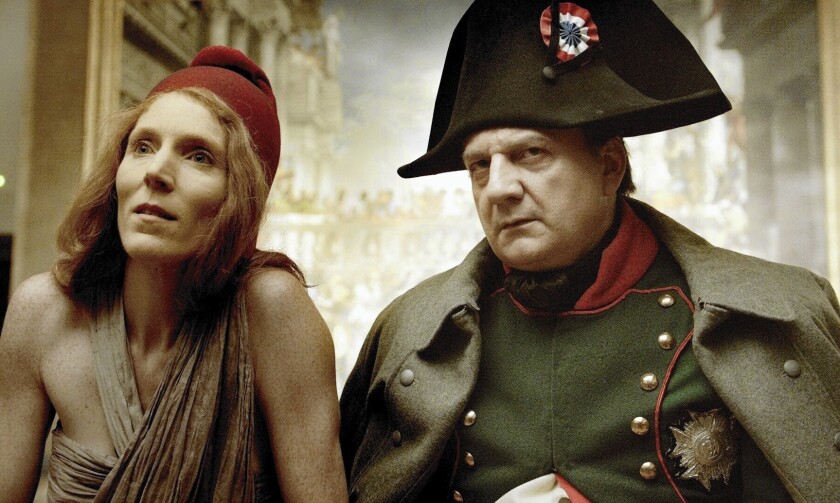 "Francofonia" revolves around a fascinating historical footnote, the kind of improbable alliance that many a screenwriter would eagerly turn into a period drama. In Nazi -occupied Paris, a German officer and the director of the Louvre joined forces to protect the museum's holdings from expatriation to Germany.
Luckily, Alexander Sokurov got there first with his new cinematic essay, an artful construction of archival material and new footage that's expertly made to look old. It naturally recalls "Russian Ark," the masterful 2002 feature he shot in one sinuous, unbroken take at the Hermitage in St. Petersburg. The new film doesn't match the earlier work's thrilling poetic force, but the two pictures share a deep appreciation of the inseparability of art and history.
SIGN UP for the free Gold Standard newsletter >>
This time around, granted after-hours access to the Louvre, the Russian filmmaker ruminates on who we would be without our museums. The elegantly crafted film can be silly or frustratingly enigmatic, and it takes a while for it to fully engage. Sokurov begins by evoking Chekhov, then intercuts scenes of himself editing his footage and video-chatting with the captain of a symbolically storm-tossed ship, before focusing on the film's paired heroes.
Jacques Jaujard (Louis-Do de Lencquesaing) and Count Franziskus Wolff-Metternich (Benjamin Utzerath) are both in their mid-40s when Hitler arrives in Paris. There are no big emotional moments or revealing exchanges in the enactments of imagined scenes between these art historians. Their shared commitment to preserving cultural heritage plays out between the lines, and in Wolff-Metternich's evasion of orders from Berlin.
Delving into the uneasy relationship between art and war, Sokurov observes that most countries' national collections are built in part from the spoils of war. Napoleon Bonaparte himself leads the viewer through the galleries of the Louvre, and in a running joke that doesn't quite work, he's accompanied by Marianne, the symbol of republican France.
"Francofonia" is a love letter to France and the Louvre, but it's also a harrowing reminder that not all cultures have been held in such high esteem. On the Eastern Front, Leningrad met a very different fate than did Paris.
Sokurov's open-ended Eurocentric meditation is, above all, a stunning visual achievement. The fluency with which he combines the pixels, ghosts and artifacts is extraordinary, and his deft use of drone footage is a lesson to many gadget-happy filmmakers.
When the director speaks of artwork lost at sea as the result of warfare, he connects his museum prowl to the movie's fictional ship captain and, by implication, to recent years' wholesale destruction of ancient treasures in Syria and elsewhere. That point is brought home powerfully when he turns his lens on a 9,000-year-old sculpture.
---
Get the Indie Focus newsletter, Mark Olsen's weekly guide to the world of cinema.
You may occasionally receive promotional content from the Los Angeles Times.