George Clooney evokes Edward R. Murrow while receiving AFI's Life Achievement Award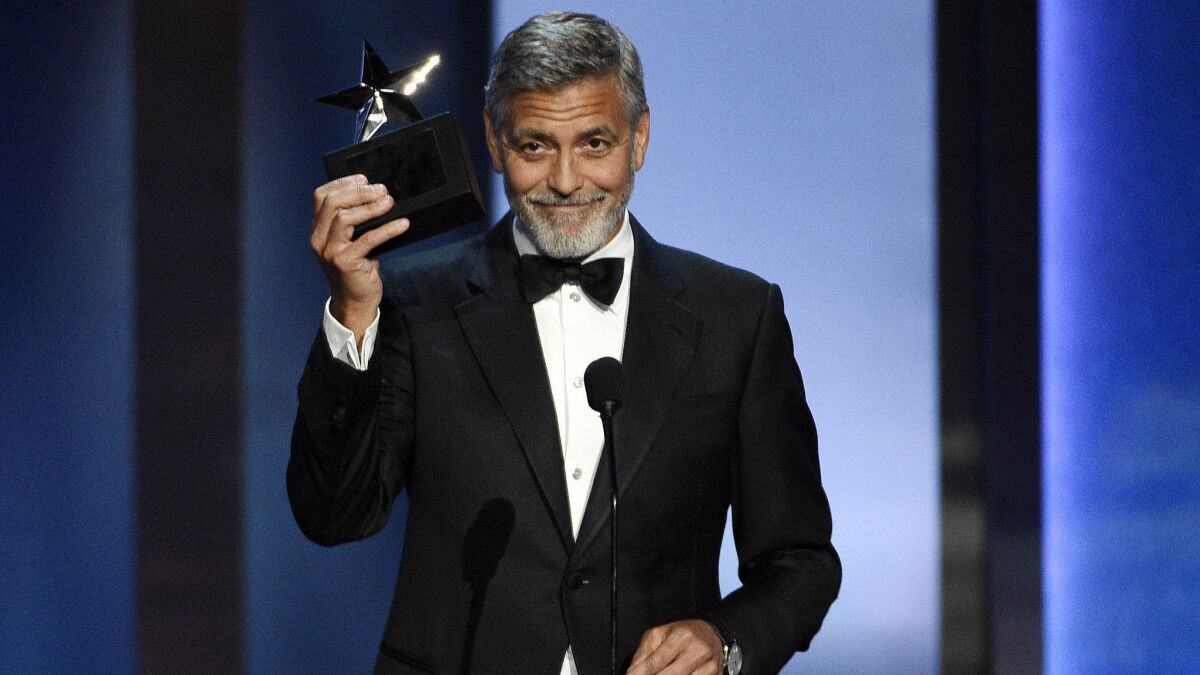 The Dolby Theatre, home of the Oscars, was completely transformed into a gala dinner space Thursday night for the American Film Institute's 46th Life Achievement Award ceremony held in honor of George Clooney.
Oversized film stills commemorating the star's work in films including "O Brother, Where Art Thou?," "Syriana," "Fantastic Mr. Fox," "The Ides of March" and "Good Night, and Good Luck" adorned the walls behind the stage, opposite the dais where Clooney, wife Amal and parents Nick and Nina sat with a coterie of friends and stars.
Clooney was honored by fellow actors and peers including Laura Dern, Jennifer Aniston, Courteney Cox, Julianna Margulies, Bill Murray, Miley Cyrus, Richard Kind, Anna Kendrick, Cate Blanchett, Don Cheadle, Jimmy Kimmel and former AFI Life Achievement Award recipients Diane Keaton and Shirley MacLaine. Video messages from Julia Roberts and Barack Obama were also included over the course of the two-hour long ceremony.
Kimmel spoke about Clooney's propensity for practical jokes, saying, "Maybe the best prank of all happened when he was back on 'Roseanne.' He convinced her to open a Twitter account."
Though he was never mentioned by name, there were a handful of allusions to President Trump and Clooney's own political activism over the course of the night. In his opening remarks, AFI Chairman Howard Stringer, acknowledging how young the 57-year-old Clooney is to be a recipient of a lifetime achievement award, quipped, "We now know that old entertainers never die, they simply become politicians." (Clooney responded with a good-natured "hey, hey, hey.")
Clooney himself alluded to the president in one of his prerecorded interview clips. The star, talking about his "numbskull" character in "O Brother, Where Art Thou?" said he played the role as someone who thought himself the smartest person in the room, "as we've seen in other walks of life recently."
There was also frequent mention of Clooney's Oscar-nominated "Good Night, and Good Luck." Stringer called the 2005 film Clooney wrote, directed and starred in — about CBS News anchor Edward R. Murrow's handling of Sen. Joseph McCarthy's communist witch hunt — "eerily prophetic."
"It's a story of a man who stood up to power unchecked with truth," summarized Blanchett. "It's a masterwork, George, that has never proven more relevant than it is today. In fact, over time, it has only grown in importance and impact."
"Murrow was a huge hero to my father," Clooney said in a pre-recorded interview clip. "I was angry when I wrote 'Good Night, and Good Luck' about a lot of things. I was being called a traitor to my country because I was against the war [in Iraq]. I was really angry at the idea that the industry that my father held so dear and I held so dear was so timid and so scared."
Clooney — whose father worked as a journalist, anchorman and show host — studied broadcast journalism at Kentucky University before deciding to be an actor. In a letter read aloud by Amal, the late broadcast journalist Walter Cronkite praised the actor's style, character and class.
"Walter was right," said Amal. "And his words are all the more poignant at a time when many of us feel that character is lacking in some of the leaders we count on the most." This comment, the most pointed of the night, was met with a round of applause.
At the end of the night, Clooney took the stage to thank the AFI and everyone for saying "such incredibly nice things about me," in particular his parents and his wife.
"You make every single day, every Monday, Tuesday and Wednesday feel as special as tonight," he said to Amal. "And tonight was very special and I will treasure it always. So thank you, and from the words of someone who is much more intelligent, which we probably need now more than ever, goodnight and good luck."
follow me on twitter @sonaiyak
Get our L.A. Goes Out newsletter, with the week's best events, to help you explore and experience our city.
You may occasionally receive promotional content from the Los Angeles Times.