From oysters to hula hoops, the fantastic worlds of 'Grace Jones: Bloodlight and Bami'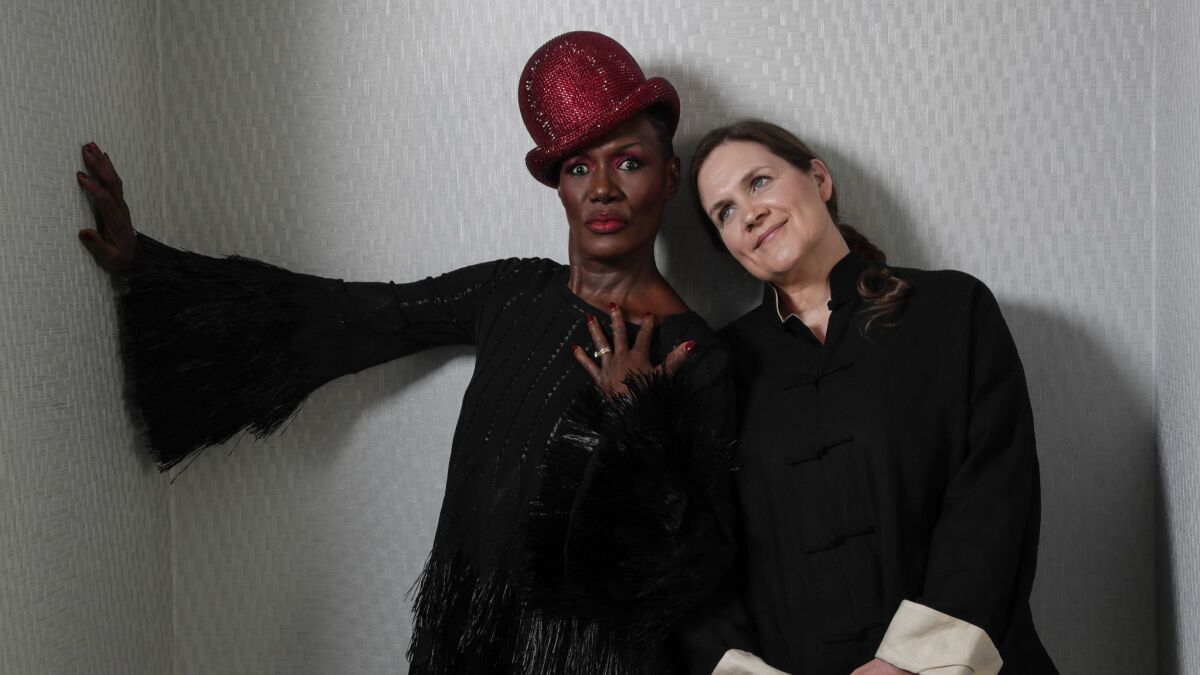 Who is Grace Jones, exactly? Is she a musician, a stage performer, an interpreter of songs, an actress, a model, a muse? The documentary "Grace Jones: Bloodlight and Bami," now playing in select theaters, puts forth the answer as all of the above and more.
The film captures unguarded moments from someone who has spent her career building up layer upon layer of presentation and persona, while giving true agency to Jones as an artist. Jones, who will be 70 in May, is equally known for her screen roles in films such as "Conan the Destroyer," "A View to a Kill" and "Boomerang" as for her albums such as "Warm Leatherette," "Nightclubbing" and "Slave to the Rhythm." She also worked on projects with artists such as Keith Haring and onetime partner Jean-Paul Goude and fashion designers Issey Miyake and Thierry Mugler.
Directed by Sophie Fiennes, "Grace Jones: Bloodlight and Bami," was made over more than 10 years, with footage of Jones with her family in her native Jamaica, working in the studio on what would become her 2008 album "Hurricane" and traveling the world to perform. All that is interspersed with video from two nights in 2016 at Dublin, Ireland's intimate Olympia Theatre.
The film is more than a companion piece to Jones' 2015 book, "I'll Never Write My Memoirs," and the image that emerges is uniquely personal, intimate and unexpected. The film premiered at the Toronto International Film Festival last fall, and it was there that Jones and Fiennes sat for an interview tucked into a hotel bistro's darkened corner table littered with the remains of an early supper, half-eaten plates of food and glasses of red wine. There is a mixture of earnest reflection and fabled myth-making to Jones, like it's always 4 in the morning after a long night.
I'd say I'm flexible within the world of art. I see art in everything.
— Grace Jones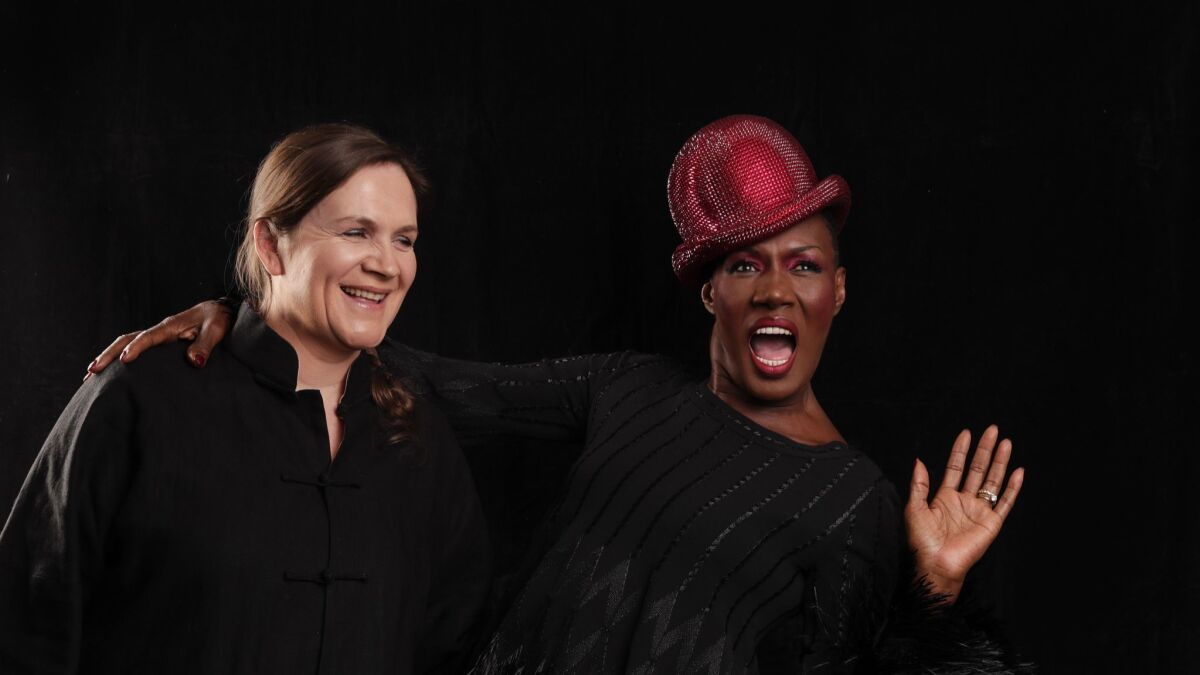 Grace, if you don't mind my asking, why do you prefer to shuck your own oysters?
Jones: I'll tell you why. First of all, if you get someone to shuck your oyster who doesn't do it right, you get a lot of shell inside it, which can cut your gums. It should look really pretty once it's opened. And you have to keep the juice in it. A lot of oyster shuckers, they struggle with it or they don't care about the presentation. I believe France has the best oyster shuckers, actually.
You mention the film project with Sophie at the end of your book, and you specifically say that the film is either going to confirm, compliment or contradict the book. Now that the film is done, how do you feel it relates to the book?
Jones: What I love is there is no comparison. The only comparison there is in the reading of some more details, in-depth details of Jamaica and more details of certain other parts. Unless you want to have to spend one year of watching a movie, of course this is where the artistry comes in — how do we get the most out of the material and get a whole thing out of the film? So when you see it from beginning to end it's a full circle. You don't even have to have everything in it that's in the book, but you feel, you get the sense of it.
Fiennes: They're different forms. And I felt like I had a lot of material that covered all kinds of things. I just happened to be in Paris when [granddaughter] Athena was born and we did the shoot with Jean-Paul [Goude]. I'd been shooting with Anselm Kiefer in Avignon, and I took the train back. I'd been in contact with Grace and she said, "I'm in Paris," and I thought, "Wow, I've just come into Paris." So I literally just crashed in that suite with you in the Meurice hotel and it was all just happening. I had my cameras with me because I'd come from Avignon.
Jones: It's amazing how it happens. Couldn't have planned that.
Sophie, why did you decide not to have Grace sit for a conventional interview or talk through her career? You're presenting two very clean sides of who she is, onstage and off — what portrait does that present to an audience?
Fiennes: Well, I don't think they're two clean sides, there's a relationship between them. There's a connection, and the songs are working like a structural arc. For me there is also the layer of a Jamaican road trip and then there are her interventions into the public life that Grace is leading, this kind of global Grace. So it's like weaving a piece of fabric, there is this sense of weaving layers and creating patterns and relationships and connection, so it's not like, "This is the performance and this is the life." The performance is the life. The performance doesn't exist without the life.
For me it's important to not fall into that illusion that here's a mask and behind it a real person. The performance is the real, the real present-tense moment that anchors the film. The movie is disorientating you in all of Grace's layers of life. So you come back to the stage [and] like in a musical, you have songs that expand the story.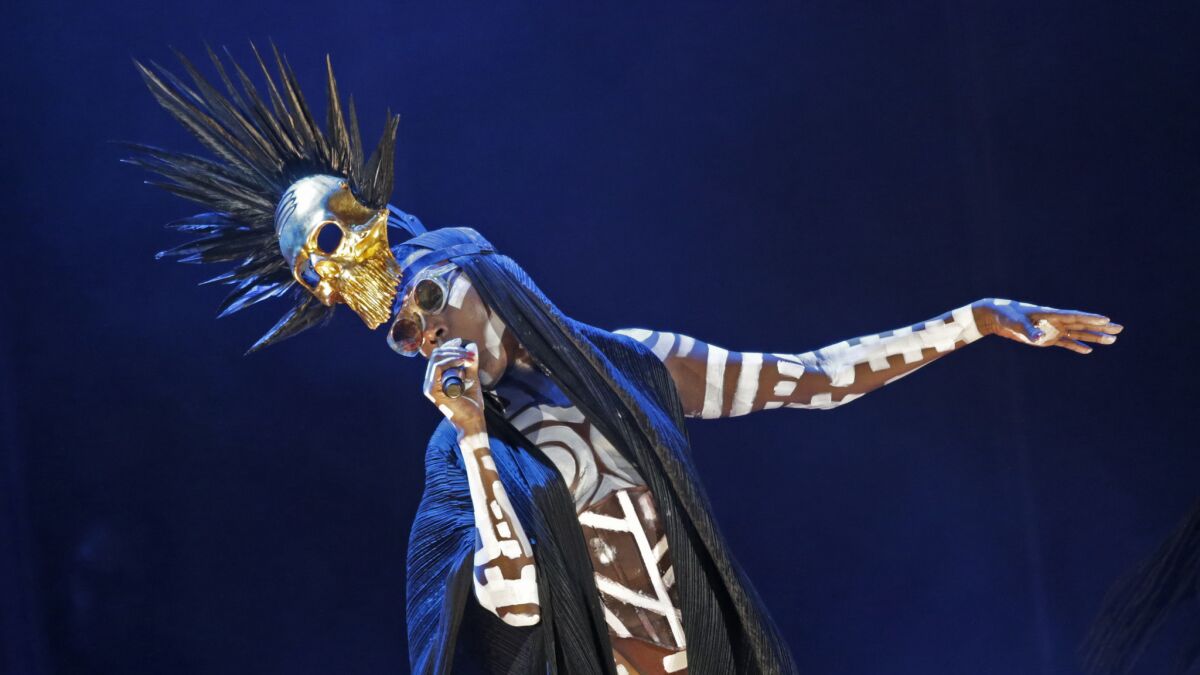 Grace, do you think of yourself as primarily a singer-songwriter or a performer? At one point in the film you refer to yourself as a visual artist.
Jones: I'd say I'm flexible within the world of art. I see art in everything. But it's about making it better, creating something, growing out of nothing. I'm not finished by a long shot. That's what drives me. I'm just following a calling, basically. And you follow what I call the yellow brick road. I always say, we do a yellow brick road and one thing leads to another leads to another. I also have the giant octopus philosophy, it's like tentacles that will reach out for you and if you are there at that time, you can go with that tentacle or say, "Leave me alone." For me, I go with that tentacle — I don't know where you're taking me, but I like to explore. I always say, coming from Jamaica I'm a pirate and a gypsy. I come from a small island that has amazing powers.
Grace, when did you begin using a hula hoop onstage?
Jones: I hula hooped from when I was a child in Jamaica. And I don't know, I was going onstage and there was a hula hoop there. I remember there was this pub Kate Moss was trying to keep open, they were trying to tear it down and people wanted to keep it open. And the woman who ran it had all these collections, costumes and other things, and there was a vintage hula hoop and I took it to the photo shoot. And I was using it and decided to keep it and she wanted her hula hoop back. And I said, "I'm going to use it onstage." And it grew into "Slave to the Rhythm" to the hula hoop at the same time.
At the Queen's Jubilee [in 2012], I did not expect to be invited, but I was invited and I said no for a very long time. It's kind of in the realm of politics and I thought, that's not what I do. It's not my show, I have no control really, I'm being thrown into a painting created by someone else. And they kept insisting, and "Look, Grace, it's a royal request" and then I thought it was Prince Charles for sure. So then I thought, "OK, hula hoop." And basically Elton John said, "If you don't hula hoop to 'Slave to the Rhythm,' I'm not coming to the show."
Is it tough to sing and do the hula hoop at the same time?
Jones: No, hula hooping requires hardly any movement. When people can't hula hoop, it's because they're trying too hard.
SIGN UP for the free Indie Focus movies newsletter »
Follow on Twitter: @IndieFocus
---
Get the Indie Focus newsletter, Mark Olsen's weekly guide to the world of cinema.
You may occasionally receive promotional content from the Los Angeles Times.