Hallie Meyers-Shyer knows you'll compare her to her mother, Nancy — and she's cool with it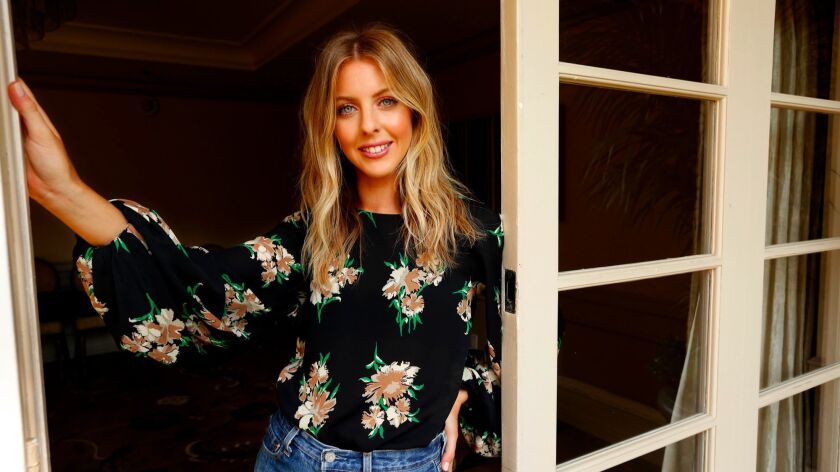 When Hallie Meyers-Shyer set out to make her first film, she knew it would instantly be compared to her mother's movies. After all, the 30-year-old's debut has nearly all of the trappings of a Nancy Meyers picture: It's a romantic comedy about beautiful people who live in a lovely Brentwood mansion — the kind so immaculately decorated that it could be featured in the glossy pages of a home design magazine.
"A lot of people have asked me, 'Why didn't you want to do your own thing — like something in horror?' " said Meyers-Shyer, recalling her experience with journalists after a long day of press junket interviews. "But that's not me. I just wanted to be true to myself, and my mom's films are the kind of movies that I love. I don't have a big ego in that way, where I feel like I have to be different."
While the offspring of many famous directors have tried mightily to cement their own artistic style — Jason Reitman, Sofia Coppola, Jake Kasdan — Meyers-Shyer fully embraced her relationship with her mother on "Home Again," which opens Friday. Meyers served as a producer on the film, offering extensive notes to her daughter during the screenwriting stage and serving as a guiding force on-set during production. The mother and daughter were paired for nearly all of their interviews at the movie's L.A. press junket. And Meyers recently posted a teaser trailer for the film on her Instagram account that almost made it seem as if she had made "Home Again" herself: "From Nancy Meyers, the producer of 'Something's Gotta Give,' 'The Holiday,' 'The Intern,' " the advertisement read, "The feeling is back."
"I think it would bother me if I hadn't made this movie with her, but we made a movie together, so I expected it," said Meyers-Shyer, who bears an incredibly strong resemblance to her mother but also happens to look like Julianne Hough mixed with an Olsen twin. "She's learned so much and been in this business for so long, and to be able to pass that knowledge on to me I think was nice for her."
As a result of her parents' proximity to Hollywood, Meyers-Shyer herself has been immersed in the film industry virtually since she was a toddler. Her father, Charles Shyer, is a filmmaker who collaborated with Meyers on numerous films ("Father of the Bride," "Private Benjamin," "Baby Boom") before they divorced in 1999. She and her older sister, Annie, spent much of their youth on their parents' sets, riding around on golf carts, lazing around in trailers and even getting to film a few fun cameos.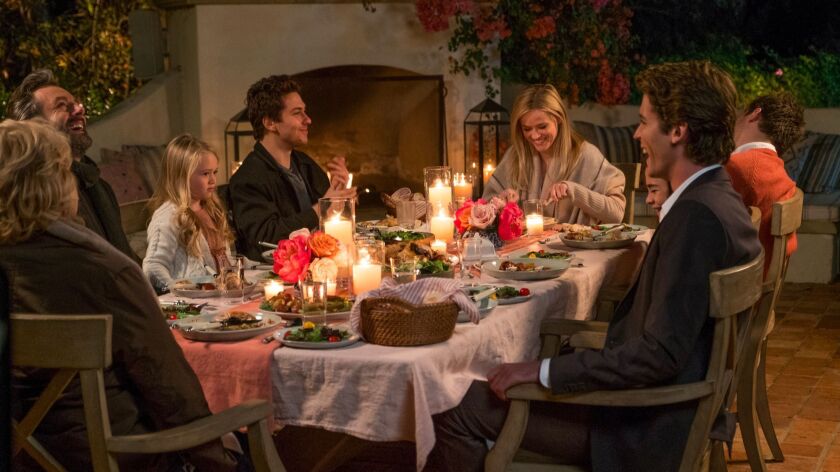 As she got older, she began to take a more serious interest in how the films were being made. She'd pull up a chair and camp out by the monitor in the video village or quietly listen to the conversations her mom and dad had with their actors. During her high school years at the Crossroads School, she began studying her favorite films — Billy Wilder's "The Apartment," Woody Allen's "Hannah and Her Sisters" — to see how they were structured. Initially, she even decided to pursue screenwriting at USC, but eventually transferred to the New School, opting to use her college experience to study something outside of the film world: literature.
After graduation, she picked up a few studio writing gigs in L.A., but began writing "Home Again" two years ago.
"I didn't just want to expect that right out of the gate I could direct a film," she explained. "It's a big responsibility, and I felt that I needed to earn my stripes. At that point, I felt more mature and felt I had been working in the business for long enough."
The story she set out to tell follows a 40-year-old with two children (Reese Witherspoon) who is newly separated from her record executive ex (Michael Sheen). She moves from New York to L.A. to start over, settling in the home of her late father, who just so happens to have been a famous filmmaker. But just as she's embarking on a new career — as an interior designer, natch — she crosses paths with three young Hollywood hopefuls (Pico Alexander, Nat Wolff and Jon Rudnitsky) who are trying to make it big. The group strike up an unlikely friendship and the trio of dudes move into her guesthouse, which, as you might guess, does not go smoothly.
Knowing she was heading into her first film, Meyers-Shyer said she tried to craft her screenplay with certain protections in mind. The movie, for example, largely takes place in one location, and its cast isn't particularly large. All the time she'd spent on her parents' sets had shown her just how hard filmmaking could be — especially the day-to-day obstacles, like last-minute costume changes or weather complications.
"I was happy that my mom was there for a lot of the tactical stuff," she recalled. "When you're making an indie film, there's a lot of, 'No, you can't do this.' But with her previous experience, she could see a step ahead and would say, 'No, this is possible. We can do another take.' She brought in a little bit of a studio mentality, because when there's more money to make a film, sometimes there's more possibility. She's very strong and she makes sure she gets what she wants — and she passed that on to me."
Still, Meyers-Shyer said she was particularly anxious about working with actors — namely Witherspoon, the Oscar-winner whom she'd been a fan of for years. "But when we hit the ground running, she made all of my fears go away," the director said. "She acted like I had directed 10 movies before."
In some ways, she spent her childhood growing up on movie sets and watching her parents seems to have been the best film school in the world.
Reese Witherspoon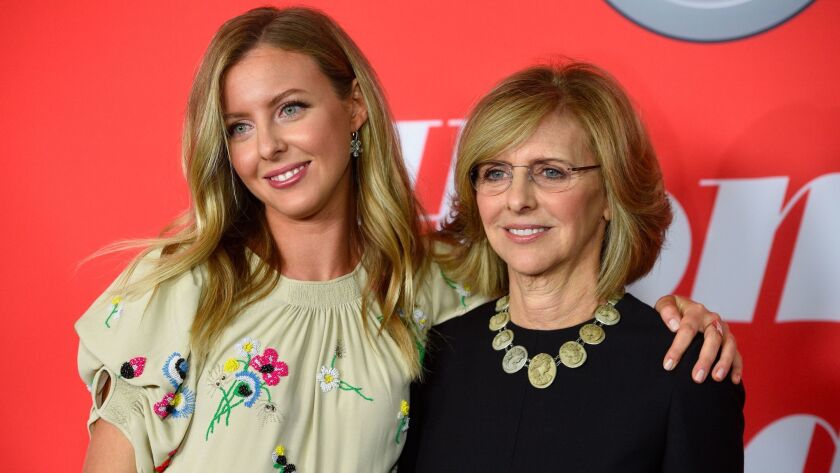 Witherspoon admitted she too had anxiety before working with the novice filmmaker.
"I was concerned about working with a first-time director on a project where we had such limited time," the actress wrote in an email, referring to the 30-day shoot. "[B]ut Hallie immediately allayed my concerns with her incredible understanding of the process of filmmaking. Her comprehensive knowledge of how to bring a script to screen, to editing, to marketing was impressive. In some ways, she spent her childhood growing up on movie sets and watching her parents seems to have been the best film school in the world."
Meyers-Shyer is already thinking about her next screenplay, which she intends to direct. She'd like to have a career like Mike Nichols and is open to exploring other genres — "but I don't see myself ever working on another planet."
And to those who say nepotism played a role in getting her first film off the ground?
"At the end of the day, nobody makes your film because your parents are in the film business," she said with nary a hint of bitterness. "Reese Witherspoon is not going to be in your film because of that. … I always wanted to work with my mom. We are close, and collaborating with her was really thrilling for me. I didn't see any negative to it, I only saw a positive."
Follow me on Twitter @AmyKinLA
---
Get the Indie Focus newsletter, Mark Olsen's weekly guide to the world of cinema.
You may occasionally receive promotional content from the Los Angeles Times.