Michael Myers' childhood home draws 'Halloween' tourists to South Pasadena for a chance to step into Haddonfield
'Halloween' fans kill time before the movie's release at a South Pasadena house.
For SaraRose Orlandini, the original "Halloween" isn't just a movie — it's a way of life.
"I'm extremely passionate about 'Halloween,'" says the 32-year-old resident of South Pasadena, the picturesque San Gabriel Valley suburb where John Carpenter filmed much of his 1978 horror classic. So passionate, in fact, that she's made it her business. In 2015, the energetic aficionado opened SugarMynt Gallery, an art gallery and event space dedicated to the hugely influential slasher film. "This is for the fans," she says of the venture. "This is for people like me."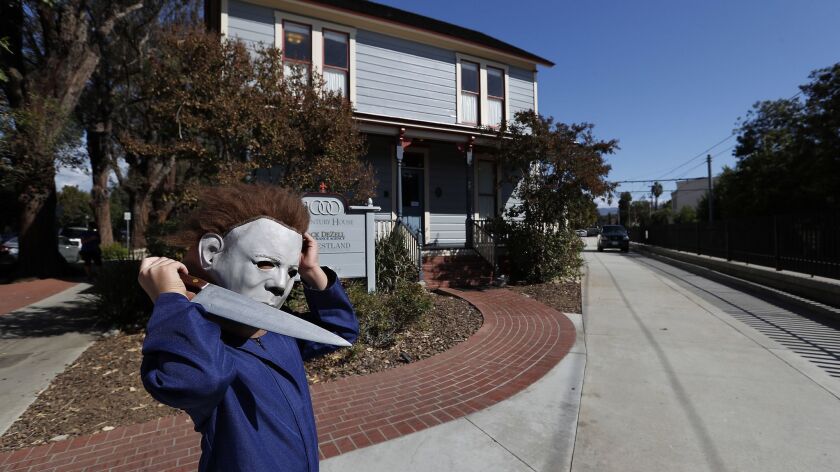 The shop could hardly be better located. Next door, the 130-year-old clapboard house used as masked killer Michael Myers' childhood home in the movie casts a literal shadow over Orlandini's business. This brings SugarMynt a steady stream of "Halloween" tourists, some of whom come long distances to step into the cinematic Middle American hamlet known in the film as Haddonfield, Ill.
"We were looking for Middle America," "Halloween" cinematographer Dean Cundey recalled of the decision to shoot in South Pasadena. "Haddonfield … was supposed to be just average America. And South Pasadena's architectural style is very similar… you know, the clapboard houses and the tree-lined streets and so forth."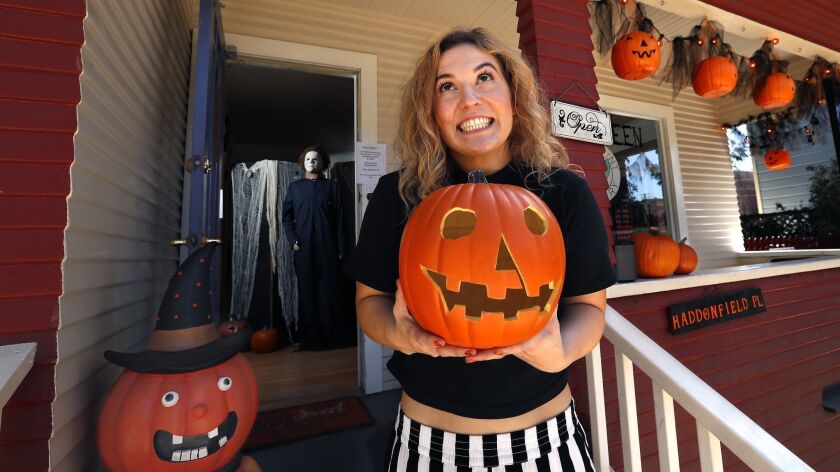 SugarMynt is only the most conspicuous manifestation of the town's legacy as the main setting of Carpenter's movie, a low-budget production so rich in atmosphere that viewing it becomes an immersive experience. This quality perhaps explains why fans have made this town of 25,000 a sort of mecca. In 2007, no less a superfan than Rob Zombie even filmed portions of his remake there (the latest installment, which opens Friday, was largely filmed in South Carolina).
"The locations are all still there," says Justin Beahm, a fan who parlayed his admiration of the picture into a job with "Halloween" distributor Trancas International Films (he has since left the company). "A lot of filming locations over time change or are taken down or whatever else, or they're on a soundstage. Well, there is a Haddonfield, and it is South Pasadena."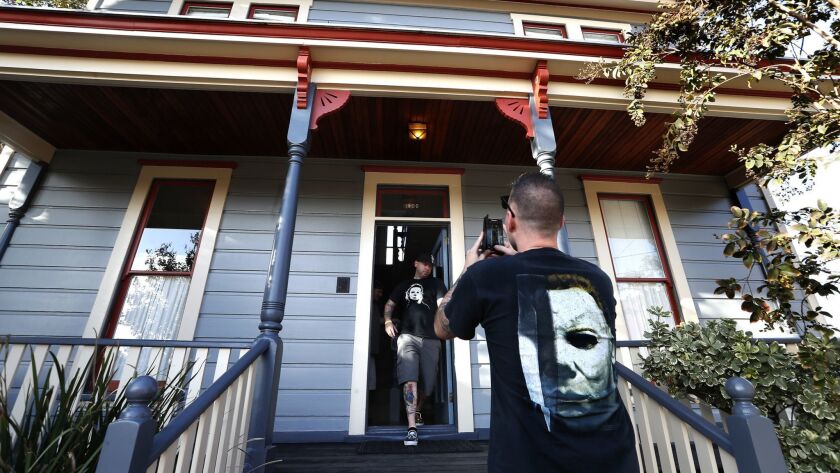 Interestingly, the Myers house (which has since been designated a South Pasadena Historic Landmark) was saved due to its significance as one of the town's earliest homes — not because of its connection to the movie. In 1988, when the house was in danger of being bulldozed to make way for a condominium complex, then-City Councilman David Margrave swooped in and bought it for the bargain price of a silver dollar, under the condition that he move it off the lot by the end of the week.
"The South Pasadena Preservation Foundation had a big block party, and they moved the house… from one side of the street to the other, where it sits now," recalls Margrave's widow, Diane Hamilton-Margrave, who still co-owns the building.
In the years since, the house (now used as an office building) has been painted a pale blue with pinkish trim, giving it a decidedly cheerier appearance than it had in the film. But to "Halloween" fans, it will always be the Myers house; even Carpenter recognizes its importance as a symbol of his most famous creation. "He came and he presented David with a map of [Haddonfield]," says Hamilton-Margrave. "They were very appreciative."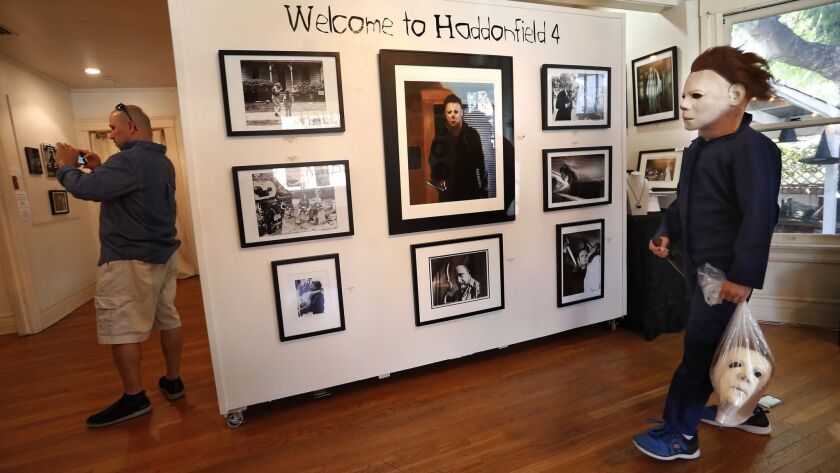 Less than a quarter-mile away, another valuable piece of "Halloween" real estate also draws fans: The home of Jamie Lee Curtis' mousy-but-resilient Laurie Strode. To the delight of passersby, the home's owner — who spoke with The Times but requested not to be named because of privacy concerns — has fully embraced the association, even leaving plastic pumpkins out on the front porch along with a sign inviting fans to pose "like Jamie Lee Curtis."
"It was one of those things where my husband and I said, 'Why fight it? Just get with it,'" says the homeowner, who notes that people have come from such far-flung locales as Germany, Japan and New Zealand to see the house. Bad apples do occasionally rear their heads, however. "I've had the pumpkins stolen. I've had some other stuff stolen off my porch," she said. "But it's rare."
"For whatever reason, 'Halloween' has by far the most rabid fans [of any horror franchise]," noted Sean Clark, a writer, director, producer, host and personal appearance agent who with Trancas Films and HorrorHound magazine has spearheaded "Halloween" conventions in neighboring Pasadena every five years since 2003, including this year's 40th anniversary celebration. "To the point of being annoying. I mean, I love them, but at the same time, they are the Trekkies of the horror world… and I couldn't tell you why. It's a mystery to me."
Clark isn't kidding. A quick YouTube search turns up an enormous number of filming location videos shot by fans who made the trek, including at least one "Halloween"-themed marriage proposal. That video was shot by Alec Wells, who proposed to his superfan then-girlfriend Kat Canipe (now Wells) while dressed as Michael Myers; the clip eventually garnered the attention of fans and now boasts more than 330,000 views.
"It feels like church," Kat Wells said of visiting the South Pasadena locations, including the famous peek-a-boo hedge on Montrose Avenue and the hardware store where Michael steals his mask (now an Indian restaurant called Radhika). "To people who aren't horror fans, to say something like, 'You know, a horror movie means so much to me that I go to the location and it makes me want to cry,' that sounds insane. But … it was absolutely transcendent. It just felt like I was in Haddonfield."
The town hasn't fully embraced its cinematic notoriety, however. Although Beahm and town librarian Steve Fjeldsted eventually persuaded the City Council to name Oct. 31 "John Carpenter Day" — South Pasadena held a 2013 public proclamation ceremony attended by Carpenter— he recalls experiencing some pushback initially.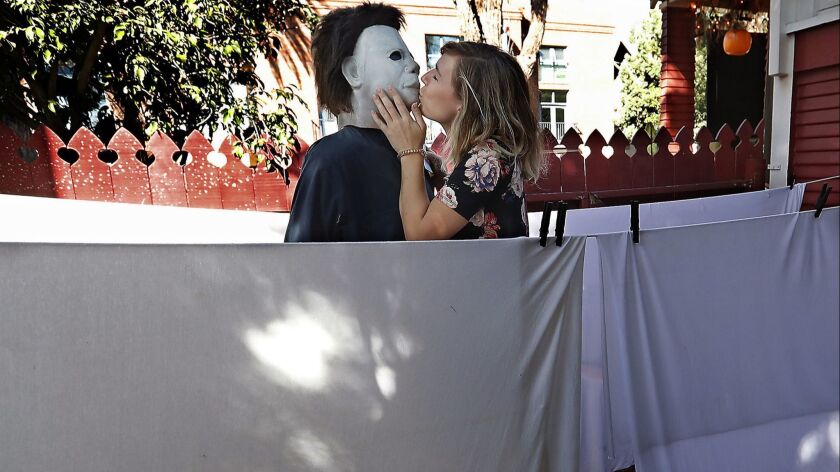 "I really don't think that they at the time knew the extent of the horror fan base and their dedication to this film," says Beahm. "So we kind of had to convince them of that."
As far as Orlandini is concerned, South Pasadena should do more to exploit the "Halloween" connection. "I never understood why people in this city have never embraced it," she said — her next-door neighbors included. "There's an insurance guy upstairs… and I try to tell him, 'Cater to "Halloween" fans.' Everybody needs insurance. Why not get it at the Myers house?"
---
The complete guide to home viewing
Get Screen Gab for weekly recommendations, analysis, interviews and irreverent discussion of the TV and streaming movies everyone's talking about.
You may occasionally receive promotional content from the Los Angeles Times.