Review: Cannes prize-winner 'Harmonium' plays out tense Japanese family drama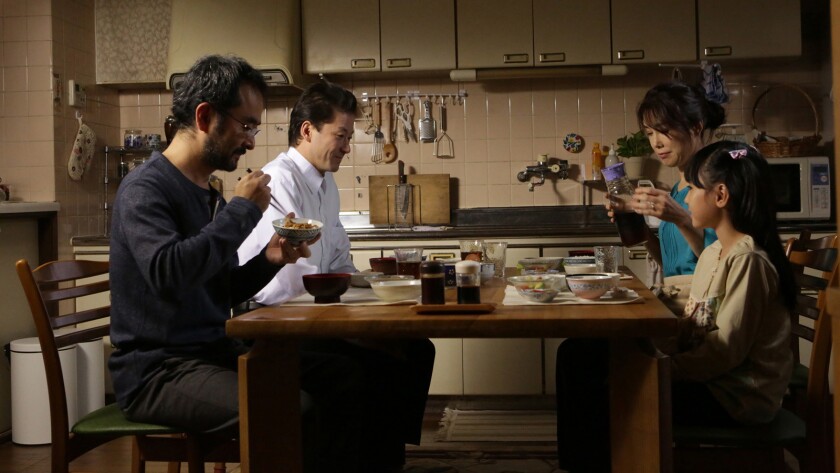 Tick, tick, tick, goes the metronome in the first scene of Kôji Fukada's "Harmonium," as appropriate a sound effect as has ever started a tightly wound domestic drama. It keeps time for schoolgirl Hotaru (Momone Shinokawa) as she practices at home on the titular keyboard for an upcoming concert, but in this powder keg of a home, it's also a countdown to tragedy, or the mechanized heartbeat of a family that you come to realize was never built on anything genuine.
You'd be hard-pressed to find a movie with as much simmering tension as Fukada's, which won the Un Certain Regard jury prize at last year's Cannes competition. It takes the familiar trope of buried secrets, stunted remorse and unexplored passion and uses them like slow-acting poison on the supposedly ideal nuclear family.
It's already not the warmest of households, but the chill at least seems ordinary. At the dinner table, stoic Toshio (Kanji Furutachi) reads the paper while his dutiful if sad-eyed Christian wife, Akie (Mariko Tsutsui), and their daughter say their prayers before eating. Toshio is more at home running his workshop in the garage, until he looks up one day to see a tall, thin figure, dressed in dark slacks and a buttoned-up white shirt, across the street, staring at him.
You'd be forgiven for thinking it's an apparition — that's how quietly eerie the image is — yet he is real, and from Toshio's past: an acquaintance just released from prison, looking for work. Toshio hires the unnervingly still Mr. Yasaka (a commanding Tadanobu Asano), even letting him stay at their house. But it's a decision made without consulting Akie, and, we learn, without letting her know the full nature of their old bond.
Though Akie is initially unsure what to make of their worker/houseguest — he's polite but awkwardly so — she's the one who tries to make Yasaka feel included: nurturing his kindness toward Hotaru (he helps tutor her in music), including him on a family trip and eventually drawing out the story behind his imprisonment. As the pair let silences and self-consciousness fall away, you can see her refreshed sense of Christian charity mingling with a confusing arousal. One also detects that Yasaka is beginning to question his guilt-ridden asceticism.
That this growing connection breeds complications is a given, but it's also only the half of it in Fukada's double dip of unrest. After a climax made of desire, blood, anger and tears that would satisfyingly conclude most stories about the perils of temptation and the corrupt ideal behind many families, Fukada asks the question rarely asked of these scenarios: "What happens then?" The answer that's unveiled over the second hour, and which takes place eight years later, is not exactly happy, either. But it makes for a uniquely churning mix of detective story and recovery drama before it throws another wrenching reveal into the works.
As elegantly icy as "Harmonium" is, it's surprisingly not the kind of miserableist beatdown that too often gets passed off as the cold, unvarnished truth in movies about broken families. Fukada's take on family is genuinely bleak — what he sees is loneliness together instead of real companionship, and all the problems that arise from manufactured togetherness. But his storytelling instincts are solid, and his actors always bring humanity to their darkest impulses and saddest epiphanies. In particular, Furutachi and Tsutsui shine as grim soloists faking their way through a makeshift duet.
The thing about a harmonium, of course, is that it needs air to produce sound, which is why it's a clever (maybe too clever) metaphor in Fukada's scenario. The family at the center of "Harmonium" is, like a stopped organ, too choked by secrets to make its own music. But when the molecules in any given space between this movie's characters do change, the chord that's struck is a foreboding one indeed.
-------------
'Harmonium'
In Japanese with English subtitles
No rating
Running time: 1 hour, 58 minutes
Playing: Laemmle Monica Film Center, Santa Monica
See the most-read stories in Entertainment this hour »
---
The complete guide to home viewing
Get Screen Gab for weekly recommendations, analysis, interviews and irreverent discussion of the TV and streaming movies everyone's talking about.
You may occasionally receive promotional content from the Los Angeles Times.