Meet the young stars of 'Hereditary,' who braved the emotional 'meat grinder' for the year's most devastating horror movie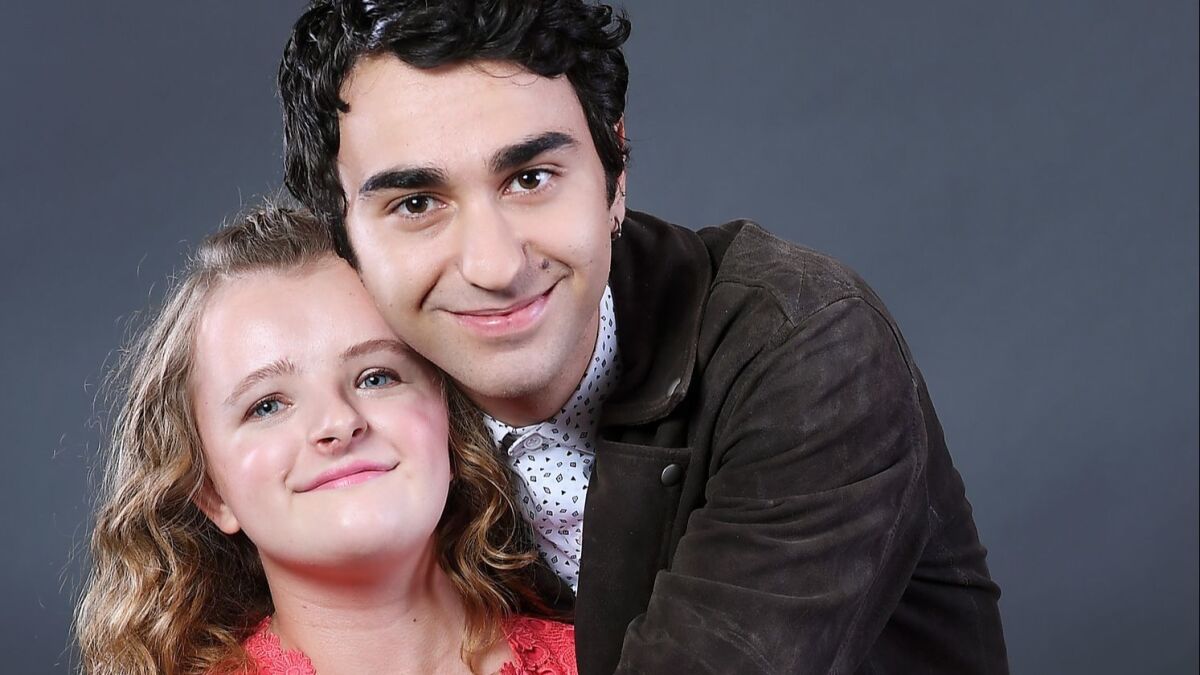 "Hereditary" director Ari Aster got the "kamikaze" performance he asked for out of star Toni Collette, who's earning early Oscar buzz for her turn in the A24 psychological horror hit. But the Australian-born actress wasn't the only one who went through the wringer for the devastating descent into the terrors of familial trauma.
"The whole movie was like one marathon; you just kept putting yourself in the meat grinder," says Alex Wolff, the 20-year-old actor whose exquisite unraveling opposite onscreen mom Collette anchors some of the most harrowing scenes in Aster's critically-acclaimed feature debut.
Wolff can smile about it now, sitting in the suite of a Beverly Hills hotel a year removed from the "Hereditary" shoot. The former Nickelodeon star, who also appeared in the recent blockbuster "Jumanji: Welcome to the Jungle," is gregarious and quick to self-deprecating quips even as he admits he dove headfirst into that meat grinder, spending the duration of filming on the isolated Utah set in character — by choice.
"I felt like I wouldn't be able to jump in and out of this thing, and I didn't trust that I'd be able to do, like, a panic attack or do any of these crazy things without surrendering myself to the process and surrendering myself to this character," explains Wolff, whose character, Peter Graham, becomes a focal point as the film's mysteries unfold. "Maybe I did it out of fear of not being able to. I wanted to just live in that."
To crawl inside the skin of the Graham family's teenage stoner son, Wolff asked his director and costars to call him "Peter" even when the cameras weren't rolling, and bonded with costar Milly Shapiro (who plays younger sister Charlie) by taking her on errands around town to get lunch or buy "Charlie" clothes.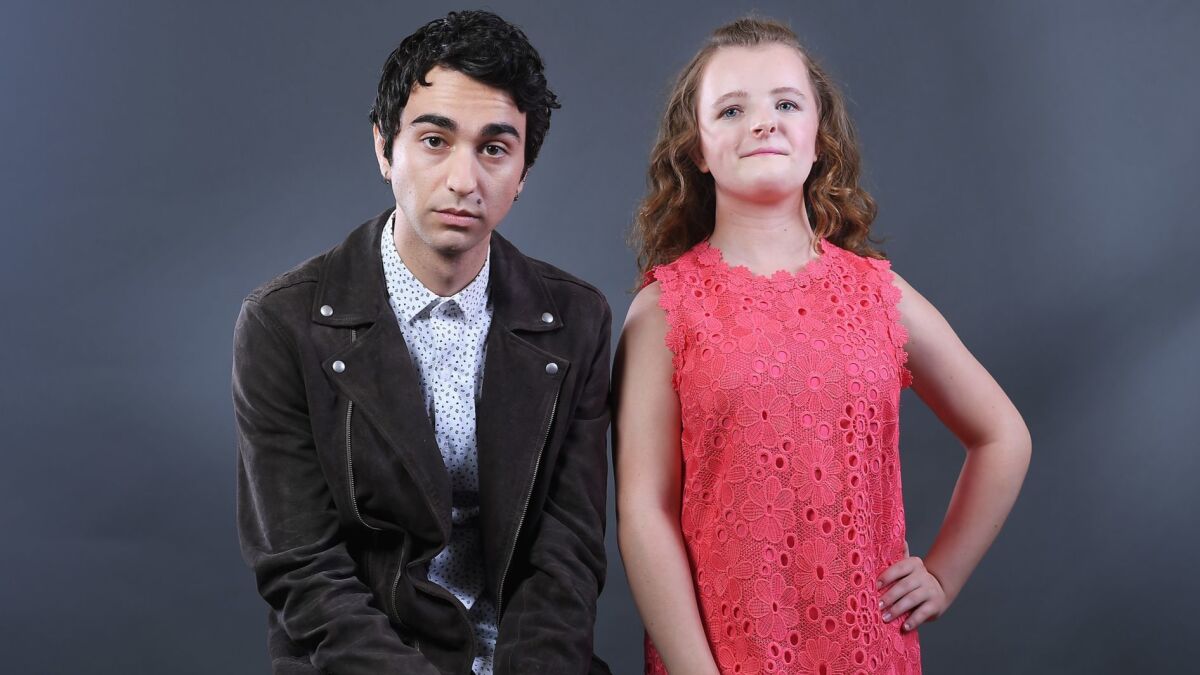 "She would just go and not say a word," Wolff remembers of Shapiro, who was 14 at the time. "I'd have to figure out what she wanted. I'd have to get it out of her. By the end it was a hundred percent: She was my little sister. I felt like we had a full history by the time we started shooting."
"He was Peter for two months, so when I was talking to him, I was talking to Peter," says Aster, who coaxed "warts and all" performances from his cast for the emotionally demanding tale. "There's nothing worse than playing at grief or playing at PTSD. Which is also why I think Alex Wolff's performance is amazing, because he went there."
The full-on immersion method took its toll. "Oh, it's great," Wolff says sarcastically, adding that he'd have nightmares when he went home to his hotel from set, staying in relative social isolation. "No, it's probably not the healthiest thing to do. But for this movie, it was necessary for me."
He'd previously worked with Gabriel Byrne, who plays the Graham family's despairing patriarch, in father-and-son roles on the HBO series "In Treatment." That lent the two an easy connection. But with Collette, "I was intimidated," he says. "All those things, I think, play into the movie."
Ask Collette about her working relationship with Wolff and one gets the sense that that real-life distance worked its way onto the screen, fittingly enough for the fraught dynamic between mother and son. She remembers discovering during the shoot that she and Wolff share the same birthday: "There was so much about it that made sense, in a perverse kind of way."
How Toni Collette's turn in the year's scariest film lends 'Hereditary' its terrifying power »
Collette searches for words to describe what it was like to work with an on-screen son so deeply committed to remaining in character that he walked around set listening to music by composer Colin Stetson. "Alex … just turned himself inside out. He wasn't particularly … collaborative," she says, "or enjoyable, I would say, for anybody else except for perhaps him in some weird fashion. But he's young. He'll figure it out. And you know what, he did a great job. So who cares?"
Shapiro, now 15, underwent her own transformation to bring the withdrawn and eccentric Charlie to the screen. In real life the bright-eyed New York-based actress — who won a Tony Award at the age of 10 for her Broadway debut in "Matilda the Musical" — is exuberant and exceedingly polite as she waxes ecstatic about "Hereditary," which she's already seen three times.
Needless to say, Charlie Graham is a much different character than the precocious Matilda. "There's a lot less singing and dancing in 'Hereditary,'" Shapiro grins.
"I'm excited for people to see it and to get scared because I love scaring people," she says. "Being scared is a great thing because it reminds you of how alive you are and I'm excited for people to feel that with this movie."
Theater fans know Shapiro as an accomplished singer who frequently performs alongside her sister, fellow Broadway songstress Abigail Shapiro. She's also a self-professed horror fan, which drew her immediately to Aster's debut feature. "I love horror movies like 'The Exorcist' and 'The Shining,' which freaked me out, but in a good way. And I love gore," she smiles sweetly.
"I watch so many horror movies," says Shapiro, who name-drops a dozen horror movies in the span of our conversation, ranging from "The Woman in Black" — the Daniel Radcliffe-starring remake, she specifies — to "Mama," the fantasy-horror that sparked her love of the genre, to the "Ring" franchise, which she critiques in detail on the spot ("the first one's really good but the second one revokes everything the first one says — the timeline doesn't add up").
Milly Shapiro, Toni Collette, Gabriel Byrne and Alex Wol star in "Hereditary."
"Hereditary" is Shapiro's film debut, and her quiet, unself-conscious turn as Charlie is laden with deeply-probed choices she made with writer-director Aster. Her Charlie feels not just socially but cosmically misplaced, her odd behaviors at once innocent and ominous, observant to the unspoken forces at play around her.
She read the script three times over before auditioning for Aster, whose detailed descriptions of how characters would react to situations in the twisted tale set a foundation for how Shapiro manifested Charlie's mannerisms and physicality.
"She had a really complicated character and she had the option and the luxury of defining and deciding when to reveal certain things without giving anything away," observes Collette. "It was so fascinating. She was really thoughtful and really serious about the decisions she was making."
One thing Shapiro didn't do during filming was watch her performance played back on the monitors. "I made sure never to even look over because I wanted to make sure that I wouldn't change what I was doing," she explains. "'Oh, I look weird doing that, I should stop it.' So when I saw the film for the first time I had no idea what I was going to see."
Severed pigeon heads and that soon-to-be iconic tongue click notwithstanding, "Charlie lives in a different world," muses Shapiro. "Everything that she thinks and does makes total sense to her; everyone else is what's different and weird and doesn't make sense. To everyone else, she needs help. To her, that's just what's normal.
"It's something that I loved to play because you were stepping into another world — not just of the film, but into another world of a person."
"She is so delightful and so happy, and she has such an amazing head on her shoulders," Aster says of Shapiro. "When we cast her the question was, are any of the girls who we audition going to really want to do this? Are their parents going to want them to do this?
The whole time she was like, 'Is this creepy? Was I creepy? Is this going to be scary?' She can't wait to scare people. …
— Ari Aster on Milly Shapiro
"You couldn't ask a better person because she's an amazingly disciplined actress who can do anything," he adds. "The whole time she was like, 'Is this creepy? Was I creepy? Is this going to be scary?' She can't wait to scare people. … I really think she's going to have an amazing career. I think she's going to be one of our best character actors."
Both Wolff and Shapiro report that watching "Hereditary" with an audience — watching strangers squirm and jump at its harrowing moments — has been a gratifying capper to their experience.
"It's such a great film," raves Shapiro. "Even if there wasn't any horror in it, it would still be a great film – you're just so invested in the characters because they're more than just someone who's going to get killed by some creepy guy at the end."
"Watching the audience crumble, watching them just disintegrate before my eyes was pretty insane," says Wolff with a smile, who followed "Hereditary" by writing, directing and acting in his own debut feature, "The Cat and the Moon." "Every time someone seemed upset or like they were about to throw up ... I felt a tingly, warm feeling. Above all it's a pretty intimate, disturbing look at family.
"I think if someone comes out and says, 'I'm deeply upset by this movie,' that's an even better compliment than 'I was scared,'" he says. "Hopefully it does both."
---
Get our L.A. Goes Out newsletter, with the week's best events, to help you explore and experience our city.
You may occasionally receive promotional content from the Los Angeles Times.