Hello, I'm Mark Olsen. Welcome to another edition of your regular field guide to a world of Only Good Movies.
Among the more exciting events on the calendar is a series of appearances in Los Angeles by Japanese filmmaker Hirokazu Kore-Eda. He will be making appearances at USC, at an Acropolis Cinema event downtown and at the UCLA Film and Television Archive. This will be a rare opportunity to see the filmmaker showing and discussing work from throughout his long and prolific career.
As awards season continues moving forward, we should have plenty more screenings and Q&As coming up. We had a great event this past week with filmmaker Maggie Betts and actresses Margaret Qualley and Julianne Nicholson for the film "Novitiate." Keep an eye on this space for updates on future events, or go to events.latimes.com.
'The Killing of a Sacred Deer'
Yorgos Lanthimos has become one of the most enigmatic, distinctive filmmakers in the world, and with his second English-language film, following the Oscar-nominated "The Lobster," his new "The Killing of a Sacred Deer" finds him working for the first time in America. A well-to-do couple (Nicole Kidman and Colin Farrell) find their carefully kept life set reeling by the presence of a teenage boy (Barry Keoghan) with a plan of his own. Part domestic drama, part psychological thriller, this may be among the most tense and unnerving films of the year.
Though noting that the film's targets of suburban privilege the movie might have been better titled as "The Shooting of Barreled Fish," in his review for The Times, Justin Chang wrote, "Lanthimos himself seems less interested in what happens than in how it happens. With cunning precision and a nastiness that seeps into the movie like a slow-acting poison, he turns a domestic-medical nightmare into a feverish exercise in style.… The atmosphere quivers with menace, and the threat of ghastly violence seems to lurk behind every impeccably lighted corner."
I spoke to Lanthimos, Kidman, Farrell and Keoghan about the making of and meaning behind this enigmatic movie, which may be the most terrifying, unsettling film of the Halloween season.
By way of explanation, Lanthimos said, "Much of it came out of the logic of how do you create a situation where it's also ambiguous about who is responsible for what and what is just and how far are you willing to go and can you blame any of the parties involved and do you feel for any of the parties involved. To create an impossible equation with an impossible answer, basically."
Calling the film a "myth-tinged nightmare" Alissa Wilkinson at Vox said, "The result isn't uplifting in the least. But it's deliciously frightening, a cautionary tale for the careless and a horror film that posits a world devoid of any real goodness. In Lanthimos's universe, love is a construction that falls down in the face of other human drives, whether it's the drive to save face, to escape discomfort, to prevail against an enemy, or just to survive."
'Wonderstruck'
Adapted by writer Brian Selznick from his own book, "Wonderstruck" spans time to magically unite two stories in two different times. It is the great skill of director Todd Haynes to both celebrate what is unique in the story of a girl named Rose in the 1920s and a boy named Ben in the 1970s and find ways for them to connect.
Kenneth Turan, in his review for The Times, wrote that "Though it takes its time, 'Wonderstruck' — like the best tales of wonder — resolves all its mysteries as the plot's disparate strands come together in a lovely way. 'I need you to be patient with this story,' a key character says to young Ben, and it's good advice for those of us in the audience as well."
I spoke to Haynes and his creative team of costume designer Sandy Powell, cinematographer Ed Lachman, production designer Mark Friedberg and composer Carter Burwell. The specifics of the storytelling of "Wonderstruck" put greater emphasis on the craft of the movie, for as Haynes put it, "Paralleling these two stories and not relying on dialogue to tell the story, the cinematic language, all of the elemental arts of cinema, had to step up and make the film work."
For the New York Times, Manohla Dargis said of Haynes' adaptation that "the wonder of the film isn't in its story but in its telling. It's in the expressive beauty of his images, the expansiveness of his ideas and the way he naturally, generously brings a once-upon-a-time girl and boy to life, allowing them to find themselves — in their willfulness, their heartbreaks and their imaginings — so that eventually they can find someone else."
For anyone unsure whether this is a film about children or actually for children — it is rated PG — at the AP, Lindsey Bahr wrote that the film "is very much for the young — for those who still find pleasure in tactile simplicity, who pour over pop-up books and paper dolls, who fantasize about the past, and whose imaginations are richer, more elaborate and darker than most adults care to remember."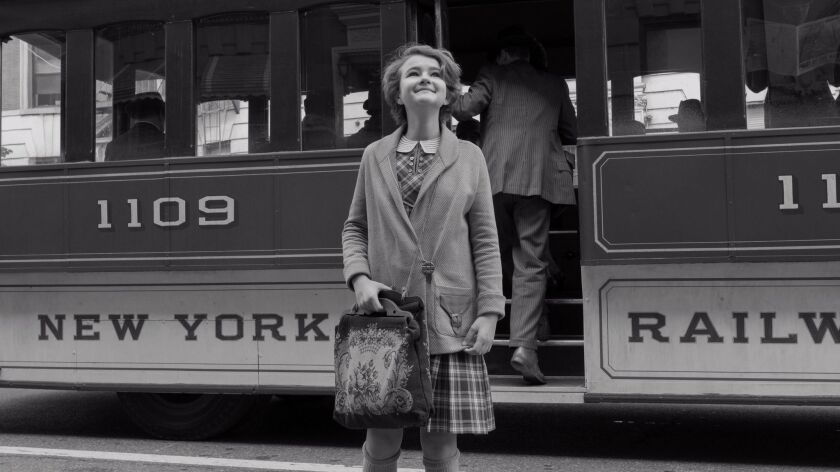 'Jane'
The latest documentary from filmmaker Brett Morgen is "Jane," a humanizing look at pioneering scientist and activist Jane Goodall. Made from more than 100 hours of archival footage shot by Goodall's late ex-husband, Hugo van Lawick, the film also features new interviews with Goodall.
In her review for The Times, Sheri Linden wrote, "The love that infuses the film is Goodall's passion for her work, her bond with nature and the chimps, as well as her calm certainty … that this was where she was meant to be."
Amy Kaufman spoke to Goodall and Morgen about the film. Of her tremendous pace, still traveling and making appearances at 83, Goodall was clear: "I have a message to give," she said plainly, "and I don't know how many years I have left. I care about the future and the wild places and my grandchildren."
And Morgan, whose previous films have covered subjects such as Kurt Cobain and Robert Evans, said, "I'm not an earnest person, but her selfless dedication — it's humbling. It's impossible to watch Jane and not ask yourself, 'If she can do that, what can I do?' "
Email me if you have questions, comments or suggestions, and follow me on Twitter @IndieFocus
SIGN UP for the free Indie Focus movies newsletter »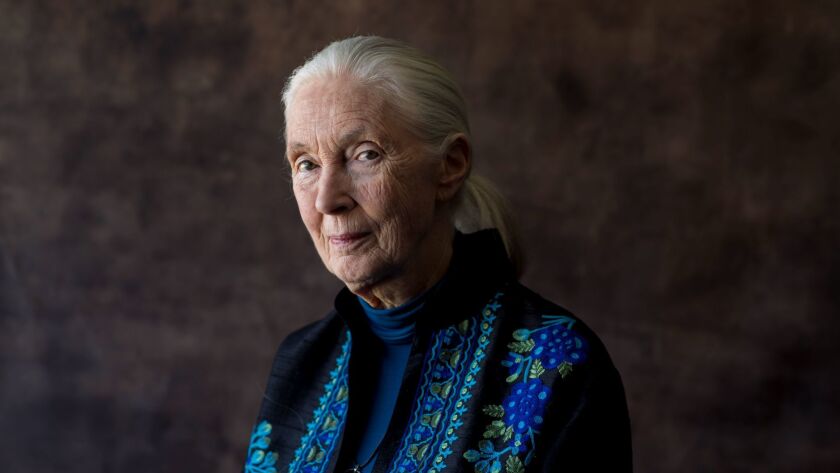 ---