Indie Focus: A little more TIFF, plus 'The Land of Steady Habits,' 'Lizzie,' 'A Simple Favor' and 'Mandy'
Hello! I'm Mark Olsen. Welcome to another edition of your regular field guide to a world of Only Good Movies.
Our team of reporters at the Toronto International Film Festival have scattered from the city, but not before covering the fest from start to finish. Tre'vell Anderson spoke to Barry Jenkins about "If Beale Street Could Talk," which had its world premiere at the festival.
Amy Kaufman spoke to director Sam Taylor-Johnson and actor (and her husband) Aaron Taylor-Johnson on their collaboration of the adaptation of James Frey's "A Million Little Pieces."
Glenn Whipp wrote about the premiere and awards prospects of Steve McQueen's "Widows," with Viola Davis leading an impressive ensemble in a keenly smart heist thriller.
I spoke to actress Elisabeth Moss and writer-director Alex Ross Perry about their third collaboration, the emotional journey of a '90s alternative rock star in "Her Smell." And French filmmaker Claire Denis spoke to me about "High Life," her English-language debut starring Robert Pattinson and Juliette Binoche.
And Justin Chang and Jen Yamato sat down together for a conversation wrapping up the festival.
There were nearly 40 new releases reviewed by the paper this week. So, needless to say, while this newsletter might help winnow down a few essentials, there's still some we've had to leave out. Like the one-of-a-kind psychedelic revenge thriller "Mandy," directed by Panos Cosmatos and starring Nicolas Cage and Andrea Riseborough. In his review for The Times, Noel Murray called the film "a fusion of kitsch and pulp, underscored with a genuine spiritual yearning. It shouldn't even be shown in theaters; it should be projected onto the side of an old hippie's van."
We've got a screening this week of "Monsters and Men" followed by a Q&A with director Reinaldo Marcus Green. For info and updates on future screenings, go to events.latimes.com.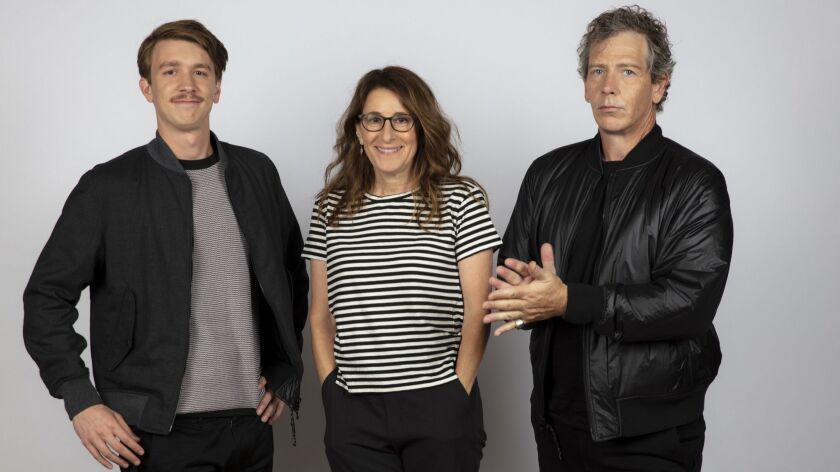 'The Land of Steady Habits'
Any new film from Nicole Holofcener is a must-see. That she has pushed herself so capably into new territory with "The Land of Steady Habits," pitching more toward drama with an element of tragedy without losing her flair for comedic insights, makes her latest even more compelling. An adaptation of the novel by Ted Thompson, the film tells the story of a suburban man (Ben Mendelsohn) who walks out on his wife (Edie Falco) and family only to realize he has no idea what to do with himself.
Reviewing the movie for The Times, Kenneth Turan wrote, "Though Holofcener's films invariably make us laugh in rueful recognition of the inane complexities of lives that manage to echo our own, 'Steady Habits' also conveys a melancholy darkness, a more somber cast than usual. Everything seems amusing until suddenly it is not."
I spoke to Holofcener and Mendelsohn about their collaboration and the movie's unusual mix of tones for a story that will be publishing soon. As Mendelsohn said, "It's much more challenging acting than it hopefully looks like. And I think that's part of the pleasure for actors with Nicole's stuff. It really does require you to be able to move between those different pitches pretty effortlessly in order to make it work."
For the New York Times, A.O. Scott called the film "a funny, sweet-and-sour study in envy, cruelty, bad decision-making and forgiveness. Ms. Holofcener, for more than two decades one of the sharpest anatomists of upper-middle-class American life, is more interested in the idiosyncrasies of behavior and the texture of specific relationships than in easy generalities. So even though Anders and the people around him can be sorted into recognizable types (a fault, mostly of Mr. Thompson's book), they are also amusing and awful in ways that can feel disconcertingly real."
At Time, Stephanie Zacharek added, "Holofcener reassures us that it's OK to laugh at human foibles — we have to, since so much of life is ridiculous and awful — but we'd better not consider ourselves exempt from them .… She always favors warmth over sarcasm. And as if she could read our minds, she puts in her characters' mouths words that we ourselves have sometimes failed to find the guts to say."
'Lizzie'
Chloë Sevigny gives a powerful, enigmatically possessed lead performance in "Lizzie," a telling of the story of Lizzie Borden and the 1892 murder of her father and stepmother. Directed by Craig William McNeil from a screenplay by Bryce Kass, the story imagines Lizzie as a woman oppressed by her father and unable to fully realize her passion for a young maid (Kristen Stewart) working in their house.
In her review for The Times, Katie Walsh wrote, "'Lizzie' is a deep dive into the supposed psychology behind the gruesome murders that have captured our collective imaginations for over a century. If the jury who acquitted Lizzie couldn't have imagined how a woman of her social standing could possibly commit this heinous crime, well 'Lizzie' the movie offers an assist with that, and contributes another square to the quilt of Lizzie Borden lore that continues to fascinate."
Tre'vell Anderson spoke to Sevigny and Stewart about the movie. On her 10-year journey in producing the film, Sevigny said, "I wanted to star in a movie. I wanted to provide myself the opportunity … and I said I wanted to play this complex character and explore it in depth and come up with our interpretation of the myth of her, the legend of her."
'A Simple Favor'
Directed by Paul Feig, whose previous films include "Spy" and "Bridesmaids," the new "A Simple Favor" is full of surprises, consistently reinventing itself along the way. A mommy blogger (Anna Kendrick) turns detective when her friend (Blake Lively) goes missing. Adapted by Jessica Sharzer, the film gives its stars room to be stars, fun and glamorous and just the right amount of silly.
In her review for The Times, Katie Walsh calls the film "consciously campy" before adding, "that's exactly what you want for this brand of soapy, stylized, sexy, female-driven thriller. It's about as deep as a champagne coupe, but the performers, slick execution and pop-art style make it a delightfully fun and kitschy ride."
Sonaiya Kelley spoke to Feig and Kendrick for a story that will be publishing soon. Of the movie's unusual tone, Feig recalled when he was first sent the script: "They said, 'It's a thriller, but it's crazy, but it seems funny, but it's also really dark. You do comedy, maybe you can figure this out.' And I read it and I was like, 'I have to direct this.'"
At Vulture, Emily Yoshida wrote, "With its martini-swilling leads and swingy French pop soundtrack, 'A Simple Favor' seems to yearn for a bygone era of nail-biter, but rather than wallow in pastiche, it comes up with something truly contemporary feeling. It's a thriller in which two women are the centrifugal force of the intrigue, and unlike their pensive noir contemporaries, the sum total of all human nature doesn't hang in the balance — just one woman's mommy vlog."
Email me if you have questions, comments or suggestions, and follow me on Twitter @IndieFocus.
SIGN UP for the free Indie Focus movies newsletter »
---
Inside the business of entertainment
The Wide Shot brings you news, analysis and insights on everything from streaming wars to production — and what it all means for the future.
You may occasionally receive promotional content from the Los Angeles Times.