Elisabeth Moss and Alex Ross Perry challenge themselves and the audience with 'Her Smell'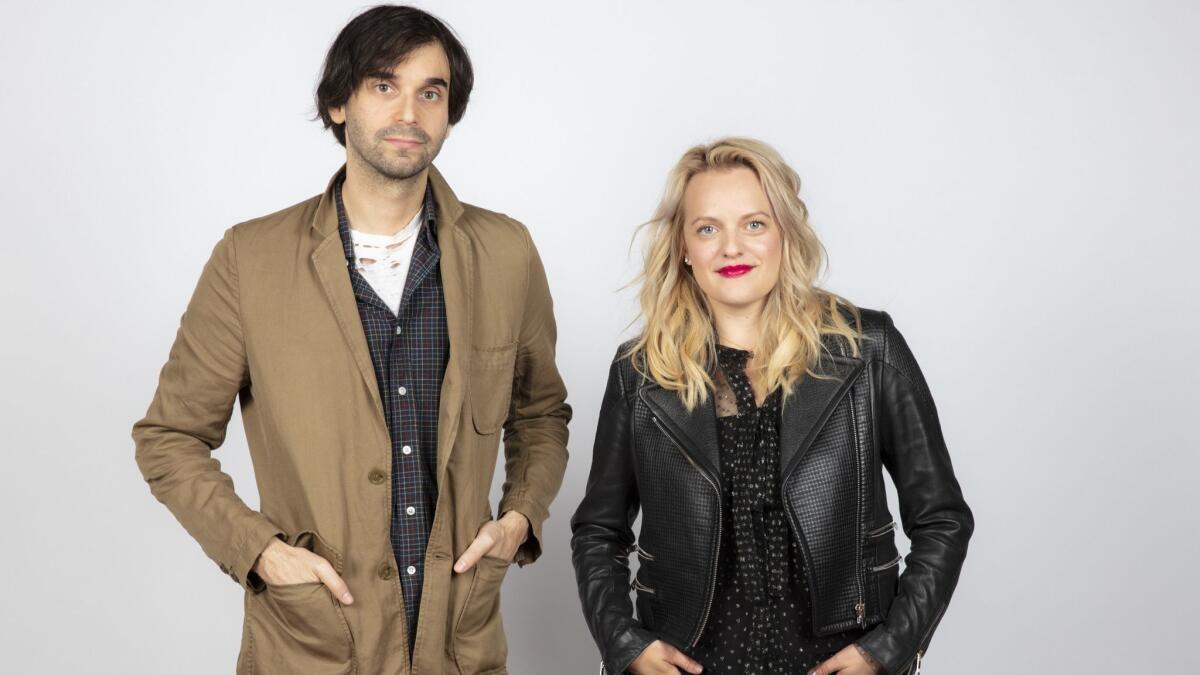 Reporting from Toronto —
This year's Toronto International Film Festival has an unexpected onslaught of movies centered around female singers. There's the splashy "A Star Is Born," starring Lady Gaga, the headier "Vox Lux" with Natalie Portman, the rootsy "Wild Rose" featuring a breakout turn by Jessie Buckley and the yearning "Teen Spirit," with Elle Fanning.
And then there is "Her Smell," a wild, churning character study like no other starring Elisabeth Moss as Becky Something, the leader of a fictional '90s rock group called Something She.
Just like its lead character, the film is aggressive and purposefully obnoxious. It more or less dares an audience to live through its forceful, unrelenting energy — and the self-destructive, pushy pitch of Moss' performance — for most of the two-hour-plus running time to ultimately get to a place of serenity, self-knowledge and grace.
The movie is the third collaboration between Moss and writer-director Alex Ross Perry, following the literary romantic roundelays of "Listen Up Philip" and the female-centric psychodrama of "Queen of Earth." The award-winning star of "Mad Men" and "The Handmaid's Tale" may seem an unlikely fit with a low-budget filmmaker specializing in caustic examinations of discontent, but they have forged one of the most energizing partnerships on the current indie scene.
"It just kind of works for some reason," Moss said. "Obviously there's a really basic thing which is like we both want to make not only good films but films that haven't been done before — films that we haven't done before. We both really wanted to challenge ourselves, particularly with this movie."
"Her Smell" had its world premiere Sunday night as part of the Toronto festival's Platform section. Perry's film brings an outsized ensemble into Becky's vortex of bad vibes, including Becky's bandmates played by Agyness Deyn and Gayle Rankin, a younger band played by Cara Delevingne, Ashley Benson and Dylan Gelula, a pop-star rival by Amber Heard, a record executive by Eric Stoltz, an ex by Dan Stevens and Becky's mother by Virginia Madsen.
And though the inspiration for Becky Something in "Her Smell" would presumably be the world of '90s rock figures such Courtney Love of Hole, Kim and Kelley Deal of the Breeders or riot grrrl-era bands such as Bikini Kill, L7 or Sleater-Kinney, according to Perry, the film instead found its main impetus in the recent Guns N' Roses reunion tour — and in the structure of Shakespeare.
If you can make it so I'm a little bit struggling, just on the edge of being like, 'I don't know if I can do this,' that's what I want.
— actress Elisabeth Moss
In summer 2016, Perry saw a Guns N' Roses reunion concert, a production of "The Merchant of Venice" featuring his "Listen Up Philip" actor Jonathan Pryce, and Kenneth Branagh's four-hour screen adaptation of "Hamlet." Something clicked watching the rise and fall of Shakespeare's characters.
"I can see how it would seem unusual," admitted Perry, who also co-wrote this summer's Disney hit "Christopher Robin," in an interview alongside Moss here this week.
"I'd been kind of promising Lizzie this script for a while just saying I have this character and I know her name and then a year passed and then this month happened. At the end of it I said, I know this movie now," said Perry. "And then six months later I had a script."
Moss ended up with only a week between the end of shooting the second season of "Handmaid's Tale" — for which she has subsequently been nominated for two Emmys ahead of next week's ceremony — and the start of production for "Her Smell."
Becky speaks in a wild, nonstop patois all her own, a raging torrent of words, which combined with an abrasive demeanor made the character uniquely difficult even for a performer as experienced as Moss
"It was hard. It was one of the only things I've done that wasn't always fun," Moss said.
"Because I do a lot of really dark, challenging material, if you can challenge me at this point, you get such a really big gold star from me," she said before pausing. "I'm trying to word it without sounding egotistical, but if you can make it so I'm a little bit struggling, just on the edge of being like, 'I don't know if I can do this,' that's what I want. I want you to put me in a place where I'm not sure if I can do it. That's interesting to me."
In preparing for the role, Moss tried to borrow from a range of inspirations, so that the character couldn't be too closely tied to any one person. She watched documentaries on Marilyn Monroe, and studied people across the spectrum of fame for how they grappled with addiction.
And just as there are multiple female pop-star movies at TIFF this year, there are also numerous films dealing with addiction, including "Ben Is Back," starring Julia Roberts and Lucas Hedges, and "Beautiful Boy," with Steve Carell and Timothée Chalamet. Yet despite Becky's appetites for any substance she can get her hands on, Perry says his film is not a story of addiction.
"Honestly, if I'm being serious, the thing I say is the movie is about identity," said Perry. "It's not about nineties music. It's not about the dynamics of a band. It's not about celebrity and not about motherhood, it's not about addiction, it's about identity. Simply put, this is a movie that has nine characters, all of whom live their lives with a name that is not their name. And that, to me, is the movie."
The style of the movie is deliberately extreme — from the churning, disorienting sound design to Becky's abhorrent behavior. A negative review in the Hollywood Reporter called the film "excruciatingly self-indulgent" as well as "ugly and off-putting." Even a positive notice in IndieWire referred to it as "obscenely unpleasant."
For Perry, delivering the first three acts as a full-on whirlwind is purely intentional, designed to take people well past a conventional breaking point.
"I think in a punk movie about punk women, you want that adrenaline," Perry said. "The characters give you license to make a movie that just goes and goes and goes and goes. It goes like cocaine. It goes like electricity plugged into an amp. It goes like a neon sign buzzing for three acts. And to me it's an appropriate thing based on what the movie's about and what the characters are.
"It's also just a gigantic challenge that I wanted to do both on the page and then an even bigger challenge on set," Perry said. "I, as someone who's very low-key and fairly lazy — can I make something that has a relentlessness to it?"
Moss herself had a revelation about the movie while watching it for the first time on a big screen in Toronto.
"This film is not her point of view. It's from the point of view of the other people," said Moss. "It puts you through what Becky put those people around her through. It is in-your-face. She is annoying. It can be off-putting. It's a lot. You just want to take a … break. You're also kind of drawn to her and want to know where she is. You're looking for her when she's not there. It puts you through what the people around her go through."
Late in the movie, Moss performs a spare, heartfelt rendition of Bryan Adams' "Heaven" at a piano for just her young daughter in a startling, single unbroken take. After all that Becky and the movie have put audiences through, both Moss and Perry say that reaching that catharsis is the point.
"I felt like that's the movie," Perry said. "If we can get people there — it's literally the last thing in the world you would expect to happen in this movie after the first hour. So therefore we've got to do it."
Get the Indie Focus newsletter, Mark Olsen's weekly guide to the world of cinema.
You may occasionally receive promotional content from the Los Angeles Times.