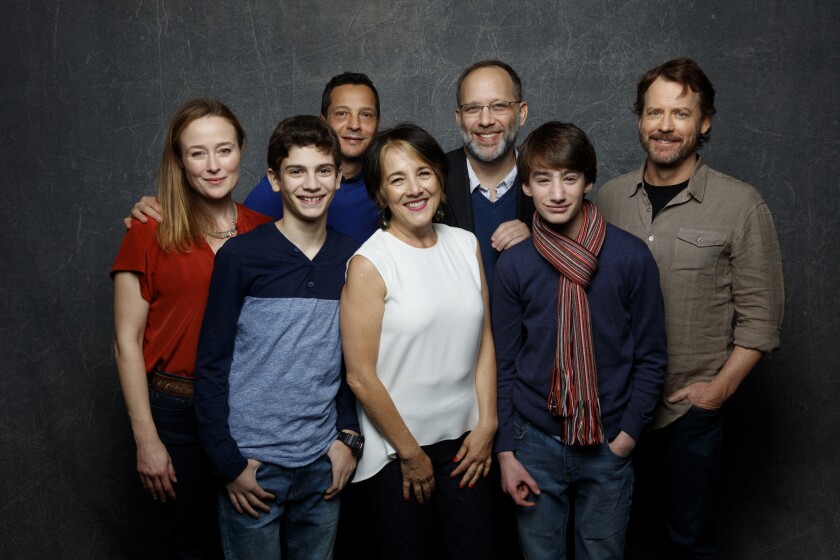 Every life has its dramas. Be it the death of a parent, worries about paying the rent, fights with a spouse or the anxieties of adolescence, when something is happening to you it feels monumental no matter how it may size up for anyone else.
New York-based filmmaker Ira Sachs works in that space, the intimate, personal moments of the everyday that nevertheless make up the most emotional, overwhelming moments of life.
Just don't call them small.
"I guess to me it feels precise," said Sachs in a recent interview in Los Angeles. "It feels present to these characters, so when it works for an audience, the effect is not small. It's quite large."
In his new film "Little Men," which premiered earlier this year at the Sundance Film Festival and is now playing in Los Angeles, two families collide.
Brian (Greg Kinnear) has moved with his wife and teenage son into his late father's modest two-story Brooklyn building that he now shares ownership of with his sister. They could make a lot more money from the downstairs shop if they could only evict Leonor (Paulina Garcia), a single mother who runs a struggling dress shop in the space with below-market rent.
Making matters more complicated, Brian and Leonor's misfit sons – played by talented newcomers Theo Taplitz and Michael Barbieri -- become fast friends and decide to stop talking to their parents until the business strife is settled.
"Little Men," which co-stars Jennifer Ehle, Talia Balsam and Alfred Molina, is the third film Sachs has co-written with Mauricio Zacharias, after 2012's "Keep the Lights On" and 2014's "Love Is Strange." Sachs won the grand jury prize at Sundance in 2005 for his second feature, "Forty Shades of Blue."
It's not an autobiographical film, but it's the city and the experiences that I know.
Ira Sachs on 'Little Men'
"Keep the Lights On" was deeply rooted in a relationship from Sachs' own life, the tale of a tortured, toxic love affair, while "Love Is Strange" was inspired by family members. Though "Little Men" is based on bits and pieces from its writers' own experiences, it is less rooted in real incidents.
"It's not an autobiographical film, but it's the city and the experiences that I know," said Sachs. "Everyone is really just trying to figure out how to get by. And losing sometimes. And this film is a personal view of that."
A number of reviews have nevertheless grouped "Little Men" with "Keep the Lights On" and "Love Is Strange" as a continuing examination of New York City in transition.
"I'd say it's an ongoing story about intimate relationships and family and home," said Sachs. "And that's been going on for longer than three films, that's like 25 years of being interested in how people get close and how they hold onto what they have. And that's challenging."
The deceptive simplicity of Sachs' storytelling belies its true depths. He mentions two films by the Japanese master Yasujiro Ozu, 1932's "I Was Born But…" and 1959's "Good Morning," along with the writings of Henry James, as specifically giving him, as he puts it, "the permission" to explore lives in such specific detail.
For Kinnear, it was that richness of the story, how the script wove together the characters and their conflicts, that initially appealed to him. Then once he saw more of Sachs' previous films and the performances he got from actors, particularly Molina and John Lithgow in "Love Is Strange," the actor was in.
"It struck me as a script that had found five really interesting stories to tell. It felt like there was a real thing happening there for that family," Kinnear said.
"Originally I think the film was called 'Silent Treatment' and the fact those boys are on strike against their parents, that was just a great idea," he added. "But when that idea is hatched in the story, it is the most missable, little, dismissive moment. And that's how it would happen."
The part of the feisty dressmaker downstairs was written expressly for Chilean actress Paulina Garcia after Sachs and Zacharias had seen her in the 2013 film "Gloria." The two young boys however were another matter. Working with casting director Avy Kaufman, who Sachs called a "kid whisperer" for her work on filling roles in films such as "The Sixth Sense," "The Ice Storm" and "Life of Pi," the production found Taplitz in Los Angeles and Barbieri in New York.
In part because of expectations from the involvement in gay culture found in "Keep the Lights On" and "Love Is Strange," there is an almost subliminal expectation that there will a gay story line in Sachs' new film as well. And while the two teenage boys – sensitive, artistic outsiders – seem in some way attracted to one another, it is never spoken of nor acted upon.
"I think specifically that was my experience of relationships at that time. They were romantic but innocent. Passionate, but they were not physical. So to me that is personal in that way," said Sachs of the ambiguity. "Also those kids, particularly Theo, who is maybe the character I'm more similar to, I couldn't project a future onto him as a person, as a kid, in terms of sexuality. It felt artificial and imposed. So I prefer to keep those questions more neutral."
Sachs and Zacharias are currently working on the script for a Montgomery Clift biopic set to star Matt Bomer for HBO. And it was recently announced they would be adapting the just-released novel "Christodora" by Tim Murphy into a limited series for Sachs to direct with "Beasts of No Nation" filmmaker Cary Fukunaga producing.
Sachs also recently received what was billed as a "mid-career retrospective" at the Museum of Modern Art in New York, including all six of his feature films. He actually re-watched a few of his older movies for the first time in years when they screened during the series, serving as a reminder of the big leaps he has made in his life and work as a filmmaker.
"It feels affirming," he said of the tribute. "It was so not a given that I would have a sustainable career. Between my first and my second film was nine years, between my third and fourth films was five years. It's like figuring out that the apparatus to make it possible was struggle. So this feels like a payoff in a way for that struggle."
Follow on Twitter: @IndieFocus
ALSO:
Review: Young New Yorkers seek connection in Ira Sachs' 'Little Men'
Watch: Barry Jenkins' anticipated indie drama 'Moonlight' starring Mahershala Ali and Janelle Monáe
Natalie Portman on how 'A Tale of Love and Darkness' is set in a time she's thought about her whole life
---