Review: 'It Comes at Night' finds terror in the shadows of a post-apocalyptic hideaway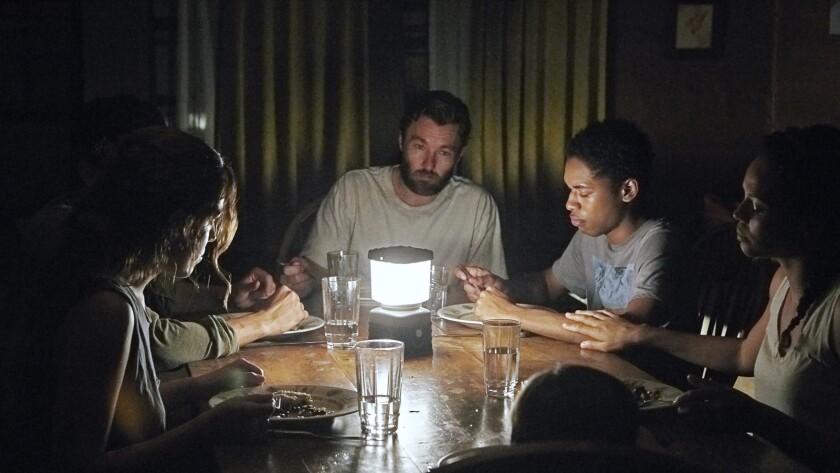 Film Critic
"It Comes at Night," a beautiful bummer of a horror movie written and directed by Trey Edward Shults, unfolds during the outbreak of an airborne illness that has decimated humanity and driven a family of four into the wilderness. The stakes are high, the losses severe. In the opening scene the family's oldest member (played by David Pendleton), his body racked with disease, gets a teary, apologetic farewell from his daughter, Sarah (Carmen Ejogo), shortly before her husband, Paul (Joel Edgerton), wheels him outside and puts a bullet in his brain.
The killing is treated as an act of mercy, but Shults, the prodigiously talented 28-year-old filmmaker who made his debut with last year's "Krisha," refuses to let his characters off the hook that easily. The gas masks that Paul and Sarah are wearing early on make it difficult to tell them apart or understand their muffled speech, producing an alien-like effect that is both disorienting and revealing. In their desperation to survive, the movie seems to suggest, these people have already lost some crucial measure of their humanity.
Soon the masks come off and we get to know Paul, Sarah and their 17-year-old son, Travis (Kelvin Harrison Jr.), as they go about the tough business of everyday survival. Along with their mutt, Stanley, they have taken refuge in a ramshackle house in a forest a long way from civilization. They keep the windows boarded up, the door locked and their firearms at the ready, lest they be discovered by outsiders who might want to raid their dwindling supply of water and rations — or, worse, who might be infected with the disease.
One night they are surprised by a non-hostile intruder named Will (Christopher Abbott), who claims to be seeking help for his wife, Kim (Riley Keough), and their toddler son, Andrew (Griffin Robert Faulkner), who are staying several miles away. Paul roughs Will up at first, trusting neither his intentions nor his story, but in Edgerton's precisely judged performance, we see the decency and compassion flickering beneath his gruff authoritarian veneer. When it turns out that Will and his family have food to spare, Paul and Sarah realize the wisdom of pooling their resources and warily invite them to move in.
For a while the mood lightens, as both parties adjust to the situation and enjoy the company and conversation of new friends. But the idyll cannot last; nor can it keep suspicion and anxiety from mounting in close quarters. The print of Pieter Bruegel the Elder's "The Triumph of Death" hanging in Travis' bedroom may offer a subliminal commentary on the horrors transpiring in the outside world, but they turn out to be no match for the demons within.
The stark, somber story bears echoes of everything from Cormac McCarthy's "The Road" to George Romero's splatterific zombie epics ("Night of the Living Dead" looms particularly large here), but what sets "It Comes at Night" apart from those post-apocalyptic forebears is its radical narrative economy. We learn almost nothing about where the characters are (the film was shot near Woodstock, N.Y.), the lives they left behind or the grim circumstances that brought them to this woodland hideaway. As he did in "Krisha," Shults avoids the conventional trap of exposition, relying instead on his striking command of the medium to evoke the inner life of a family under extraordinarily bleak circumstances.
But if "Krisha" was a harrowing psychodrama rendered in a splintery John Cassavetes syntax, "It Comes at Night" portrays a different kind of breakdown, one etched in dim light and implacable shadows. At times the cinematographer Drew Daniels seems to take his expressive cues from Caravaggio, bathing the actors in thick walls of blackness that are illuminated only by the glimmer of flashlights and lanterns. The occasional burst of eerie, hallucinatory imagery aside, every opportunity for cheap jolts and jump scares is scrupulously avoided.
The horror rises from a deeper, subtler place, which makes it all the harder to shake off. Shults is unusually attentive to group dynamics, particularly in the way he brings out the perspective of the teenage Travis, sensitively played by Harrison as a young man whose burgeoning sexual curiosity and rebellious streak are becoming ever harder for the house's walls to contain.
There are moments in "It Comes at Night" — a scene of Travis and Will bonding while chopping wood, a conversation between Travis and Kim that feels both innocent and flirtatious — that seem prepared to send the movie spinning off in an unpredictable and melodramatic direction. But these possibilities are canceled out by a rigorously bleak and pessimistic ending that lives up to the fatalism of the movie's premise, confirming your worst suspicions (as if confirmation were needed) about the evil that men and women can do in the name of survival.
The final moments of "It Comes at Night" go beyond the usual standards of horror-movie bleakness to achieve an almost unwatchable cruelty — a powerful accomplishment that also feels, in this context, like a limitation. The world, we're reminded, is an irredeemably awful place, and its people are scarcely better. It's hard to argue with that conclusion, even if it ultimately feels more like a decree than an honest discovery.
------------
'It Comes at Night'
Rating: R, for violence, disturbing images and language
Running time: 1 hour, 37 minutes
Playing: In general release
See the most-read stories in Entertainment this hour »
ALSO
Review: Salma Hayek shines in the delicious Trump-era satire 'Beatriz at Dinner'
Why I'm shushhhing you: Using your phone in a movie theater isn't a private act, but a public insult
Review: The stirring 'Wonder Woman' comes to the rescue of the DC Comics universe
---
Inside the business of entertainment
The Wide Shot brings you news, analysis and insights on everything from streaming wars to production — and what it all means for the future.
You may occasionally receive promotional content from the Los Angeles Times.