Oscar-nominated actress Jacki Weaver on #TimesUp, Wikipedia and her upcoming Outback crime thriller 'Goldstone'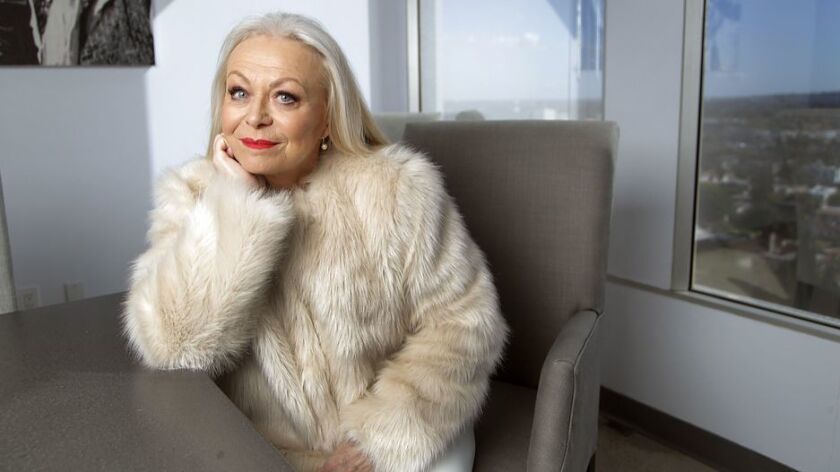 Veteran Australian actress Jacki Weaver, who gained fame stateside for her Oscar-nominated turn in 2010's "Animal Kingdom," never expected to break out into American cinema. That is, until a kind stranger predicted the Academy Award nod she'd garner after one of the film's earliest screenings.
"At Sundance, I was walking down the street and a man came up to me and he said, 'I really loved "Animal Kingdom" and I think you're going to get an Oscar nomination,'" Weaver recalled. Mistaking him for a fan, she laughed it off until one of the film's producers, who'd witnessed the exchange from across the street, set her straight.
"She came over and said, 'Do you know who that was?'" Weaver said. "I said no and she said, 'He's only like one of the most influential film critics in all of America!'"
It turns out the stranger was The Times' movie critic Kenneth Turan, whom Weaver credits with helping her win the L.A. Critics Award that year. "And then on the strength of that I got a few offers here," she said.
Offers that led to a supporting role in 2012's awards season darling "Silver Linings Playbook," for which she secured a second Oscar nomination. Since then, she's appeared in films and on television both internationally and domestically, including a small role in 2017's "The Disaster Artist." Weaver's latest film, an Outback crime thriller called "Goldstone," hits theaters on March 9.
The 70-year-old is as equally funny as she is quick to laugh, whether she's describing the definition of a "wanker" ("In Australia, we call someone a tosser or a wanker if they are a bit too full of self-regard," she explains) or rattling off the names of famous Australians ("I keep digressing, it's my age!").
The Times caught up with Weaver to talk #TimesUp, the difference between the Australian and American film industries and what amendments she'd make to her Wikipedia page:
You've been acting for more than 50 years. How has the industry changed since you started out?
Well we've got #MeToo now [laughs]. I'm too old to be a victim of all that now. When I got here I was in my 60s so that wasn't an issue for me. But believe me, it's been going on for 50 years. Longer, I guess.
Do you mean it's been an issue in Australia as well?
Sure. There's always been predatory men around.
What do you think of the #MeToo and Time's Up movements?
I think it's a jolly good thing. I mean, it's appalling that it's still going on. I thought when we were in the early days of feminism [that] things had changed. And then feminism became a dirty word for a while. I think each generation probably has to find their own ideals and most generations don't want to be told by the older generation.
Have you ever experienced sexual impropriety as an actress?
Yeah. Not here, not at my age. Because I was in "Silver Linings Playbook," I knew that [Harvey Weinstein] was an ill-tempered, difficult person. I mean, I didn't know any details but I saw how he spoke to people. He wasn't very interested in me… that's one thing about being old [laughs]. But I was shocked, I was very shocked. I knew he was unpleasant but I had no idea he was so horrible.
[However] I guess we ought to give people the benefit of the doubt as well. We've got to live by the rule of law: innocent until proven guilty. But when there's a whole band of people, you can't help thinking there's some truth in that. I do worry a bit about some people jumping on the bandwagon and accusing people of much smaller things. I mean, I think they've got a right to say, "Don't do that," but to put on an equal footing a rapist and someone who's just annoyingly silly… it's a shame, I think. Having a vagina doesn't mean you don't tell lies sometimes [laughs]. And I worry too that the minor complaints will diminish the major ones.
How does Hollywood compare to the Australian film industry?
Well, there's only 25 million people [there] and there's 330 million people here, so there's a much smaller audience and it's more of a cottage industry.
Do you prefer one over the other?
No, I don't actually. I tell you what though, when you work on a French film set, they take two hours for lunch and it's a three-course proper French meal and they have wine with lunch! And then they go back to work. Which is pretty good! [laughs]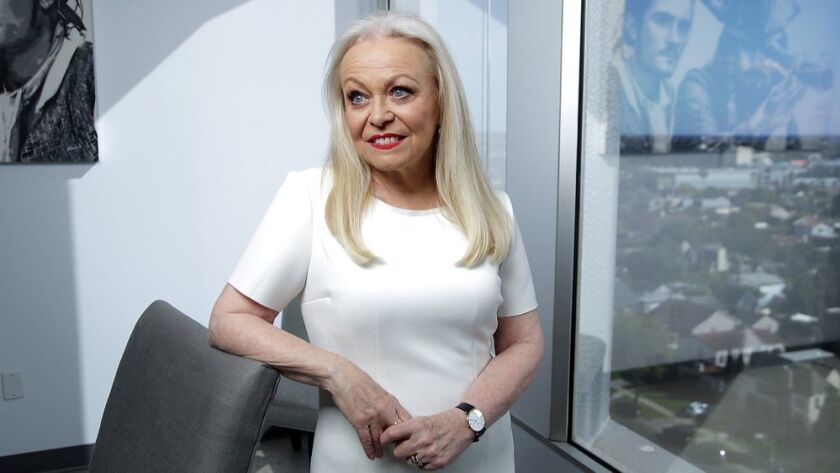 What drew you to "Goldstone"?
The first thing was [director] Ivan Sen. He's a national treasure. He wrote to me a few times saying, "Please do the movie" and I'd always been an admirer because there's a film that goes before "Goldstone" called "Mystery Road." And even though "Goldstone" is a self-contained story, it follows the journey of the lead actor, Aaron Pedersen, who's another national treasure. And I just loved the script and I knew I was going to love working with Ivan and Aaron. Ivan not only writes, directs, produces… he's the cinematographer and the camera operator. And he edits and he writes the music [laughs]. He is so talented and he's very philosophical. There's a depth to him in a very gentle sort of way. If I sound like I'm in love with him, I kind of am. I love to call him my son. And also the other star of the show is the Australian landscape, which is pretty amazing. All that red earth. And it's the site of some pretty sad, sorry business that went on with the indigenous people way back. So I love the way the story covers that and talks about all of that.
What are relations with Aboriginals like in Australia?
Well, like most colonies, terrible things were done. Awful things went down. There were some terrible massacres that happened: Thousands and thousands of Aboriginal people were killed. And the injustices continued right up until the '50s. I remember my mother and father getting really angry about the fact that Aboriginal children were being taken from their mothers and given to white families. They call it the Stolen Children Generation. About 10 years ago our prime minister apologized. And yet there's still a lot of injustice. It's a sorry business.
Why was it important to make a film about race?
Because it's the truth and because it's a story and it needs to be told. And it's a cliché but forgetting history… you're doomed to repeat it.
You play villains in "Goldstone" and "Animal Kingdom." Are those roles more fun to play?
Real people have contradictions. And I think if you play someone like a cartoon villain with only one bad side to them, that's not as interesting as showing their surprisingly redeeming features. In the "Goldstone" case, she was a great baker. Somebody showed me a review in the Seattle Times saying that I was a cake-baking smiling evil incarnate [laughs]. I thought that was fabulous. My husband thinks we should put it on a T-shirt.
Would you consider this film to be a western?
Well, there's no horses. But it's very western-ish, isn't it? It's like something Taylor Sheridan would write.
The majority of your film career has taken place in Australia. Is it hard to break out here or did you just prefer it there?
I didn't have America on my agenda. The idea of breaking into American films just seemed to me something that would be impossible, so I never even entertained the idea. I mean, I've loved coming here since '72, but it was always just to go to the theater because I was mainly a theater actor; I've done maybe 80 plays. And I played a lot of Americans onstage: I've done six different Neil Simon women, I've done Tennessee Williams' "Streetcar," Arthur Miller's "Death of a Salesman," more modern stuff like "Six Degrees of Separation," "Shadowlands" and "Born Yesterday." I was in a Neil Simon musical, 600 performances I did.
What exactly is "Ozploitation" and how did you get your start in those kinds of films?
Yeah, see, it says that's how I got my start in Wikipedia. That's the other thing I have to do, change my Wikipedia. Because there's so many errors in it and there's trivial inclusions and glaring omissions. Including that I married the same person twice, which I didn't! [Laughs] I would never divorce someone twice, that's stupid. I mean, I've done stupid things, but not that.
Ozploitation, I think, was a label that Quentin Tarantino put on films that were kind of cheap and sassy. I was in one of them, but I did two hours of work on it and I'm in it for 30 seconds; it's called "Alvin Purple." There's a film called "Stork," one of the first films that I ever did and I don't know that you'd call that an Ozploitation film because it was written by one of our leading playwrights.
What else on your Wikipedia entry would you want to change?
I've had quite a distinguished career onstage and my Wikipedia kind of just dismisses it. And it talks about how I had a serious alcohol problem. Having known quite a lot of alcoholics, I'm not an alcoholic. [laughs] I'm just a bit of a lush sometimes.
I don't know if this number is correct because it is from Wikipedia, but it says that you've been married four times.
[Laughs] Yes.
What have you learned about love over the years?
Probably that it's the most important thing in the world. Not just romantic love but platonic love and brotherly love. Even when one meets someone particularly horrendous, if you concentrate really hard on trying to like at least one thing about them, it makes you feel better. [laughs] Oh dear, I sound like an old hippie.
follow me on twitter @sonaiyak
---
The complete guide to home viewing
Get Screen Gab for weekly recommendations, analysis, interviews and irreverent discussion of the TV and streaming movies everyone's talking about.
You may occasionally receive promotional content from the Los Angeles Times.