Natalie Portman on getting into the mind-set of the widow Kennedy for 'Jackie'
Walk into any college dorm and you'll find one of them — Marilyn Monroe, Audrey Hepburn, Jackie Kennedy. There, covering the cinder blocks, is almost always a black-and-white poster of a glamorous icon still recognized more for her beauty than anything else.
But in her freshman dorm room at Harvard University, Natalie Portman left her walls bare.
"I feel like I had that serious-kid thing," she said, rolling her eyes at herself. "I didn't have style icons. The people I was into were, like, Jane Goodall. I loved Audrey Hepburn, but I was into what she did for kids with UNICEF and stuff."
The irony, of course, is that at 35, Portman has become something of a style icon herself. She's one of the faces of Dior, selling perfume in gauzy ads with French music and garden roses. And she is frequently recognized as one of the best-dressed stars in Hollywood, walking the red carpet in exclusive couture gowns.
But she often has trouble reconciling this part of her identity. Recently, while pregnant with her second child, she has become increasingly upset over the amount of time it takes to have her hair and makeup done before promotional events. "I could write a book in the time that I'm sitting there," she said. "I fight with that."
It was a feeling she had to let go of while shooting her latest film, "Jackie," which chronicles the first lady's life in the days following John F. Kennedy's savage 1963 assassination. The movie, which opens in Los Angeles on Friday, attempts to illuminate just how big a role Jackie Kennedy played in shaping her husband's legacy through her involvement in planning his funeral proceedings. But it also does not shy away from her reputation as a fashion staple known for her pillbox hats and crisp wool suits — one of which she she famously wore in public even after it had been stained with JFK's blood.
"Jackie" follows First Lady Jacqueline Kennedy, played by Natalie Portman, after the assassination of President John F. Kennedy.
Pablo Larrain, the film's Chilean director, felt Kennedy's love of beauty was so integral to her character that he requested Portman utter "I love beauty" at some point during the shooting of every scene.
"It never ended up in the film, but I feel like you really get a sense of the fact that Jackie was a true aesthete," said Portman, opting to sit in a straight-back office chair instead of on a plush sofa. "She took so much sensual pleasure in fabric and things. To take pleasure in nature, in art, in music — that's aesthetic, and that can make you feel connected to something. To see the world as a beautiful place full of wonder, even when you're bombarded with a lot of negative events."
Just one week before "Jackie" was set to start filming in Paris, the production was bombarded with a dark cloud of its own: A series of coordinated terrorist attacks ravaged the city, leaving 130 dead. Portman had by then been living in France for a couple of years, since her husband, Benjamin Millepied, became the director of the Paris Opera Ballet. And she felt something in the air shift.
"The whole city was in shock," she recalled. "Police were everywhere. People were scared to walk outside."
She wondered how she could possibly start making a movie — if it was the right thing to do. And then she returned to the story at the center of the film: The story of a woman trying to hold herself together in the face of tragedy for the sake of the nation.
"Weirdly, the Paris attacks gave us a sense of the collective trauma and grief that a country feels after something so momentous happens," Portman said. "To have Jackie walk down the street at her husband's funeral and say, 'I'm not going to be scared away by this' — you see what a big feat that was for the whole country."
Portman's journey to "Jackie" began in Paris, where she first met with Larrain at a local restaurant. She'd known about the project for five years, when Darren Aronofsky — who directed her Oscar-winning turn in "Black Swan" — sent her the screenplay. Aronofsky was initially planning to direct the film and cast Rachel Weisz in the lead role but eventually decided he'd prefer to produce it instead. He asked Portman if she'd consider filling his ex-fiancée's shoes, but the actress was hesitant.
I'm sure there are other actresses that could play a great Jackie, no doubt. I just felt nobody would have this level of mystery and elegance.
'Jackie' director Pablo Larrain
"It's kind of asking for trouble to play someone so well known," she explained. "I felt like it was dangerous territory unless I was creatively in the right hands."
Her feelings changed after Aronofsky suggested Larrain, whose film "The Club" he had seen while heading the jury at the 2015 Berlin International Film Festival.
"So I met with her in Paris and I told her I would only make this movie if she would do it," Larrain said. "I didn't see anybody else playing it. I'm sure there are other actresses that could play a great Jackie, no doubt. I just felt nobody would have this level of mystery and elegance."
At the time, Larrain had not heard Portman attempt to mimic Kennedy's recognizable voice, but said he never worried about her delivering "the technical aspects of a performance." He felt that the actress was an enigma, and "that's something you have to have. It's not something you can necessarily perform."
Portman spent months researching Kennedy, buying every book she could find on Amazon and poring over the transcripts of an interview Kennedy did with historian Arthur M. Schlesinger Jr. She worked with a dialect coach, Tanya Blumstein, to perfect Kennedy's lilt — starting with a White House tour Kennedy gave for a 1962 television special. Larrain told Portman he was planning on interspersing actual footage from the two-hour special with the actress' own performance, so she and Blumstein studied the tour extensively.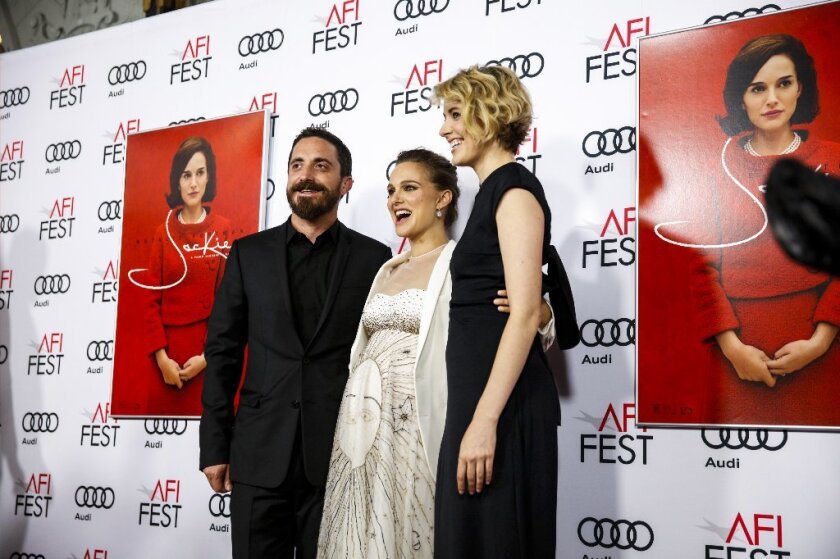 "We'd dissect every word — like, 'hit the 'p' hard here,' or 'you don't pronounce the "r" at the end of this word,'" Portman said.
At first, she sounded so much like Kennedy that her performance proved jarring to some on set.
"When the dailies started to come in, we had a few conversations. Everyone was concerned: 'Is this too much?'" acknowledged Aronofsky. "But when you compared it to Jackie, it was clear it wasn't."
The performance certainly hasn't been too much for critics, who have showered the actress with praise since the film's September debut at the Venice Film Festival. Most awards pundits have for months considered Portman a lock for a best actress nomination, a nod that would put her back in the Oscar race for the first time since 2011. (She was also nominated for her supporting turn in 2004's "Closer.")
Portman gave birth to her first child four months after taking home the Academy Award, so she didn't have much time to fret about how she'd follow up the win. "It wasn't really a question of 'What am I doing next?' because it was like, 'I'm having a child.' I guess I was lucky to have something else that was the main focus of my life."
In the years since "Black Swan," Portman has seen her career ebb and flow: She appeared in two "Thor" films for Marvel Studios, popped up in a Terrence Malick film, directed her first film — an Israeli drama called "A Tale of Love and Darkness" — and starred in "Jane Got a Gun," which was fraught with on-set strife.
"I've been doing this for so long with such mixed results," said Portman, whose first role came at age 11 in Luc Besson's 1994 thriller, "The Professional." "You go into every single one with the best intentions and the highest expectations, and the most you can hope for, really, is a fulfilling experience.
"And this was so, so, so creatively fulfilling. I have that no matter what."
Follow me on Twitter @AmyKinLA
---
The complete guide to home viewing
Get Screen Gab for weekly recommendations, analysis, interviews and irreverent discussion of the TV and streaming movies everyone's talking about.
You may occasionally receive promotional content from the Los Angeles Times.