Jerry Lewis' son talks about the new DVD collection of many of his father's most popular movies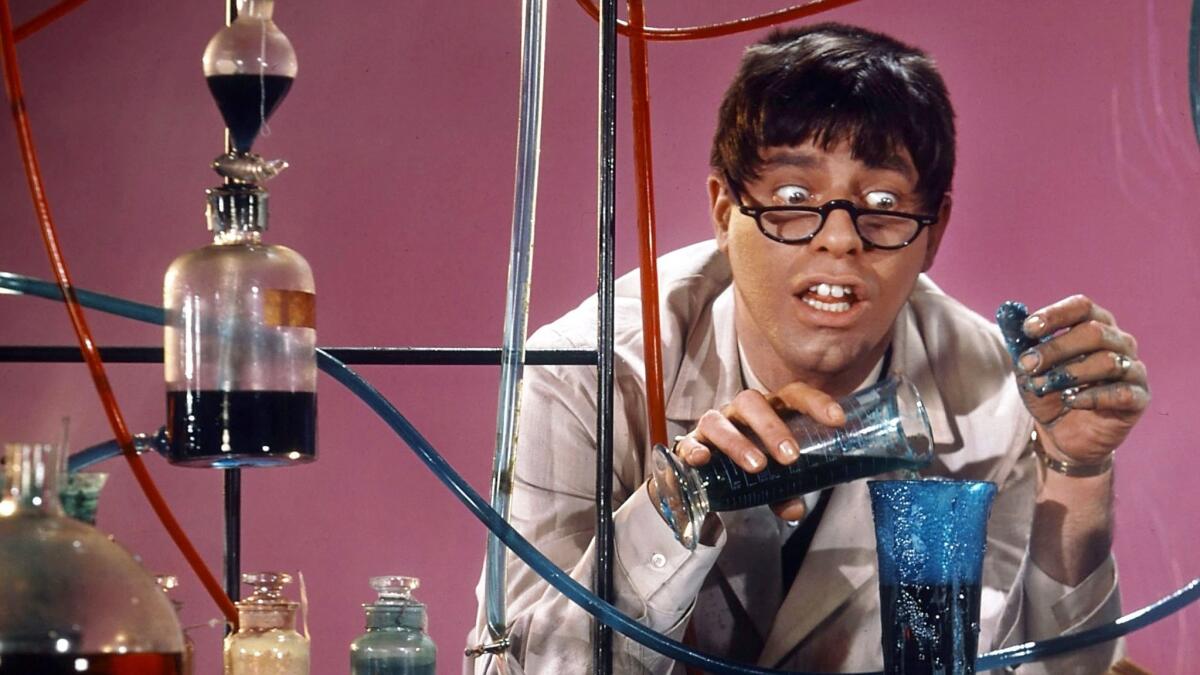 Ten months after comedy legend Jerry Lewis died at the age of 91, Paramount Home Media is releasing the "Jerry Lewis 10 Film Collection," which features 10 of his beloved comedies including the 1951 Martin-Lewis comedy drama "The Stooge," the first film he made after he and Martin broke up, 1957's "The Delicate Delinquent," the first film he directed, 1960's "The Bellboy" and his 1963 masterpiece "The Nutty Professor."
All the films — which also include 1960's "Cinderfella,"; 1961's "The Errand Boy" and "The Ladies Man"; 1964's "The Disorderly Orderly" and "The Patsy"; and 1965's "The Family Jewels" — have been previously released on DVD but this is the first time these 10 films have been featured in one collection.
The collection, which was released this week, contains special features including audio commentary by Lewis and his good friend, crooner Steve Lawrence, recorded back in 2004, as well as outtakes, bloopers, promos, casting sessions and rehearsal footage.
His son Chris Lewis, who has overseen the distribution of his father's movies and TV work since 1995 and has been involved in the restoration and preservation of Lewis' film and TV archive, recently talked about his father and his films.
Q: How were these 10 movies chosen for the DVD collection?
Chris Lewis: We had a marketing meeting at Paramount and very often it boils down to what are fan favorites and what are the ones that we get the most inquiries about online, things like that. The ones people talk about for years. I'm glad to see some of the other ones like "Delicate Delinquent" — that was a great film and you don't see it out that much
Q: There's only one Martin and Lewis film in the collection, "The Stooge" from 1951, which I read was your Dad's favorite film with Dean.
CL: It was definitely one of his favorites. Actually, back in the early days when they made it, it was the third or fourth Martin and Lewis film that got shot but it didn't get released until the seventh or eighth [film], because they weren't sure what to do with it.
Q: Because it was more dramatic?
CL: Yes, and there was more interplay between the characters. It was always my favorite and definitely one of my Dad's favorites.
Q: Revisiting these films, you realize what a master he was of sight gags. He really reminds me of the silent comedians such as Charlie Chaplin and Buster Keaton.
CL: That's how he started, in pantomime. The first thing on stage — he didn't do stand-up. What he did was called "satirical pantomime." He would put on a Frank Sinatra song and pretend he was Sinatra singing it. It was hysterical.
Charlie Chaplin was the icon he hoped to equal. Later in life, he became friends with Charlie.
Q: How did they connect?
CL: [My dad] valued that friendship more than just about anything. That actually really started when my Dad directed his first film "The Bellboy" in 1960. It came out and Chaplin saw it. Chaplin was living in Switzerland at the time and he wrote to my Dad and said, "I would love to have a copy of 'The Bellboy' for more personal use here in my home.' My Dad wrote him back and said 'OK, I'll make you a swap. I'll send a 35mm print of 'The Bellboy,' if you send me a 35mm print of 'Modern Times.'"
Q: The commentary your Dad did on many of these films with Steve Lawrence back in 2004 is revelatory. I was really intrigued that he referred to the Jerry character in his films in the third person.
CL: I'll share something with you. My Dad learned that from Frank Tashlin, who was his mentor and was his director for many of his films. Frank Tashlin was a cartoon director back in the 1940s. When Tashlin was teaching my Dad the art of direction he would refer to the character in the third person. That's where my Dad learned it.
Q: And like Tashlin, the production and costume designs used eye-popping colors with striking purples and pinks in such films as "The Ladies Man" and "The Nutty Professor."
CL: What he was going for was beautiful, rich, vibrant color. He loved Technicolor. He loved anything that would help it stand out, almost that cartoon quality. He would get very depressed when he'd see his films on TV. They didn't look the way when they were shot. So, he was very happy with the remastering that was done, especially with "Nutty Professor."
Q: New York's Museum of Modern Art is set to open an exhibition of your Dad's home movies and his film industry innovations this fall. Could you talk about that?
CL: MOMA is actually going to be doing a series of programs on the home movie productions my Dad would shoot with his friends on the weekend. We're working with the Library of Congress right now to put that all together.
Q: Are these movies shorts or feature-length?
CL: Some of them are full movies — 35 or 50 minutes long.
Q: Who's in them?
CL: A lot of people. Tony Curtis, Janet Leigh, Shelley Winters, Dean Martin … Danny Arnold, who created "Barney Miller" was a very close friend. They would get together and just make home movies and they just had a blast.
Q: After your father's death last August, it was reported everywhere that he was estranged from his sons and they had been cut out of the will. But you seemed to have had very close relationship with him.
CL: I was very, very close with my Dad. You can't believe what you read in the press. The stuff's just not as true as people think it is. It comes with the territory. My children, who were very close to my Dad, they actually have dealt with it really well. We moved to Vegas eight years ago to be closer to him and I'm really glad that we did.
Get the Indie Focus newsletter, Mark Olsen's weekly guide to the world of cinema.
You may occasionally receive promotional content from the Los Angeles Times.