A new documentary explores the roots of Jewel's Catch One, one of L.A.'s first black gay discos
When Jewel Thais-Williams opened Jewel's Catch One nightclub in 1973, she wasn't trying to create one of the country's first black discos. She wasn't even trying to create the safe haven for Los Angeles' black lesbian, gay, bisexual and transgender people that the club became. What she really wanted was a personable, recession-proof business that would last longer than the dress boutique she once owned.
But the Catch was all of that and more. Its importance to the community is just now being put into words, and actions, after closing last July following 42 years in business. Thais-Williams will be the grand marshal of Los Angeles Pride this weekend. And quite serendipitously, a new documentary, "Jewel's Catch One," charting the club's history will screen exactly a month later.
"It's tantamount to someone dying; the club died and more notoriety came," Thais-Williams said. "But I'm flattered. It's mind-blowing."
The pasty pink stucco nightclub once attracted thousands every weekend, lines sometimes wrapping around the block. Once inside, they danced under strobe lights and a lone disco ball in the center of two of its seven rooms. Celebrities would make pit stops when they were in town — from Madonna and Sharon Stone (who's interviewed for the film) to Etta James and "Queen of Disco" Sylvester, some to perform, others to hang.
But the joy experienced at the Catch was more than a weekend choice for fun; it was an act of defiance by black LGBT people and the people who loved them, in the face of clubs in West Hollywood where they felt unwanted because of their race.
When Thais-Williams, now a petite 77-year-old with a short gray Afro, started clubbing, gay clubs often denied her entrance because she was black and female, she said in a Times interview last March. When allowed in, she would often be double-carded, having to show two forms of identification.
The Catch became a place for everyone.
See the most-read stories in Entertainment this hour >>
"It didn't matter who you were or who you did or didn't do," she said. "All were welcome."
Filmmaker C. Fitz has been following Thais-Williams for almost six years. After being introduced to her while tasked with compiling a three-minute video tribute to air at a charity event where Thais-Williams was being honored, Fitz was consumed by the breadth and influence of her entrepreneurial and activist efforts. In addition to the club, Thais-Williams owns the Village Health Foundation, a nonprofit, natural health clinic that sits across the parking lot of what was once the Catch. She also once ran a vegan restaurant on the same premises. Fitz said to herself, after their first meeting, that Thais-Williams deserved a documentary, if not a miniseries, about her life and the work she's done.
"She's a healer, trying to constantly heal her neighbors and community even through music," Fitz said.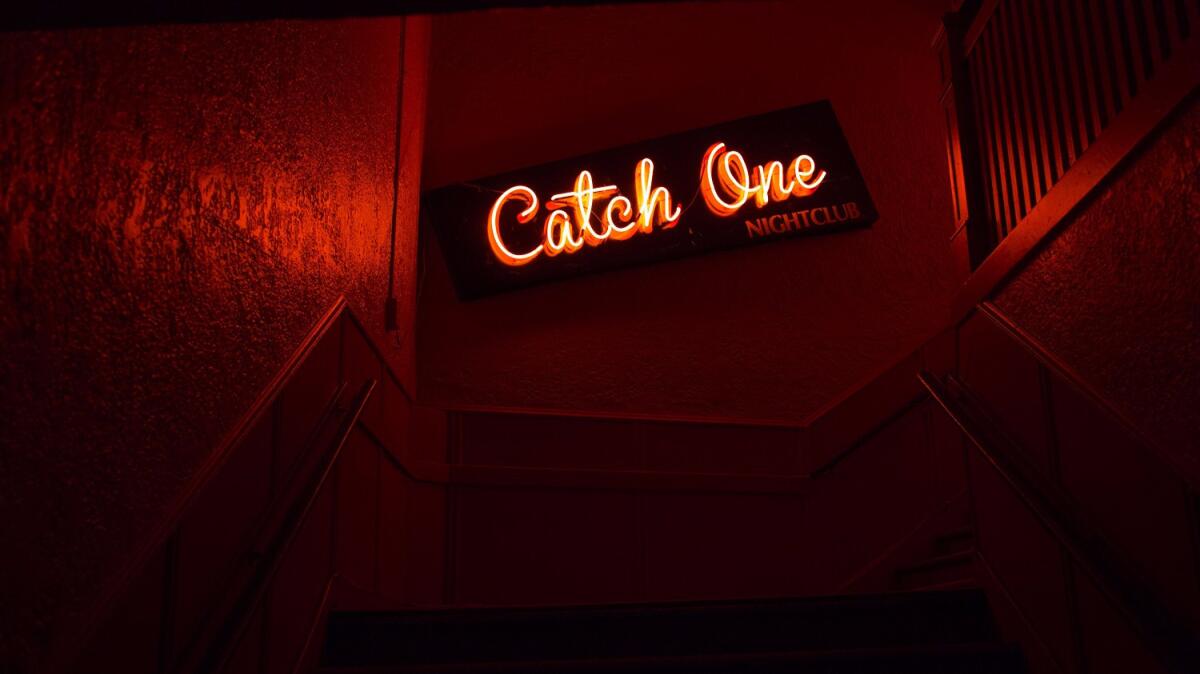 But Thais-Williams never looked at it like that. She just wanted to fulfill what her parents had taught her: "That you should always, no matter how hard it is for you, look out for other people," she said.
The documentary, premiering during Outfest on July 10 at Hollywood's Harmony Gold, chronicles the club's historical importance and Thais-Williams' influence in the local community and abroad. Through interviews with former staff, patrons and community leaders, she's painted as a woman who battled racism, sexism, homophobia and a massive fire to the building to forge and maintain a much-needed refuge. The club quite literally became a home for a number of people who were homeless and was a community location for Alcoholics Anonymous meetings. In the Meantime Men, a local gay and bisexual men's organization, once held meetings on the property.
Notable names including singers Evelyn "Champagne" King, Bonnie Pointer and Thelma Houston, as well as Congresswoman Maxine Waters, are interviewed in the documentary for which actress C.C.H. Pounder serves as narrator.
Though some audiences may come to the film for the music of the time or the sentimental value the Catch may possess, "10 minutes in, they'll be introduced to the real story, Jewel, and how she gave of herself," Fitz said. "When they wake up the next day, they'll be inspired to do something in their own neighborhood, something to better the world. [She] truly makes you stop and think."
For this reason, Thais-Williams was selected by Christopher Street West, the L.A. Pride organizers, to lead this year's parade on Sunday. (She will also deliver a speech ahead of Friday's Dyke March.) Such a distinction, Marquita Thomas said in a statement announcing the selection in May, "honors community activists who we consider to be our own celebrities and who have fearlessly fought for equality for our community."
"Jewel is a true symbol of leadership within our community," said Thomas, a Christopher Street West board member. "Her tireless efforts have positively affected the lives of countless LGBTQ minorities [and her] dedication to bettering our community is truly inspiring to myself as well as a whole new generation of activists, community leaders and community supporters."
When asked how the recognition felt, as she sat in the back office of the clinic on a recent afternoon, Thais-Williams was hard to read. Though she let out an exclaimed, "Woo!" it was followed by an anxious laugh. In explaining her facade, she spoke about holding off to comment until she is in the moment.
What she does say however is what she hopes her story will convey.
"Never underestimate what one individual can do in making it better for the planet and the community," she said. "And remember my two, sometimes three Ps: patience, perseverance and pride."
Outfest tickets can be purchased on their website.
Get your life! Follow me on Twitter: @TrevellAnderson.
MORE FROM ENTERTAINMENT
Disney's new theme park in Shanghai may be the capstone to CEO Robert Iger's career
Johnny Depp's attorney on domestic violence allegations: 'Amber has tried her claims in the media'
Tonys predictions: Can anything stop 'Hamilton' from making history?
Get our L.A. Goes Out newsletter, with the week's best events, to help you explore and experience our city.
You may occasionally receive promotional content from the Los Angeles Times.