John Legend is singing a new tune: virtual reality
The traffic and weather said Wilshire Boulevard on a steamy weekday afternoon. But inside the virtual reality headset it was all cool jungle — dense foliage, a self-effacing skunk, even John Legend as a singing bird.
In the latest push to make virtual reality an entertainment medium, the startup Baobab Studios is expected to announce on Tuesday a new animated VR series, "Rainbow Crow," which aims to bring an immersive world of talking-animal animation wherever a user happens to be.
The episodic series — based on a piece of Native American folklore about self-acceptance — stars and is executive-produced by Legend. It is written and directed by "Madagascar" co-writer and director Eric Darnell, chief creative officer and co-founder of Baobab with Silicon Valley executive Maureen Fan, who is the company's CEO.
"What caught my attention is a magical story with a really good message," Darnell said. "It felt like an opportunity to explore something in VR that's dreamlike, instead of an effort at duplicating reality."
Baobab aims to create a new class of animation stories for VR, hewing more closely to traditional narratives than rivals such as Oculus Story Studio and Felix & Paul Studios. A previous alien-themed short titled "Invasion!" voiced by Ethan Hawke, has been a hit on the festival circuit and contained enough traditional cinematic virtues that it's being developed as a feature by the production company of Hollywood veteran Joe Roth.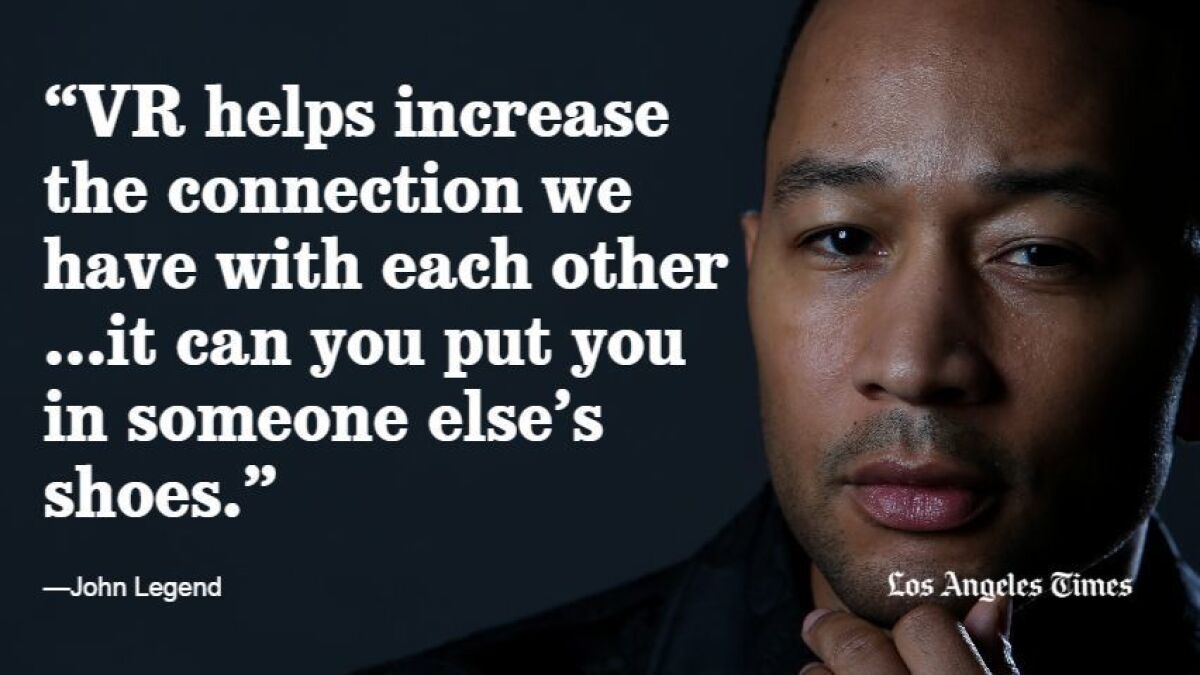 As an executive from Baobab showed the first chapter of "Rainbow Crow" to a reporter (the second chapter is in production), the piece demonstrated some well-established animation story beats.
The plot concerns a swaggering crow (Legend) who, when the animal kingdom is plunged into darkness because of a global freeze, must go on a hero's journey and sublimate his own ego. A skunk with her own personality issues also gets caught up in the drama.
But perhaps more significant than the plot specifics is who the piece has attracted. Virtual reality companies are increasingly using a time-honored Hollywood technique to bring in users: star appeal. If a name or voice is familiar, they're betting, consumers will be more inclined to give VR a shot.
Legend said in a phone interview that he was excited by the possibilities of the medium.
"I had been to some conferences where VR technology was discussed and also had seen a powerful film about refugees," said the musician and "La La Land" star. "When Baobab came to me with this I thought it felt like a cool story that could do a lot of things."
He said the medium's immersive qualities particularly made sense for a story that was about being different.
"VR helps increase the connection we have with each other because it can put you in someone else's shoes," Legend said.
The series, it should be noted, may also contain original music from the artist.
The first chapter of "Rainbow Crow" will premiere at the Tribeca Film Festival this month, while a consumer rollout of both it and a second episode will follow later this year. The pieces will be available on a variety of so-called tethered headsets like the HTC Vive as well as mobile-based systems such as Samsung's Gear VR.
Baobab executives said they didn't know yet how many episodes would be created. (The finished product, when combined, will run about as long as a featurette.) There is no plan at the moment to charge for "Rainbow Crow"; the idea is to hook consumers so they will be willing to pay later.
"We don't believe the market is big enough to monetize," said Fan, who was in Los Angeles last week from Baobab's Silicon Valley headquarters in Redwood City. "We want to build a pipeline for content that will make eventually make that possible."
As VR headsets become more prevalent, a growing stream of content has, indeed, been created, particularly stand-alone original stories known as cinematic VR. Among the notable new pieces, all on display at this year's Sundance Film Festival, are "Life of Us," which counts Pharrell Williams among its creators, and "Miyubi," which has Funny or Die's involvement.
What approach consumers will embrace is an open question: Will they prefer VR pieces that feel like familiar movies or that push the medium in edgier directions? "Life of Us," for instance, is more experiential, while "Miyubi" takes a more traditional approach.
"Rainbow Crow," which will eventually incorporate a first-person element, tilts in the latter direction.
"Whether it's film, TV, theater or VR, I think it's all storytelling," Darnell said. "It's just about using a different tool kit to get to the same place."
See the most-read stories in Entertainment this hour »
Twitter: @ZeitchikLAT
MORE ON VIRTUAL REALITY:
For the VR generation, the differences between TV and movies may already be irrelevant
In the burgeoning world of virtual reality, storytelling is both cutting-edge and old-fashioned
Ridley Scott's 'Alien: Covenant' will get a separate virtual reality experience
Unveiling the first major virtual reality TV series, 'Invisible,' from director Doug Liman
In a first, a VR short will become a Hollywood movie
---
Get our L.A. Goes Out newsletter, with the week's best events, to help you explore and experience our city.
You may occasionally receive promotional content from the Los Angeles Times.