Keira Knightley looks to 'Colette' for courage in the battle against her own self-doubt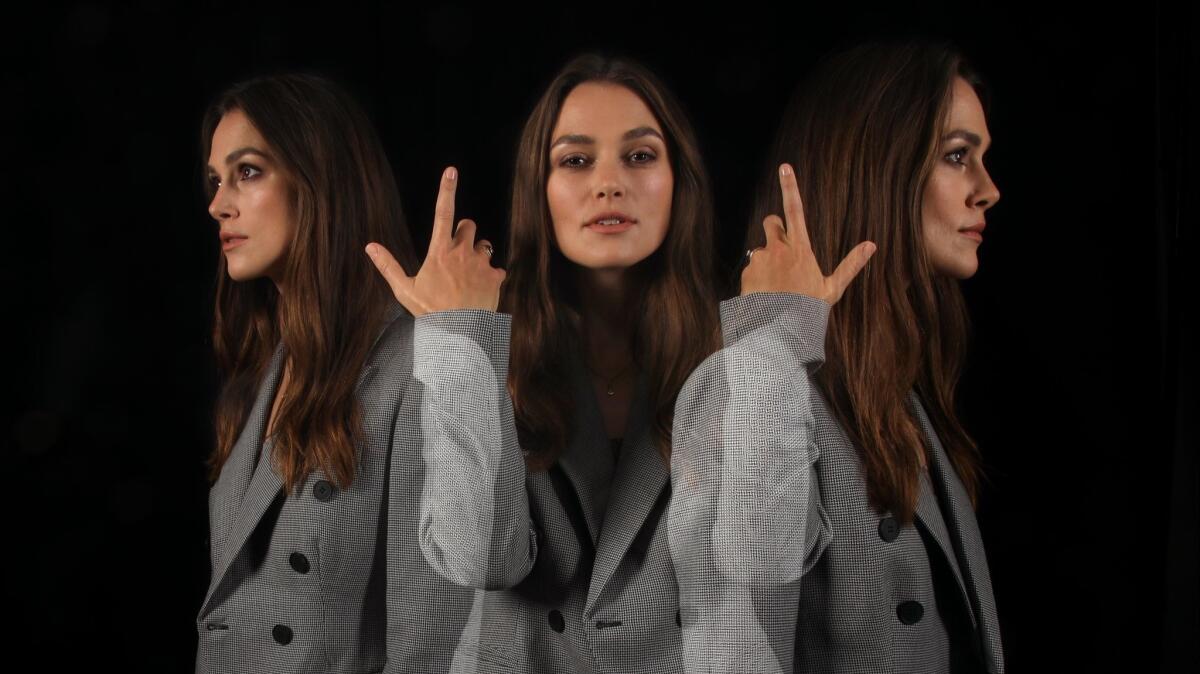 Reporting from Toronto —
At first, Keira Knightley thought everything was going to be fine.
Her pregnancy had been delightful, so she'd give birth to her first child and then continue working at her normal pace. A Broadway show and two films in a year? Try her.
But after Knightley had her daughter, Edie, things didn't go according to plan. She was hormonal, for one. And tired. Because Edie never seemed to sleep.
Still, she intended to keep her obligations. She performed eight times a week in a stage production of "Thérèse Raquin" and then filmed a supporting role in the drama "Collateral Beauty."
But in the summer of 2016, staring down the lead role in the period drama "Colette," Knightley decided she needed a break.
"I was like, 'I can't. I literally can't,' " the actress said. "I am so tired. I am so hormonal. I can't deal with this big character right now. So they very sweetly said, 'We'll put it off for a year.' "
Director Wash Westmoreland wasn't exactly thrilled to push the start date on "Colette" — "no one welcomes that news," he said — but with the well-reviewed film set to open in theaters Friday, that delay ended up being "the best thing that ever happened."
The filmmaker was able to spend the year finessing the script about the renowned French novelist, who initially wrote under her husband's name until her work became so successful in the early 1900s that she fought for recognition.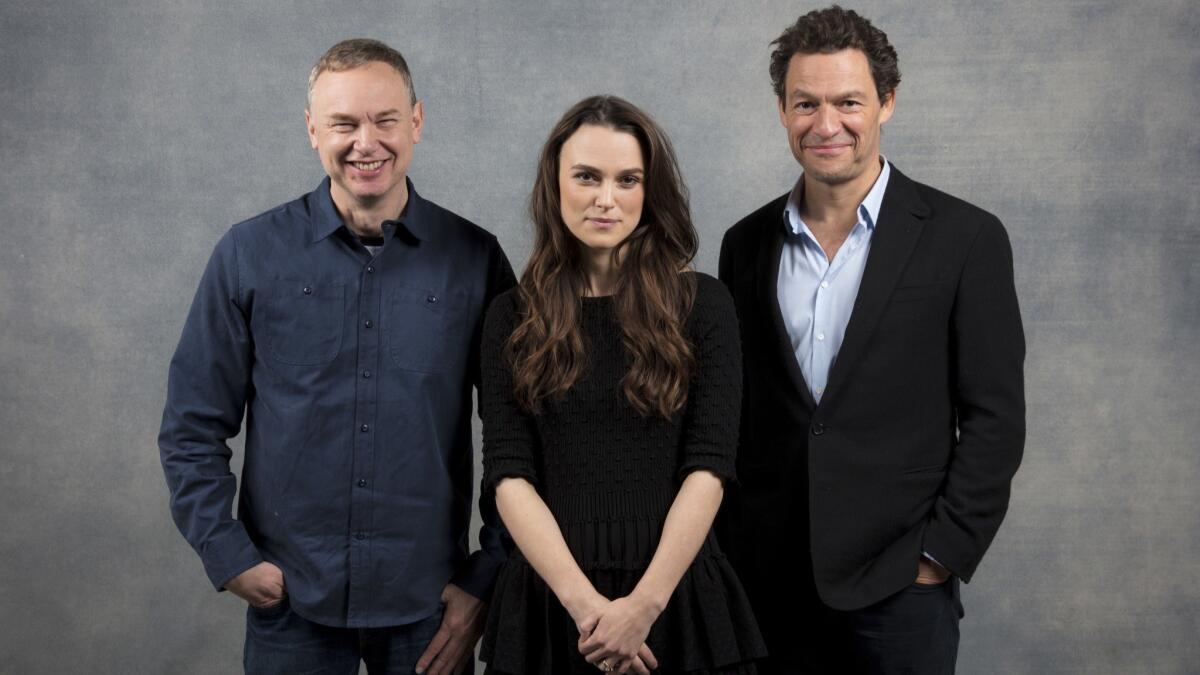 Alas, Edie — then age 2 — still wasn't sleeping regularly when production began in Budapest in 2017. But by then, Knightley had moved out of what she describes as the "Oh my God, how am I a mother?" stage and into the "I am the mother" one.
"Edie was a fairly regular presence on set and a delightful presence, actually," said Knightley's costar Dominic West, who plays Colette's autocratic husband. "But I was very much aware of Keira having to juggle the two roles of mother and movie star. And she did it pretty well, because it didn't affect the work at all. But it did involve a lot of struggling off-set, I think."
And it still does, Knightley said. On her way from London to the Toronto International Film Festival, where "Colette" screened last week after premiering earlier this year at Sundance, she was seated next to the actress Rosamund Pike on the plane.
"And my first question was, 'So, what the [hell] do you do when they go to school? How are you dealing with this?" Knightley said, peppering her speech with her favorite four-letter f-word. (Pike has two children.) "I don't think anybody's got an answer to it. The answer to it is that it's messy and really difficult, and somehow, you do it."
Sitting in a hotel conference room, her Chanel flats looking almost too nice against the brashly patterned carpet, Knightley has delved into discussing motherhood even though it's a topic she thinks the media generally mishandles. She's bothered by the societal norm that men serve predominantly as providers while women are expected to juggle both maternal and career obligations.
Her husband, the musician James Righton, is constantly working in the studio — but he can do that "as and when he wants," the 33-year-old said, "whereas I need a film set and have to go where the work is."
"[For men] we go, 'Oh, gosh, yes, absolutely, of course you don't see your children when you work, because you've got to concentrate,'" she said, her voice dripping with sarcasm. "Can you imagine a woman saying that? Can you imagine if I went, 'Oh, no, I just never see her'?"
Knightley spends a lot of time thinking about gender roles. Growing up, when she began to think about an acting career, it was the male parts she dreamt of having. At age 12, she spent one summer obsessively watching "The Godfather," dreaming of playing Michael Corleone. She liked that he was a morally ambiguous hero.
"So I've always been looking for my heroes. I know the guys, but I don't know the women," she said. "I'm using heroes instead of heroines, because in my head, heroines are still second to a man."
Review: Keira Knightley illuminates a writer's awakening in the shrewd, witty 'Colette' »
Colette, she felt, was a hero. Knightley wanted a bit of her courage and felt like she was "standing tall" when she embodied her.
"Women feel shame or that we should hide in so many ways — parts of our personality that aren't feminine enough or what we're meant to be," she said. "And with Colette, she just went, 'Boom, this is what I am.' I love that. I don't think I'm that strong. I think I've still got a bit of, 'Oh, [hell]. I want to say the right thing.'"
In the past year, in particular, Knightley said she's been grappling with how much to use her voice. She's happy to be asked about "more than lip gloss" — she's been a face of Chanel for a decade now — but it's new to her.
"The idea five years ago of being political in an interview — you would never," she said. "And now suddenly, the world is a political place with Brexit in England, with Trump."
And the #MeToo movement. Knightley said she attended two Time's Up meetings in the U.K., which she found interesting. But she felt slightly out of place.
"They're amazing women, but I'm, like, 'Holy [crap], they're really proactive and organized, and I'm just not,' " she said. "I mean, why am I frightened about talking about politics? I'm frightened I'll say the wrong thing. Well, what do I mean by that? What is right, what is wrong? An opinion is an opinion."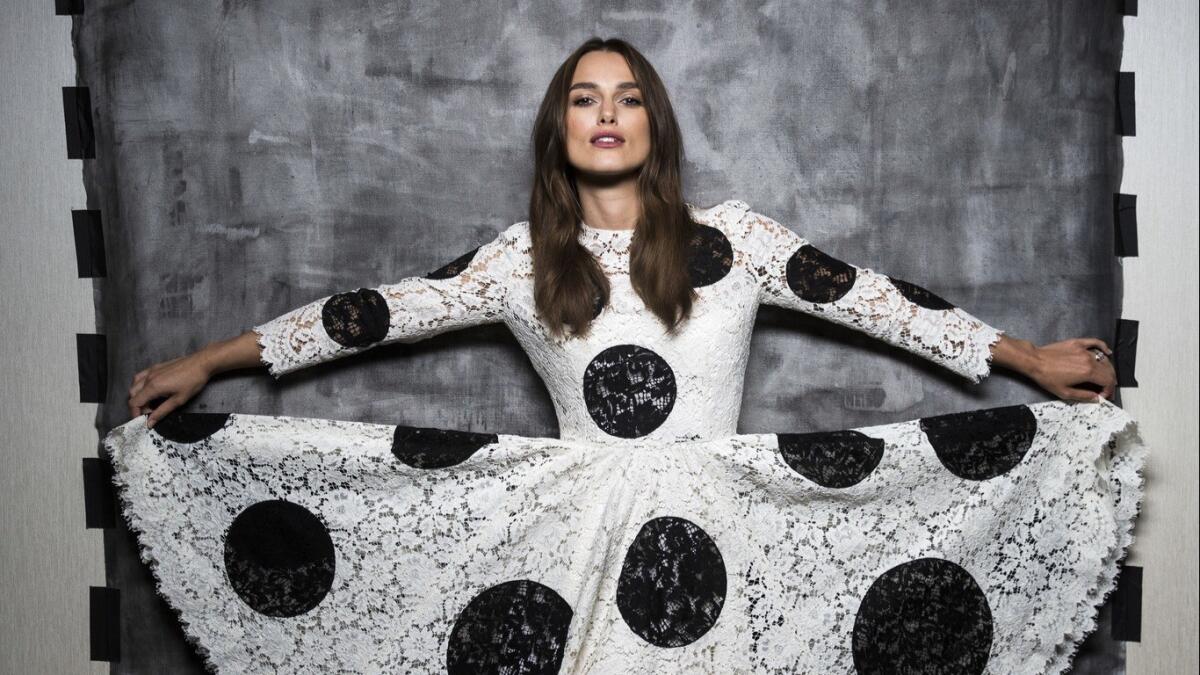 She continues to doubt herself as the discussion moves to social media, which she doesn't use. She says her non-work days are "too [expletive] boring" to document on Instagram, since they're mostly composed of dropping off and picking up Edie from preschool. And the idea of sharing "This is what I think!" on Twitter without being asked makes her physically squeamish.
"My privacy was taken away very early, and that's not the case with a lot of people now," she said. "I think my way of surviving everything has been like, 'I'm gonna let you all talk and you can say whatever you all like, and I'll be over here.'
"My God, with social media, I'd just be standing in the middle of it and have all these people's opinions on my phone that I couldn't get away from. I'm obviously wrong, because everybody's on it and I should be."
Knightley was a teenager when she first garnered public acclaim in the 2002 soccer film "Bend It Like Beckham," and a year later became a household name after she was cast in the "Pirates of the Caribbean" franchise. (She had a one-day cameo in last year's fifth installment, but said she doesn't expect to do any more because they take too long to shoot. She also said she has not spoken to Johnny Depp, who plays Captain Jack Sparrow, since completing the third "Pirates" in 2006.)
Meanwhile, Knightley has earned a reputation for playing the leading lady in period dramas such as "Pride & Prejudice," which brought her an Oscar nomination in 2006, and "Atonement" — something she returns to with "Colette."
She doesn't know why she's offered so many period films — "I think I just look good in very big dresses," she said with a laugh. She isn't some hopeful time traveler who looks at the past through rose-colored glasses: "And have pleurisy and die of scarlet fever and have [feces] rolling down the floor? No, I think the reality of any of those times before public health and women's right to choose were pretty [expletive] brutal."
But she tends to find that period films feature more interesting female characters who aren't just window dressing or exploitation fodder.
"A lot of the characters that I've been offered — which doesn't mean that that's the only characters out there in modern-day pieces — have either been the wife, the girlfriend or the sexy rape victim," she said. "I'm all up for a story if it's really looking at rape and the consequences — but what I felt with some of the stories I was offered was it was purely for titillation."
Westmoreland and his late husband and filmmaking partner, Richard Glatzer, had talked about Knightley playing "Colette" at various points over the 17 years they spent trying to get the movie produced. After making the film "Still Alice" together, the two men watched Julianne Moore accept her lead actress Oscar while Glatzer was in the ICU at Cedars Sinai.
There, as his body deteriorated from fighting ALS, he used his toe on a speaking device to spell out what he wanted Westmoreland to make next: "Colette."
"We'd seen Keira in 'Pride & Prejudice,' and there was something in the way she took Mr. Darcy apart verbally that made us both think, 'This young woman is a really strong, powerful actress,' " said Westmoreland. "And she just came in incredibly well-prepared. She has a sixth sense. She sees herself in the camera, she knows where to move — she can marry the technical aspects of filmmaking with the natural aspects of performing."
Asked if she's felt an increasing sense of power in the industry as she's aged, the actress said she's noticed in the last five years that "people think I'm good at what I do."
"Whereas before, it was like, 'She's just a pretty face and she can't do that,' " said Knightley, who was nominated for a second Oscar in 2014 for her supporting turn in "The Imitation Game." "There's been a switch, and I feel quite good about that. There was a moment where it didn't feel like that was gonna happen."
Follow me on Twitter @AmyKinLA
Get the Indie Focus newsletter, Mark Olsen's weekly guide to the world of cinema.
You may occasionally receive promotional content from the Los Angeles Times.