The real-life lessons to be learned from 'A Kid Like Jake'
When the time came to cast the 4-year-old titular character for "A Kid Like Jake," director Silas Howard made a proclamation: "I'd love to have an actor who loves dresses and beautiful things," he said. "I'd love Jake to be a princess-loving boy [in real life]."
Given that the film, opening in Los Angeles on June 8, deals with how the parents of a gender nonconforming child cope with society's thoughts about their kid, it seemed to Howard a necessary, if unusual, choice.
They found 5-year-old Leo James Davis, a child actor who likes to play with dolls, has an occasional affinity for ball gowns and dresses and whose favorite color is pink.
"I think that realness is important for us to know what we're protecting on the set," Howard said.
If we can just give everyone a little more space to just be, we would have so many more innovators and artists and incredible societies...
— Danielle Super
Adapted by Daniel Pearle from his own critically acclaimed play (in which the titular child did not appear on stage), "A Kid Like Jake," stars Jim Parsons and Claire Danes as a Brooklyn couple who have always known their son loved things more associated with girls. But when Jake's preschool director, played by Octavia Spencer, points out that his gender transgressive play may be more than a phase, the couple rethinks their parenting skills and relationship.
When Pearle's script first came to Parsons, the "Big Bang" star and his husband, Todd Spiewak, were looking for a small film to help launch their production company, That's Wonderful Productions. They were attracted to how Pearle wrote dialogue.
"I love the way Daniel has people talk to each other," said Parsons, who also serves as producer. "The more heated arguments feel so organic and so honest. I wanted to play those words and to be part of those conversations."
They were also intrigued by how "the elephant in the room" was not the biggest thing in the script. Despite the title, the film does not focus on Jake. Instead, it's about how the parents and their community responds and in turn, as Howard said, "protecting the ambiguity around gender expression."
"It was counter intuitive for me to have a gender-expansive character that was not featured prominently on the screen," said Howard, whose work often centers on transgender and gender nonconforming narratives. "But because of the age of Jake, I felt very committed to not putting the camera on Jake. At that age, it's about the world's impression of Jake and the anxieties society has that doesn't make it easy navigating it with a small child."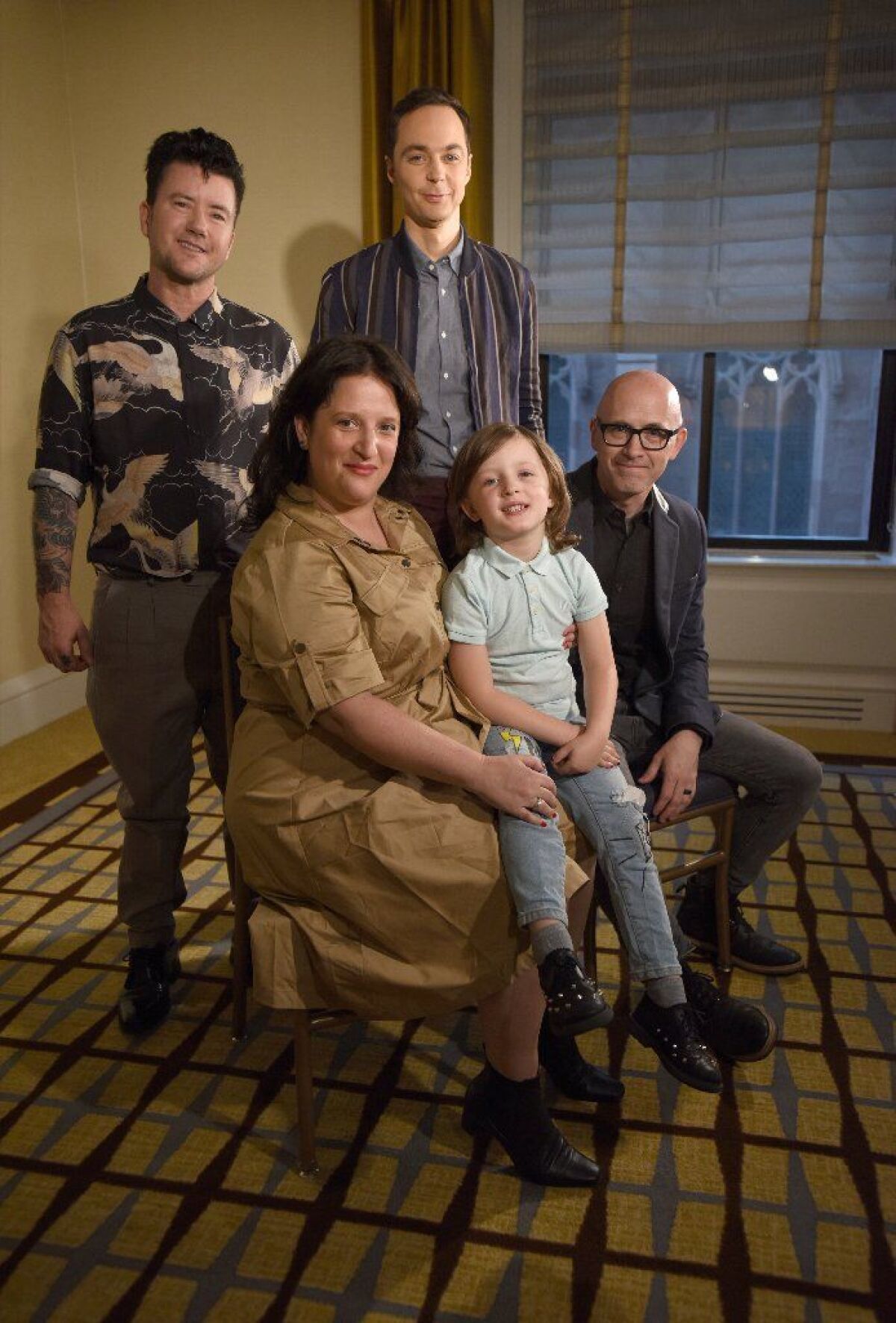 Howard "didn't want to allow the audience to decide and think about" the child's gender, choosing instead to point the camera "on what I saw the problem to be," he said.
The "problem" in the script became more real when they cast Leo as Jake and discovered the battle that his parents, Danielle Super-Davis and Michael Davis, faced as they enrolled him in kindergarten.
School officials believed that Leo might be facing sexual abuse at home and the Administration for Children's Services showed up at the family's house one night with the police. After a two-month investigation, the allegations were determined by New York State to be unfounded.
"The very binary way that public school keeps order and sorts kids — boys over here and girls over there — it's crushing to anybody who does not conform to what they need to keep order," Super-Davis said. "Unfortunately, kids' freedom of expression was so frightening to them that they called complaints on us."
Last August, the family filed a lawsuit with the New York City Commission on Human Rights, alleging that the school created a hostile environment for their son based on stereotypes about gender expression and sexual abuse.
"When you are a parent of a child who will be crushed by that system, if you don't stand up for them, you are complicit in their crushing," Super-Davis continued. "By virtue of the fact that we weren't willing to let them crush him, it was a very negative situation for our family."
"Our goal all along the way, as we watched Leo emerge , was to support him and get out of the way," added Davis, "to give him what he needs, love him and get out of the way."
But sometimes broader society, and its gendered expectations, prevents that. And as the film explores, parents can come into conflict over allowing their children to express themselves, especially when there are concerns about society not accepting those expressions.
One potential lesson from "A Kid Like Jake," Howard said, is "that this is still an ongoing occurrence and we need to model for parents how to do it, how to protect their kids, better."
Parsons added: "When you stop theorizing about something and bring it down to the other human being next to you… all of this has more and more gravity and weight to it. That's good."
As for the Davis couple, whose real-life experiences far surpass that of the fictional parents in the film, their hope is that audiences will walk away with an understanding, albeit surface-level, of what true support and protection looks like.
"The shame and the fear gets thrust upon us," Super-Davis said. "If we can just give everyone a little more space to just be, we would have so many more innovators and artists and incredible societies..."
Davis interrupted: "And people who don't come up outwardly or inwardly hating."
Get your life! Follow me on Twitter (@TrevellAnderson) or email me: trevell.anderson@latimes.com.
Get our L.A. Goes Out newsletter, with the week's best events, to help you explore and experience our city.
You may occasionally receive promotional content from the Los Angeles Times.