The L.A. Film Festival is done, for now, but its mission to find fresh talent lives on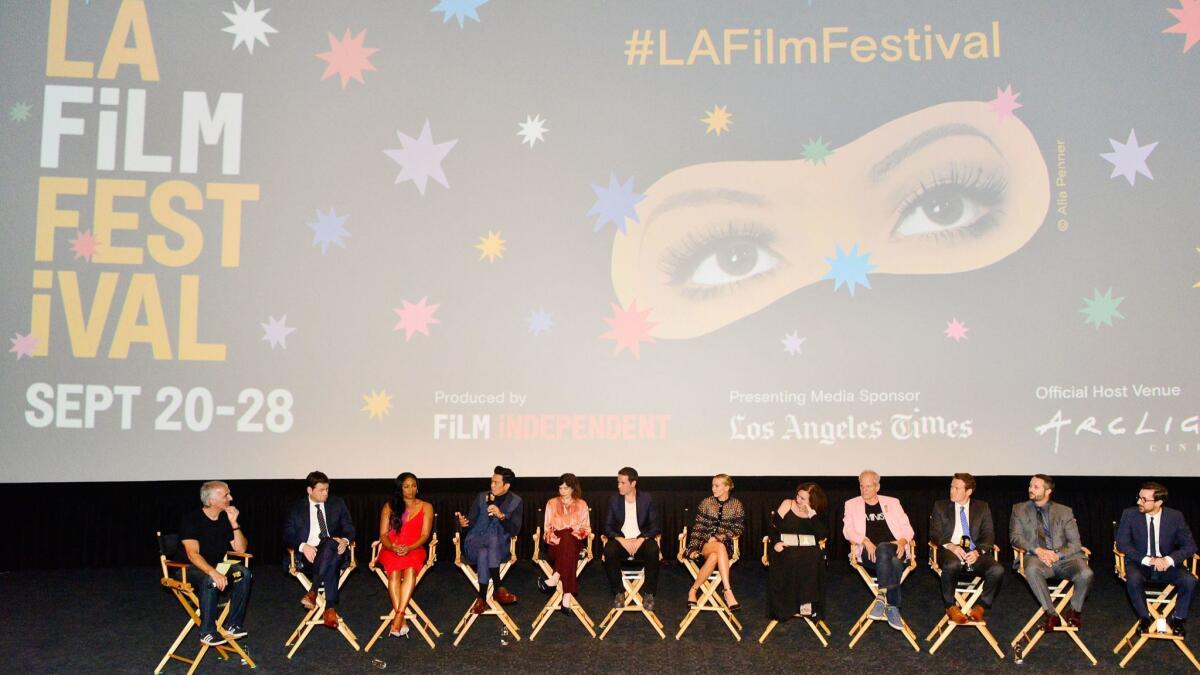 It was a mixture of surprise, sadness and something like relief that rippled through the L.A. film community this week with Wednesday's announcement that the L.A. Film Festival would be shutting down.
Surprise that the plug was being pulled barely a month after the end of this year's event — which took place for the first time during the fall, and had a sense of renewed energy. Sadness at the end of the line for a fixture of the local moviegoing year and a dependable outlet for work by new and creative voices. And relief at putting to rest a long-running identity crisis and frustrating inability to completely fulfill its own creative promise.
"Absolutely blindsided," is how Drea Clark, senior programmer and head of filmmaker relations at LAFF, described her response to the news. "I don't think any of us on the festival staff knew this was coming.
"I understand where people on the outside are saying that it struggled to find an identity," Clark added, "But for me it's always made sense — what we've been trying to do, and I feel have done pretty consistently, in finding and serving new talent."
The decision to shut down the festival was made by the board of directors of Film Independent, the L.A.-based non-profits arts organization that also most notably puts on the annual indie-focused Spirit Awards.
Sources close to the festival and the board of directors said that while the option of ending the L.A. Film Festival had been under consideration for a long time, this year's move to the fall was made in good faith and with hopes that things would turn around.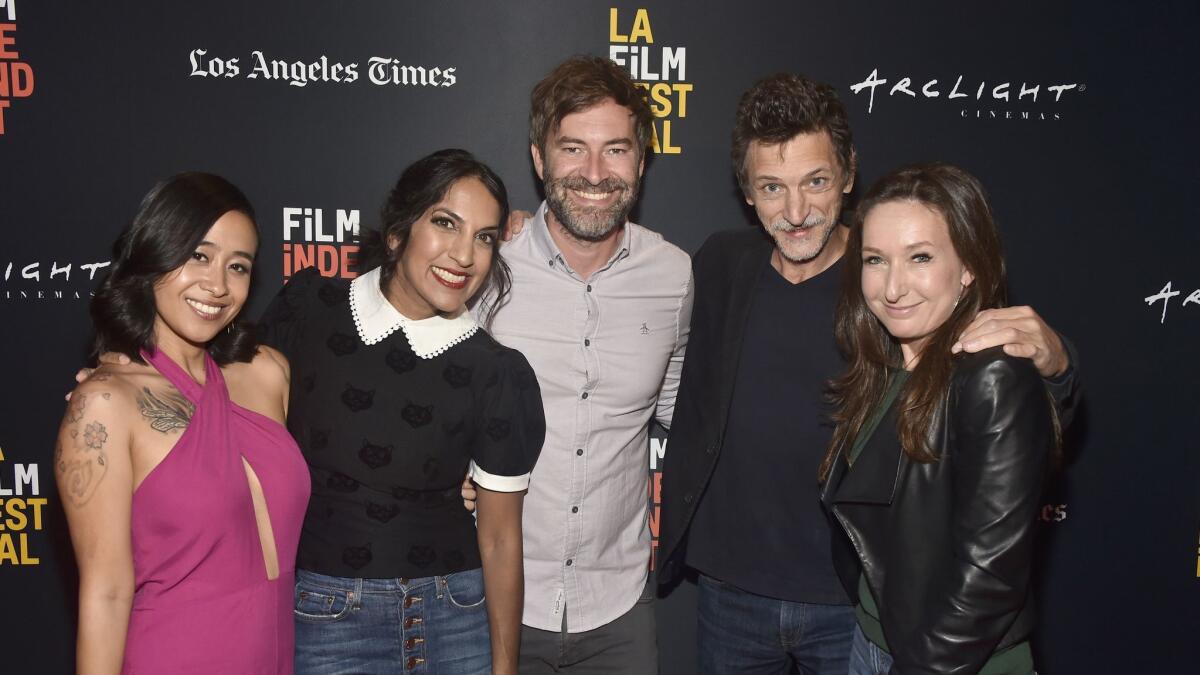 COMMENTARY: For years, the Los Angeles Film Festival was a cinephile's delight. Until it wasn't »
This year's festival actually saw an increase in ticket and pass sales, and there was a feeling internally at Film Independent that it was a stronger event than the past few years, but there simply wasn't enough of an improvement for the organization to continue dedicating staff and resources.
"The cost of putting on a festival is just extraordinary for a non-profit," said Stephanie Allain, director of the festival from 2012 to 2016, when the position was handed over to Jennifer Cochis, who oversaw the 2017 and 2018 editions of the LAFF. (Reached this week, Cochis declined to comment.)
"The festival's always challenging to break even. It's challenging," added Allain, emphasizing the behind-the-scenes elements of running a festival that go beyond simply the movies that are shown or whether theaters are full. "It's never just a straight ticket-sales thing. Ticket sales are important, but you can have healthy, healthy ticket sales and still come out of pocket because of [lack of] sponsorships or just the hard costs."
Since Film Independent continues to own the name of the festival, there's always a chance this may ultimately prove to be more of a pause than a full-stop cancellation.
But this week's announcement also made it clear that Film Independent would shift the resources used for the festival to focus on more year-round events, including some drawn from the festival itself. That will allow the group to continue serving the local film community, without being locked in to a specific timeframe and the programming demands — and limitations — that come with it.
A number of new initiatives are expected to be announced in the coming months. Among those continuing are the VR and immersive storytelling showcase known as The Portal, a film financing program known as Fast Track, an initiative for high school students known as Future Filmmakers and an ongoing event around inclusion in the film industry.
This year the festival's move from its longstanding summer position to a slot in the fall put it in more direct competition for titles and attention with the established events of the season, from the Venice, Telluride, Toronto trio in late August and early September to the New York Film Festival, and L.A.'s own AFI Fest and even the genre-heavy Beyond Fest (which this year scored West Coast premieres of big-ticket titles including "Widows," "Halloween," "Suspiria" and "Bad Times at the El Royale").
Just as the festival had bounced from West Hollywood to Westwood to Ddowntown L.A. to its most recent hub in Culver City, there had been an ongoing shift in programming focus, from international titles and world premieres to the discovery of fresh talent and an emphasis on diversity. (In the 2018 competition lineup, 42 percent of the films were directed by women and 39 percent by people of color.)
This year's LAFF program opened with the world premiere of the L.A.-based music documentary "Echo in the Canyon," directed by Andrew Slater and featuring Jakob Dylan and the late Tom Petty, and closed with the world premiere of the thriller "Nomis," directed by David Raymond and starring Henry Cavill and Alexandra Daddario.
By comparison, the AFI Fest, which runs from Nov 8-15, is bookended by the world premieres of two titles with early Oscar buzz: opening with the Ruth Bader Ginsburg bio-pic "On the Basis of Sex" directed by Mimi Leder and starring Felicity Jones and Armie Hammer and closing with "Mary Queen of Scots," directed by Josie Rourke and starring Saoirse Ronan and Margot Robbie.
At the same time, this year's L.A. Film Festival lineup also included "Border," a Swedish film which that won a prize at the Cannes Film Festival, "Museo," a Mexican film that picked up a prize at the Berlin Film Festival, and "Free Solo," an American documentary that took a prize when it played the Toronto International Film Festival just ahead of LAFF. Other films in this year's program had picked up prizes at Tribeca, South By Southwest, Venice and other top festivals.
We took a chance on a lot of up and coming directors that I feel really good about having given a shot.
— Drea Clark, senior progammer at the LA Film Festival
As well, the LAFF brought out an impressive array of talent for the world premiere of writer, director and star Ike Barinholtz's political comedy "The Oath" including castmates Tiffany Hadish Haddish, John Cho, Meredith Hagner and Carrie Brownstein as well as comedy stars Mindy Kaling, Busy Philipps, Lizzy Caplan, Nick Kroll, Jason Mantzoukas, Lauren Lapkus and BJ Novak.
Other events this year were attended by or included such major names as Tom Hanks, Lena Waithe, Toni Collette, Jordan Peele, Elle Fanning, Peter Bogdanovich, Kumail Nanjiani, Tamara Jenkins, Nicole Holofcener, Mary Elizabeth Winstead and Karyn Kusama. Mayor Eric Garcetti attended opening night.
The 2018 festival also put a brighter spotlight on episodic work and podcasting, and held events for the first time at the Wallis Annenberg Center for the Performing Arts in Beverly Hills, which was well-received as a venue for screenings and conversations.
Film Independent continues to own the name of the festival and so this may ultimately prove to be more of a pause than a full-stop cancellation.
"I think the festival served a lot of filmmakers, and I think we have to remember that fact," said Allain. "So many filmmakers had their first film shown at the L.A. Film Festival, had films sold out of the L.A. Film Festival, they made their mark and that's what a festival is supposed to do."
Clark pointed specifically to filmmakers such as Sam Esmail, who had his feature film "Comet" play at the festival before his success on TV with USA's "Mr. Robot" and Amazon's "Homecoming," as well as rising auteurs Suzi Yoonessi, Jennifer Arnold, Geeta Patel and Qasim Basir as those for which the festival provided a necessary spotlight.
"We took a chance on a lot of up and coming directors that I feel really good about having given a shot," Clark said. "And I think it's a bummer to lose this avenue that cared so much about featuring movies by and about women, people of color, LGBT voices. There's just a lot of things that we were bringing to the table, whether or not people were joining us at that table."
SIGN UP for the free Indie Focus movies newsletter »
Follow on Twitter: @IndieFocus
Get the Indie Focus newsletter, Mark Olsen's weekly guide to the world of cinema.
You may occasionally receive promotional content from the Los Angeles Times.