'Look what happens when we don't talk to each other': Korean American filmmakers' L.A. riots stories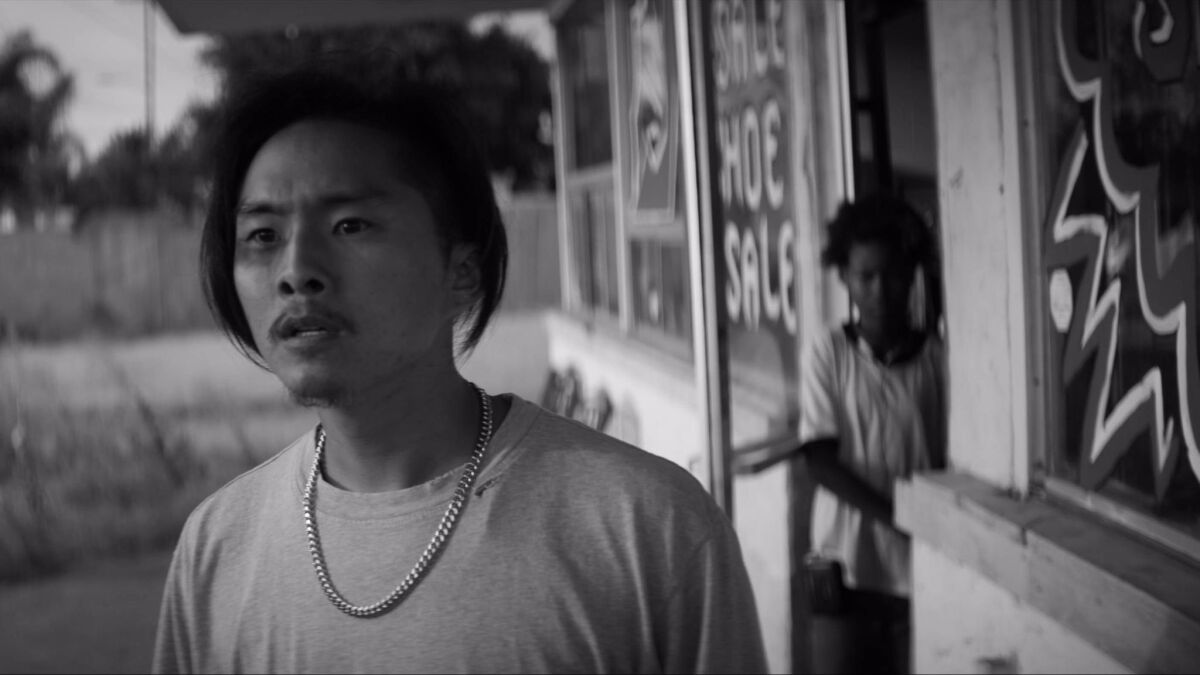 Edward Jae Song Lee was a month away from celebrating his 19th birthday when he was killed in the 1992 Los Angeles riots, caught in a crossfire of bullets reportedly while attempting to defend a Koreatown pizza parlor from looters on the second day of chaos and confusion that followed the April 29 acquittal of four LAPD officers for the beating of Rodney King.
Lee's mother saw her son's body, lying on the sidewalk near 3rd Street and Hobart Boulevard, in a black-and-white photograph in the Korea Times the next day. (An image of her son's bloody body accompanies this article and may be considered disturbing to some readers.) But as she told filmmaker Dai Sil Kim-Gibson, in the seminal 1993 documentary "Sa-I-Gu" just a few months after the unrest, she clung to the hope that it wasn't him.
"This couldn't be my son," remembered Jung Hui Lee in Kim-Gibson's documentary, named for the Korean term for that fateful day, Sa-I-Gu, or April 29. Eddie had left the house that day in a white T-shirt and blue jeans, but the young man in the photograph wore a black shirt.
It wasn't until Lee saw the full image in color, taken by Los Angeles Times staff photographer Hyungwon Kang, that she knew: "What looked black in the Korean newspaper was my son's blood."
Twenty-five years after the 1992 riots, few films have been made about the devastating moment in Los Angeles history ignited by the police beating of King. Even rarer is the film that goes beyond stereotypes to tell the stories of the people caught up in the violence from all of Los Angeles' diverse communities. Among the least well-known stories are those of Korean American business owners who found their American dreams in the sights of looters over the course of several lawless days in April, as anger boiled over into violence and led to the ransacking and burning of more than 2,200 Korean-owned businesses.
Kim-Gibson, 79, still remembers hearing Lee's heartbreak as she documented the devastated mother's story, one of three Korean women whose personal tragedies lend "Sa-I-Gu" its enduring power — and a rare window into the Korean American experience of the L.A. uprising.
"I was dumbfounded," the filmmaker told The Times recently ahead of the 25th anniversary of the riots. "I was speechless. God, what can you say to a story like that? If it really touches you at the core of your soul, you can't talk. All I could do was sit there in complete silence, with my heart and with my soul pounding."
The Korean-born Kim-Gibson was living in Washington when the riots broke out.
"The mainstream media made it sound as if the 1992 L.A. riots were caused by black-Korean conflict," she said. "That boiled my blood, because that was not the case. Black-Korean conflict was one symptom, but it was certainly not the cause of that riot. The cause of that riot was black-white conflict that existed in this country from the establishment of this country."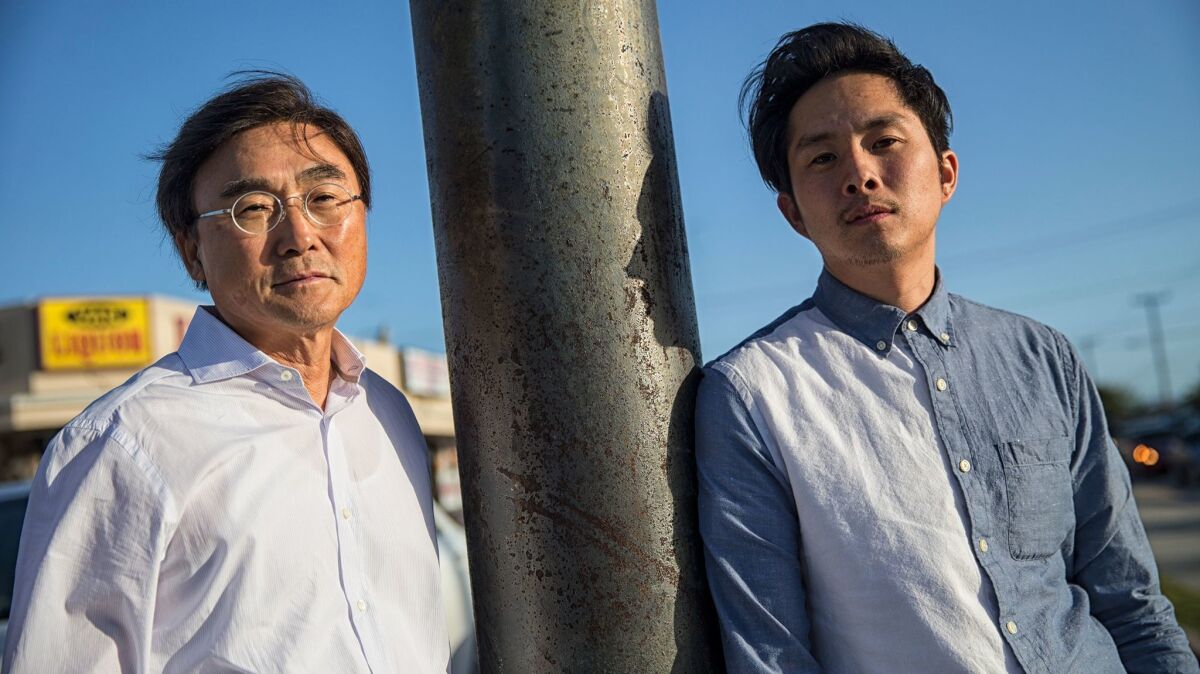 Media reports that pitted the African American community against their Korean immigrant neighbors, Kim-Gibson felt, "were tremendously wrong. So I decided I could not have the mainstream media tell our stories. We had to go and tell it ourselves."
Borrowing camera equipment and $5,000, she traveled to Los Angeles with two fellow female filmmakers, Christine Choy and Elaine H. Kim, seeking the untold perspective on the aftermath of the riots from Korean women. "Sa-I-Gu," released a year later in 1993, tells a side of the riots absent from depictions in traditional films of and about those six days in April and the tinder box of clashing racial tensions and economic pressures that left scores dead, 2,000 injured and caused an estimated $400 million in damage to Korean-owned businesses.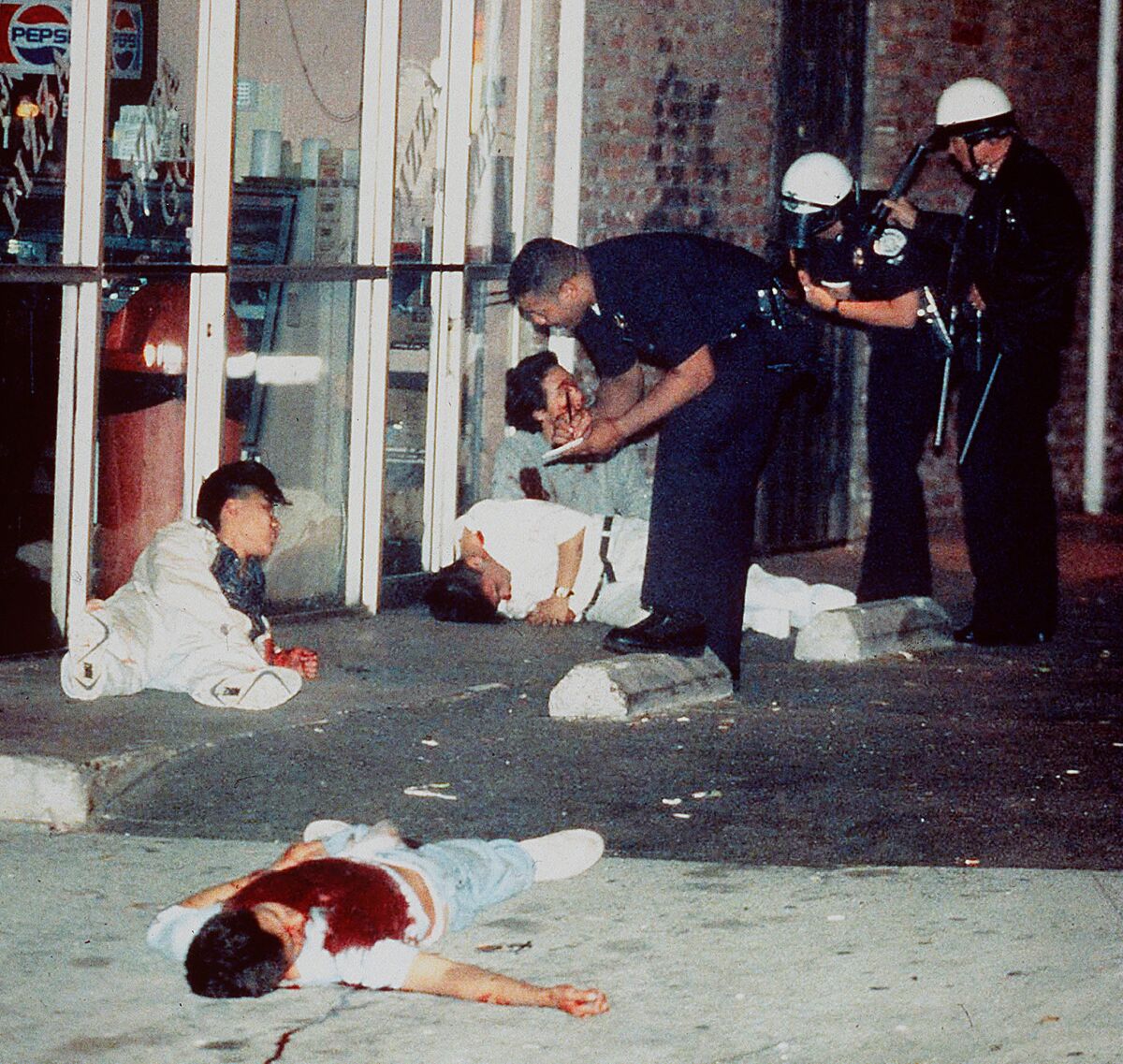 The overarching message is, 'Look what happens when we don't talk to each other.' When we don't have open discussion we lose what's most precious to us.

— Justin Chon
Ten years later, Kim-Gibson returned to Los Angeles with collaborator Charles Burnett, director of the definitive Watts film "Killer of Sheep," to document the legacy of the riots from a wider spectrum of subjects living in the ethnically diverse enclave. In their 2004 documentary "Wet Sand," which screens Saturday as part of the 2017 L.A. Asian Pacific Film Festival and UCLA Luskin School of Public Affairs' "Flashpoint 2017: 25 Years After the 1992 L.A. Uprising" program, the filmmakers spoke to members of the Korean American, African American and Latino communities. To her dismay, Kim-Gibson found that certain tensions remained.
"It made me very sad. Koreans were oppressed, and when their businesses started flourishing they hired a lot of Latinos and then they did not treat those Latinos as well as they should have. Koreans should have learned better," the documentarian said, likening the issue to family relationships. "In Korea, mothers-in-law treat their daughters-in-law really badly and daughters-in-law really suffer. Then those daughters-in-law who suffered treat their own daughters-in-law very badly."
Filmmaker Justin Chon was 10 years old when the riots broke out. The "Twilight" actor, who wrote, stars in and directed the upcoming drama "Gook," inspired by the events of the L.A. uprising, remembers watching news reports of looting and destruction on television from his home in Irvine. But it wasn't until many years later that he fully grasped the situation his Korean immigrant father faced as the owner of a shoe store on the border of Paramount and East Compton.
"We didn't get hit until the last day," Chon said recently in Los Angeles. "As soon as it happened, he was there. People had seen it just spread. I was home watching the news, my dad was there, but it wasn't like I thought, 'My dad can die.' I wondered, what does this mean for our family?"
"Gook," which premiered at the Sundance Film Festival and will be released in August by Samuel Goldwyn Films, stars Chon as Eli, one of two Korean American brothers who run their late parents' store selling shoes to a mostly black clientele.
As anger and upset over the King verdict ripples across the city, tensions rise — between Eli and his brother Daniel (David So), an aspiring singer; between the brothers and Latino and black neighborhood toughs who jump them and taunt them with slurs; and between Eli and Mr. Kim, the immigrant liquor store owner next door who treats his own clientele with the kind of contempt that typified relations between some Koreans and African Americans leading up to the riots.
Eli's brotherly friendship with a young local African American girl named Kamillah, played by newcomer Simone Baker, anchors the film's emotional arc — which, Chon says, was meant to serve in memory of Latasha Harlins, the teenage girl shot and killed by a Korean store owner in a dispute over a bottle of orange juice a year before the L.A. uprising.
"The overarching message is, 'Look what happens when we don't talk to each other,'" Chon said. "When we don't have open discussion we lose what's most precious to us and we lose sight of what's important --- what we stand for."
The mainstream media made it sound as if the 1992 L.A. riots were caused by black-Korean conflict. That boiled my blood, because that was not the case.

— Dai Sil Kim-Gibson
"My film is a metaphor for now," he continued. "It was all simmering. [Korean business owners] were just trying to survive. But so was the African American community."
Greater understanding of all communities touched by the riots is what filmmaker Grace Lee is after with her new interactive documentary "KTOWN92." An offshoot of a feature documentary about contemporary Koreatown, the project gives voice to the people who lived through the tumultuous uprising — beyond the iconic images of looters and vandals, shopkeepers on rooftops with guns, and mayhem in the streets from angry mobs destroying their own city.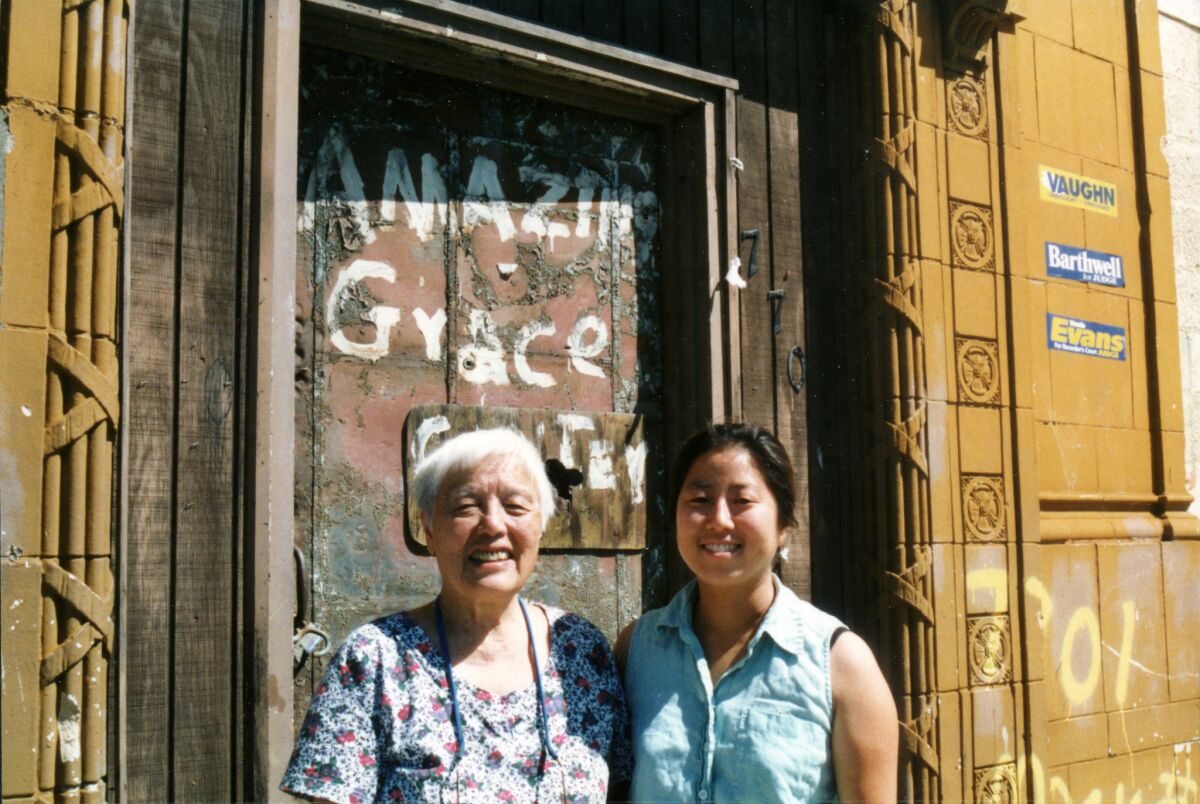 "I have always been interested in the story of the L.A. riots, but always have been concerned about who gets to tell that story," Lee explained. "I was interested in seeing if I could both critique some of the media coverage that was really disturbing at the time, and that lasted over the years, and at the same time amplify and uplift other stories and perspectives that haven't really been shared with most people."
Lee grew up outside of Los Angeles and remembers watching shocking images of the riots on the news, the rare depiction of Asian American life in the media dominated by sensational footage of conflict and hysteria.
She's now called Koreatown home for eight years; her latest films were born out of witnessing a vibrant multiethnic melting pot in her own neighborhood — far removed from the war zone of April 1992 and yet indelibly shaped by the legacy of the riots.
"To me it's the beating heart of L.A. It's still this immigrant enclave," she said of Koreatown. "It's a really vibrant community that to me reflects how much this experience that we have is informed by the immigrant experience. And to me, that immigrant experience really informs not just Los Angeles, but California, and also, I think, is a stand in for where America is heading — or already is."
ALSO
Asian Pacific Film Festival revisits 'Better Luck Tomorrow,' 'Bronzeville' and the L.A. riots
Review: Unrest or uprising? John Ridley's 'Let It Fall' and 'LA 92' go deep in exploring the L.A. riots
Netflix's 'Rodney King' has Spike Lee and his muse looking back
'History happened here': Oscar winner John Ridley revisits the 1992 riots in his new documentary
Trio of L.A. riot documentaries look back to 1992
Angelenos talking to Angelenos: Covering the L.A. riots when local news still mattered
John Singleton looks back on the 1992 L.A. riots in new documentary
They were kids during the L.A. riots. Now two Korean Americans tell their community's overlooked story
Of the 63 people killed during '92 riots, 23 deaths remain unsolved — artist Jeff Beall is mapping where they fell
Get our L.A. Goes Out newsletter, with the week's best events, to help you explore and experience our city.
You may occasionally receive promotional content from the Los Angeles Times.