Review: Unrest or uprising? John Ridley's 'Let It Fall' and 'LA 92' go deep in exploring the L.A. riots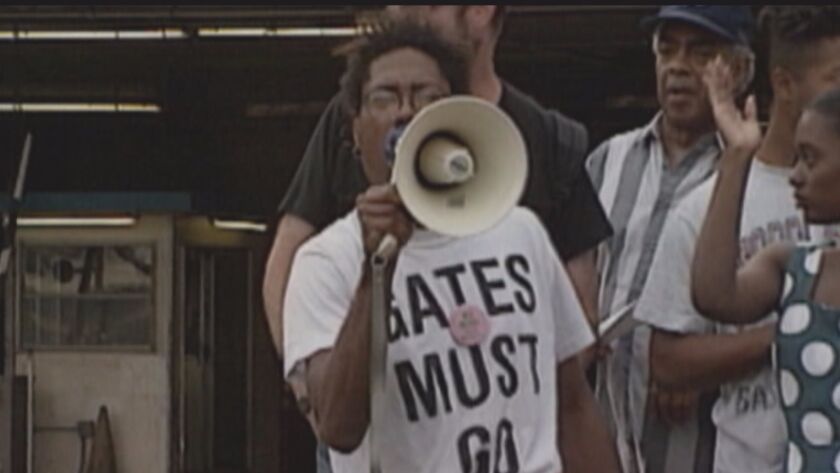 Film Critic
Riots or rebellion? Anarchy or insurrection? Unrest or uprising? Whatever words are used to categorize it, as the 25th anniversary approaches of the frenzy of violence that swept Los Angeles beginning April 29, 1992, attention is being paid. A lot of attention.
No fewer than five documentaries are being broadcast about those events, and no wonder. For one thing, the havoc caused was considerable, with more than 50 people killed, thousands injured and roughly a billion dollars in property damage sustained. Wherever you were in the city, you could see the smoke of a metropolis attacked by flames.
And though a quarter-century is past, the events that began with a notorious acquittal in the trial of four police officers for the beating of Rodney King are far from settled history. And the societal situations that caused them are no closer to resolution.
Two of those five documentaries are going to have theatrical releases before their TV airings. Though their aesthetic approaches are almost diametrically opposed, the skill with which each has been made enables them to in effect speak to each other. Seen back to back, these two documentaries have a powerful, even explosive impact even though they both cover essentially the same events.
First was the March 3, 1991, traffic stop and savage beating of Rodney King by Los Angeles police officers, followed days later by the fatal shooting of high school student Latasha Harlins by Korean shop owner Soon Ja Du.
Though Du was convicted of voluntary manslaughter, the judge rejected the jury's recommendation of prison time. Then came the trial of the four LAPD officers indicted in the King beating. They were acquitted, and incendiary crowd reaction at the intersection of Florence and Normandie soon went from bad to worse.
The documentary opening first in theaters — on April 21 for one week at the Laemmle Music Hall in a version that is nearly an hour longer than the one that will be broadcast on ABC on April 28 — is John Ridley's "Let It Fall: Los Angeles 1982-1992."
Though it has its share of excellent footage from back in the day, the strength of "Let It Fall" is in its remarkable contemporary interviews, compelling both for the people recorded and the way the conversations are allowed to unfold.
"LA 92," at the Laemmle Noho on April 28, two days before it is broadcast on the National Geographic Channel, takes the opposite tack. Directed by Dan Lindsay and TJ Martin, who won an Oscar for "Undefeated," "LA 92" intentionally avoids interviews and constructs a narrative entirely through immersion in archival footage.
The fact that "Let It Fall" takes a deep dive into its interviews is no surprise, and not just because a team of veteran ABC folks, starting with producer Jeanmarie Condon, were involved. Ridley's previous writing credits, including "12 Years A Slave" (for which he won an Oscar) and ABC's "American Crime," point in that direction as well.
Understanding that the past is prologue, both documentaries, like the Oscar-winning "O.J.: Made In America," go back years before Rodney King. "Let It Fall" begins 10 years earlier, with the chokehold death of James Mincey Jr. that led to policies that had an effect on the King beating. Spoken to at length, for instance, are Mincey's girlfriend at the time and an LAPD officer who was part of the Mincey arrest team.
The list of involved and involving people "Let It Fall" has persuaded to talk on camera is considerable, including Terry White, the deputy district attorney who prosecuted the King beaters; Lakeshia Combs, an eyewitness to the Latasha Harlins killing; Henry King, a Rodney King juror who for years hid his multiracial past, and Bobby Green, who says God instructed him to go to Florence and Normandie and save the life of badly beaten truck driver Reginald Denny.
One of the film's most significant interviews is with former LAPD Lt. Michael Moulin, who passionately defends his controversial decision to pull police back from an early altercation in the Florence/Normandie area.
"Let It Fall" understands the value of allowing its interview subjects to talk at greater, more involving length than is usual for documentaries, a technique that illuminates the complexities of reality and gives listeners a sense of the emotional textures of these people's lives.
If "Let It Fall" begins 10 years before Rodney King, "LA 92" goes back even further, to the violence of Watts in 1965, in itself a huge and significant event.
By sifting through and tying together an enormous variety of footage, directors Lindsay & Martin (who also served as editor) create an experience that gives a full sense of the anarchy and rage of the post-King verdict days, thrusting us fully and disturbingly into events in very much of a You Are There manner.
Among the more memorable clips show the victims of the beatings and, later, of the arson: a Korean woman recoiling from her burned store as if physically assaulted, another repeating, "this is not fair, this is not fair," an African American arson victim close to tears, saying, "I come from the ghetto, that's not right."
Perhaps the quote that has the most impact, however, is one of the earliest, a passage from 1965's McCone Commission postmortem on what happened in Watts.
"What shall it avail our nation if we can put a man on the moon but cannot cure the sickness of our cities?"
It was a potent question then and, as these two fine documentaries demonstrate, it remains one today.
-------------
'Let It Fall: Los Angeles 1982-1992'
Not rated
Running time: 2 hours, 25 minutes
Playing: Starts April 21, Laemmle Music Hall, Beverly Hills
Also airing: Friday, April 28 on ABC at 9 p.m.
-------------
'LA 92'
Not rated
Running time: 1 hour, 54 minutes
Playing: Starts April 28, Laemmle NoHo 7, North Hollywood
Also airing: Sunday, April 30 on National Geographic at 9 p.m.
See the most-read stories in Entertainment this hour »
ALSO
What it took for Oscar winner John Ridley get the story of the 1992 Los Angeles riots to screen
---
The complete guide to home viewing
Get Screen Gab for weekly recommendations, analysis, interviews and irreverent discussion of the TV and streaming movies everyone's talking about.
You may occasionally receive promotional content from the Los Angeles Times.