Review: Still-fiery Shirley MacLaine is let down by predictable 'The Last Word'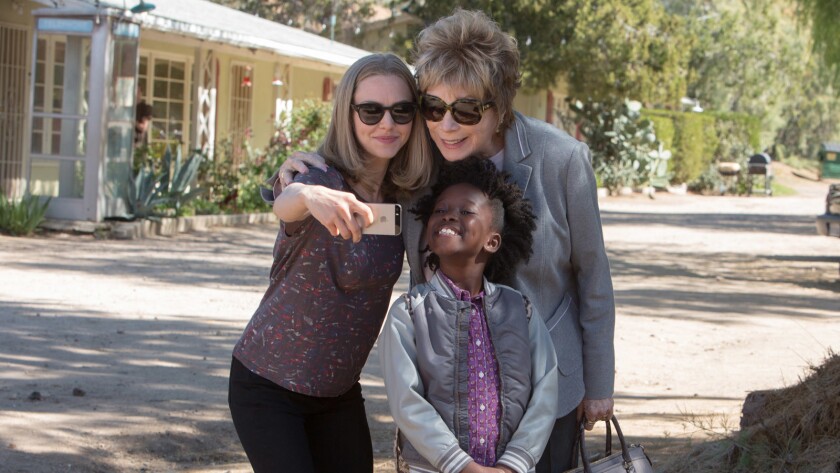 Film Critic
Seeing the love Shirley MacLaine received Sunday night at the Academy Awards — from her co-presenter Charlize Theron, from the audience, on social media — was a highlight for any true film fan. "The Apartment" clips quickly reminded you of how often she's dazzled us over 50 years of steely energy and crack timing in comedies, dramas and musicals.
At age 82, she's a national treasure, for sure, but over the last few years — since her monstrous sugar mama in 2011's "Bernie" — she's also been rediscovered as a leading lady in senior-centric fare like "Elsa & Fred" and "Wild Oats." Now comes "The Last Word," in which she plays an abrasive ex-businesswoman trying to salvage her reputation. It's a role that allows MacLaine full range to be feisty, funny, blue (both kinds) and ruminative, but in a movie that ultimately fails her by refusing to be what MacLaine so often has been in her career: surprising.
Before the film's wheels fall off, however, which is early, there's a trace of something intriguing in the melancholy, acridly funny character sketch that introduces us to Harriet Lauler (MacLaine). Once a top-flight advertising exec, she's now a divorced retiree puttering around a spacious Southern California estate, where shadows overwhelm natural light. Fueled by a micromanaging instinct, she'll take the shears away from the gardener to trim the hedges, and even the scissors from her hairdresser. As she stands in the kitchen while her cook chops, it's only a matter of time before the knife's in Harriet's hands.
There's something else she seems hellbent on finishing herself too, and it involves too much Clonazepam and red wine. (She brusquely deflects the hospital doctor's inquiry by saying she was sleepy and thirsty.) Stopping her the next time, though, is a glance at the local newspaper's obituaries, and the thought of how hers will read. With all the forcefulness of a screwball heroine, she barges into the newsroom — cowing the young editor (Tom Everett Scott) by reminding him how financially beneficial her ad firm's business was — and demands she control her own obituary.
Tasked with catering to this rich woman's whims is obit writer and frustrated essayist Anne (Amanda Seyfried). When Anne's research into Harriet's life reveals a woman hated by her ex-husband (Philip Baker Hall), colleagues, acquaintances, estranged daughter (Anne Heche) and even a priest, an undeterred Harriet re-formulates her idea into a problem-solving task: do the things that guarantee a positive obituary. In moviespeak, that means becoming beloved.
Stuart Ross Fink's screenplay is as formulaic as it sounds, and director Mark Pellington can't give it any pop. (We're a far cry from the acidic-yet-sentimental cocktail that was the purview of "The Apartment" creator Billy Wilder.) What initially augured a spiky portrait of late-age restlessness recedes into a woefully generic case of shopworn cross-generational uplift, sprinkled with tired wisecracks.
Harriet starts deejaying at a hip indie radio station. She takes under her wing a cursing African American grade-school girl (newcomer Ann'Jewel Lee) from a community center (insert winces here). By the time Harriet, Anne and the girl take a road trip, jump into a lake, then plan a prankish act of revenge against the ad firm that did Harriet wrong, your patience for this transformation check list will be tested. It doesn't help that the underwritten Anne, though likable enough in Seyfried's hands, is little more than a bland vessel to be filled with wisdom and confidence.
The glamorously insouciant MacLaine wears a brave face enlivening the hackneyed script. As effervescent harridans go, Harriet is firmly in her wheelhouse, and even in a maddeningly thin vehicle like "The Last Word," the star's vinegary twinkle is still something to see.
-------------
'The Last Word'
Running time: 1 hour, 48 minutes
Rated: R, for language
Playing: ArcLight Hollywood; Landmark, West L.A.
See the most-read stories in Entertainment this hour »
---
Inside the business of entertainment
The Wide Shot brings you news, analysis and insights on everything from streaming wars to production — and what it all means for the future.
You may occasionally receive promotional content from the Los Angeles Times.