'Get Out' breakout Lil Rel Howery takes the lead in 'Uncle Drew'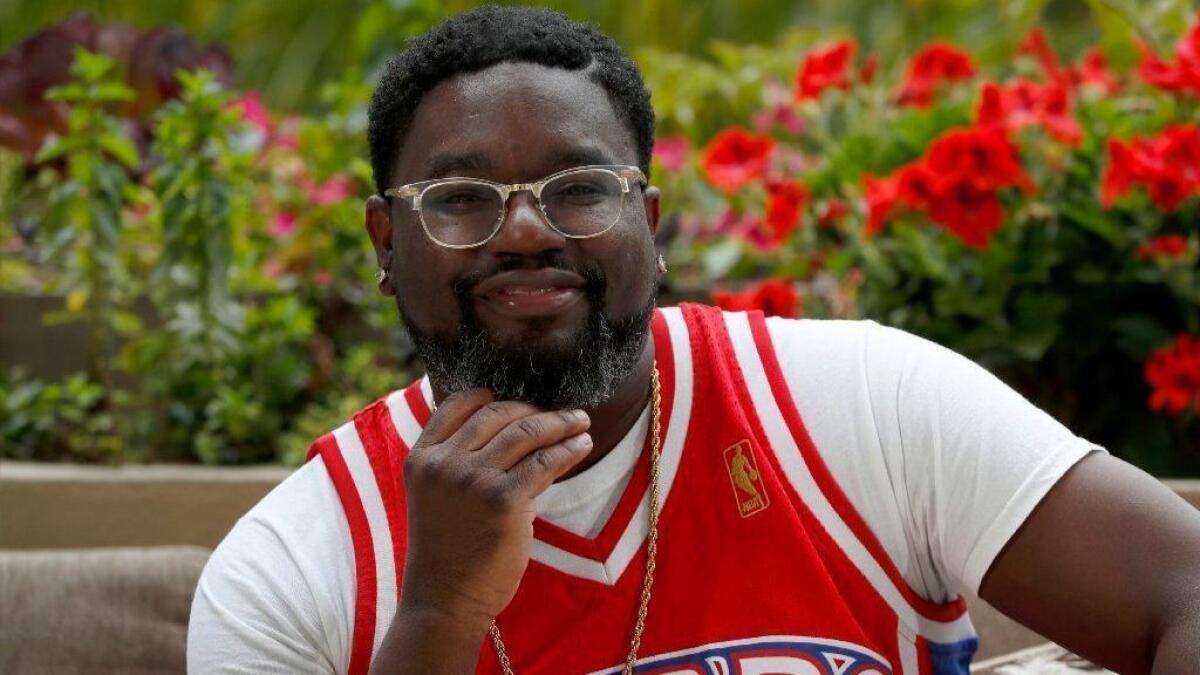 It's a career milestone just about every actor aspires to achieve: the time when he or she no longer has to audition. Usually following a stellar performance in a show or film that draws praise from critics and the public at large, the lucky few are catapulted to a status where offers come their way.
Lil Rel Howery is in the midst of his "offer only" moment.
"After 'Get Out' came out, basically every producer and studio wanted to meet with me," he said, referencing the Oscar-winning comedic social thriller in which he played the loveably profane TSA agent Rod. "I thought it was crazy because I literally went from auditioning to being offered stuff just like that."
One of those first meetings was with producer Marty Bowen, who pitched him "Uncle Drew." Among the many reasons he said yes to the leading role was that the picture, which opens Friday, "could be my version of a 'Space Jam,'" he said, "a cool basketball movie that kids can watch, that's funny with heart in it."
I'm always fascinated by how God will open your eyes up.
— Lil Rel Howery
"Uncle Drew" follows Dax (Howery), a street-ball coach who has emptied his life savings to enter a team in Harlem's Rucker Classic tournament. But when he loses his team to a longtime rival (Nick Kroll), he finds a new one in cantankerous street legend Uncle Drew (NBA All-Star Kyrie Irving) and his old basketball squad, now all in their 70s.
Basketball stars Shaquille O'Neal, Chris Webber, Reggie Miller, Nate Robinson and Lisa Leslie, all sporting old-age prosthetics that took up to four hours to apply, play the team members. The comedy also stars "Girls Trip" breakout Tiffany Haddish as Howery's contentious ex and "Survivor's Remorse" veteran Erica Ash as his new love interest.
The Australia-born Irving, who currently plays for the Boston Celtics, originated the trash-talking character of Uncle Drew in May 2012 as part of a digital episodic series from Pepsi. Five installments and years later, the franchise has amassed over 100 million views on YouTube.
But while the old-school baller is the title character, the film is firmly Howery's vehicle. His first turn as a lead taught the comedian a number of lessons.
"You learn that you set the tone of that set with the way you do things and how you carry yourself," the 38-year-old said. "I was thrown in the fire with that."
Even though he was at the top of the bill, working with superstars didn't come without slight intimidation.
"I can be whoever I want to be on the call sheet, but that's still Shaq," he said, laughing.
Director Charles Stone III, whose résumé includes sports-themed comedies "Mr. 3000" starring Bernie Mac and "Drumline" starring Nick Cannon, says Howery rose to the occasion.
"His outlook on character is much wider than a supporting role," Stone said. "His attention to detail and the arc of the character was really strong and sensitive. That, to me, helps a person who's playing a lead [properly] execute it."
He added that Howery's stand-up background allowed him to make "the role all the more colorful" with "comedic timing that's really sharp."
Kroll, who plays Howery's nemesis in the film, agreed.
"We found a lot of moments together, and that's the beauty of working with comedians," he said. "It's about the ability to adapt and find new moments each time. I think we were able to do that."
The two met at an industry party ahead of "The Carmichael Show" — the critically acclaimed but short-lived NBC comedy that featured Howery and Haddish. Howery would go on to land "Get Out" and "blow up."
Then, at a birthday party for comedian Eric Andre, Howery made a declaration. Kroll recalls: "He was, like, 'We've got to find something together. We should be the new Richard Pryor and Gene Wilder.'"
Months later, Kroll invited Howery to a stand-up show he was doing. Afterward, the two spoke about the film and "thought it'd be fun to do."
"It was a long time coming but something were were a little excited about," Kroll said.
I want to make the normal guy looked at as sexy because not everyone is like Idris Elba.
— Lil Rel Howery
"Uncle Drew" represents just the beginning of a busy period in what Howery hopes is a long career. In addition to starring in Susanne Bier's Netflix thriller "Bird Box" opposite Sandra Bullock, Sarah Paulson and John Malkovich, which is due out in December, he's leading his own half-hour comedy series, "Rel," on Fox this fall. The show, loosely based on his life, is something he's been working toward since starting stand-up at 19.
"The goal was always to have a sitcom," he said. "But as you learn more about the business, you just want to be in charge of your stuff. Like when we were shooting the pilot, it was just me and my friends that we had to answer to. I thought that was so cool. We're the suits now."
He highlights his contemporaries like "Insecure's" Issa Rae, "Atlanta's" Donald Glover and his former "Carmichael Show" costar (and executive producer of "Rel") Jerrod Carmichael as examples he's looking at.
"I'm always fascinated by how God will open your eyes up," Howery said, "Because you thought you knew your dreams, but then there comes more. That's where I'm at now. I don't believe there is anything I can't do.
"I want to own an NBA team one day. That's not impossible — I just gotta make much more money."
Until then, he's settling for creating his own production company and looking to get into directing. As for other roles to come, Howery's very much interested in continuing a trend — as seen with Rod and now Dax — in which regular guys can be heroic and objects of desire.
"I want to make the normal guy looked at as sexy because not everyone is like Idris Elba," he said, laughing. "There are a lot of regular guys out in these streets.
"I can't wait to do a rom-com."
Get your life! Follow me on Twitter (@TrevellAnderson) or email me: trevell.anderson@latimes.com.
Get our L.A. Goes Out newsletter, with the week's best events, to help you explore and experience our city.
You may occasionally receive promotional content from the Los Angeles Times.