A treasure trove of Liza Minnelli memorabilia on display at the Paley Center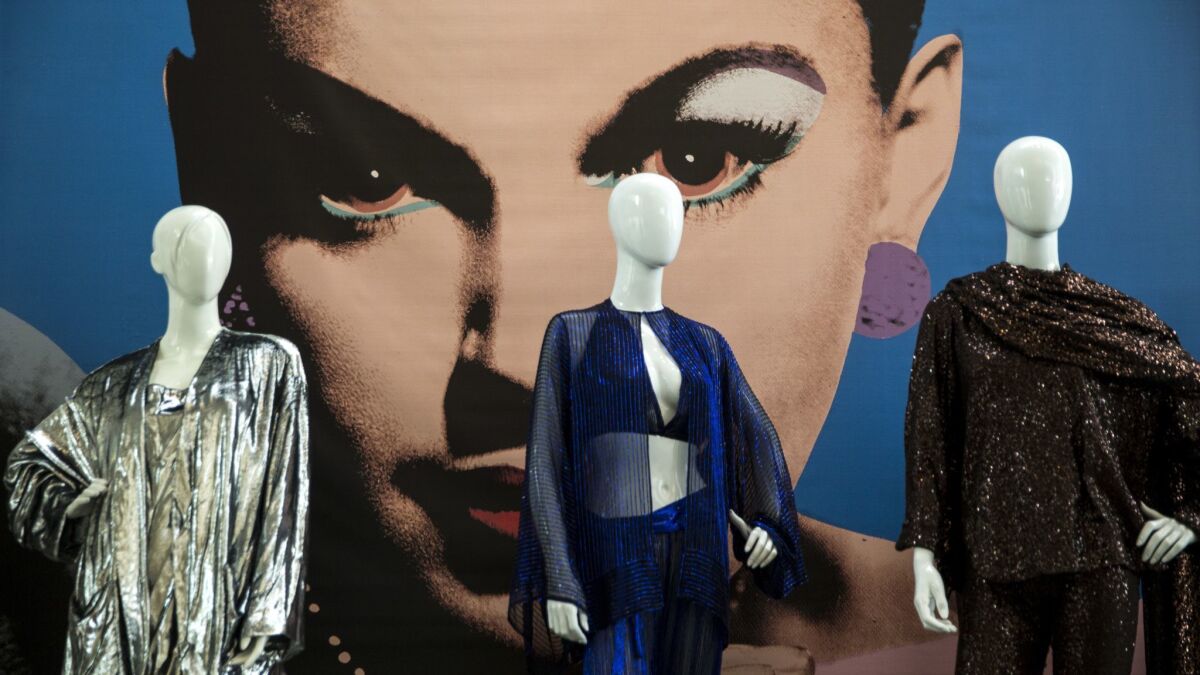 Liza Minnelli has always lived large, a fact that's abundantly on display at "Love, Liza: The Exhibit" at the Paley Center for Media in Beverly Hills.
Among the highlights of the exhibit, which runs through April 29, are:
— Dazzling sequined miniskirts, gowns and pantsuits designed by Halston for his fashion muse.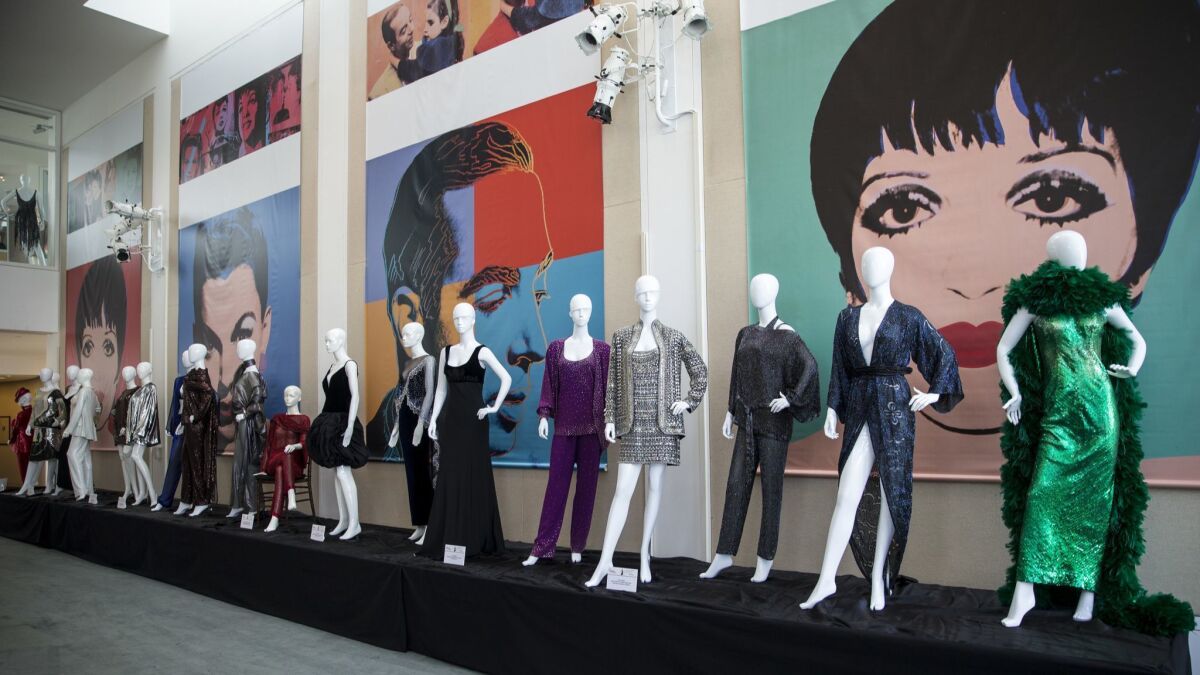 — The ruby red slippers she wore when she married Jack Haley Jr., the son of the actor who played the Tin Man opposite her mother, Judy Garland, in "The Wizard of Oz.
— The costume she wore singing the "Mein Herr" number from her Oscar-winning performance in "Cabaret."
— Photos of Minnelli by Andy Warhol, Richard Avedon and Annie Leibovitz.
— Family mementos, including photos of Minnelli as a little girl going to ballet class, her unique Liberace Legend Award in the shape of a candelabrum, her father Vincente Minnelli's Directors Guild Award for "Gigi" and his script for "An American in Paris.
— Love letters from Garland to Minnelli including one with her lipstick kiss print. There are also photos of Garland and Minnelli performing at the London Palladium in 1964 and lobby cards from the beloved Garland-Minnelli musical "Meet Me in St. Louis."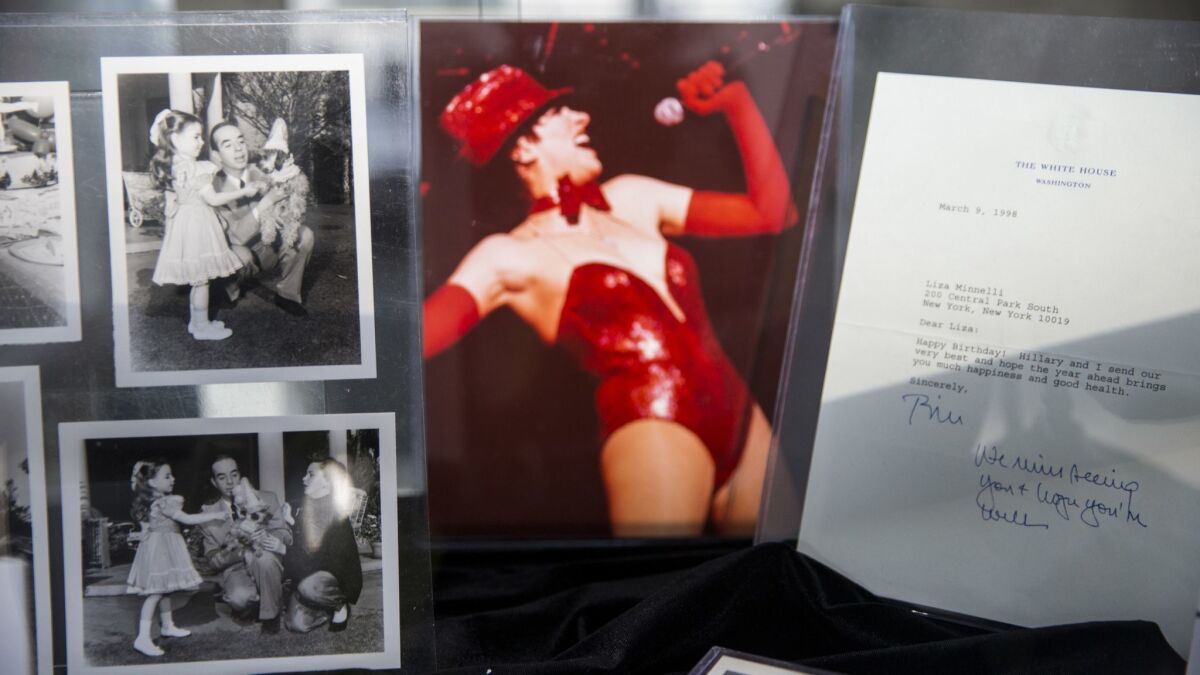 The 150-piece exhibit is just a small part of Minnelli memorabilia that will be auctioned in June in Calabasas by Profiles in History. The 2,000 items will include her 1971 Rolls Royce Silver Shadow Sedan, more Halston ensembles and works by other designers.
"This is the only celebrity auction I've encountered, including Jackie Kennedy and Marilyn Monroe, where it's comprehensive," said Profiles founder Joseph Maddalena.
Profiles sold Debbie Reynolds' extraordinary collection of Hollywood props, costumes and cameras, fetching $4.44 million for Audrey Hepburn's Ascot dress from "My Fair Lady," and has auctioned such other iconic items as the Cowardly Lion costume from 1939's "The Wizard of Oz" for $805,000.
Part of the proceeds for the auction will go to singer, conductor and musical historian Michael Feinstein's Great American Songbook Foundation.
"Liza had spoken of dealing with the magnificent morass of treasures for some time and for many reasons felt an auction would be the best way to proceed," said Feinstein, Minnelli's friend and frequent concert partner, in an email interview. "Then recently she came to me and said that she was ready to deal with it now. It was overwhelming because of the proportions of things and their being spread out from coast to coast."
Producer Kate Edelman Johnson, who is a good friend of Feinstein and Minnelli, contacted Maddalena, whom she knew through a mutual friend. "She [Minnelli] felt quite strongly that her fans made her what she is — with a little help from her mother and father — and that it should be out there for people to enjoy," Johnson said.
It's taken nearly a year for Maddalena and his staff to go through Minnelli's collection deposited in seven large warehouses.
Among the things the family didn't put up for auction were Minnelli's baby Bible, a scrapbook of family photographs that goes back decades and her major awards, including her best actress Oscar for "Cabaret" and her father's Oscar for directing "Gigi."
"I had no idea that there were so many artifacts there relating to her parents and she didn't either," Feinstein said. "She, of course, has kept many of those personal things but wanted to share some of the others because they matter to so many others. I had seen some of those things, but after she inherited Vincent's estate many of those boxes of objects were in storage and she never had the time to go through everything."
The one-sheet from Vincente Minnelli's 1943 musical "Cabin in the Sky," said Maddalena, "is one of the rarest movie posters in the world. There are three or four known copies." (They will be auctioning off Vincente's own copy.)
"We have Judy Garland's wig she wore as Dorothy in "The Wizard of Oz,"' he continued. 'We have a lot of Judy Garland's scrapbooks. Judy is in the same category as Marilyn Monroe. They're just one of a kind."
'Love, Liza: The Exhibit'
Where: Paley Center for Media, 465 N. Beverly Drive, Beverly Hills
Tickets: Free
Info: (310) 786-1000, paleycenter.org
At 4 p.m. Saturdays Paley screens a Minnelli classic TV special preserved by the Paley archive.
April 14: "Goldie & Liza Together" (1980)
April 21: "Baryshnikov on Broadway" (1980)
April 28: "The Judy Garland Show" (1963)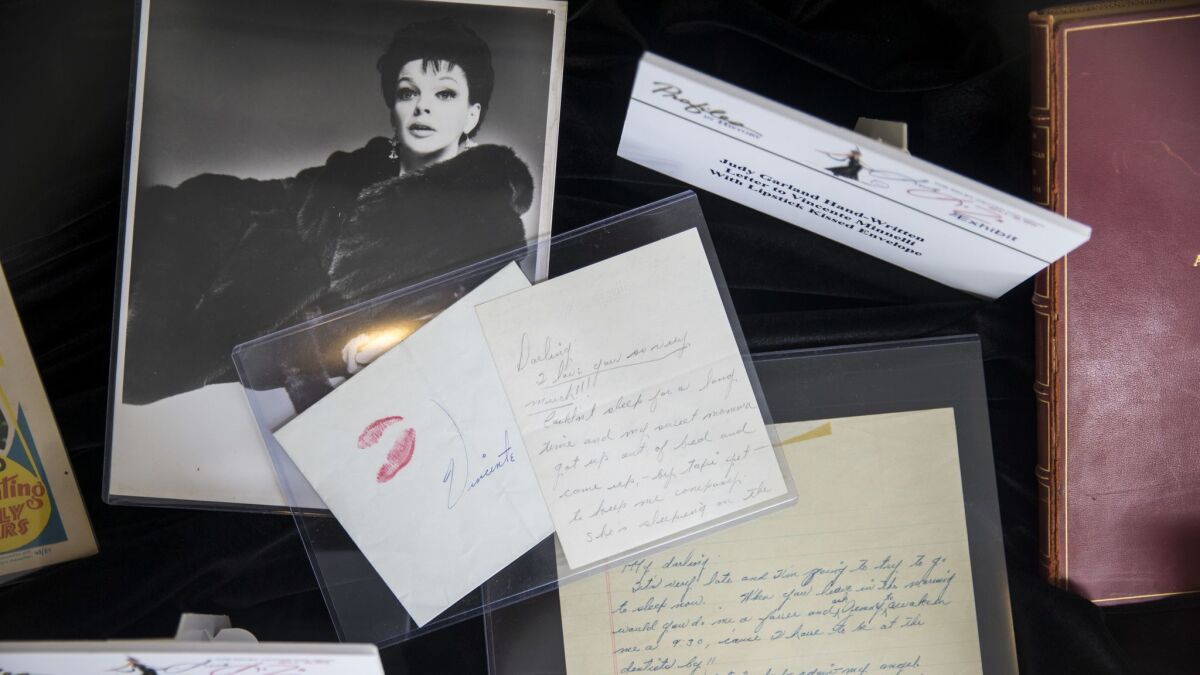 ---
Get our L.A. Goes Out newsletter, with the week's best events, to help you explore and experience our city.
You may occasionally receive promotional content from the Los Angeles Times.