Review: Anime 'Made in Abyss: Journey's Dawn' recycles popular series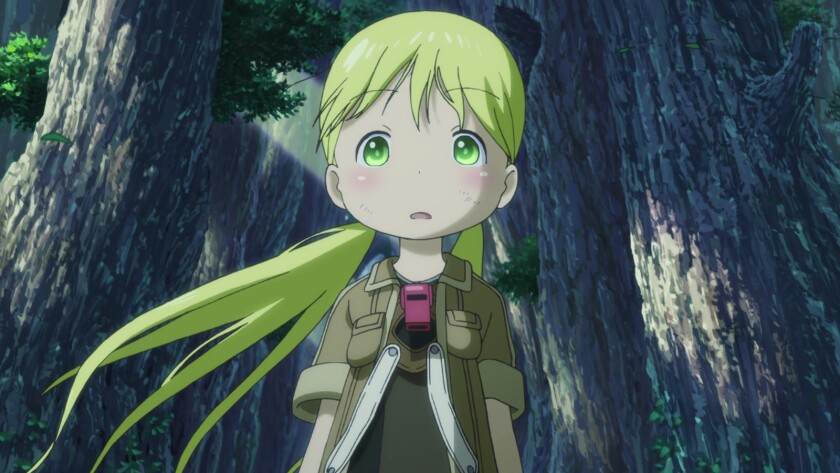 "Made in Abyss: Journey's Dawn" is not a feature in the conventional sense, but the first eight episodes of the anime broadcast series "Made in Abyss" re-edited into a continuous narrative with newly added scenes. It screens March 20 in Japanese with English subtitles and March 25 in English.
Twelve-year-old Riko lives in a grimly Dickensian orphanage. To support the institution, the children are forced to excavate valuable artifacts at the rim of a gargantuan pit. While scrabbling for treasure, Riko is saved from a flying monster by an amnesiac humanoid robot, whom she names Reg.
A few months later, a letter arrives from Riko's mother, Lyza, a famous explorer-excavator who disappeared into the Abyss a decade earlier. Although the lower depths are reportedly too toxic to support human life, Riko sets off to find her mother, taking Reg with her. Everyone tells Reg — who in English sounds a bit like Linus in the "Peanuts" specials — that he must protect Riko. However, no one explains why he should risk his life for the impetuous, whiny heroine.
As they begin their descent, the pair encounters deadly creatures and bizarre plants. At times, "Made in Abyss" feels like a standard anime action-adventure, but the feature (and the series) suffers from an extremely nasty tone. At the orphanage, children are punished by being stripped, tied up and hung naked on cables, and people display a disquieting interest in Reg's genitals.
Deep in the Abyss, Riko and Reg meet Ozen, who says she'll prepare them for the dangers of the lower levels. Under the guise of instruction, she beats the children savagely. The filmmakers seem to be striving to create a tough-love teacher along the lines of Izumi Curtis, who taught (and clobbered) the Elric Brothers in "Fullmetal Alchemist." But Hideyuki Kurata's script confuses discipline with sadism, and the film sinks under the burden of this ugly sequence.
Directed by Masayuki Kojima, "Made in Abyss" stops, rather than ends, as Riko and Reg prepare to descend into the fifth level of the Abyss. A second feature, "Made in Abyss: Wandering Twilight," that incorporates the last five episodes of the series, has been announced.
-------------
'Made in Abyss: Journey's End'
In Japanese with English subtitles (March 20); in English (March 25)
Not rated
Running time: 1 hour, 58 minutes
Playing: In limited release, 7 p.m. March 20 and 25
See the most-read stories in Entertainment this hour »
---
The complete guide to home viewing
Get Screen Gab for weekly recommendations, analysis, interviews and irreverent discussion of the TV and streaming movies everyone's talking about.
You may occasionally receive promotional content from the Los Angeles Times.