Anime Expo 2018 returns to L.A. with 'My Hero Academia: Two Heroes' premiere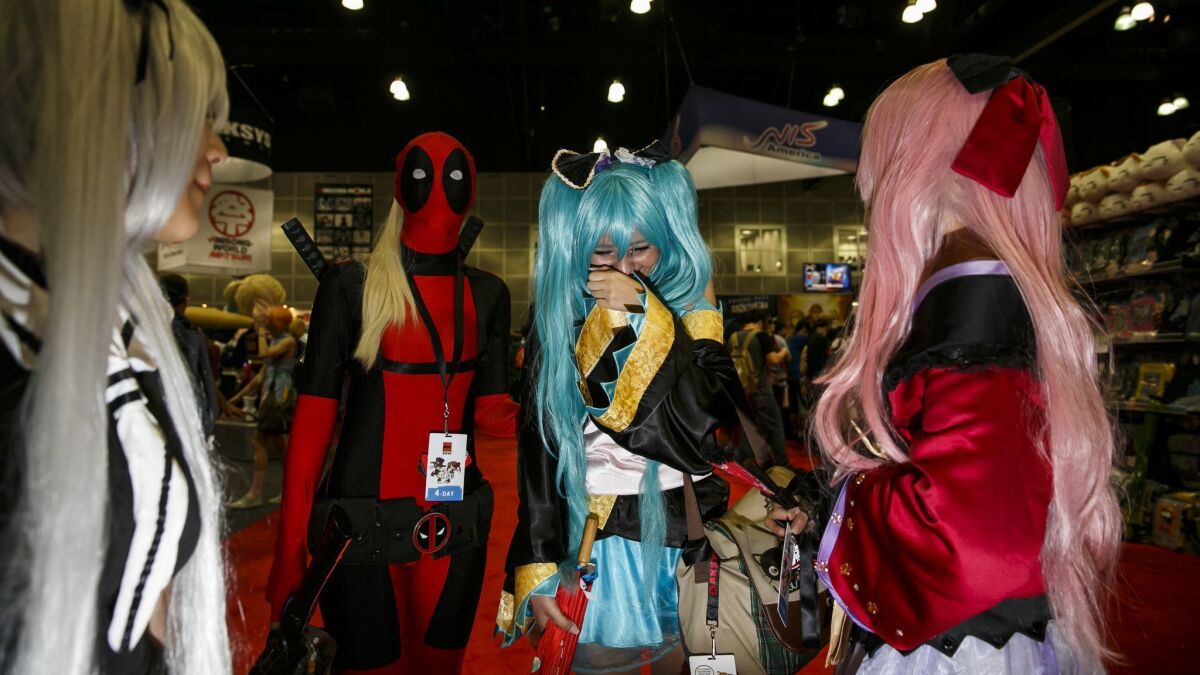 Look around the Los Angeles Convention Center this week, and you'll see hundreds of fans wearing outrageous outfits such as Naruto's orange ninja jumpsuit, Luffy's straw hat from "One Piece" or Serena's blond pony tails from "Sailor Moon."
Right, Anime Expo 2018 is back in town.
More than 100,000 otaku (fans of Japanese animation and manga) are expected to attend the annual Expo, which runs July 5-8. The attractions include themed cosplay pageants, maid and butler cafes, karaoke contests, workshops, concerts, screenings and guest appearances by artists and voice actors. Panel discussions will a focus on favorite series and features, from Makoto Shinkai's record-breaking "Your Name" to "Cardcaptor Sakura."
As the Expo has grown more popular since the early '90s, it's also grown more diverse. It began as a convention primarily attended by young white and Asian American fanboys; now it's thronged with people of all races, genders and ages. The communal atmosphere fostered by the Expo remains intact; anyone who loves "Fullmetal Alchemist," "Princess Jellyfish" or "Attack on Titan" will find new friends eager to discuss the show. People in costumes — whether elaborate, revealing or cross-gender — will happily pose for pictures.
One of the most eagerly anticipated events at this year's Expo is the world premiere Thursday of "My Hero Academia: Two Heroes," the first theatrical feature based on the hit adventure-comedy. The filmmakers had to rush to prepare a subtitled version in time for the event.
The premiere will include guest appearances by Daiki Yamashita and Justin Briner, the Japanese and English voices of Deku, the main character, and ADR director and actor Colleen Clinkenbeard. The first trailer for the English dub — which will be released here in the fall — will screen, and there'll be giveaways of posters and other swag.
Since Kohei Horikoshi's manga "My Hero Academia" debuted in 2014, it's sold more than 14 million books worldwide, and two seasons of the TV series, which began airing on Toonami in May, have a devoted following in the U.S. and around the world.
The story takes place in an alternate world where 80% of children are born with "Quirks," extrasensory powers that enable them to become superheroes — or arch-villains. To his vast disappointment, Izuku "Deku" Midoriya was born without a Quirk. He grew up as the ultimate superhero fanboy, keeping encyclopedic notes about their powers, moves and achievements.
Despite his lack of power, Deku charges into dangerous situations to help anyone in trouble. His rescue attempts catch the eye of the No. 1 superhero: All-Might, a blond giant who looks like Superman reimagined by the Beach Boys.
After putting him through a murderous training regimen, All-Might shares his All for One power with Deku, which enables him to unleash energy blasts with such off-the-wall names as 100% Detroit Smash. Although he can't really control his new ability, Deku earns a place at prestigious U.A. High, which trains elite superheroes. His kindness and dedication quickly win him friends among the bizarrely gifted students, including a boy with jet-pack legs and a girl who can negate gravity.
Kenji Nagasaki, who directed the series and the feature, says through a translator, "One thing different about 'Academia' is the characters trying to save the world have their individual Quirks. They come together to solve problems, but they have their own struggles, coming to terms with their powers and realizing their dreams. Becoming the type of hero they want to be is more of a personal journey; that's different from a lot of other superhero stories."
Short, skinny and untidy, Deku looks more like a nerdy teenager than a comic book hero. In the manga, Horikoshi notes, "his sweat glands never have a day off" and his "tear ducts are always on duty." Although he's terminally insecure, Deku never wavers in his resolve to become the greatest superhero of all time.
"Deku tells a different hero's journey than we're used to seeing: A lot of hero characters are handed everything; Deku really has to work for it," says Briner. "He's dealing with pretty substantial high school-age problems, struggling with his self-worth, with people telling him he should find a regular lot in life. Most high school kids know what that feels like, so it makes him easier to root for."
Casting the voice for a teenage boy for a long-running property like "Academia" poses special problems. If a teenage actor takes the part, his voice may change during the run of the series. For the Japanese series, the filmmakers cast Yamashita, an actor with a high tenor voice; U.S. distributor Funimation followed suit with Briner.
"Deku always talks a little faster than my average speaking voice, but I think more about the melody of his speech than the rhythm," Briner notes. "He's very emotional and very thoughtful in his choice of words, so there are lots of highs and lows in his conversation. I have a sort of a nervous energy that fits him pretty well."
"Two Heroes" begins as the U.A. High students prepare for summer training camp. Deku and All-Might are invited to the floating city of I-Island to attend an exposition about the nature of Quirks. Villains hack the island's security system, creating a massive hostage crisis. Can Deku and All-Might save the day?
"It's helps that the visuals are very dramatic — they help sell the larger-than-life emotions," Briner explains. "The battles can be taxing, because I don't get my huge battle screams right the first time every time. I come from a pretty strong background of vocal technique and choirs; I know how to support my voice so I don't shred my vocal chords when I have to scream. Deku always wears his emotions on his sleeve, which is sort of freeing: It's not like you have to hold anything back."
Anime Expo
July 5-8, Pre-Show Night July 4.
Los Angeles Convention Center.
Four-day pass: $130 online, $160 on site, ages 14 and older.
Four-day pass, children ages 6-13: $35. Must have an accompanying adult.
Active military and veterans' four-day pass: $56.
One-day pass: $80. Online, $90. On site, ages 14 and older.
Schedule and information: www.anime-expo.org/plan/schedule/?1_route=/client-embeds/anime-expo-2018/1/1/__/&
"My Hero Academia: Two Heroes" world premiere
July 5, 12:30-2:30 p.m.
LACC Hall B, open seating
Free with AX 2018 badge
---
Get our L.A. Goes Out newsletter, with the week's best events, to help you explore and experience our city.
You may occasionally receive promotional content from the Los Angeles Times.