Maggie Smith looks back at early typecasting. It isn't what you think
It's been 60 years since Maggie Smith made her Broadway debut. But despite her current standing as one of the grande dames of British acting, she didn't appear in a Shakespearean tragedy, a George Bernard Shaw satire or a sophisticated Noel Coward comedy.
Instead, the then-21-year-old Smith was in a musical comedy revue, "New Faces of 1956." So how did she end up in musical theater?
"In Oxford, I used to do university revues," Smith explained in her unmistakable voice over the phone from her house in London earlier this week. "Sometimes we would do we things at the Edinburgh Festival — we were the first things on the fringe, in fact — and then we took it to London in a little, tiny theater. I suppose the ['New Faces'] producer Leonard Sillman saw me. That's how it happened."
But looking back, it wasn't a fun experience in New York. "I spent my entire time crying. We were paid so little. I didn't know anyone then. I had been booked in a hotel I couldn't afford! It was $60 a week."
Now 81, Smith is one of the most acclaimed and beloved actresses of our time, including a new generation of fans who have fallen in love with her in "Downton Abbey." She's won two Oscars ("The Prime of Miss Jean Brodie," "California Suite"), a Tony ("Lettice and Lovage"), Emmys ("Downton Abbey," "My House in Umbria") and embodied Professor Minerva McGonagall in the "Harry Potter" movies.
Still, she recalled, it took her forever "to get people to believe I could do something other than revues. I was sort of pigeonholed for a very long time."
Smith joined London's Royal National Theatre in the 1960s and played Desdemona opposite Laurence Olivier in "Othello," first on stage, then in the 1965 film version for which she received her first Oscar nomination.
"It was scary," she said. "Shakespeare and I were a long way apart because I had been doing things like 'New Faces' and revues. I would have been terrified anyway just leaping into Shakespeare, but that was going in at a pretty dizzying level. I should have maybe started off in a kind of quieter way. But I was so thrilled to go to the National."
Smith was supposed to have been at the Golden Globe Awards last week because she was nominated for lead actress in a musical or comedy for her new film "The Lady in the Van," which opened for one-week awards consideration in December and returned to theaters on Friday. But she is still recovering from recent hip replacement surgery.
"I feel so much better," she said, "but you can't sit that long in the airplane."
Though Smith often plays imperious characters — most notably Lady Violet Crawley, the dowager countess of Grantham on "Downton Abbey," now in its sixth and final season — she's warm and down-to-earth over the phone. Chatting with Smith feels catching up with an old friend.
In "Lady in the Van," Smith is wonderfully cantankerous as Mary Shepherd, an elderly eccentric who lived in a dilapidated van in the driveway of playwright-actor Alan Bennett's home in London for 15 years. Mary died in 1989.
Bennett wrote a memoir about their relationship and adapted the book into a hit 1999 play, in which Smith starred on London's West End. Six years ago, Smith also played Mary in the radio version. The film was written by Bennett and directed by Nicholas Hytner, who also helmed the play. Alex Jennings plays Bennett.
Smith thinks that "The Lady in the Van" may be too British for other countries. "I don't think 'Lady in the Van' will travel," she said. "One of the reviews said, 'I don't think it will travel outside north London.' I think there is a bit of truth in that."
Hytner, who collaborated several times with Smith since doing a revival on the West End of "The Importance of Being Earnest" two decades ago, admitted he was intimidated at first about directing her. "She comes with such an extraordinary history," he said.
"It is a wealth of experience, extraordinary energy, imagination and experience," he noted. "You worry in advance that you are not going to be able to measure up. But actually, what she doesn't want at all is a voice in the rehearsal room that is unable to speak up when they need to speak up. She is harder on herself than she is on anybody else. She really needs to feel that somebody is keeping an eye out for her and on her."
Smith said she told Hytner to "please slap me" if her performance was veering off-course. "Nick was terrific," she said. "I want to keep it as simple and straightforward as possible. She's mad enough."
"Downton Abbey" airing on PBS' "Masterpiece Theatre" this month. Though she's enjoyed playing such an iconic character as Violet Crawley, Smith confessed she's never seen the series.
"Why do I want to see it?" Smith said matter of factly. "I'm doing it. I know the story of it. I do have the boxed set, but you know that would take me to the end of my life to watch."
Which is not unlike something Lady Crawley herself might say.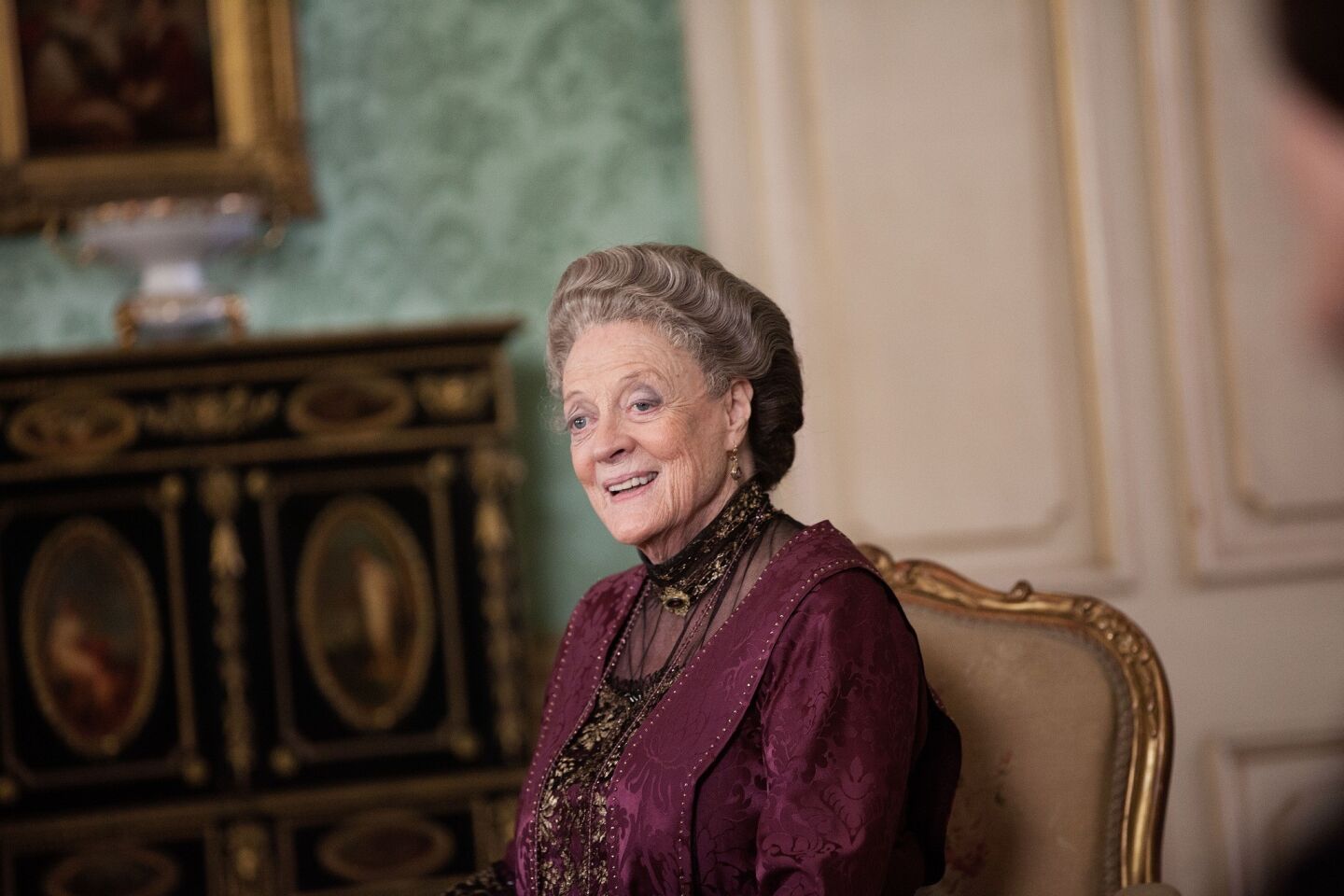 Maggie Smith as Violet Crawley, Dowager Countess of Grantham, during filming of Season 3 of the hit period drama "Downton Abbey." Here's a look back at the British actress' lengthy career.
(Matthew Lloyd / For the Times)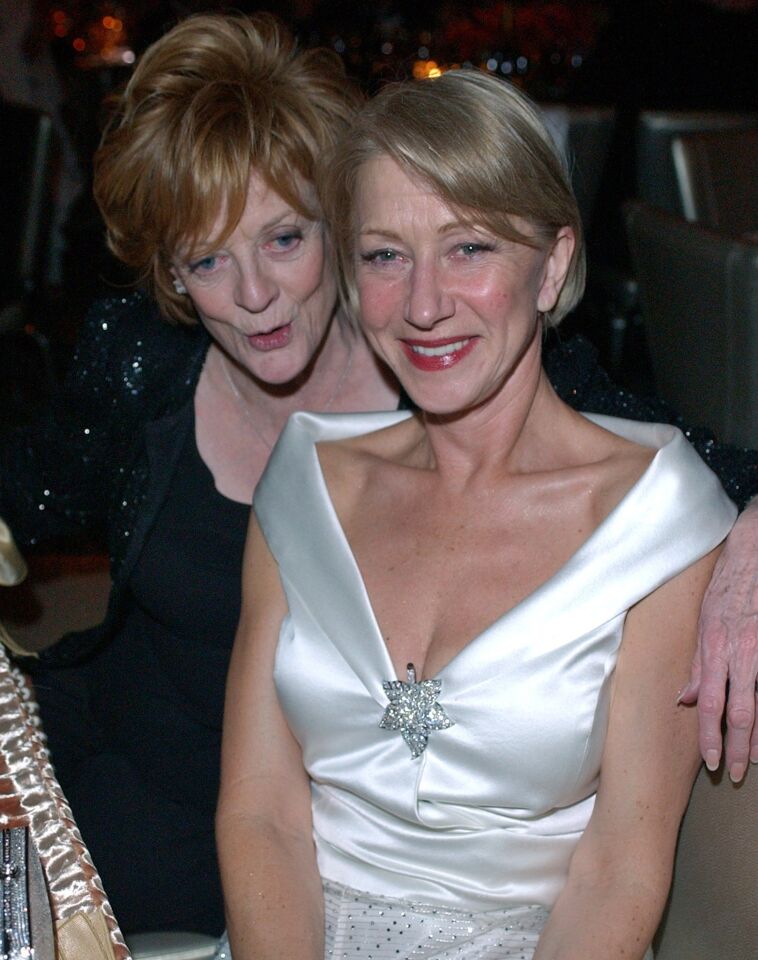 British actresses Maggie Smith, left, and Helen Mirren chat at the Governor's Ball following the 74th Academy Awards on Sunday, March 24, 2002 in Los Angeles.
(Kevork Djansezian / Associated Press)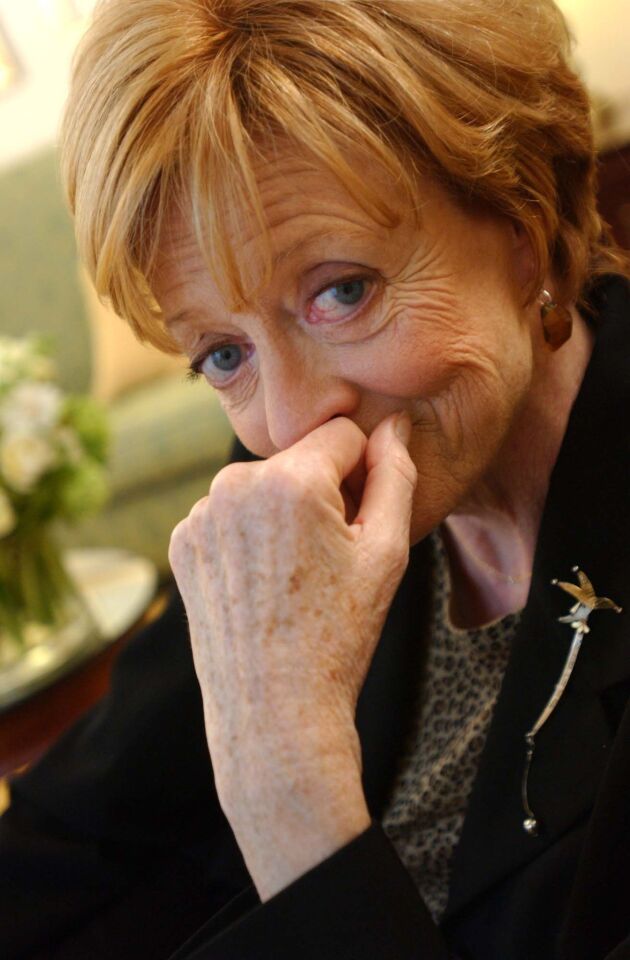 Maggie Smith is photographed at the Marriot Royal Rihga Hotel in Manhattan for her film "My House in Umbria."
(Jennifer S. Altman / For the Times)
Maggie Smith, left, and Judi Dench promote their film "Ladies in Lavender" in New York on April 21, 2005.
(Tina Fineberg / For The Times)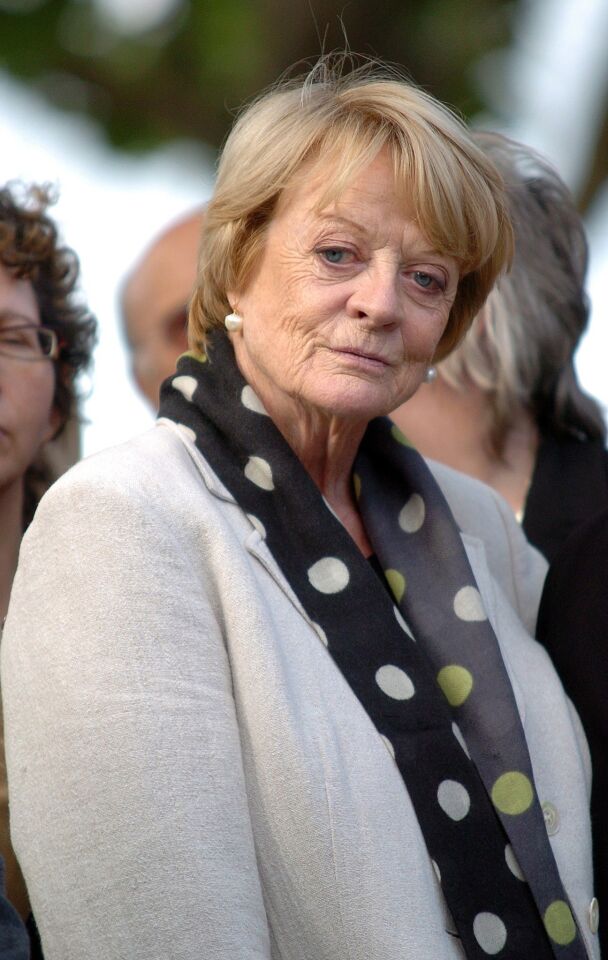 Maggie Smith attends the unveiling of a statue of Lawrence Olivier outside the National Theatre, Southbank in September 2007 in London. Smith and Olivier starred together in 1965 film "Othello" and the 1981 epic "Clash of the Titans."
(Stuart Wilson / Getty Images)
Pauline Collins, left, and Maggie Smith in a scene from the film "Quartet." Smith was nominated for actress in a comedy Golden Globe for her role as Jean.
(Kerry Brown / AP)
British actress Dame Maggie Smith is shown in London on Dec. 16, 2015.
(Kirsty Wigglesworth / Associated Press)
Maggie Smith speaks onstage during "In Conversation With" chaired by Mark Lawson at the BFI & Radio Times TV Festival at the BFI Southbank on April 8 in London.
(Tabatha Fireman / Getty Images)
MORE:
'Downton Abbey' recap: The wedding of the (last) century is here!
Review: 'War & Peace' is lengthy yet lovely
TV viewers face a jam-packed January
'Downton Abbey,' 'Transparent,' 'The Knick' score big in DGA Award nominations
---
Get our L.A. Goes Out newsletter, with the week's best events, to help you explore and experience our city.
You may occasionally receive promotional content from the Los Angeles Times.