How the intimate documentary 'Maria By Callas' reveals the secret life of an opera star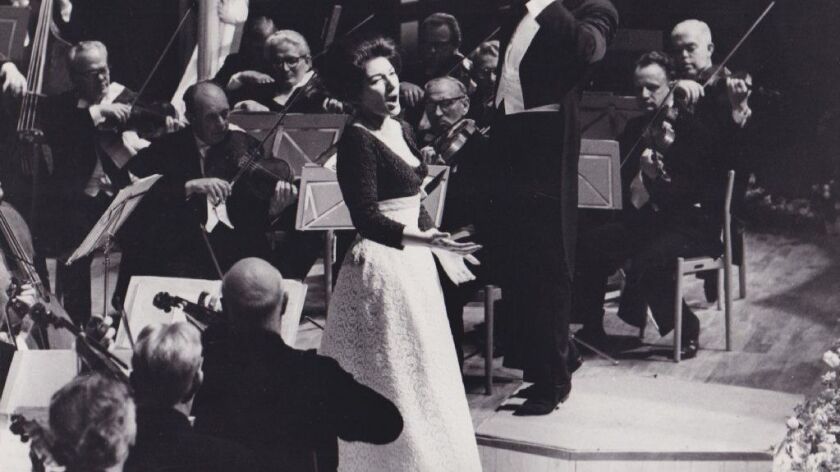 Reporting from New York —
In the late summer and fall of 1977, the world lost four of the most influential singers America had ever produced — Elvis Presley, Ethel Waters, Bing Crosby and Maria Callas. Presley has never been forgotten; Waters largely is. The ghost of Crosby seems to materialize every December, when "White Christmas" and "Holiday Inn" go into heavy TV rotation.
But Callas? For many, she defines opera itself, four decades after her death.
"She was someone who, like Leonard Bernstein, broke out of the niche of classical music and became an international star," said Joyce DiDonato, one of current opera's major attractions. "Pavarotti had that too, but with Pavarotti it was all sunshine and love. It wasn't the crazed, feverish, cult-like atmosphere Maria created."
"She was an extraordinarily artist and an absolute musical genius," said Tim Page, professor of journalism and music at USC, "who decided to make opera more than simply beautiful voices singing beautiful music and turn it into something very vital and visceral."
"I think she was unique. And is still unique today," said director Tom Volf. While waiting for the premiere of his documentary "Maria by Callas" to begin at the recent New York Film Festival, the sharply dressed filmmaker and fashion photographer sat in a room atop Alice Tully Hall, drinking in the southward view of Lincoln Center. (The film is now playing in limited release.)
"It's the first time I'm telling this story," he said, "while looking at where it happened": In 2013, as a Parisian transplant in Manhattan, Volf impulsively bought a last-minute, standing-room ticket to the Metropolitan Opera's production of Donizetti's "Maria Stuarda," with DiDonato in the title role. "It shattered my world," he said.
He became an instant opera buff. Going back to his room on 8th Avenue, he immediately went online and was instantly immersed in arias by Callas. An obsession was born. Likewise, a movie. "I was over the moon." He still seems to be.
While Callas was, and is, considered one of opera's great artists ("She had a first-class voice till about 1957," Page said.) much of her celebrity sprang out of her private life, notably her love affair with Greek shipping tycoon Aristotle Onassis, who left her after a years-long relationship to marry Jackie Kennedy in 1968. ("It was operatic," DiDonato said).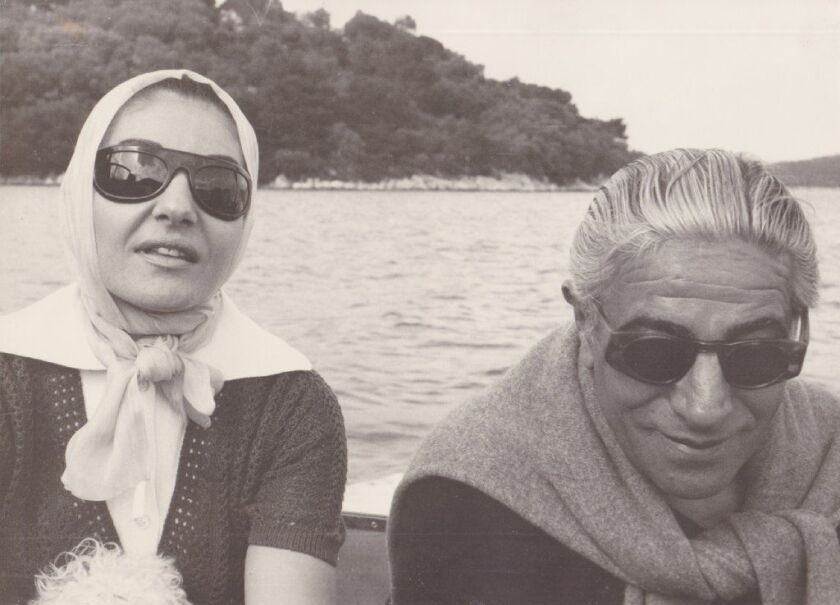 Callas, known well beyond the confines of La Scala or the Met, cultivated a persona that was simultaneously chic, enigmatic and "tempestuous" — a description she argues against in "Maria by Callas," which is told entirely by the singer, through interviews she granted, letters she wrote and performances she gave — some of them shot illicitly.
"Those Super 8 shots you see in the film were shot by people in the audience," Volf said. "The Super 8 cameras were large, and the reels were three minutes long, so you couldn't shoot more than that. You had to change the reels. They were also noisy: You can hear other people in the audience saying, "Shhhhh…' which is why the shots aren't very lengthy. But that's also what makes them so precious."
Volf spent several years contacting and befriending people who knew Callas and gave him access to various material, including the contraband home-movie-style footage. "And once I had the letters a couple of years later," he said, "I knew I wanted to include them in the film because I wanted the film to be entirely Maria."
He also wanted DiDonato to read the letters — without trying to actually sound like Callas.
"That was a really deliberate decision by both of us," DiDonato said, "because the minute you try to slip into her voice, you go wrong. Her speaking voice had an affectation to it; she was Greek and American and spoke Italian fluently and French fluently. And at that time, performers, in particular prima donnas and actresses, often affected this type of speaking voice.
"I thought, 'These letters are so personal, if I try to use the same kind of affectation on my voice it's going to ring false.' So the decision was to just go with the emotions of it."
REVIEW: 'Maria by Callas' captures the divine magic of the legendary opera star »
Some of those emotions are, Volf agreed, brutal: While we hear a passionate love letter written by Callas to Onassis, for instance, we see footage of Onassis with Kennedy. Tosca would have thrown herself off a roof.
As Volf demonstrates via precisely edited archival footage, Callas enjoyed a rarified kind of fame. The people one sees surrounding her aren't musicians and singers. They're Jean Cocteau and Elizabeth Taylor. The Duke and Duchess of Windsor. Winston Churchill. Catherine Deneuve (and her sister, Francois Dorleac).
When Callas appears at a '60s-era Cannes Film Festival, the crowd, as they say, goes wild. "You don't imagine Callas being part of that world," Volf said, "but the crowd was at least as much about her as, say, Bridgette Bardot. She was at that level."
Has making the film changed the way he listens to her?
"Oh, completely. Entirely," he said. "It was already intense. She already had thousands of colors. But now it's like having millions of colors. Every time I listen, I relate to what was happening in her life and how much of her personal struggle she put into the singing. That's the link between Maria and Callas."
---
Inside the business of entertainment
The Wide Shot brings you news, analysis and insights on everything from streaming wars to production — and what it all means for the future.
You may occasionally receive promotional content from the Los Angeles Times.